Sawtooths Ski Touring: Williams Peak Hut (2 Nights)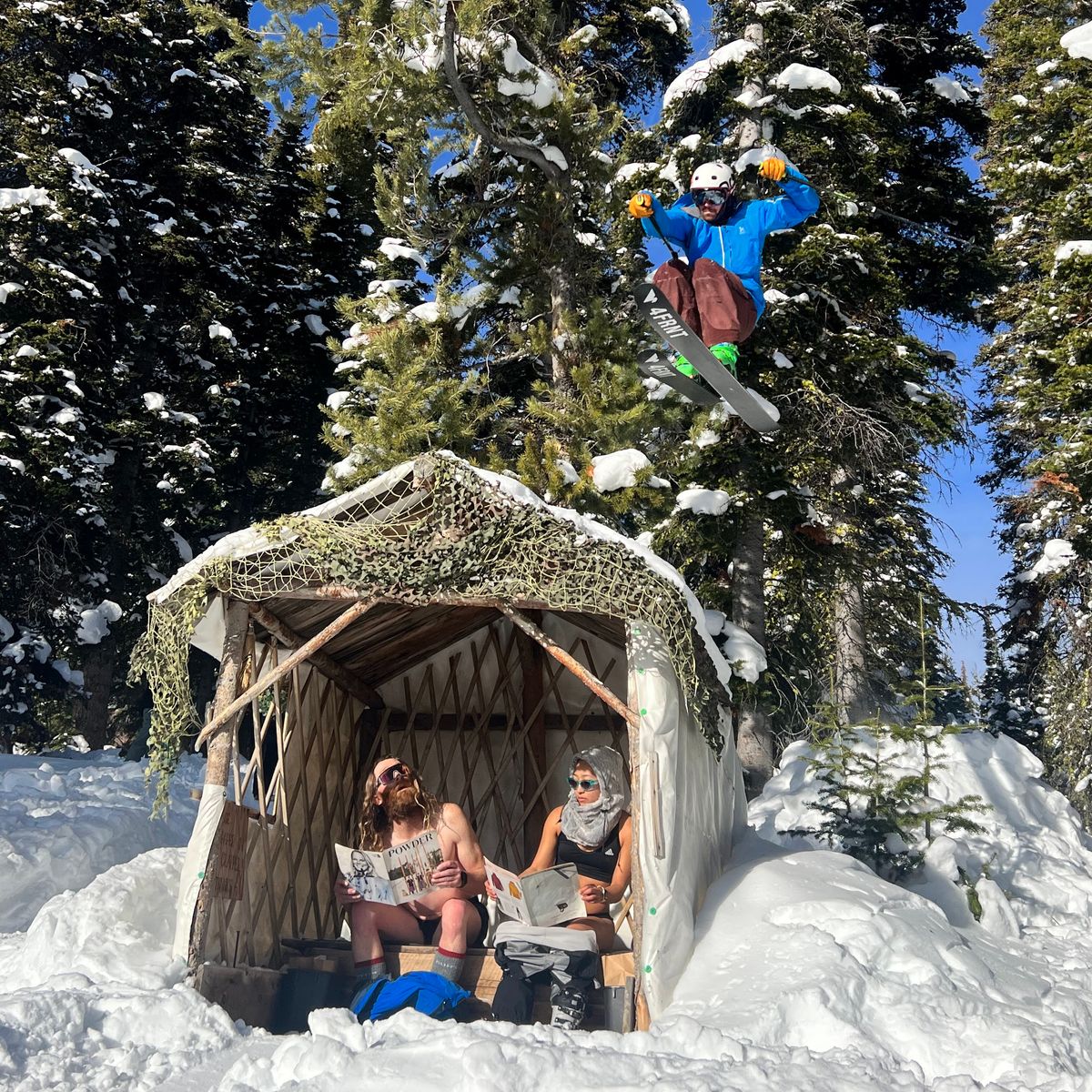 Three-day / two-night ski touring trip in the Idaho Sawtooths.
Lapped the ridgeline beneath Williams Peak, due to Considerable avalanche risk after a High / Extreme rating earlier that week.
All you can eat: gourmet oatmeal, elk steaks, elk chorizo & eggs, loaded mashed potatoes and DIY (elk) Shepherd's Pie.
Planning
Last-Minute Invite
The Sawtooths are a mountain range in central Idaho. The range covers 678 square miles with 57 peaks over 10k'. The Sawtooths are one of the most remote ranges in the lower 48. The mountains are home to Sun Valley.
A 5-hour drive into the Sawtooths wasn't on my radar this winter. A friend from my Teton Valley trail running group texted me. His buddy snagged a permit for the typically-booked Williams Peak Hut (operated by Sawtooth Mountain Guides) the following Friday / Saturday and there were extra bunks.
The invites were sent last minute, so we expected most of the crew to bail. Turns out, almost everyone accepted – we'd be 13 strong.
I only knew 3 others going into the trip. It's hard to avoid bonding after 2 nights in a remote mountain hut.
I checked the local avalanche report. The Sawtooths just experienced record snowfall. In parts of the range, avalanche risk was its highest rating: Extreme. Williams Peak's zone was High.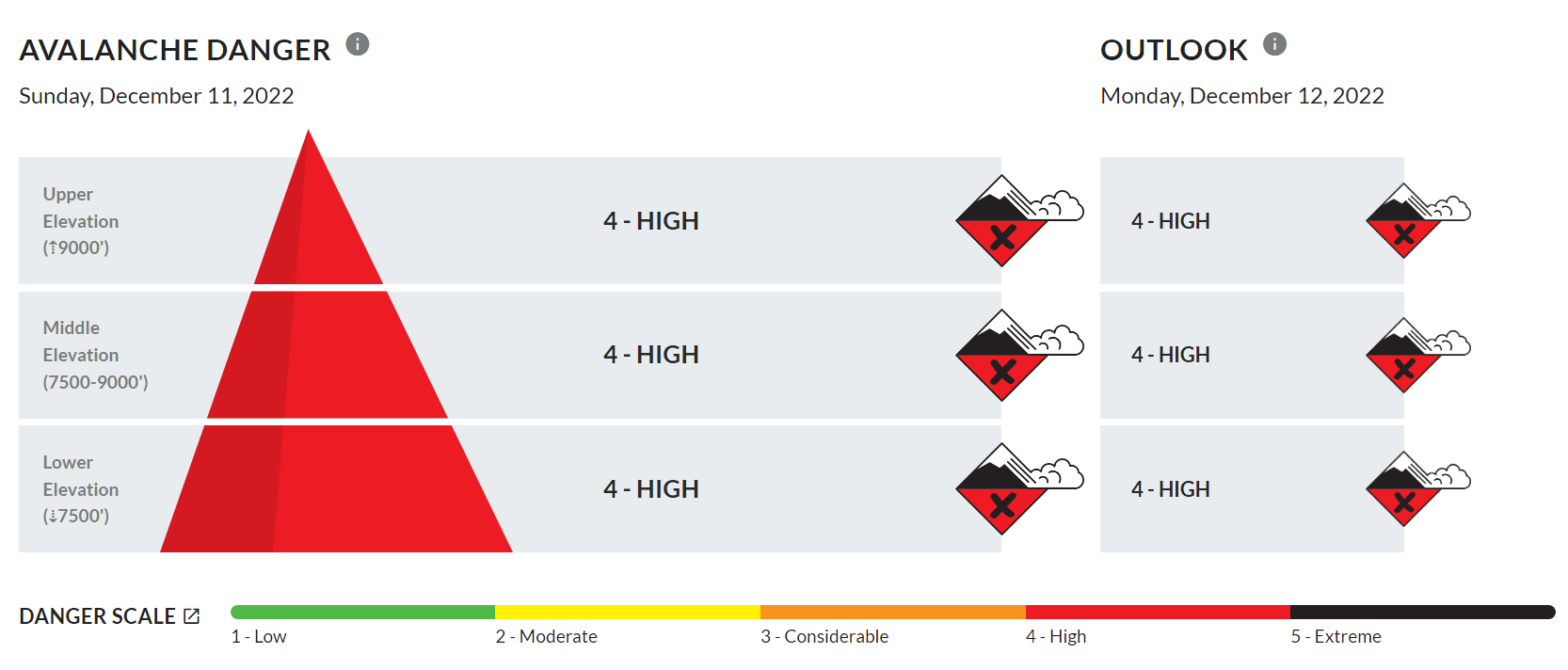 One member of the group stayed in the huts before. Above the huts lies a ridgeline with <30 degree powder fields. Even if the avalanche risk was too high for consequential terrain, we could lap the ridge.
The huts were well-stocked: firewood, propane stove, cooking and eating utensils, toilet paper, paper towels, cleaning supplies and solar lighting. Aside from our ski gear, we just needed sleeping bags, food and spare clothing.
Gear
The huts were five miles and 1,600' vertical from the trailhead. Given the elevated avalanche risk, Alex and I wanted to bring airbag backpacks (relatively low capacity). We decided to drag sleds with sleeping bags, clothes and food. In retrospect, a backpacking pack would've been easier.
Gear list:
Food:
Elk, elk and more elk: jerky, burger meat and breakfast sausage – thanks to a successful elk hunt in November (trip report); plus chorizo seasoning
Liquid eggs
Fresh jalapenos
Deli meat and sandwich thins
Baby carrots
Snacks: Cheez-Its, Goldfish, etc.
Bars and GU Gels for touring
Sawtooths-Bound
We booked a hotel in Challis, ID, Thursday night for an early Friday start.
My last day of PSIA Alpine 1 exams wrapped up that afternoon. I signed up to work a couple days a week for Jackson Hole's adaptive ski school in winter 22-23. The Level 1 exam was my 14th day of training / exams as a newbie instructor.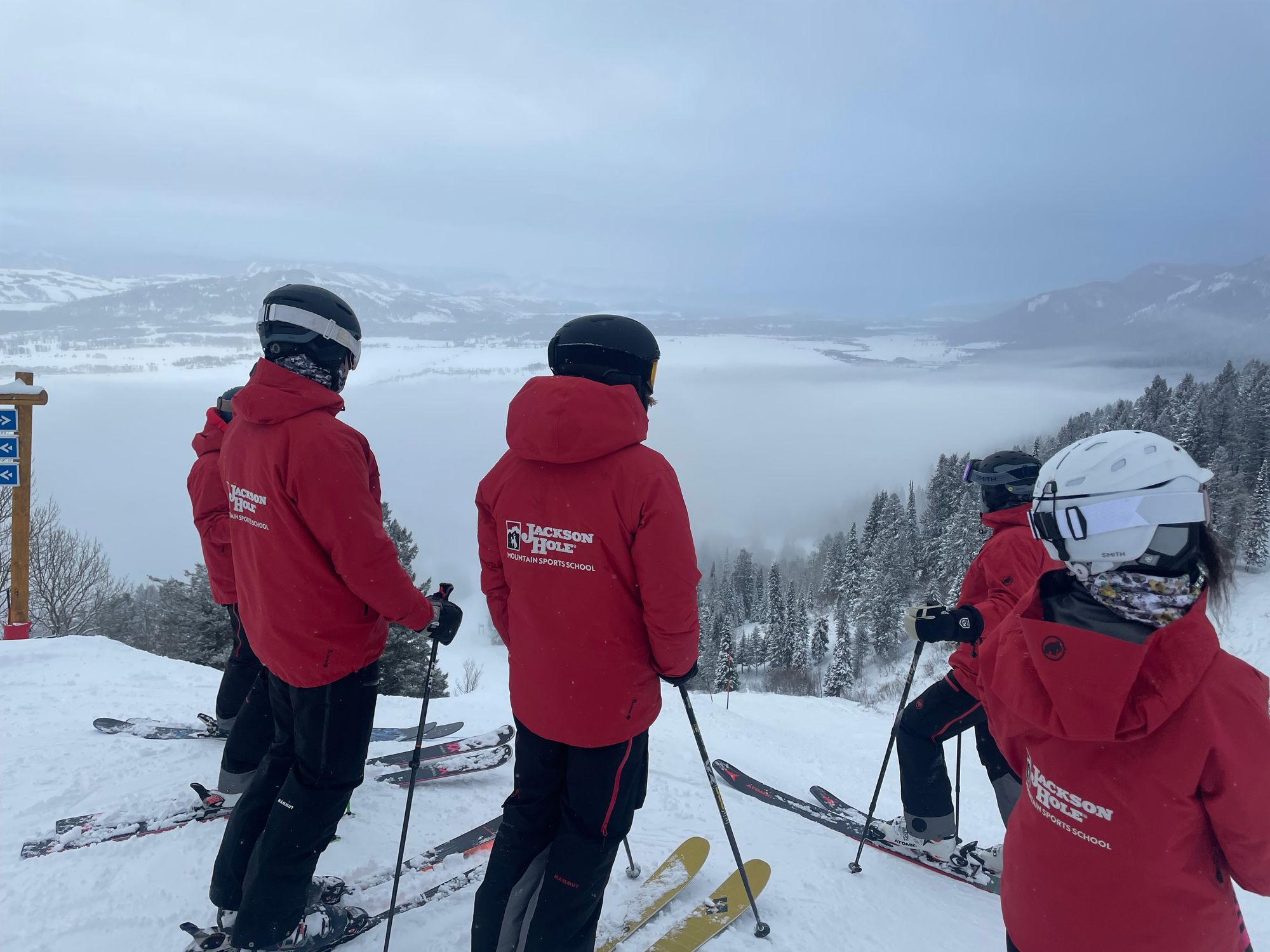 After the exam wrapped, I ran home to pack, then drove over Teton Pass to carpool from Driggs, ID. I stopped at Broulim's for some last-minute provisions and ran into my trail running buddy doing the same.
We didn't leave until ~5pm. Challis was 3.5 hours from Driggs. We stopped in Rexburg to pick up our fourth carpooler, meeting at Wal-Mart to buy another plastic sled.
We arrived in Challis at 9pm. The hotel layout reminded us of a nursing home. A chat with the owner confirmed a conversion. Five of us split a room. (Alex had sales calls in Ketchum and met at the hotel.) Group two was a couple hours behind – forgetting some gear, they had to double back.
Day One
Plastic sleds and loaded potatoes
Plastic Sleds on Sidehills
We left the nursing home first thing in the morning. Our group called ahead about breakfast burritos – the local Sinclair would be waiting for us. I ordered "The Works," right behind some ranchers with a cattle trailer parked out front.
We followed a winding road west into the Sawtooths, arriving in Stanley at ~10am. The road was empty aside from a few elk. Snowbanks grew as we gained elevation. After coffees in Stanley, we drove a few miles south to the trailhead.
It was -13F at 10:30am. Our hands and feet grew numb as we organized gear. The sun was still below the butte to our east, so we unpacked in the shade.
We cut slots in the sleds with my Leatherman, threaded paracord in a zipper-pattern to secure gear and tethered the sleds to our packs. Alex and I alone opted for sleds; everyone else had high-capacity touring packs.
We were wave one, still waiting on part of the crew. But skinning would warm us up and they could handle themselves, so we didn't wait. Puffers and heavy gloves on at 11am, we skinned down the road toward the trail.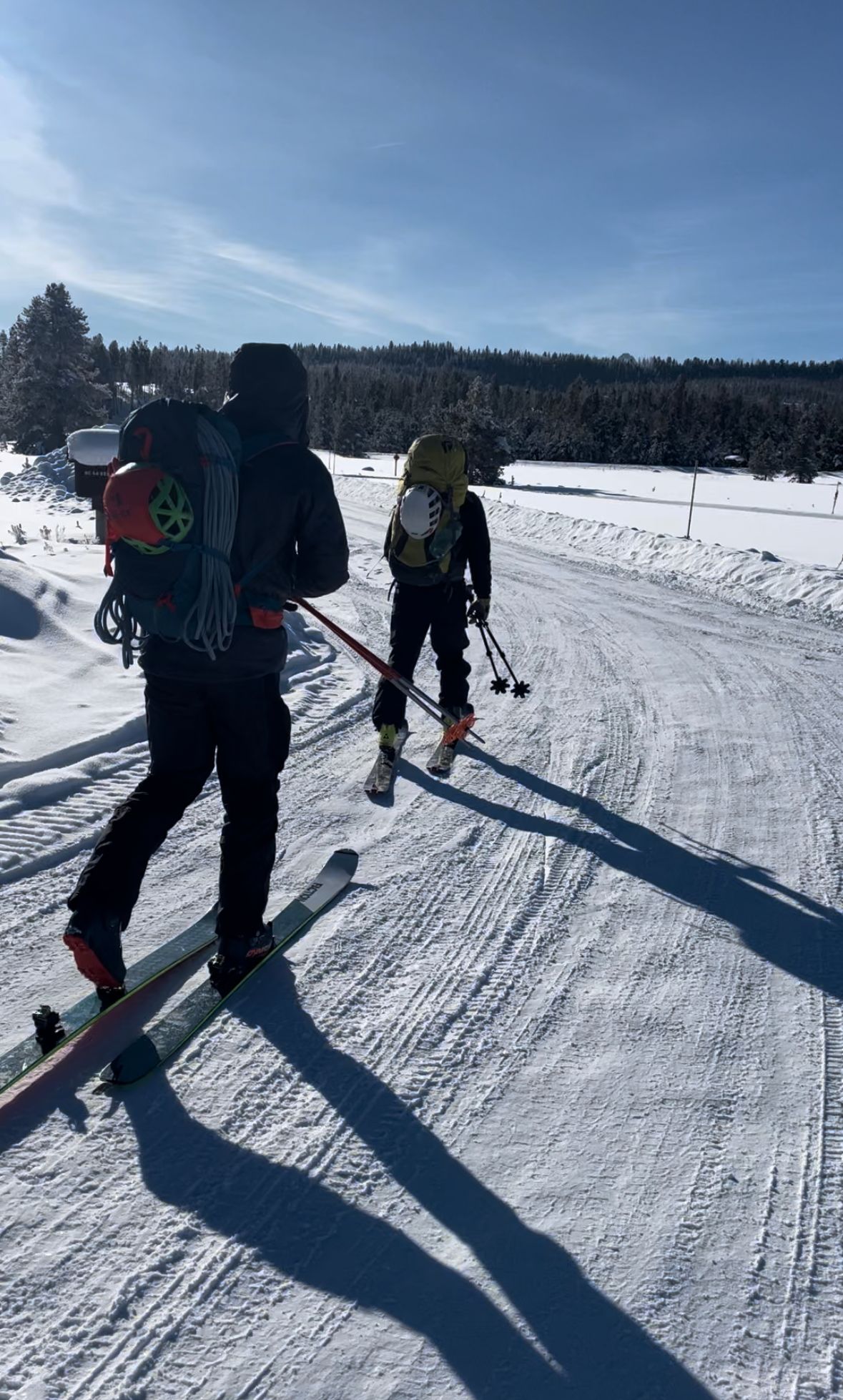 After reaching the trail, we split into smaller groups. Alex, Marge and I stayed together. We ditched layers after 30min of skinning and some sun. The sleds were wider than the skin track. Alex had the wider sled from Wal-Mart, and thus, more resistance. But the sleds worked well enough – manageable on a few short downhills.
Low-density powder surrounded us, preserved by cold temperatures post-storm. We observed surface hoar from a cold, clear night.
Halfway to the huts, we passed the Sawtooth Mountain Guides descending. They trained from the huts over the past few days. Ski conditions were great, but avalanche risk was still Considerable.
Along the way, our shared radio channel rang out updates. The lead group made it to the huts. We had a mile left.
On the final approach, we found a sidehill. Alex's sled kept sliding off track. Finally, it flipped and his gear came loose. Cursing, Alex surrendered, divvying the gear between us and carrying his sled.
At 2:30pm, the huts came into sight.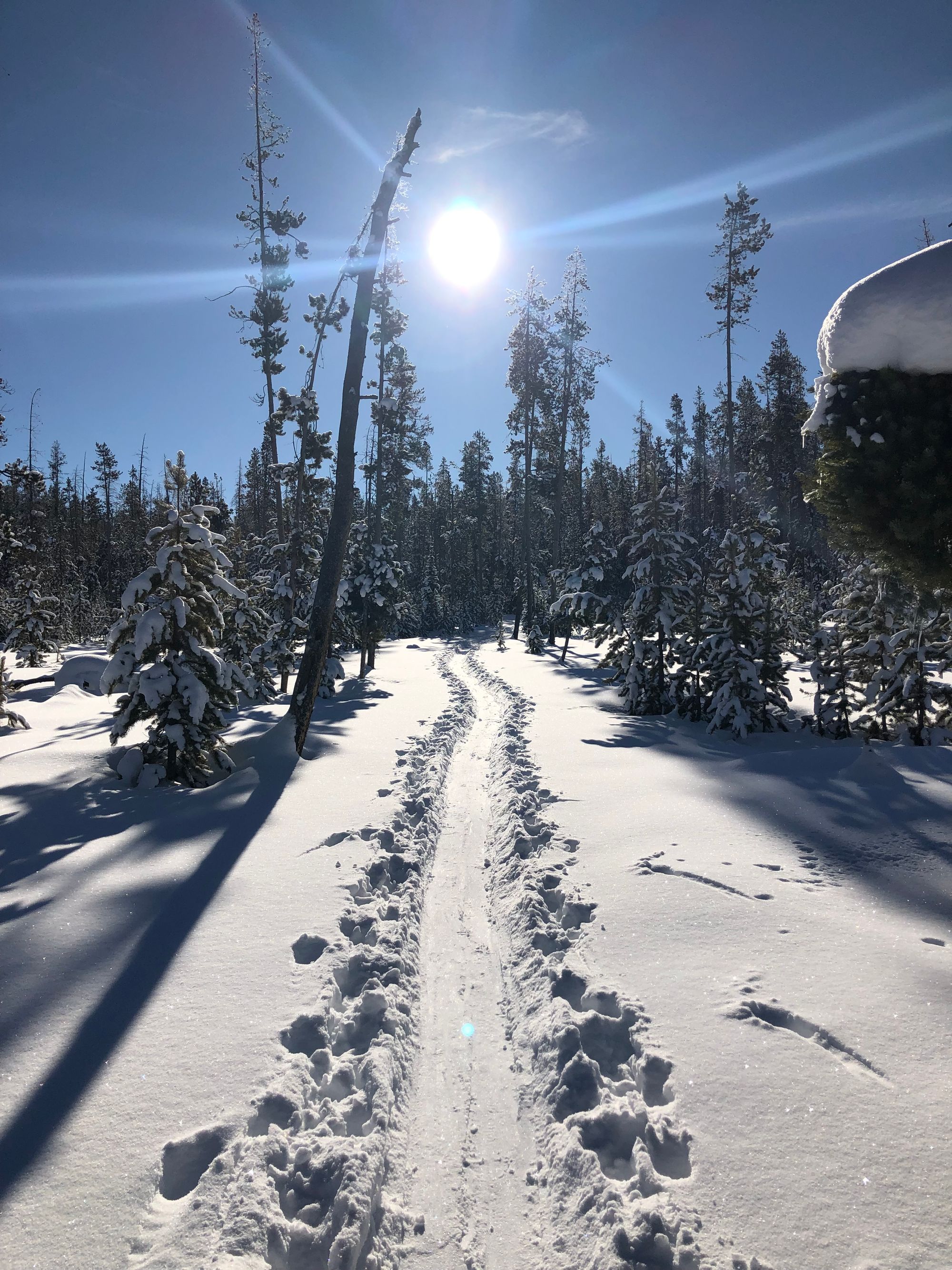 Settling In + First Powder Laps
We tossed gear on bunks in the cooking hut and explored camp. There were two huts: one with a kitchen / bunks and one with bunks only. The open-air, two-seat outhouse had sweeping views of the valley to the east. The wood stove in a small sauna was cold.
A huge stack of firewood laid between the huts, waiting to be split. The departing guides left the hut stoves burning and some split wood in each. Drinking water came from a snow patch next to the huts. A large pot sat on the cooking hut's stove to boil the snow.
The cooking hut had a propane stovetop, pans, dishes, cups, utensils, coolers and everything else a backcountry chef needs. I put our food in a cooler, leaving the frozen elk meat to defrost.
After refueling on elk jerky, we clicked into our skis and joined the group on a quick tour. We skinned a few hundred feet up the ridge above the huts (<30 degrees), enjoying fresh tracks on the way down. The slope continues a few hundred extra feet below the huts to a drainage. From the drainage, we transitioned to skin ~15 minutes back up to the huts.
Part of the group splintered to dig a pit. The storm layer propagated. We planned to keep it conservative.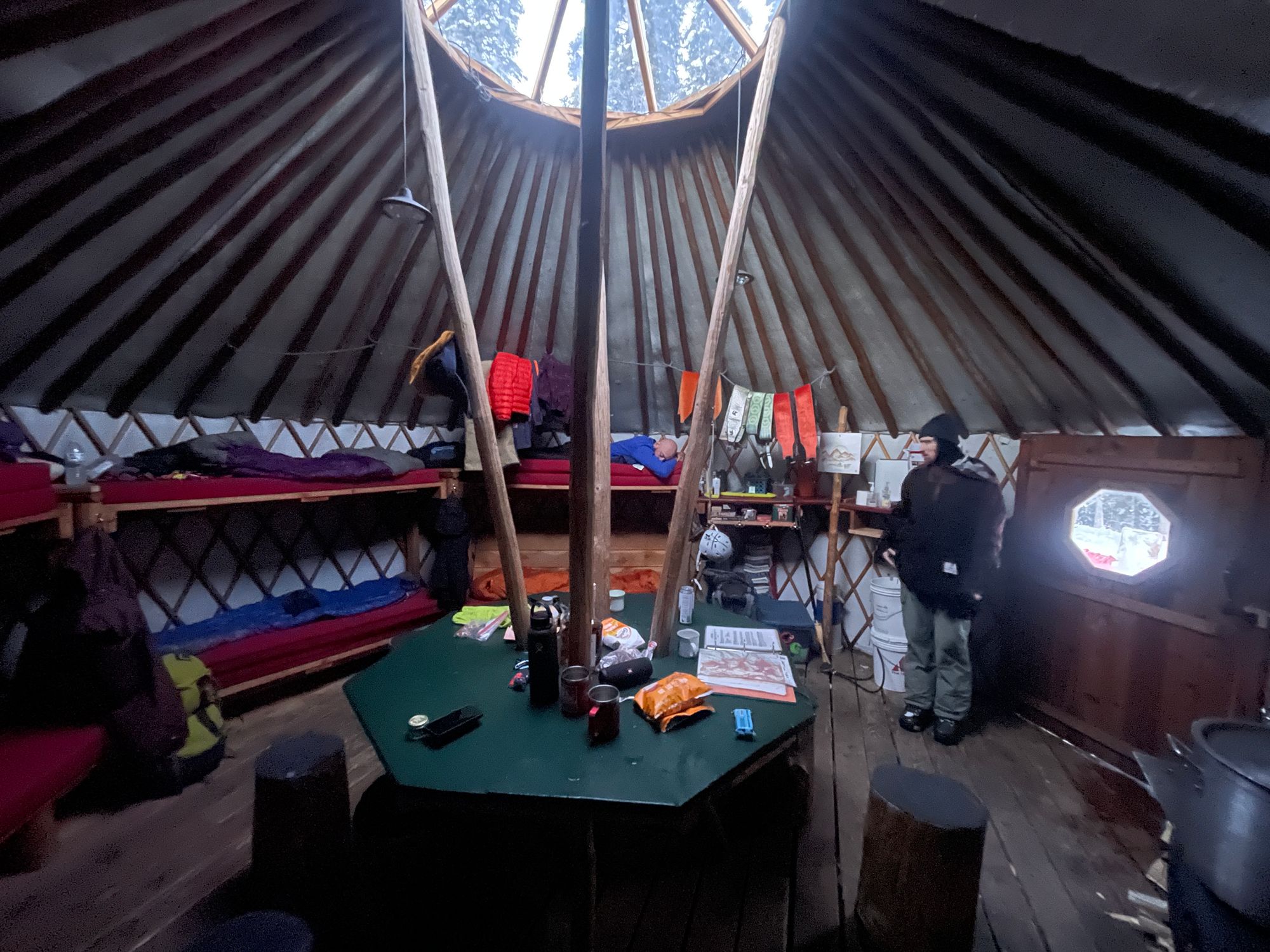 Sunset, Potatoes and Screwball Sloshies
It was dusk when we returned to the huts. We hung skins, gloves and base layers around the wood stove to dry. Hanging racks lined the walls of each hut.
The crew started on our first dinner: instant mashed potatoes with bacon, green onions, shredded cheese, sour cream and other fixings.
We played Monopoly Go, sipped Screwball sloshies (snow + peanut butter whiskey) and met our hut-mates. We stumbled outside for fresh mountain air and a clear starlit sky. The huts faced east on the ridgeline beneath Williams Peak.
The top bunk was comfortable, occasionally hot after new logs hit the fire. A light sleeping bag did the trick. I slept through the night, but a few of bottom-bunkers woke to stoke the fire. The bottom bunks were a bit draftier.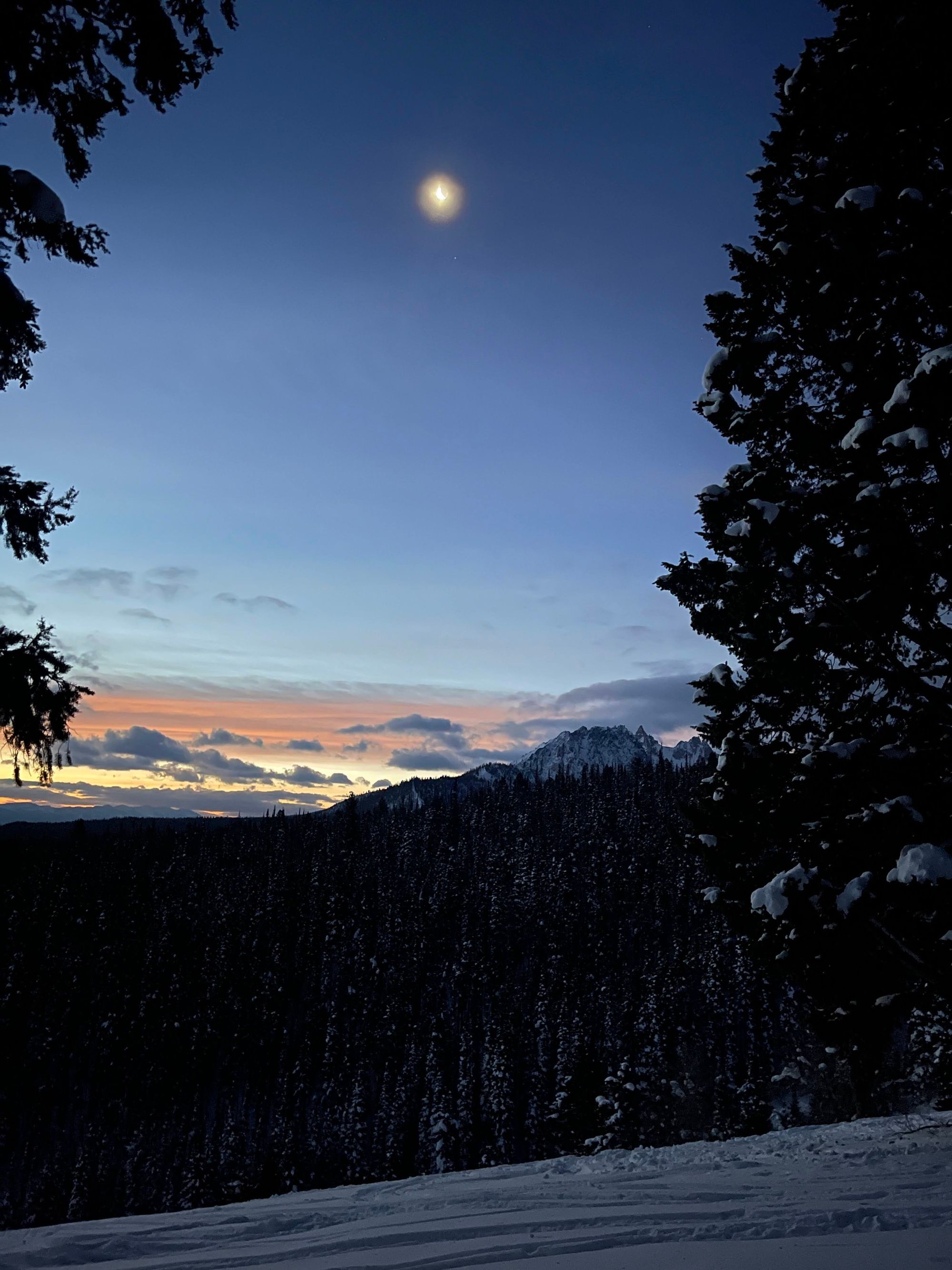 Day Two
Powder laps and elk meat
Sunrise and Elk Chorizo
At 7:30am, we woke to a red glow in the window. Stumbling outside, we were greeted by sunrise in the east.
I cooked elk breakfast sausage in a frying pan, adding chorizo seasoning and fresh-sliced jalapenos. We fried liquid eggs and brewed some coffee.
While I cooked the elk, others made "gourmet" oatmeal: instant oats garnished with berries, cinnamon, nuts, chocolate and more. It was tricky to coordinate between 13 people. All afraid we'd have too little, we ended up with too much.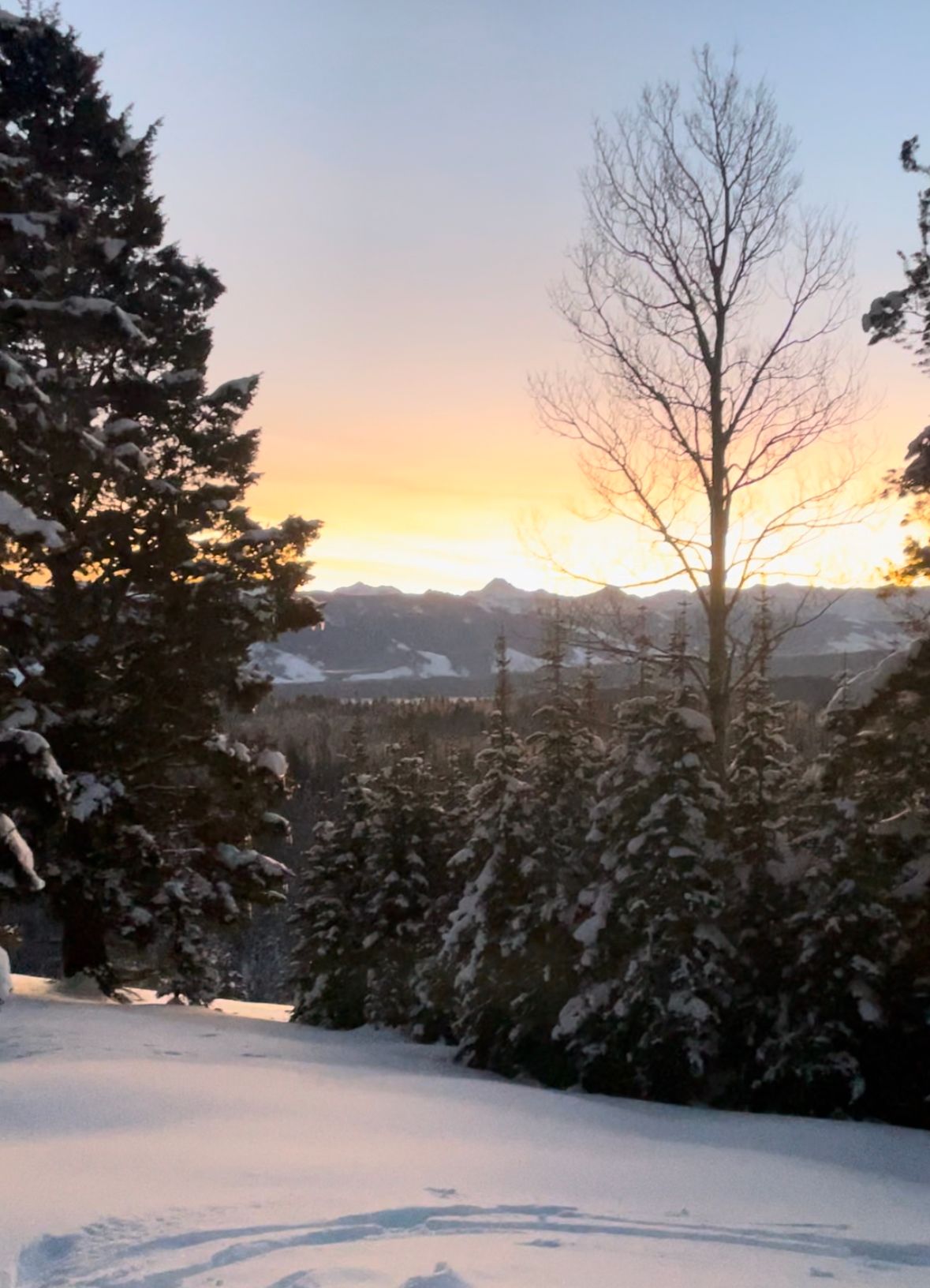 After each meal, we cleaned dishes in designated tubs. I stopped at the outhouse, soaked up the views, then geared up to ski.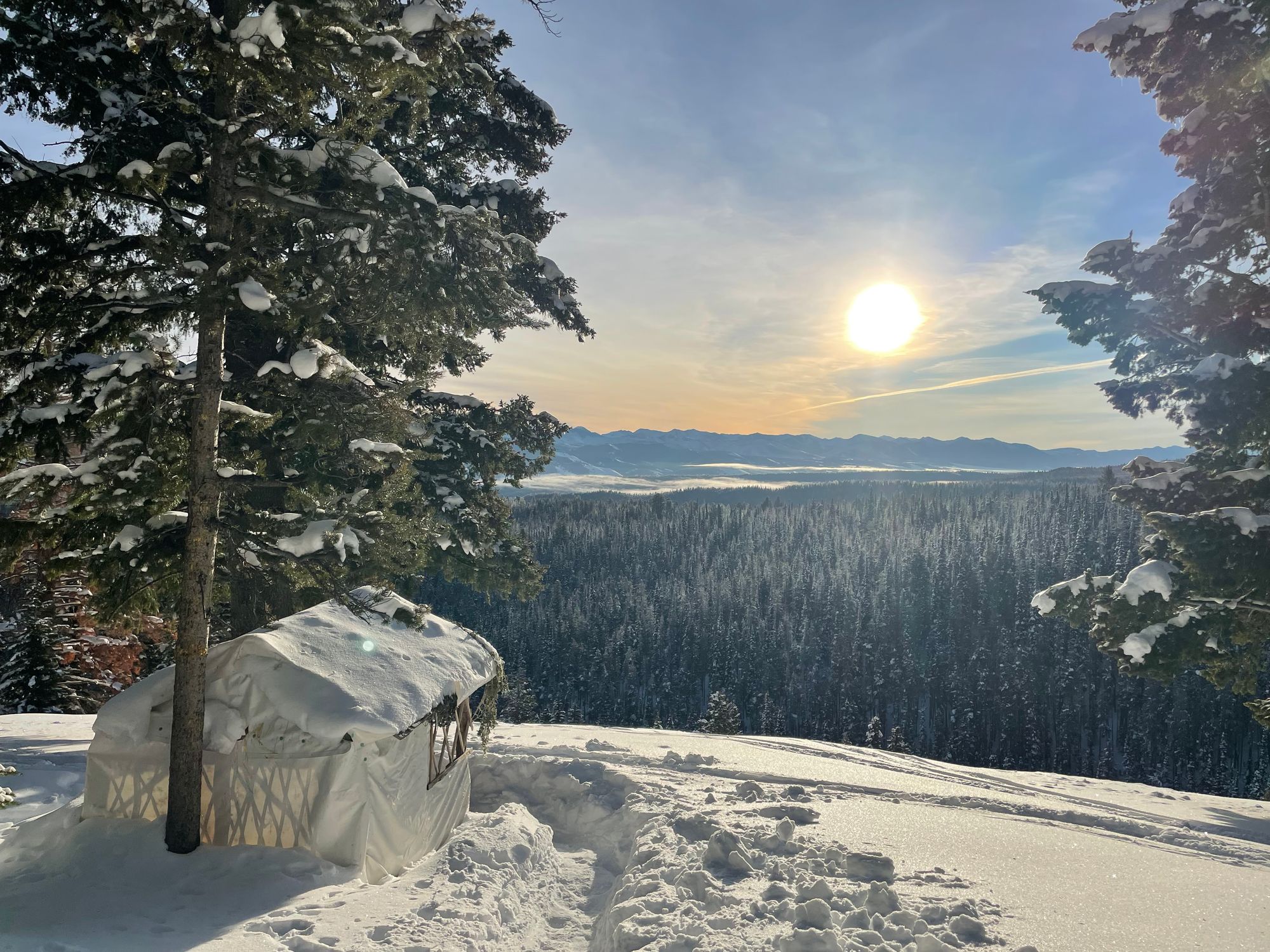 Avalanche Drills
At 10:30am, we buried a beacon for avalanche drills. Lead / follow roles alternated with feedback after each round. One of the crew volunteers for Teton County Idaho SAR.
Based on snow-pit results, the Considerable rating and recent High / Extreme ratings, we planned to lap the <30-degree ridgeline above the huts. Part of the group set a 10k' vertical goal (5 laps). My attention span would limit me to 2-3.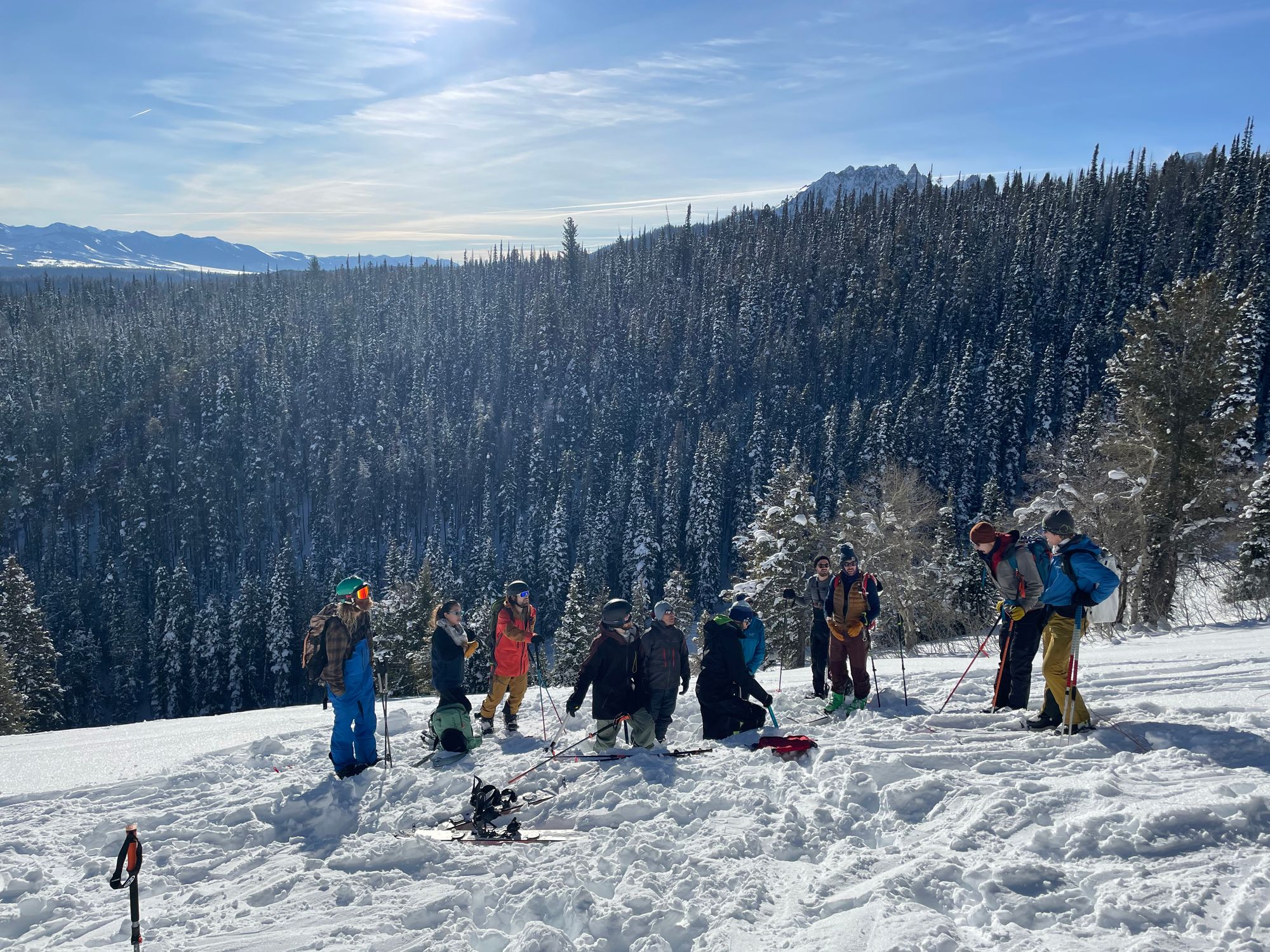 Lap One
We started as a group, spreading out on switchbacks up the ridge. It was a cold, bluebird day. The weather had been overcast since the storm, so no sun-crust.
As we approached the false summit, we found some wind loading – otherwise, all low-density powder. Vertical was 2k' from the drainage to the false summit. Each lap took 1-1.5 hours.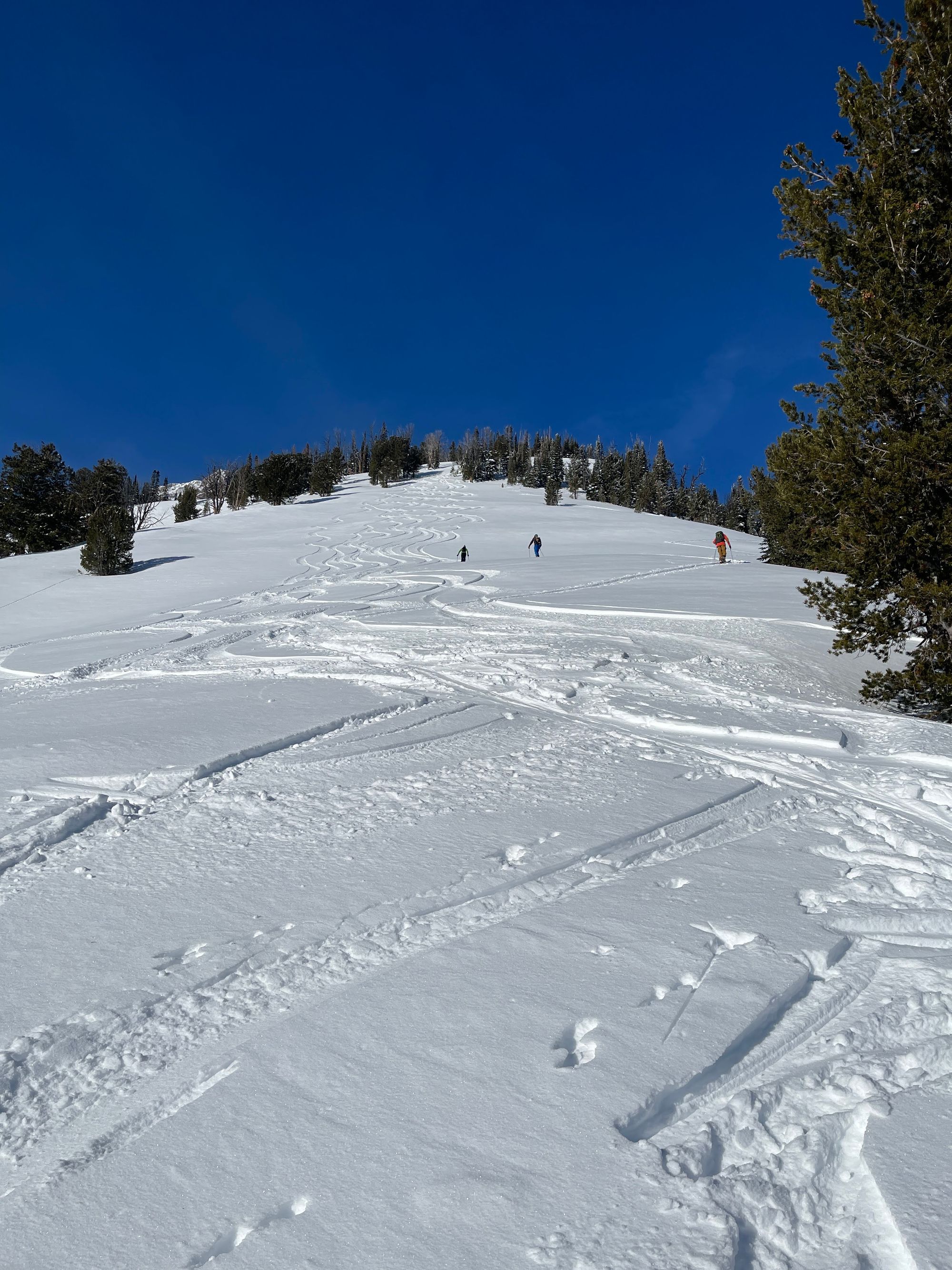 Part of the group tested a cornice overhanging a north-facing couloir. They were testing for a slide. The skier with the snow saw tied himself to a tree. Despite best efforts, they couldn't release enough of the cornice to trigger a slide.
We transitioned for our first turns of the day – perfect powder, just like the prior night. We stayed on the east aspect as best we could. The pitch steepened to skier's left and veered away from the huts to skier's right.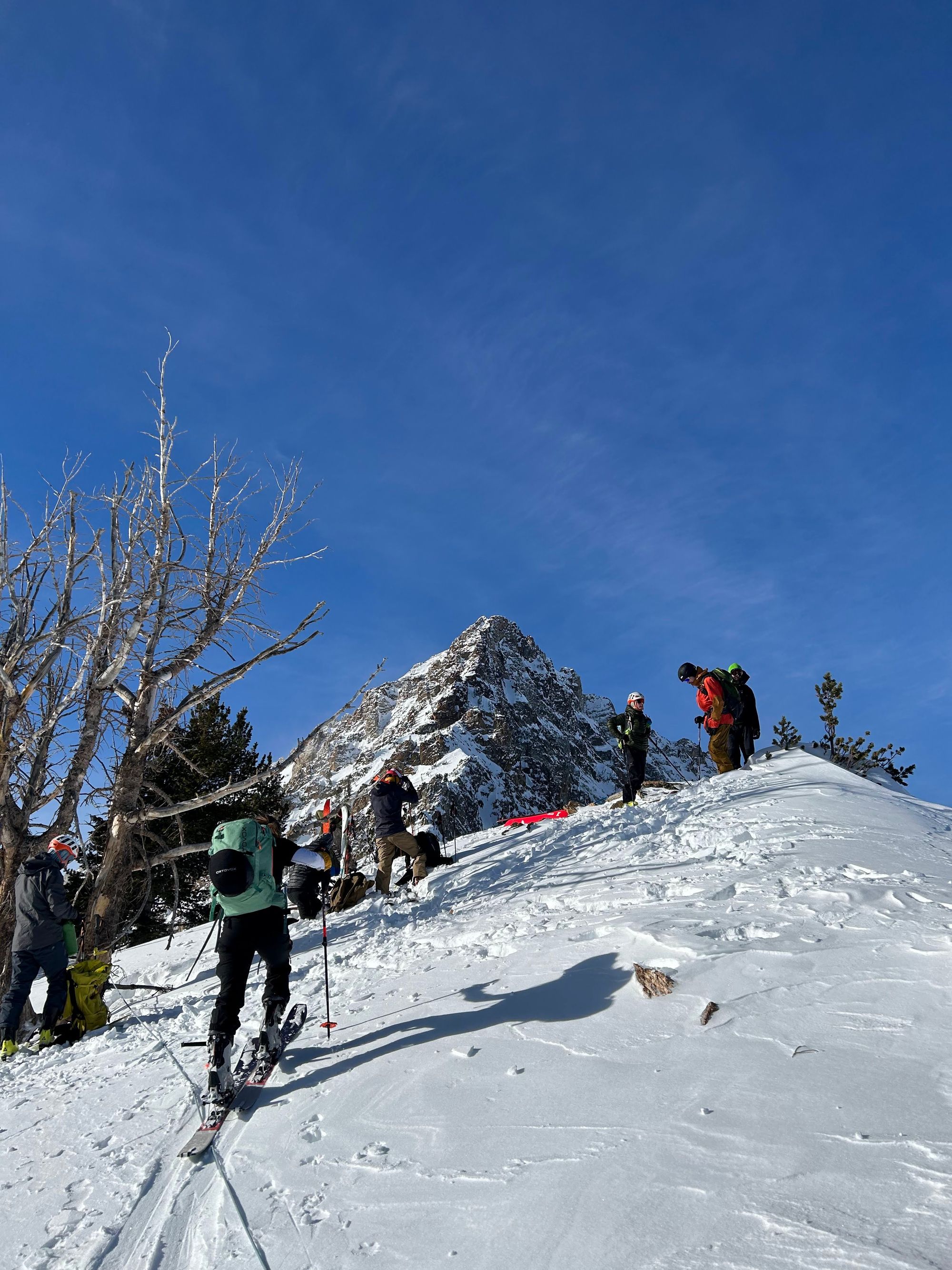 We cruised down the ridge, past the huts. After a 15min skin back from the drainage, we stopped for quesadillas. First 2k' down.
Lap Two
After lap one, the group splintered. The 10k' group hustled. Two built a kicker above the outhouse. My group paced for a leisurely 2-3 laps.
After a snack / water break, we started lap two. Marge blasted Bad Bunny on her phone, paired with the click-clack of her frame bindings.
By 2:30pm, we transitioned at the top. We aimed for steeper pitches and trees to skier's left. Up high, we found perfect powder turns again. On the lower pitches, our tracks and the day's sunshine meant a bit more chatter.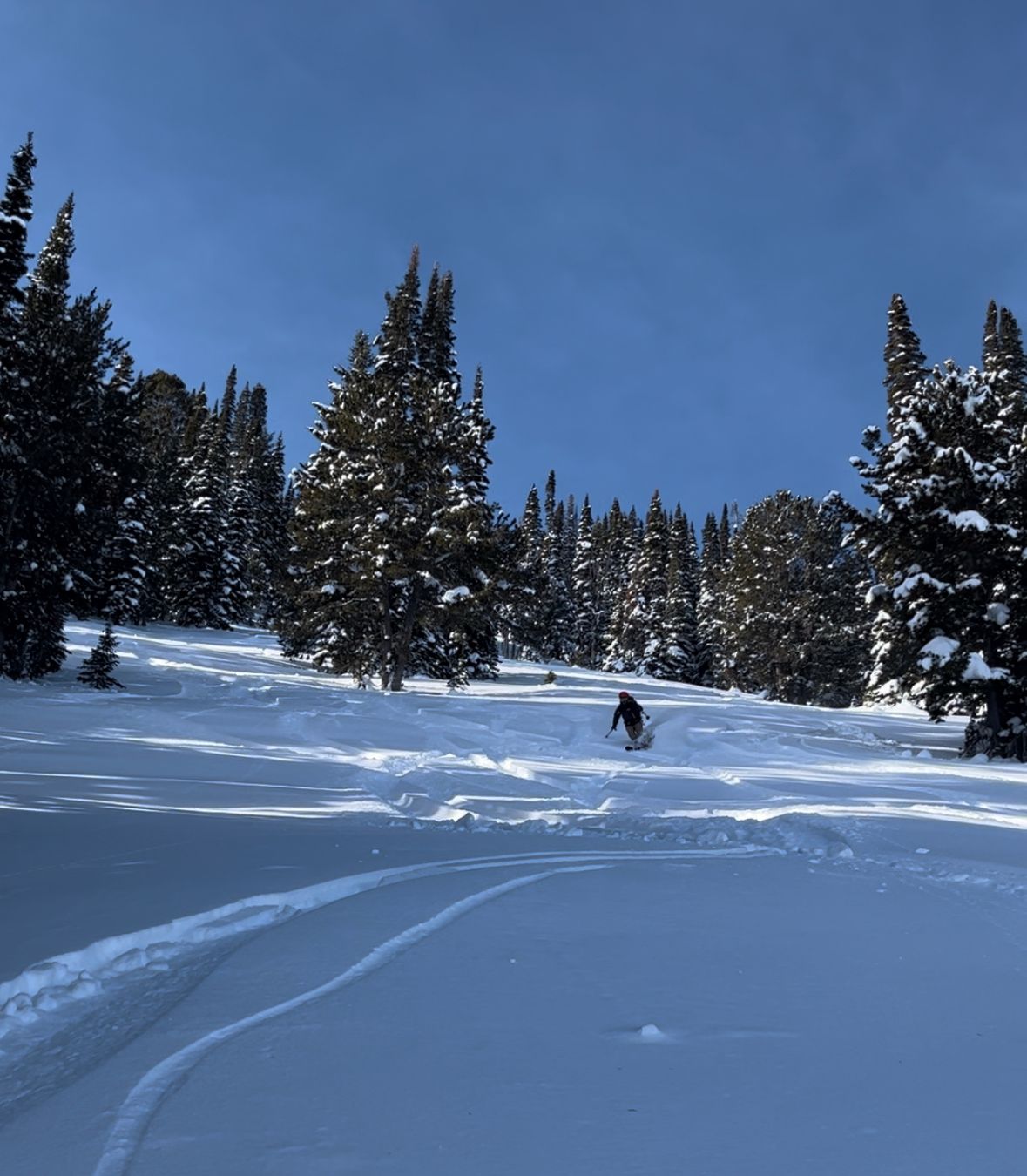 We reached the drainage, then skinned back up to the huts for more snacks, ciders and Monopoly Go.
Radios stayed on Channel 20 all day, periodically broadcasting updates across the group. Everyone stuck to the buddy system.
Monopoly Go and Elk Steaks
After lap two, we noticed Marge's ski tail had cracked. Marge skis hard and brakes harder. At least it wasn't the tip, so she'd be able to ski out. Alex joined the 10k crew for a third lap. Marge, Levi and I hung back at the huts.
It was 2:30pm. We had a couple hours before sunset. Jed, who worked on the outhouse kicker, planned to cook elk steaks for dinner.
Alex returned just before 4pm, and he, Marge and Levi opted for one more lap. Marge decided to push the limits of her broken ski.
I hung back to split some firewood and get first dibs on elk steaks. We needed to leave the huts as we found them, so I split enough wood for the night and to refill the stacks in the morning.
At 5pm, Jed cooked the first batch of elk steaks and mashed potatoes. I seasoned some baby carrots in tin foil and dropped them on the wood stove to steam.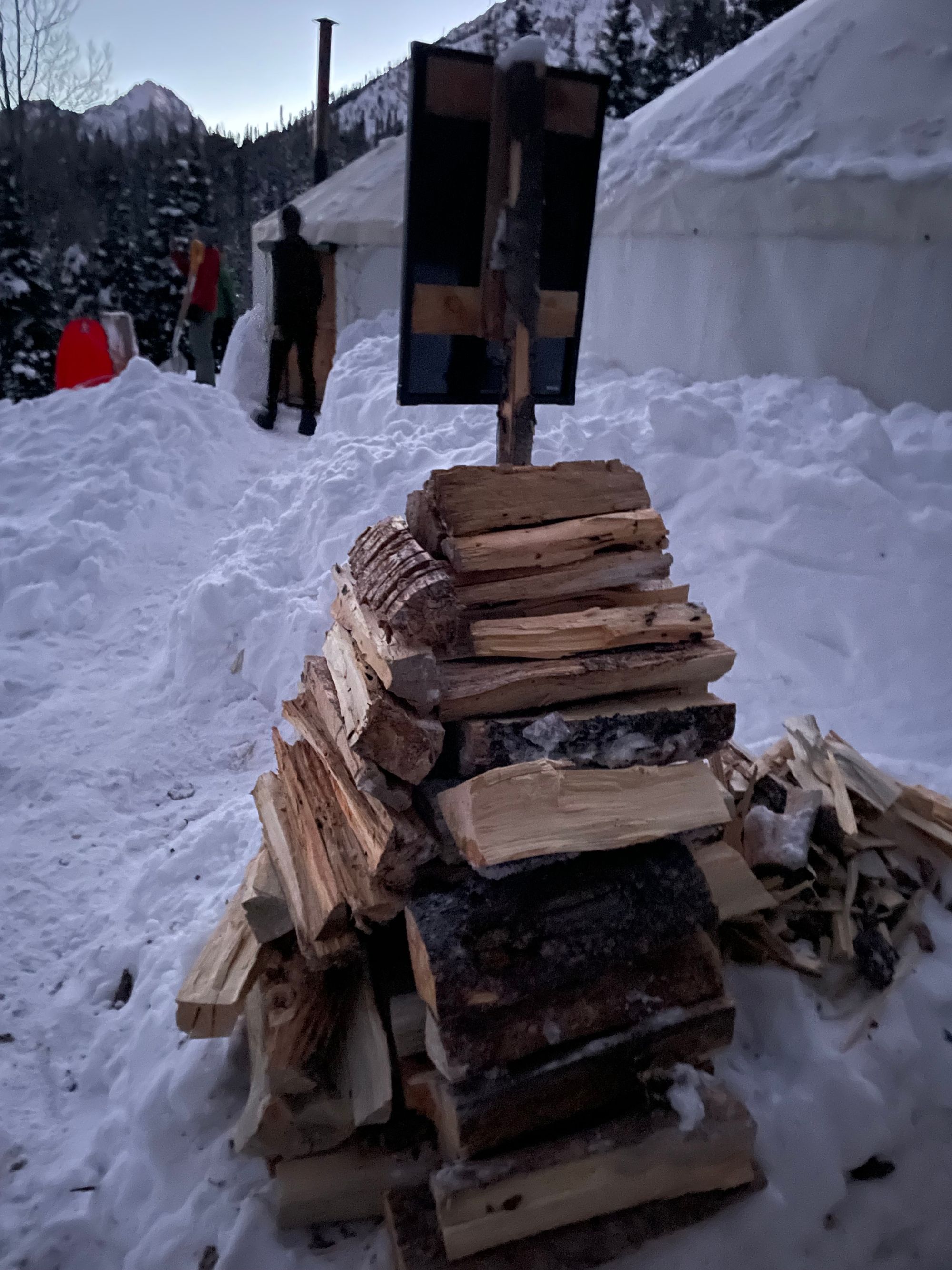 The hut crew (including me) got first dibs. The 10k crew ascended one more time. Alex, Marge and Levi were late. We reached out via text and radio. Turns out, they skied too far right and dropped below the huts. It'd take 45min to an hour to skin back up.
Jed cooked elk steaks to a perfect red center. Marge, Alex and Levi rolled in at 7:30pm. The 10k group was an hour behind them, finding their way by headlamp. As the cooking hut filled, we sipped Screwball sloshies / ciders, cooked s'mores on the wood stove and played cards.
Everyone hit the bunks by 11pm.
Day Three
Outhouse shenanigans and a roller-coaster skate track
DIY Elk Shepherd's Pie
Day three sunrise was even better with broken clouds in the east.
We had left over ground elk and mashed potatoes, so I attempted a Shepherd's Pie. Lacking an oven, it'd have to be DIY.
Hardened bacon fat was left over from the mashed potatoes. I heated fat on the stove and sauteed the remaining jalapenos. I added canned corn and carrot slices, then ground elk, flavored with a medley of seasonings stocked in the hut.
Jed and Levi whipped up instant mashed potatoes. The group also cooked more gourmet oatmeal. Again, way more food than we needed.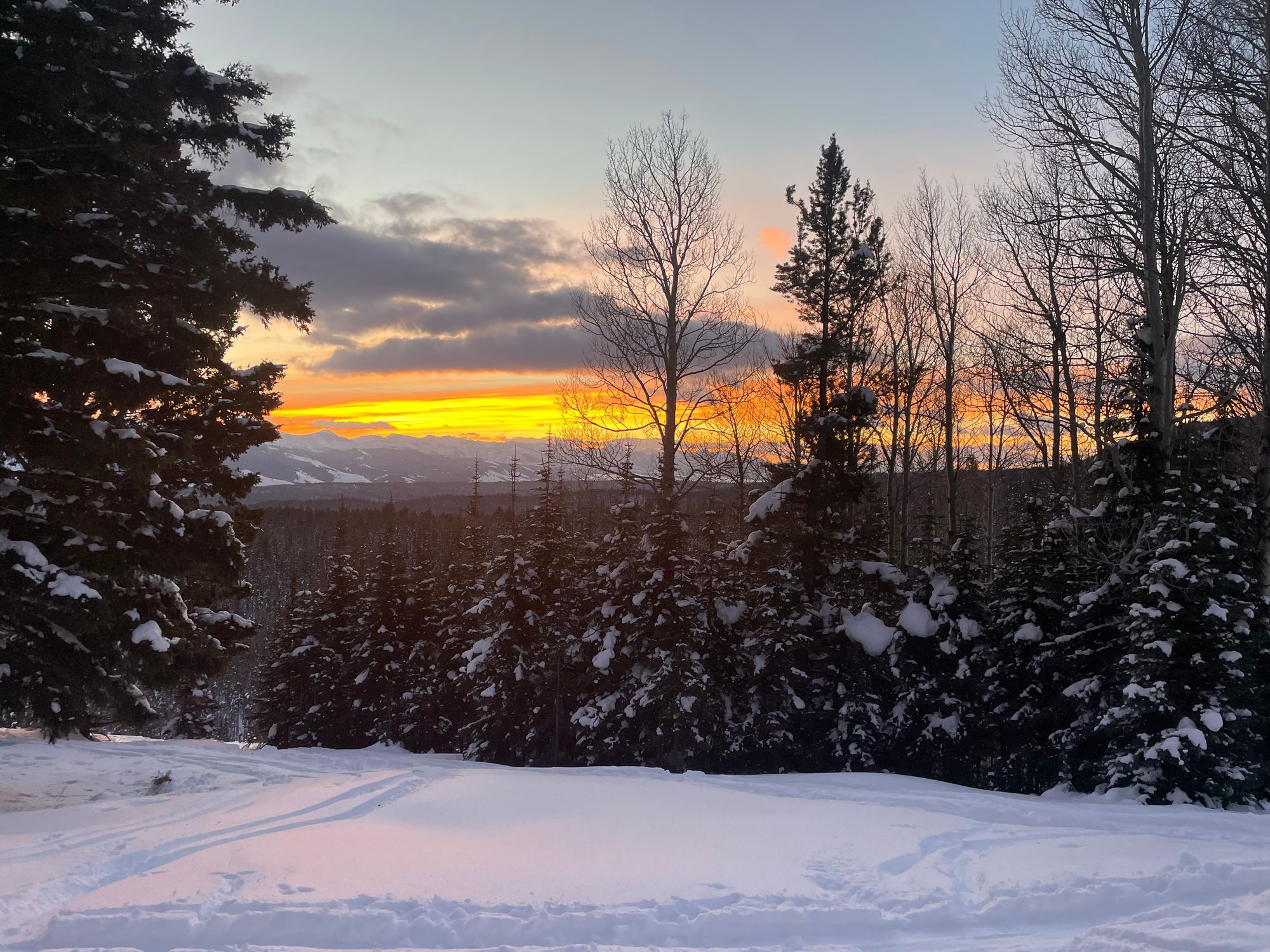 Outhouse Kicker
We had crucial business before we could ski down – an outhouse photoshoot. Pairs took turns sitting in the outhouse while Jed, Cramer and Alex jumped over its roof. The rest of us scattered across video / photo angles.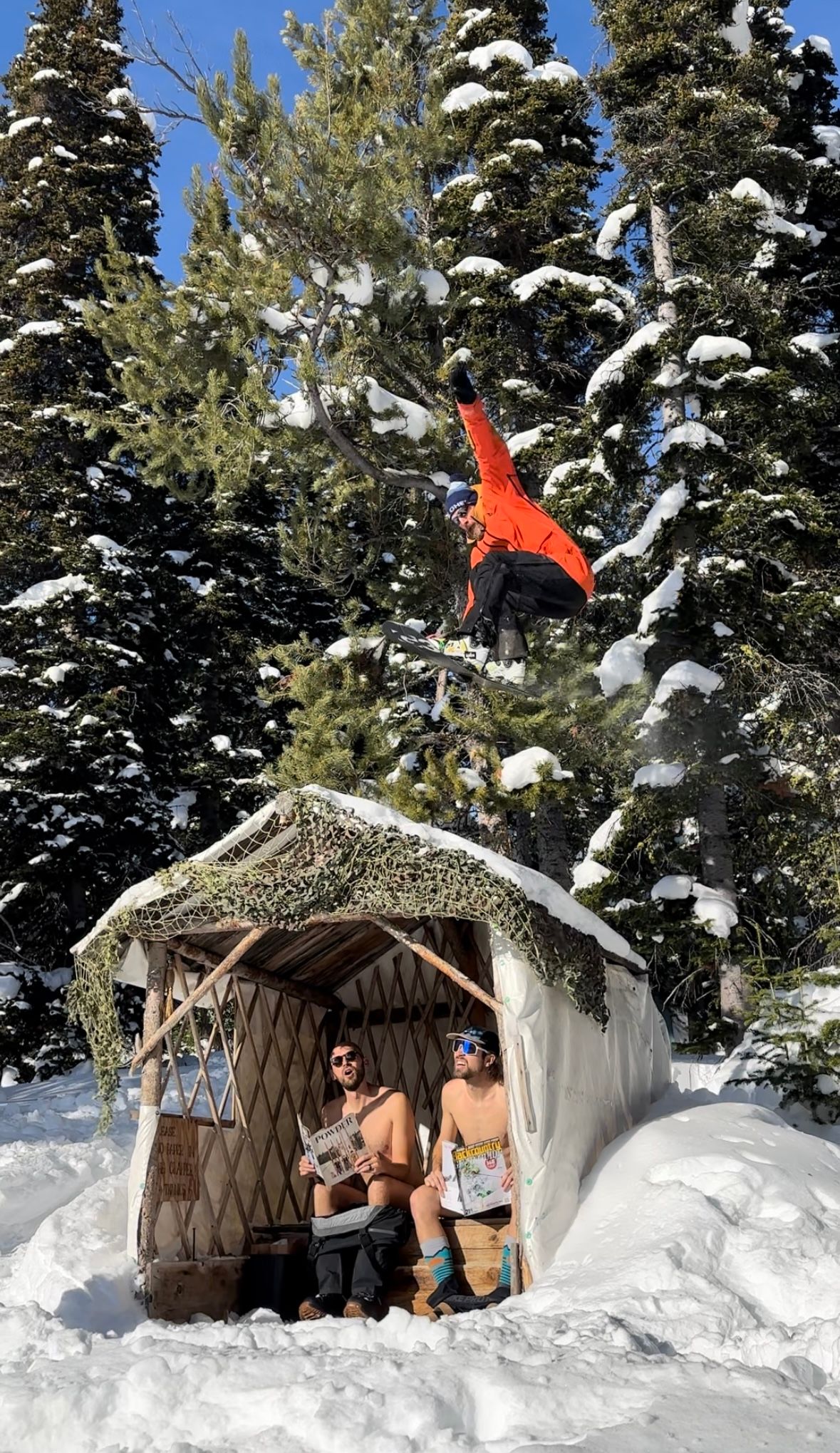 Roller-Coaster Skiing Out
At 11am, we geared up to ski the skin track we ascended two days before. Our sleds wouldn't make it, so we strapped extra backpacks to our chests and sleds to our airbag packs like turtle shells.
We navigated 5 miles of side stepping, skiing, skating and pole pushing. The single strap on my extra pack dug into my shoulder. I cradled it when able.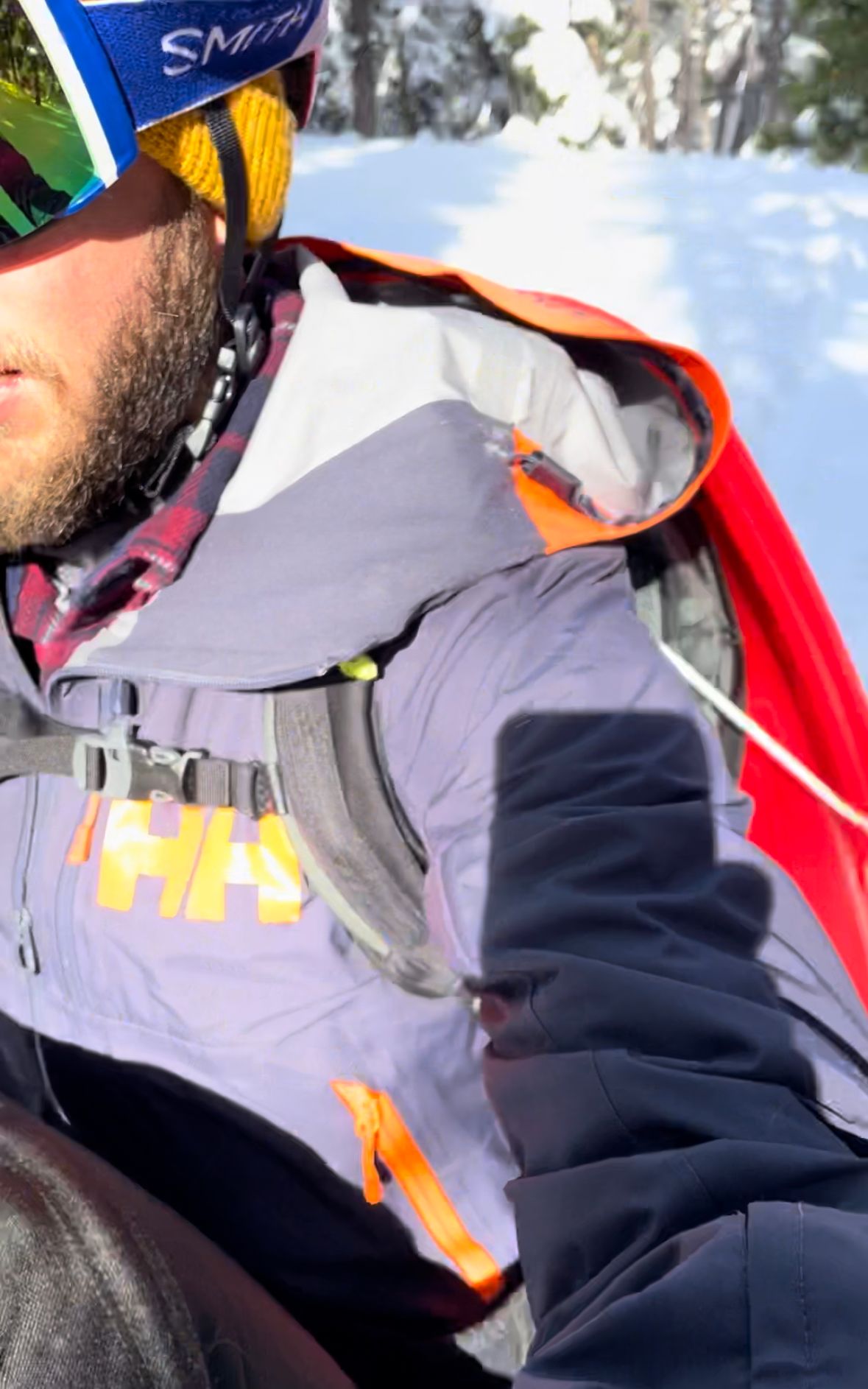 We dodged stumps and rocks. Toward the bottom, the pitch steepened and wound like a roller coaster. After some final pole pushing, the trail emptied onto an access road. We skated uphill to the trailhead, all ACLs intact.
The group spread out on the descent. (Snowboarders struggle with up and down skate tracks.) After Alex, Marge and I packed up our gear, we left for Ketchum. In the distance, we spotted our Williams Peak ridgeline. Until next time.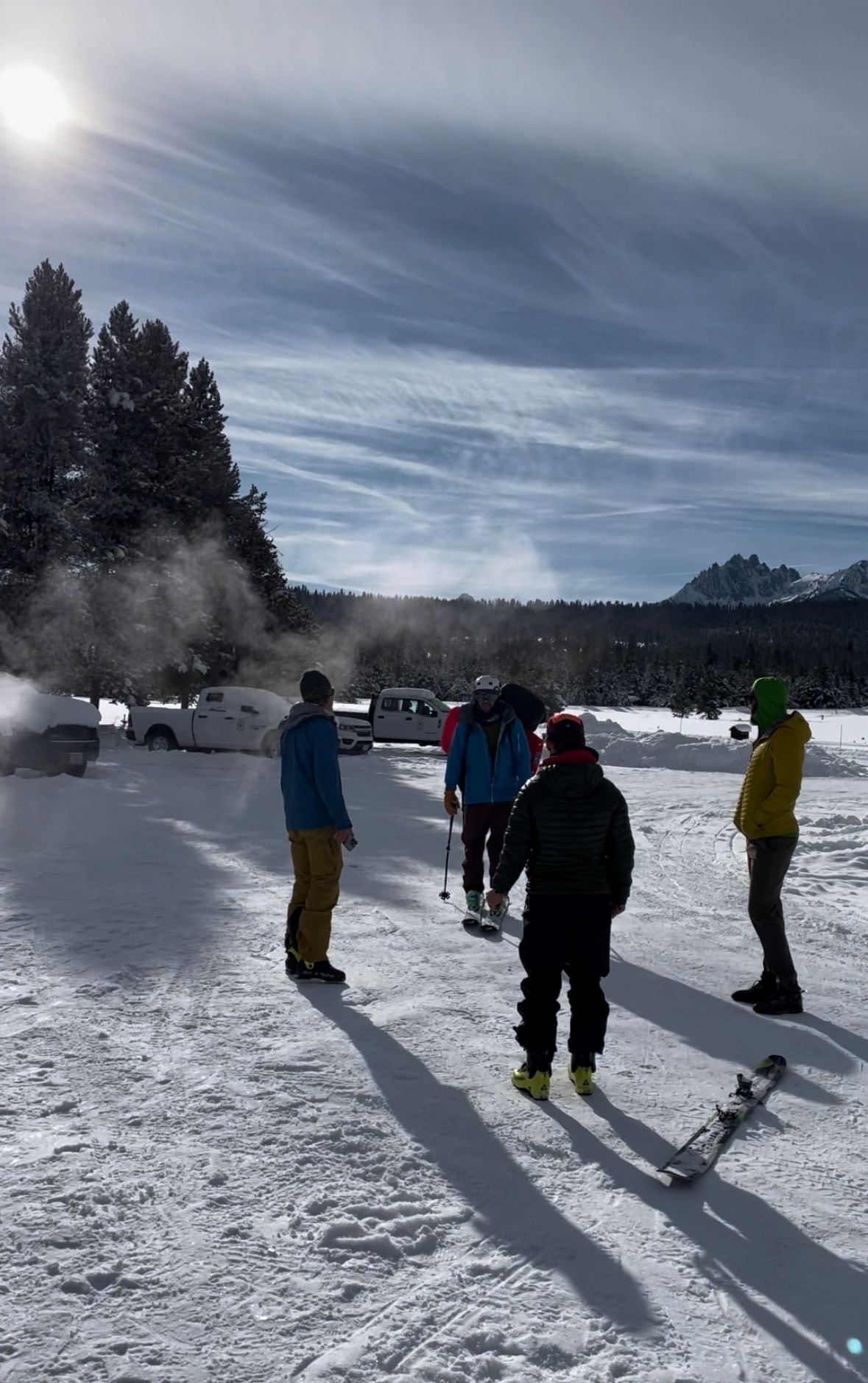 Peruvian Cuisine and Lava Rocks
We drove south through the Sawtooths via valleys and mountain passes. We passed tracks on adjacent slopes nearing Ketchum. In Ketchum, the ritzy home of Sun Valley, we settled on a Peruvian restaurant for dinner.
We continued south, snowbanks shrinking as we descended. The road to Idaho Falls forks east, along the Sawtooth foothills and through Craters of the Moon. Black lava rock covered the horizon in stark contrast to white snowfall. The sun set behind us, lighting up passing lava rocks.
After a few hours, we arrived in Driggs. I jumped in my truck and drove another hour to Jackson over Teton Pass.
First Sawtooths adventure in the books ✓