Shoshone Lake Solo Canoe Camping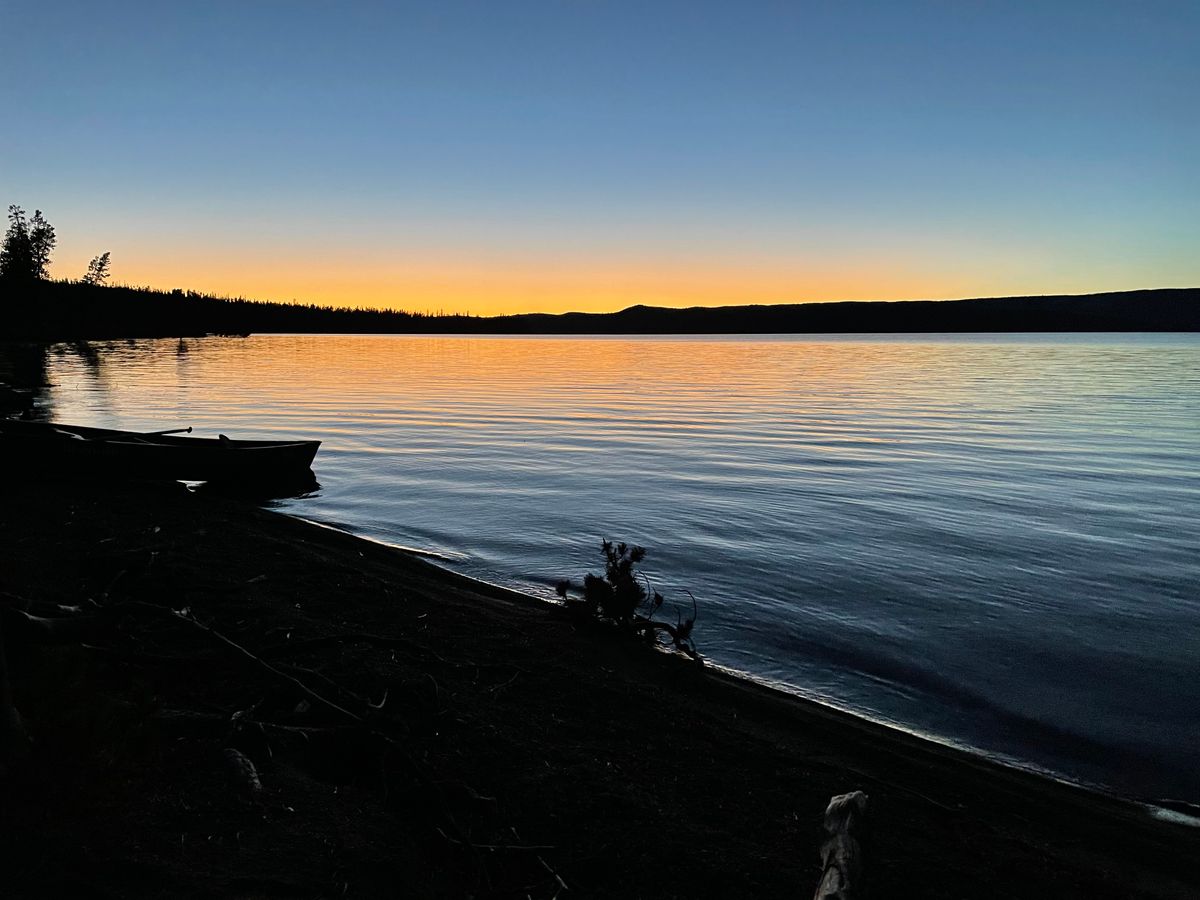 Sat-Sun, August 28-29, 2021:
~30 miles of canoeing (~8 day one / ~22 day two).
Overnight at Moose Creek Beach, a campsite close to the channel.
Two-mile hike through the Shoshone Geyser Basin on day two.
One brown trout, catch and release, in Lewis Lake on the way home.
Ten Years on the Wish List
I added Shoshone Lake to my wish list in 2011. I worked in Yellowstone's Canyon Village restaurant between my freshman and sophmore years at SUNY Geneseo. My new friends and I hiked 120+ miles in the Park. We explored Bunsen Peak, Mount Washburn, Seven-Mile Hole, Fairy Falls, Elephant Back (in the snow), the Canyon Rim, all the major geyer basin trails, Lamar Valley, etc.
After a morning shift, I stopped by the backcountry office to brainstorm treks. The backcountry ranger had two recommendations: Heart Lake with an ascent of Mt. Sheridan and Shoshone Lake. By the end of the summer, we crossed off Heart Lake and Mt. Sheridan. Shoshone slipped away and has been on my wish list since.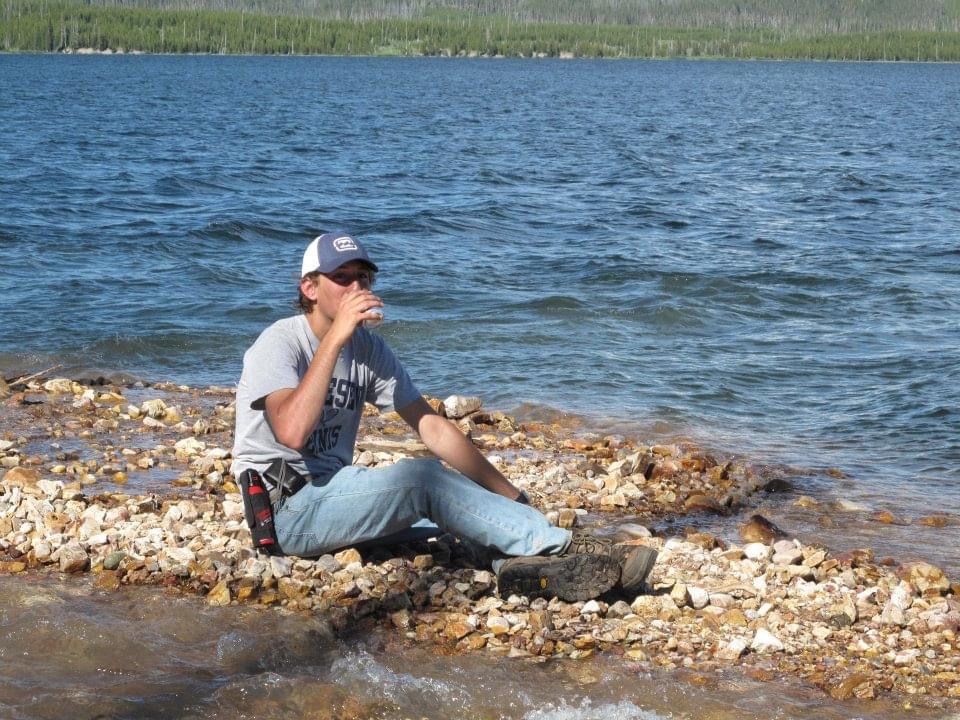 Yellowstone's a massive park. At 2.2 million acres, it's larger than Delaware and Rhode Island combined. With almost 5 million visitors in 2021, Yellowstone's also one of the busiest. Crowds at Old Faithful and Grand Prismatic can make the Park feel like Disney World. Backcountry treks are the only path to solitude with Yellowstone's wildlife, thermal features and unique topography.
Shoshone Lake is the largest backcountry lake in the Lower 48, accessed only by foot or canoe via Lewis Lake. Shoshone features a backcountry geyser basin on its far west bank and ~20 campsites. Wildlife is sparse compared to Hayden and Lamar Valleys.
Shoshone was barren of fish until 1890, when Park lodges introduced brown and lake trout. Those lodges ran commercial fishing operations via an access road, long since reclaimed by lodgepole pines. Lacking a native trout species, Shoshone is one of the few bodies of water in Yellowstone free from lake trout elimination efforts.
Fun fact: The Greater Yellowstone Ecosystem spans 22 million acres across three states – Wyoming, Idaho and Montana. It consists of Grand Teton National Park, five national forests, three national wildlife refuges, BLM holdings, state / private / tribal lands, and of course, Yellowstone National Park.
Trip Planning
Research
It was August 2021. After a year living in Jackson, I was itching to cross Shoshone Lake off my wish list. I also suffered from runner's knee since early July, limiting longer hikes and backpacking treks. A canoe trip would scratch a camping itch.
On a weekend roadtrip, I stopped by the Grant Village backcountry office. The ranger and I discussed permits, departure timing, solo safety and bear activity.
Permits: In late August, the ranger didn't expect much competition for a last-minute campsite permit. Visitation slows when kids return to school in mid-August. (Overnight camping in the backcountry requires a permit.)
Timing and solo safety: I didn't own a canoe, so I planned a two / three-day rental with one / two overnights. With 8am pick-up in Jackson, I'd launch from Lewis Lake by 11am at the earliest. Boaters must stop for an AIS inspection and permit.
On large lakes like Shoshone, afternoon winds kick up swells, so earlier's better. The ranger thought an early afternoon departure was doable, assuming I booked a campsite near the channel to avoid mid-lake chop.
Boaters have died on Shoshone, including two paddlers a couple months after this trip. If you capsize in the middle of the Lake, you can succumb to hypothermia in minutes – my biggest concern with a solo trip.
But I was confident in my paddling skills from a childhood of surfing / kayaking in the ocean off Long Island, NY. And I planned to hug the shore, no more than 100 feet out. The only exception was a mid-Lake crossing of the "Narrows." If conditions turned at any point, I'd paddle to shore and wait them out. I also planned to wear a life jacket for all open-water stretches.
Bears: There were no recent reports of bear activity. In any event, I had a bear keg / spray and was well-versed in bear safety. (E.g., tent located 100 yards from cooking area and all attractants locked in the bear keg.) The NPS has good guides on the subject if you need to brush up: general safety and attacks.
I settled on one overnight, leaving Saturday and returning Sunday afternoon. If you have more time, I'd recommend a second night to explore, fish and lounge Shoshone. But you can cover a lot of ground with one.
I called the backcountry reservations office a couple days in advance and booked a campsite within a mile of the channel. (Note: the backcountry permit process changed in 2022 to include an online lottery.)
I also ordered a three-day Yellowstone fishing permit on Recreation.gov. Wyoming fishing licenses aren't valid in Yellowstone, unlike Grand Teton.
Gear
I stored most of my gear in two plastic totes at the front of the canoe. That balanced weight and kept gear dry from spray. Remaining items were loose or stored in a waterproof backpack.
I wore L.L.Bean Supplex shorts, a Free Fly sun hoodie, a baseball cap, sunglasses and floating sandals. I added bear spray to my hip and a sheathed hunting knife / whistle in my pockets.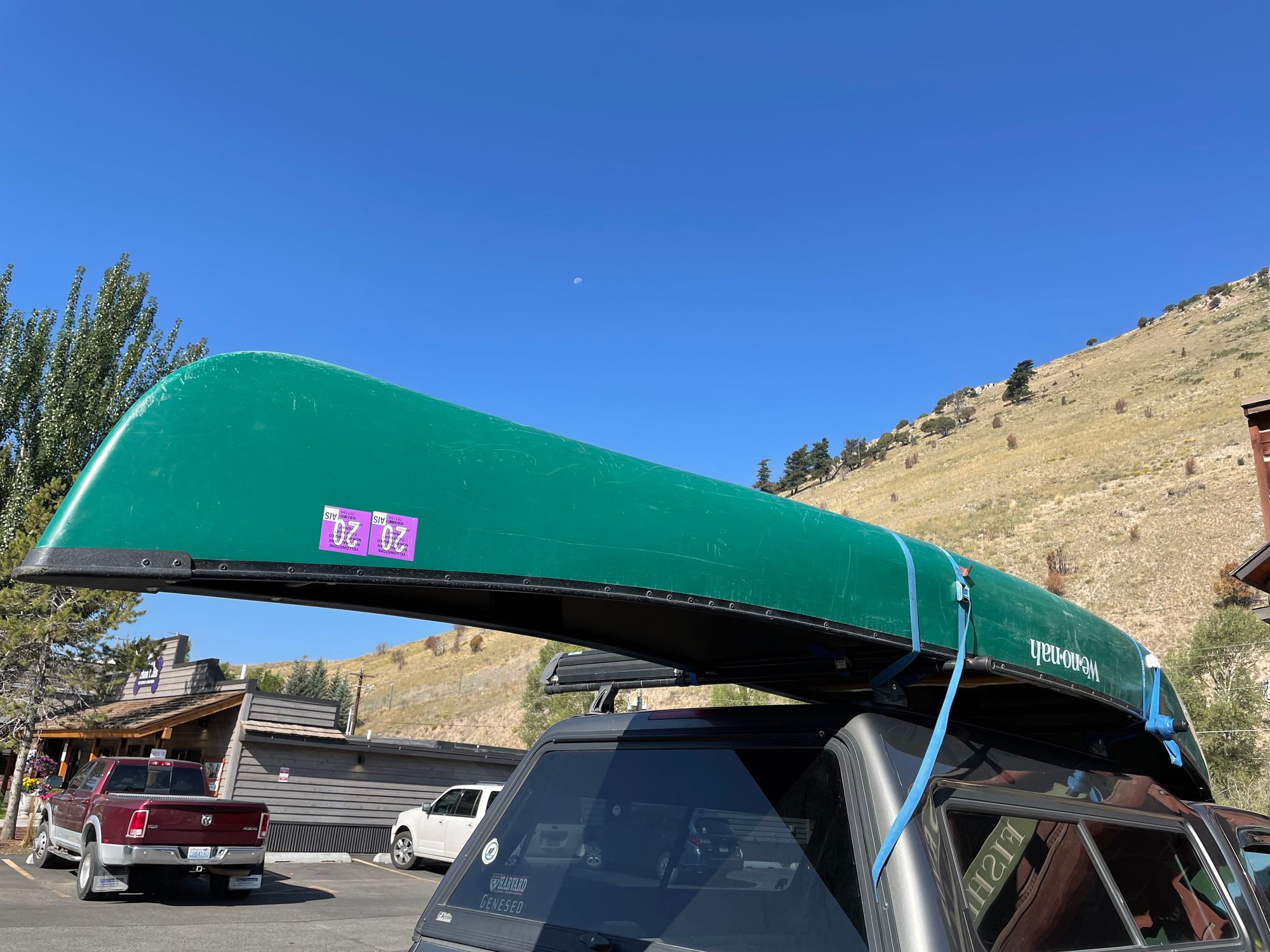 Gear in plastic totes:
Warm layers: Sweatpants, hoodie, Patagonia down sweater, Under Armour base layers and wool socks
Two-man, A-frame Coleman tent (inherited from my parents; 30+ years and still going strong)
Light-weight sleeping bag (not warm enough; should've packed a heavy-weight)
Folding sleeping pad
Coleman portable gas stove and two 1lb propane bottles
Matches, lighter and fire-starter
Rain poncho
HOKA Speedgoat trail runners for the short hike
Space blankets for emergencies
Loose gear:
MARCHWAY 30L floating waterproof bag: phone, wallet, keys, battery pack / chargers, topo map, field guide, extra bear spray, Leatherman, etc.
Bear keg: Utensils / pan and food (Mountain House dehydrated meals, baby food, granola bars, instant coffee, etc.)
LifeStraw water bottle to cut down on water weight
LLBean spinner / fly rod combo
Tacklebox with basic lures, flies and extra line / tippet
Bailing bucket / sponge
Paracord tied to the front of the canoe
Chillbo Shwaggins inflatable lounger for sunset reading (fun fact: originally bought for my Manhattan office, an upgrade from sleeping under my desk)
1-gallon, back-up water jug, in case I lost the LifeStraw (always have a backup; I also could've boiled water)
Extra life jacket and paddle
Rubber sandals for the portage
Day One
Park-Bound
I picked up the canoe at ~9am from Rendezvous River Sports, an hour behind schedule. From Jackson, the drive to Grant Village is ~two hours. Grant had the only AIS inspection that summer. (A requirement to launch in the Park.)
The forecast was clear with a high of 70F and low of 30F.
After the AIS inspection and lunch, I backtracked south to Lewis Lake. At 1:30pm, I arrived at the boat launch and started unloading.
Lewis Lake and River
By 1:45pm, I left the Lewis Lake boat launch, heading toward the north shore. It was warm with a few clouds in the sky – a perfect late summer afternoon.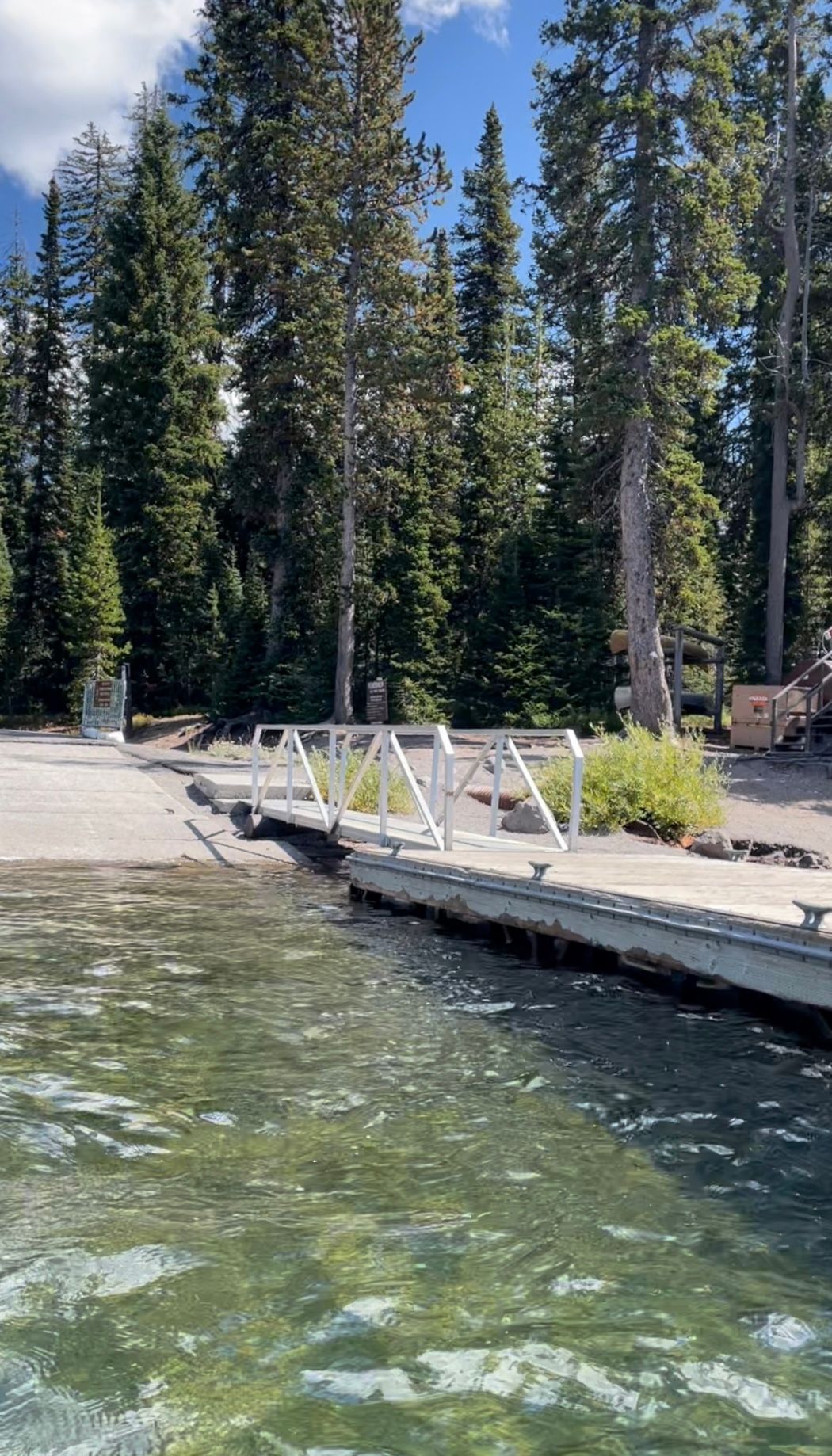 Lewis Lake allows motorized travel (alone with Yellowstone Lake in the Park). I only saw one motorized fishing party that afternoon. Once you enter the channel to Shoshone Lake, it's self-propelled only.
I cast a small krocodile spoon behind the canoe with my spinner rod and trolled. The tin dragged ~30 feet behind the canoe, in case I paddled over a hungry trout.
After an ~hour paddling along Lewis Lake's north shore, I arrived at the mouth of the Lewis River Channel. I watched another canoe party land a trout and decided to try my luck. I alternated between the spinner and fly rod, aiming for rises in the river. No bites.
It was 3:30pm and I still had the portage ahead, so I hit the road. Paddling upstream, I was joined by families of ducks, dragonflies hovering over meadows and a mule deer in a meadow. The foot trail to Shoshone Lake follows the river, so I also had brief company from hiking parties.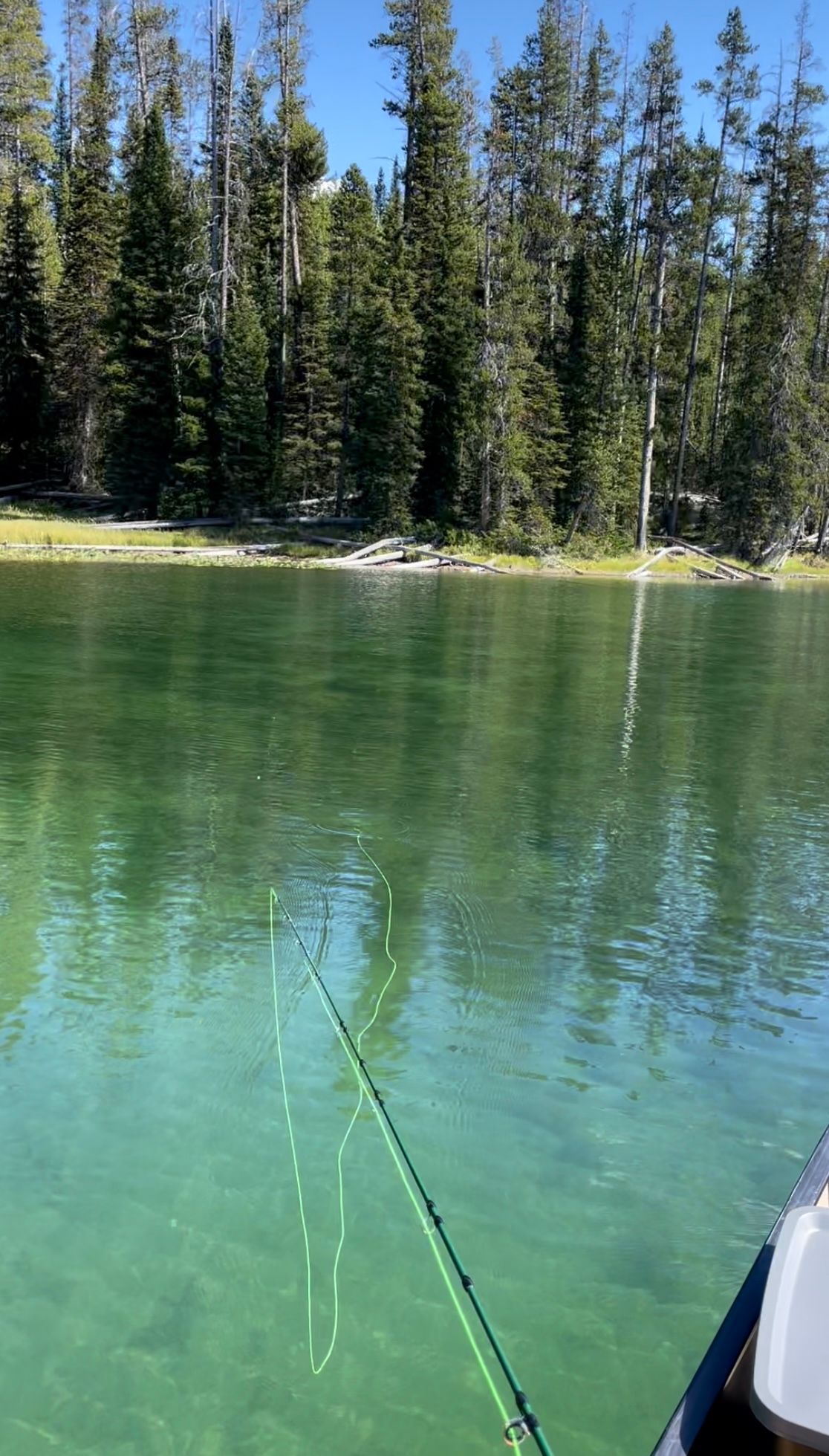 The river's navigability varies with seasonal water levels. (High early and low late.) In the summer, you can generally paddle the first couple miles. Then the river becomes too shallow and a portage begins. In my case, the portage lasted a ~mile.
Two miles in, I hopped out of the canoe, tied some paracord to the bow and started walking upstream. The water was mostly deep enough for the canoe to float without my body weight. A couple times, I lifted the nose out of the water to clear ledges and other obstacles.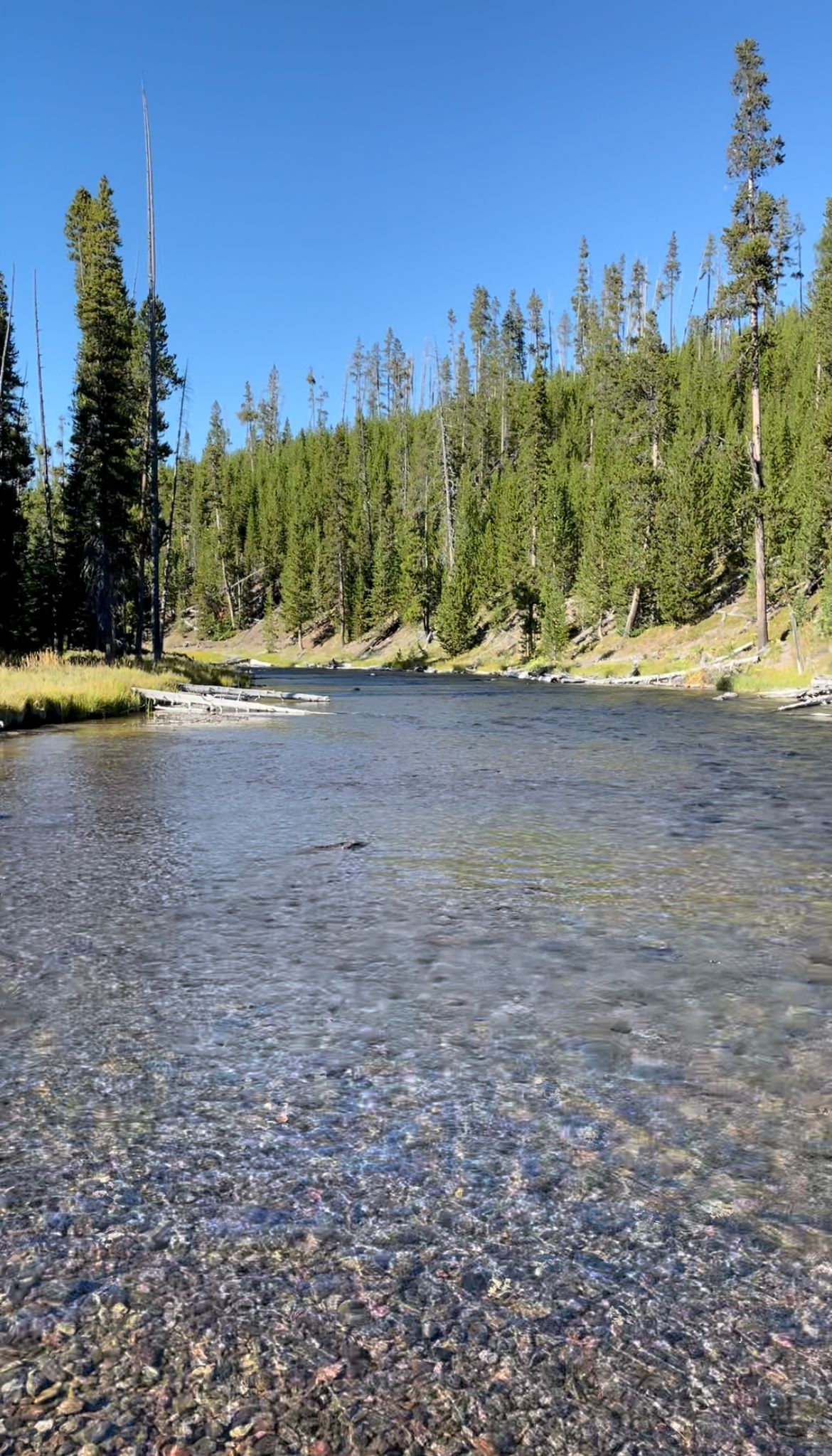 Given my runner's knee, I was most worried about the portage. But by 6pm, I reached a navigable stretch at the end of the Lewis River and started paddling into the channel flowing out of Shoshone Lake.
Shoshone: Camp, Dinner and Reading
At first impression, Shoshone felt much larger than Lewis Lake. Shoshone is shaped like an hourglass. Its east and west sections are joined by the "Narrows."
Every guidebook advises against open-water crossings of Shoshone's east section. In general, self-propelled vessels should follow shorelines. Unpredictable mountain weather can create swells quickly and self-propelled vessels move too slowly to get to safety. If capsized, boaters face miles of open-water swimming in frigid water – without a wetsuit, it can be fatal.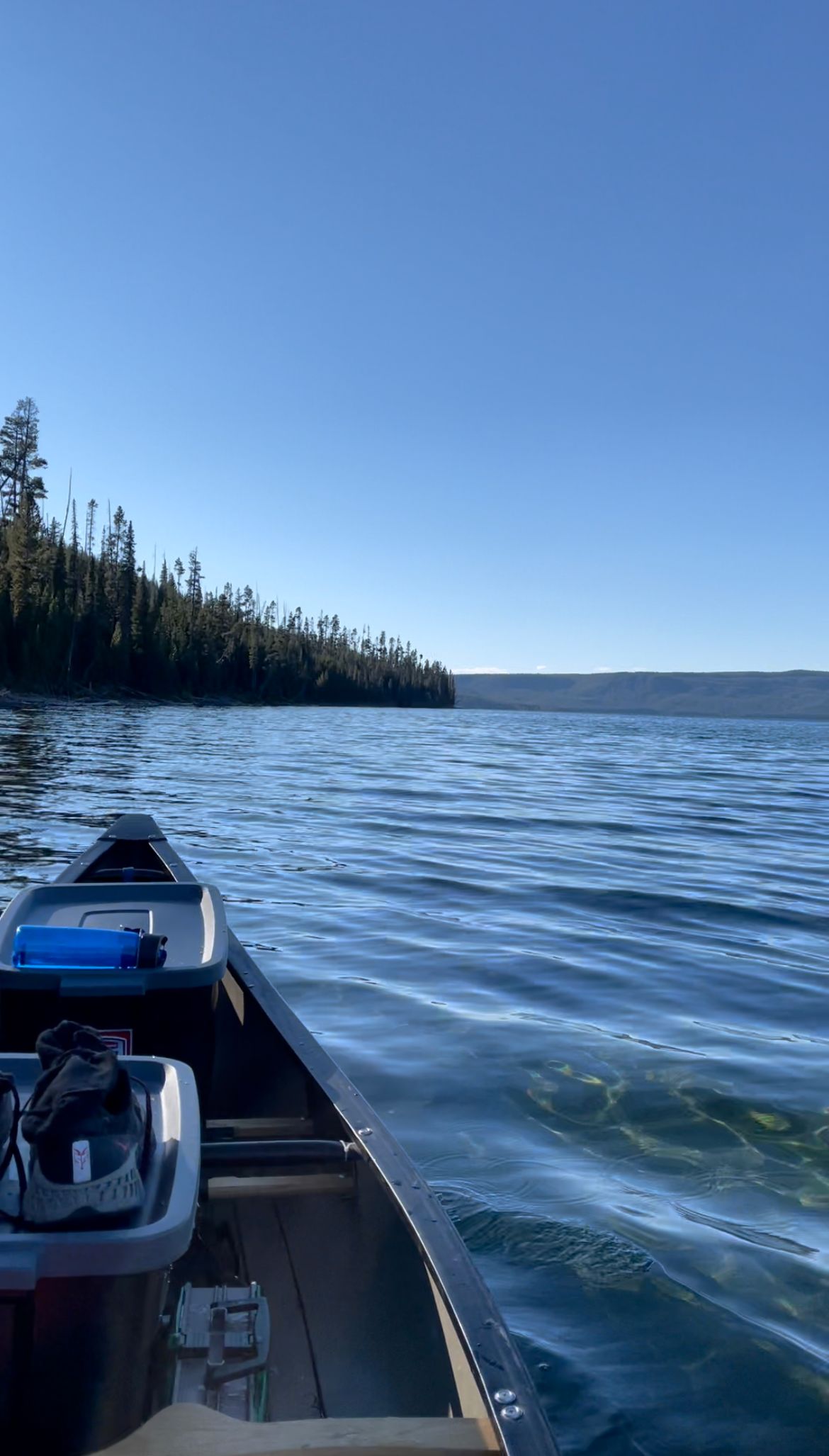 I had a couple hours before sunset and a ~mile to site 8Q7 – along the southeast shore of Shoshone, between Lewis River Channel and Moose Creek. Shoshone Lake was calm. Any afternoon winds died down by my evening arrival. I passed two camps with boats visible on the shore.
Each campsite is marked with a small blaze-orange marker atop a sign with the site number. The markers are easy to spot within 100 feet of shore. By 7:30pm, I landed at 8Q7 and started setting up camp.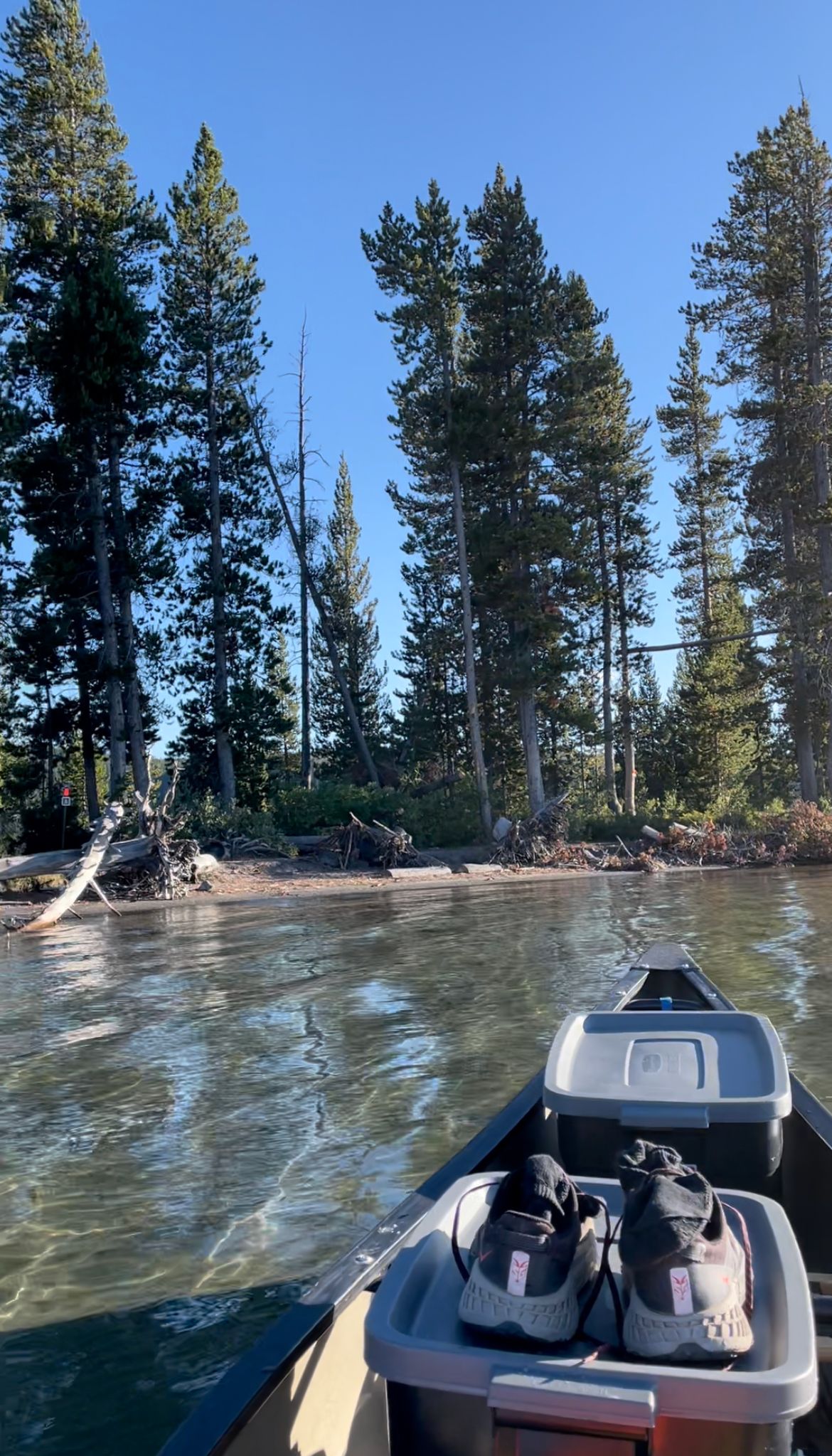 I found the bear pole on the west side of the campsite. Beyond the pole, I found a trail to an open-air pit toilet, overlooking a marsh behind camp. Campsites are spread out and very private. A pit toilet is a luxury. The alternative is digging holes and hoping prior parties weren't lazy. In busy parks like Yellowstone and Grand Teton, backcountry waste can add up.
The east side of the campsite had flat sites for tents. I pulled the canoe ashore in the middle of the site, carried the camping tote left to the tent-site and the cooking tote / bear keg right to the bear pole.
Bear tip: Set your tent 100 yards away from your cooking area and any attractants (toothpaste, sunscreen, bug spray, etc.). If you don't have a bear keg, hang a bag with cooking supplies and attractants from the bear pole or a high branch. Black bears climb well, so I prefer a bear keg. For backpacking trips, paracord and a bear pole are less burdensome.
I pitched my tent, laid out a sleeping pad / bag and inflated by camp pillow. Temperatures dropped along with the sun, so I changed into sweats and a puffer.
I headed back to the cooking area to boil water with my Coleman camp stove. I had two Mountain House dehydrated meals from 2011 as Plan A and some granola bars as Plan B. Dinner ended up perfectly timed with sunset.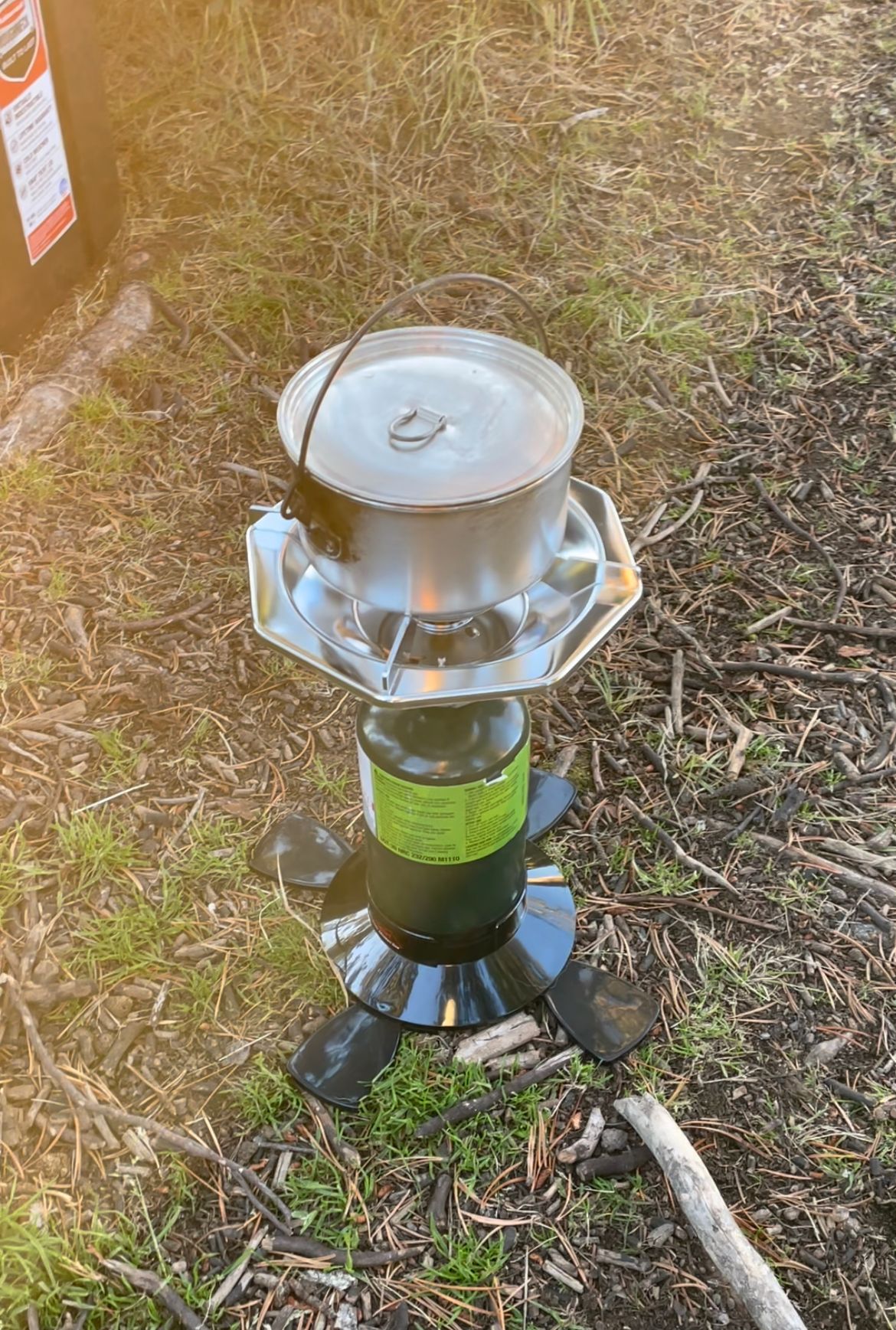 The lake was still and glowed orange in the dusk. After cleaning up and packing food in the bear keg, I settled into the Chillbo Shwaggins. I originally bought the inflatable lounger as a joke for my Manhattan office. Since then, it's come in handy for happy hours at String Lake in Grand Teton, wine nights in Russ Garaman, and now, a couple sunset chapters of American Canopy on Shoshone Lake.
I'd rank that sunset as one my most surreal moments in the mountains.
When the orange glow faded, a starlit sky took the baton. My most vivid night skies have been in Yellowstone – as far from city lights as you can get in the Lower 48.
At ~10pm, I settled into my tent.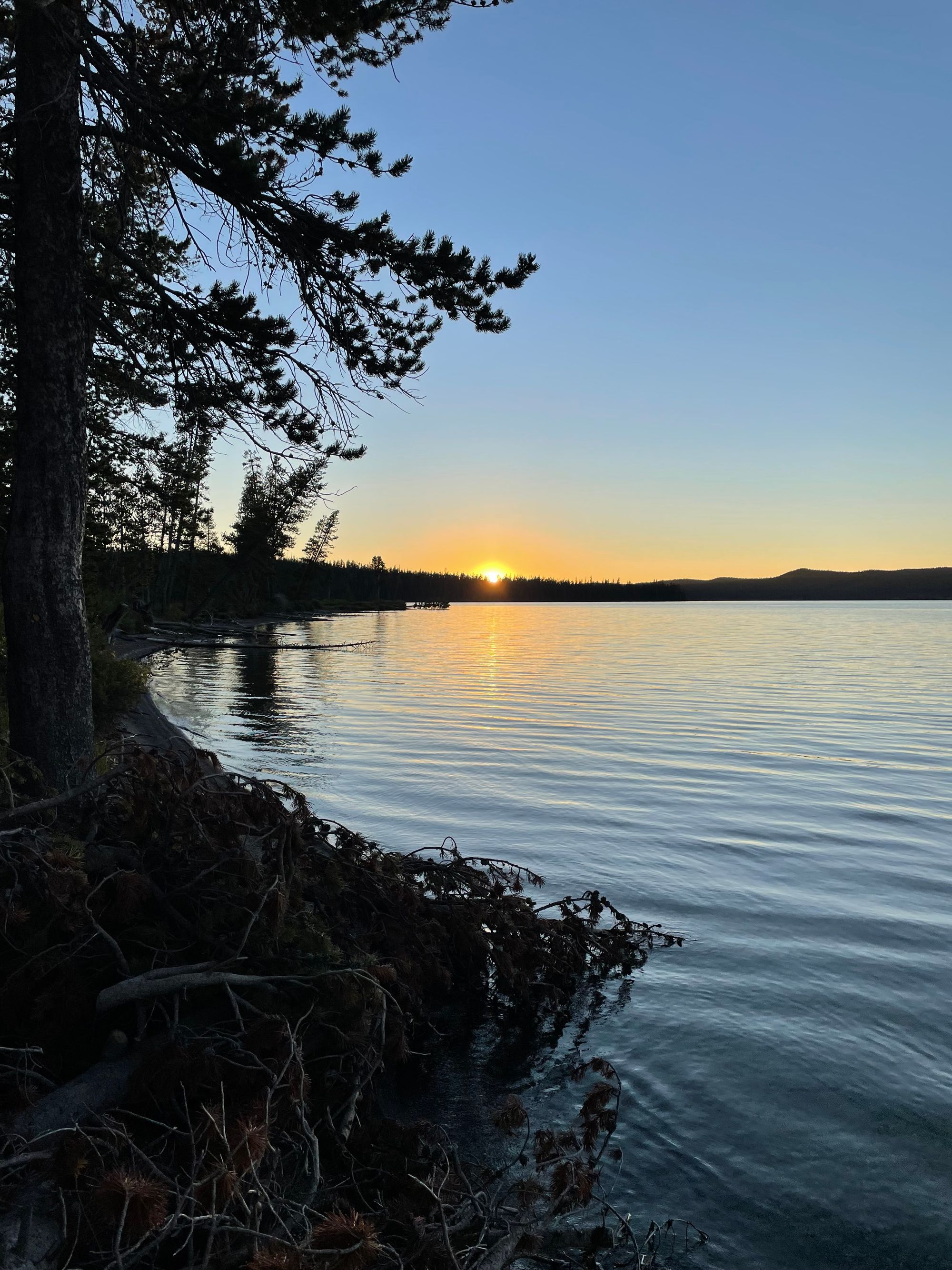 Day Two
Breakfast
Temperatures dropped below freezing. In a summer-weight bag, I tossed and turned. Lesson learned.
Sun peered through the tent seams at 7am. I peaked through the front panel and saw dense fog over the Lake. Frost covered the shrubs and grass in the marsh behind the campsite. The only sound was gentle waves rolling onto the beach.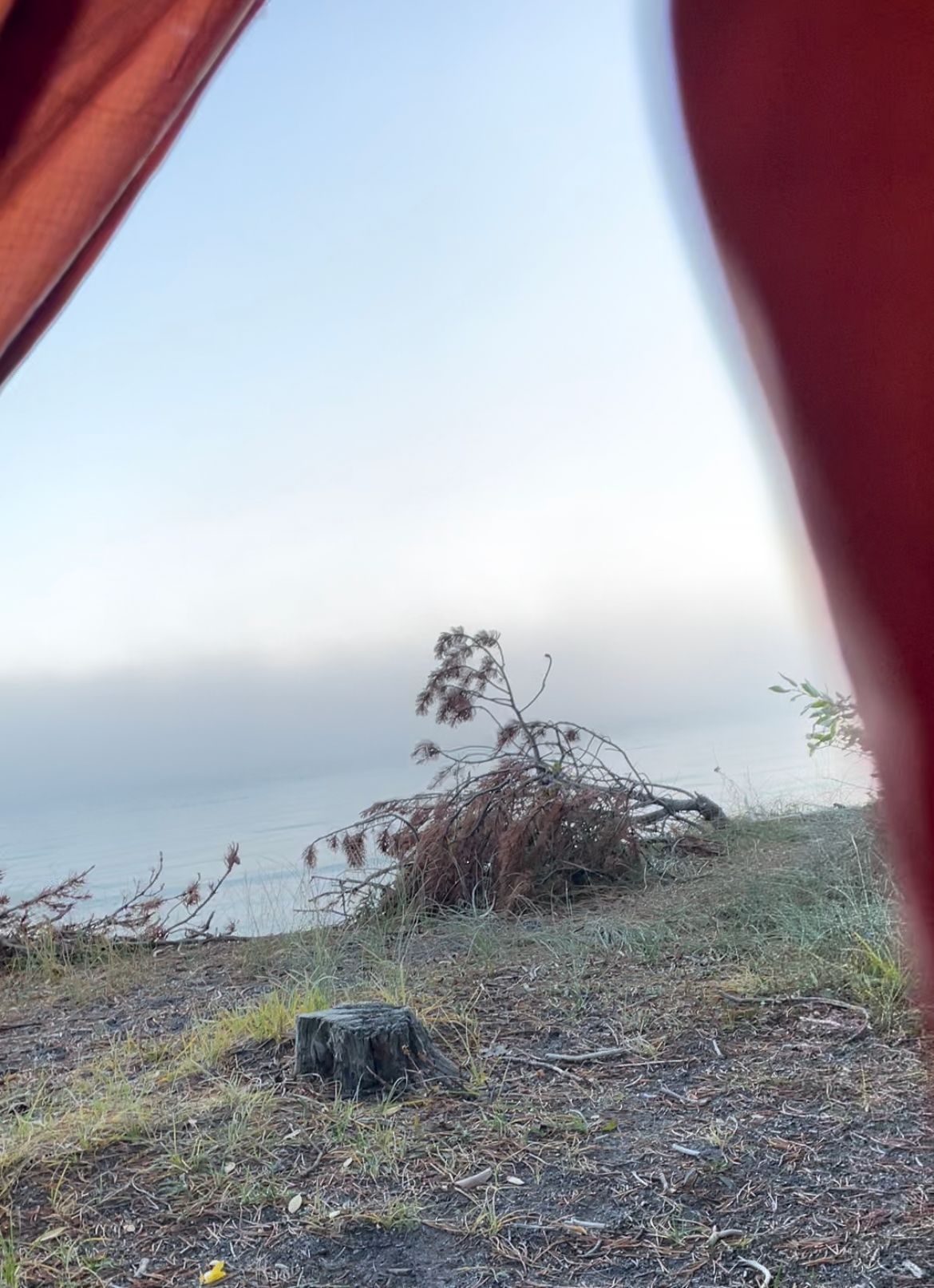 I headed to the cooking area for breakfast and coffee. After another Mountain House pack and instant coffee, I warmed up my fingers and packed up. By 8:30am, I pushed into the Lake.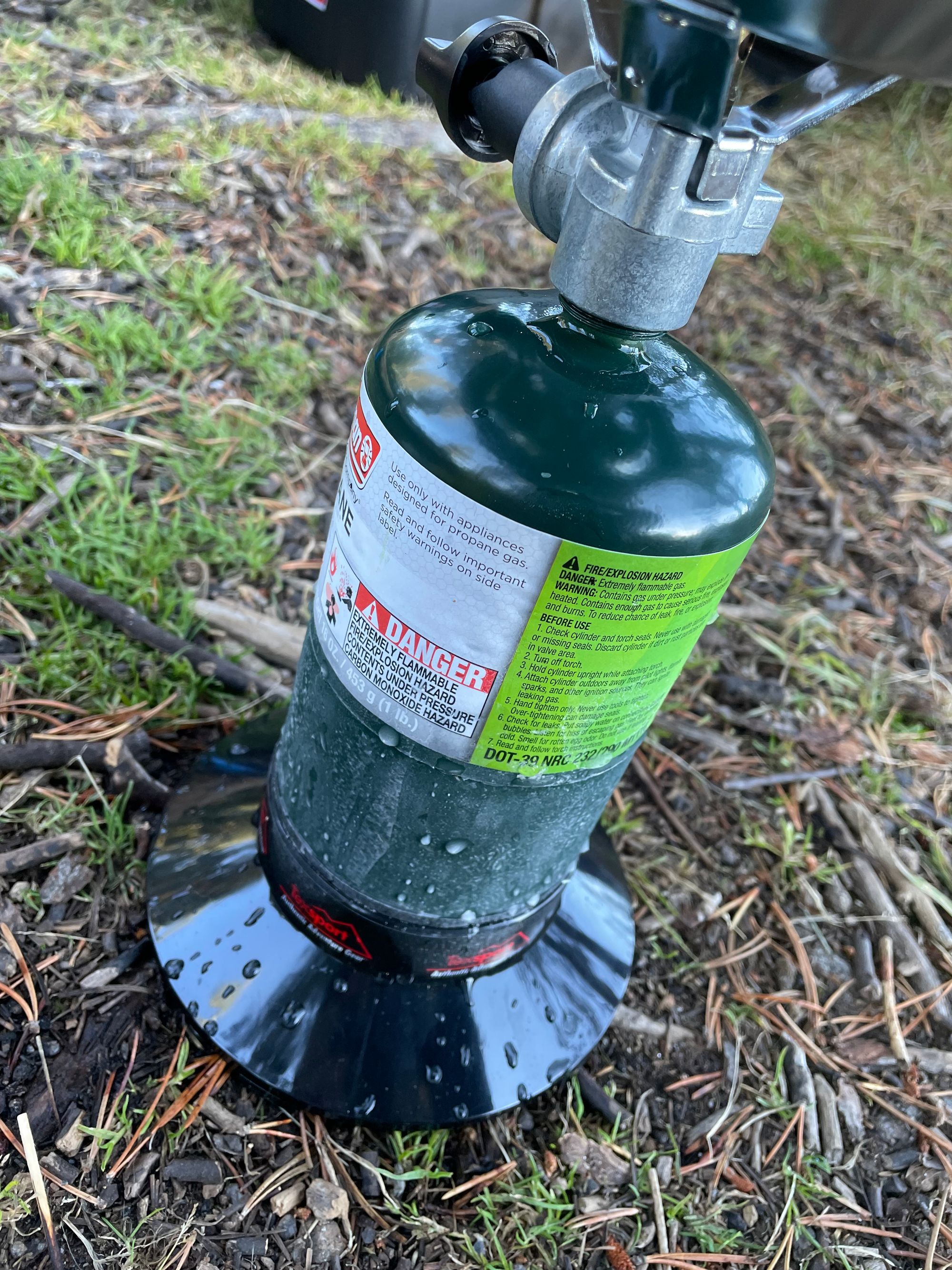 Back on the Water
Day two's objective was the Shoshone Geyser Basin on the far west shore, then a return to the Lewis Lake boat launch. In total, ~22 miles of canoeing.
I transitioned back to Supplex shorts, a sun hoodie and a vest. At 7,795 feet elevation, temperatures at Shoshone Lake can swing forty+ degrees between night and day. At 7am, it was below freezing; by 9am, it was in the 50Fs.
From site 8Q7, I paddled west along the south shore. The fog burned off as the sun rose in the sky. Between the campsite and the Narrows (mid-point of the Lake), I passed three other groups heading east toward Lewis Lake. After those groups, I didn't see anyone else on Shoshone Lake.
I spotted a couple mule deer on the south shore, a few bald eagles overhead and some trout in the shallows. Larger wildlife like bison and elk are more common around Hayden and Lamar Valleys, except for fall migrations.
By noon, I arrived at the Shoshone Geyser Basin on the northwest edge of the Lake and dragged my canoe up on muddy flats.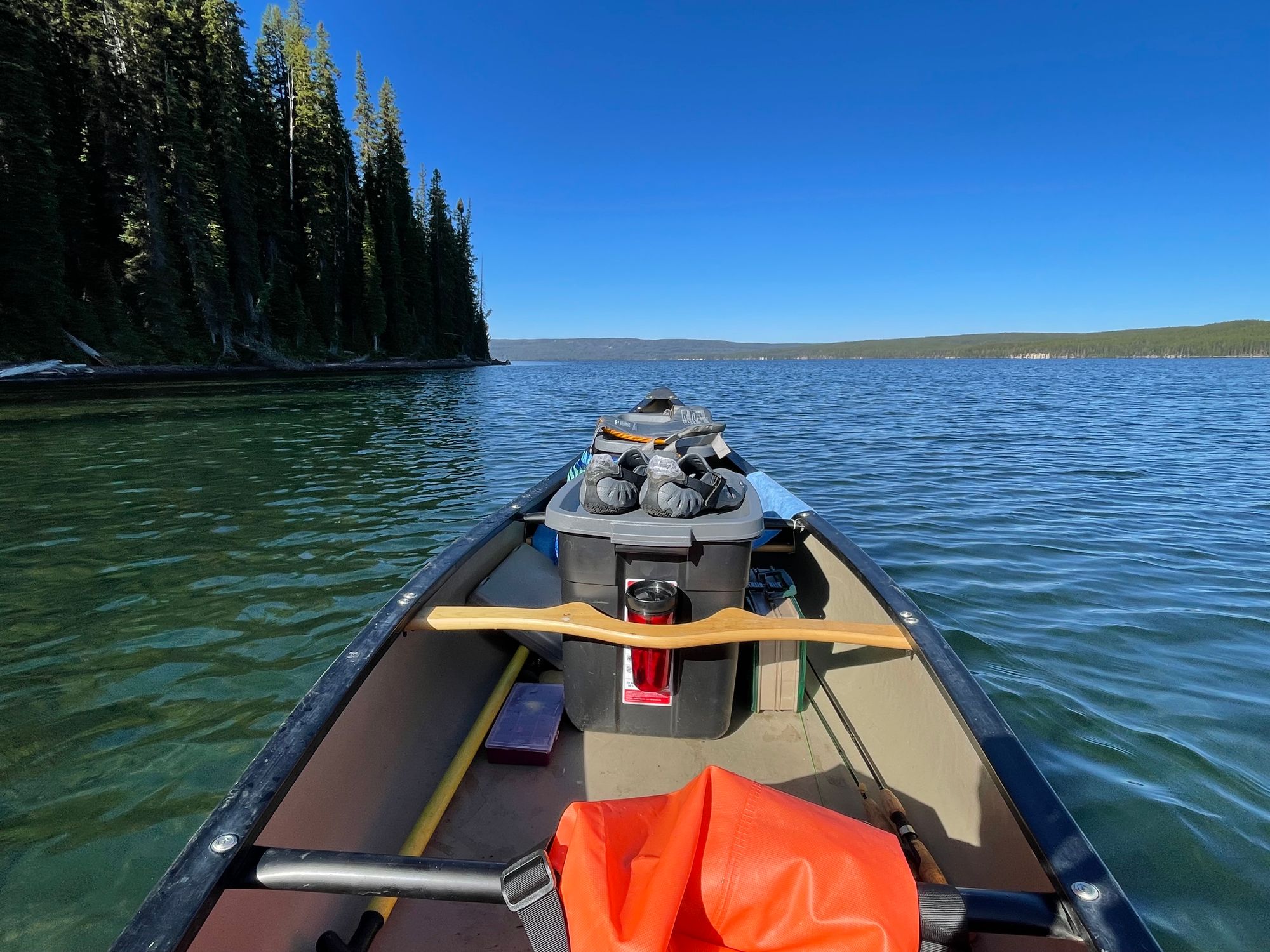 Geyser Basin
From the bank, the basin's an easy, one-mile hike over flat terrain. The basin features a number of hot springs, steam vents (aka fumaroles) and geysers, notably the Minute Man Geyser. As the name suggests, Minute Man spurts every few minutes during active periods – each separated by a few hours.
You won't find a packed boardwalk in this basin – a contrast to Old Faithful and Grand Prismatic. After an hour exploring, I hiked back to the Lake.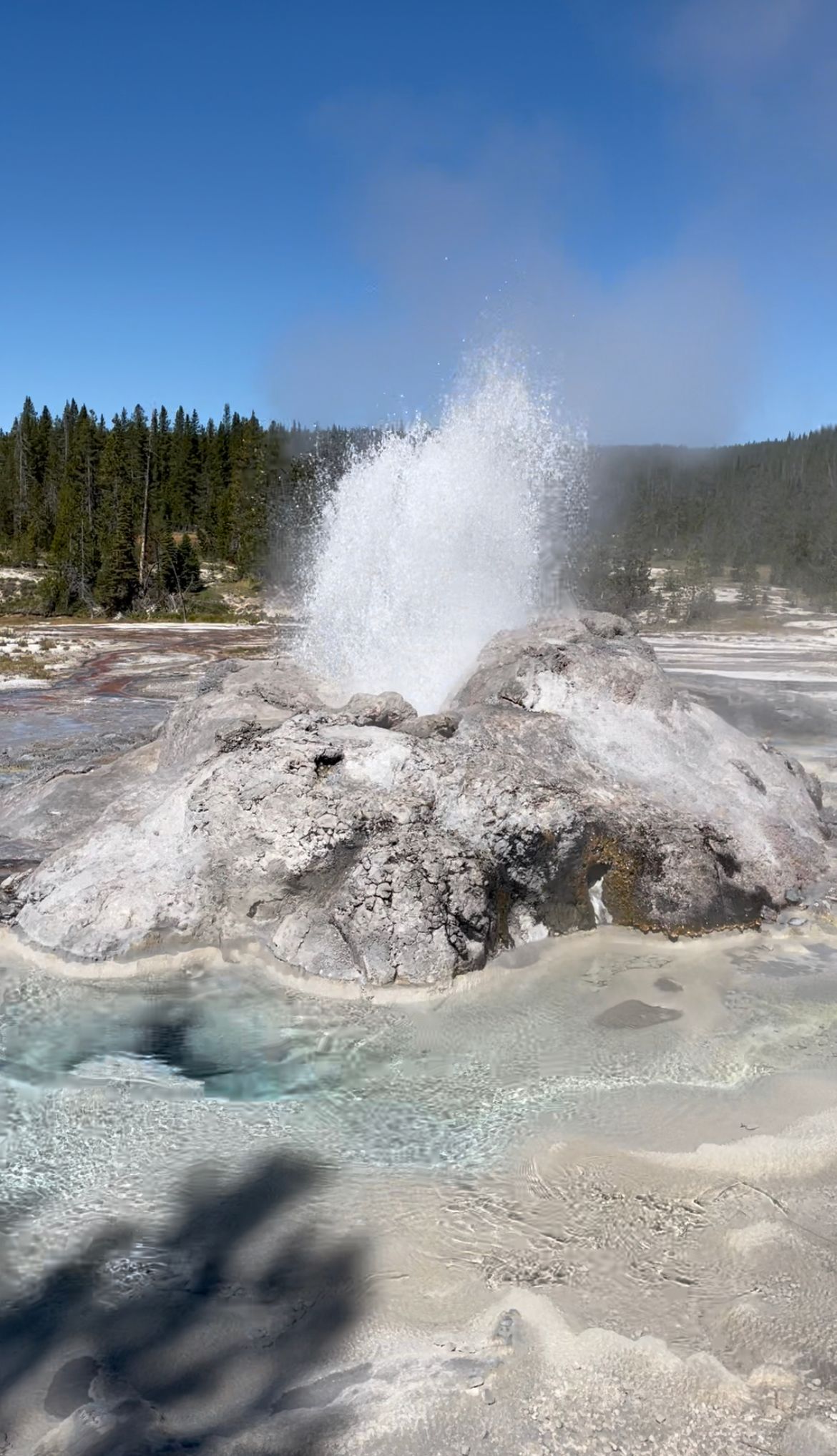 By 1pm, I launched back into Shoshone.
Long Way Home
With westerly winds on my back, I rigged a camp towel and extra paddle as a sail – worked better than I expected. I also rigged a spoon behind the canoe to troll for trout. (Again, no luck...)
The skies looked clear, so I followed the north shore planning to cross at the Narrows, the Lake's midpoint. Had the weather seemed touchy, I could have returned along the south shore without losing much time.
By 1:30pm, I arrived at the north part of the Narrows and crossed south. Swells grew a bit larger from afternoon winds, but still mild.
After another hour and a half of paddling, I reached the channel of the Lewis River. Paddling with the current, I mostly skipped the portage. I stood-up paddled and maintained momentum to skim over shallower stretches. I only ran into one rock ledge that required some maneuvering. (I might've been more careful if it wasn't a rental canoe.)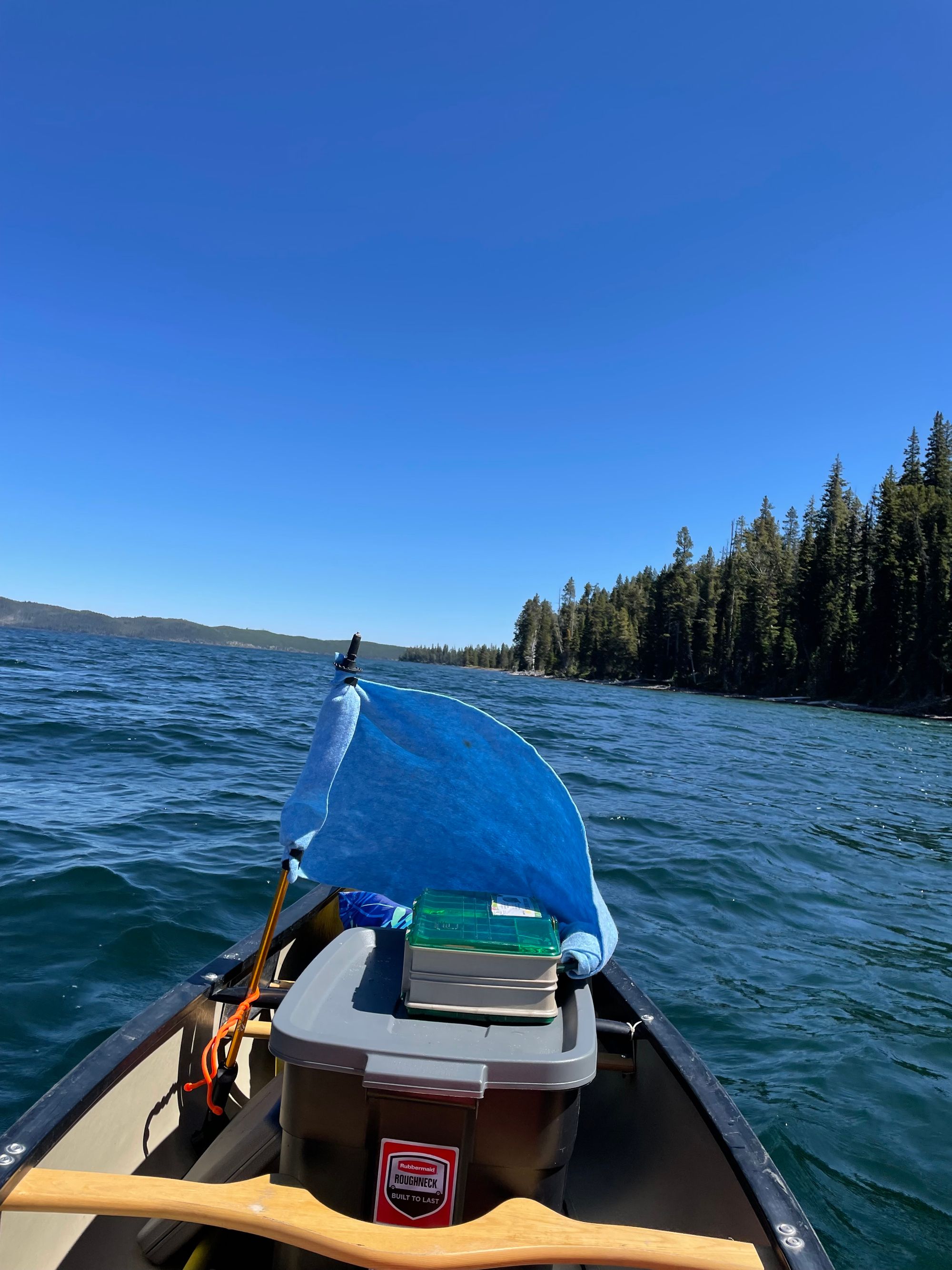 Back in the deeper section of the Lewis River, I took a few more casts my spinner. Trout: 3; Alex: still 0.
By 4:30pm, I reached Lewis Lake. To save time, I paddled across the open water aiming for a midpoint on the west shore. By now, westerly winds picked up. It was challenging to stay on course with one paddler. After struggling through 45 minutes of crosswinds, I reached the west shore.
Finally, Some Luck
I trolled again on the final paddle, hoping my luck would turn. Within a few minutes, the rod bent. After a short fight, I pulled in an 8-inch brown trout. No time to fillet and cook, so catch and release it was.
Trout: 3; Alex: finally 1.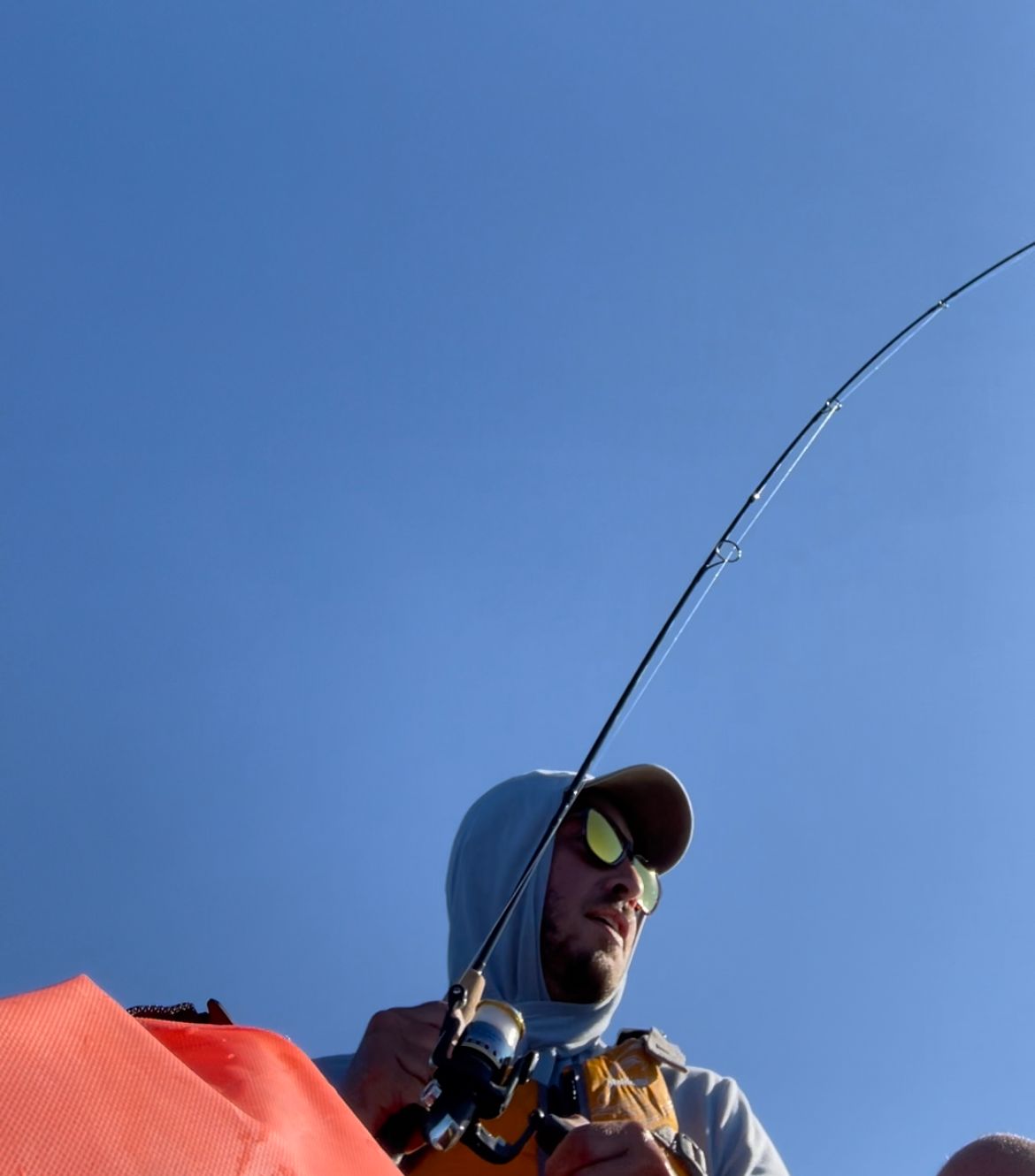 A loon greeted me near the boat launch. By 5:45pm, I landed. I enjoyed loon calls echoing across Lewis Lake in the ~30 minutes it took to empty and load the canoe.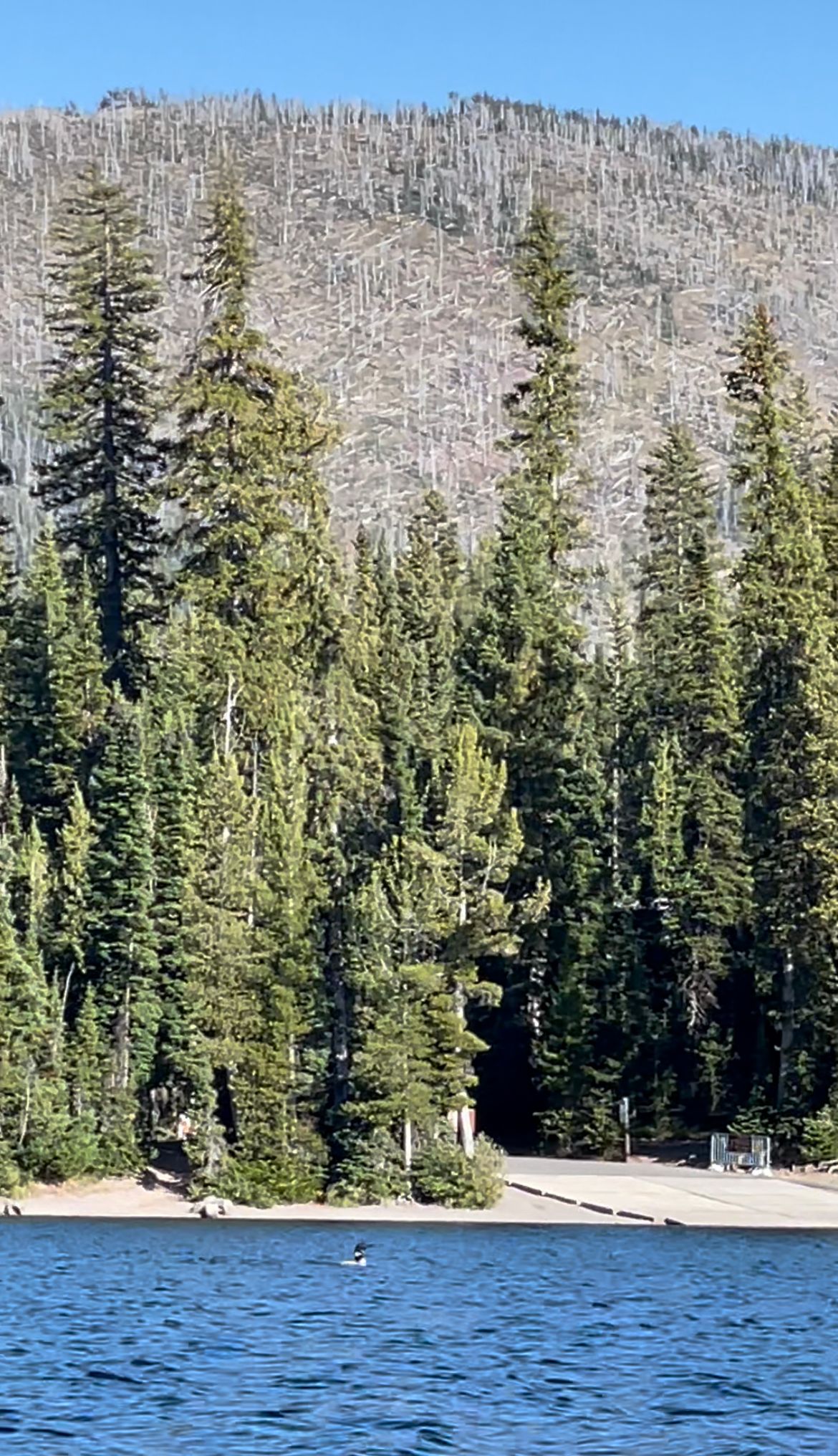 I drove back to the South Entrance, then through Grand Teton to Jackson. It was early, so I stopped at String Lake to crack an IPA and enjoy clear views of the Cathedral Group. (That weekend was one of the few haze-free in a smoky summer.)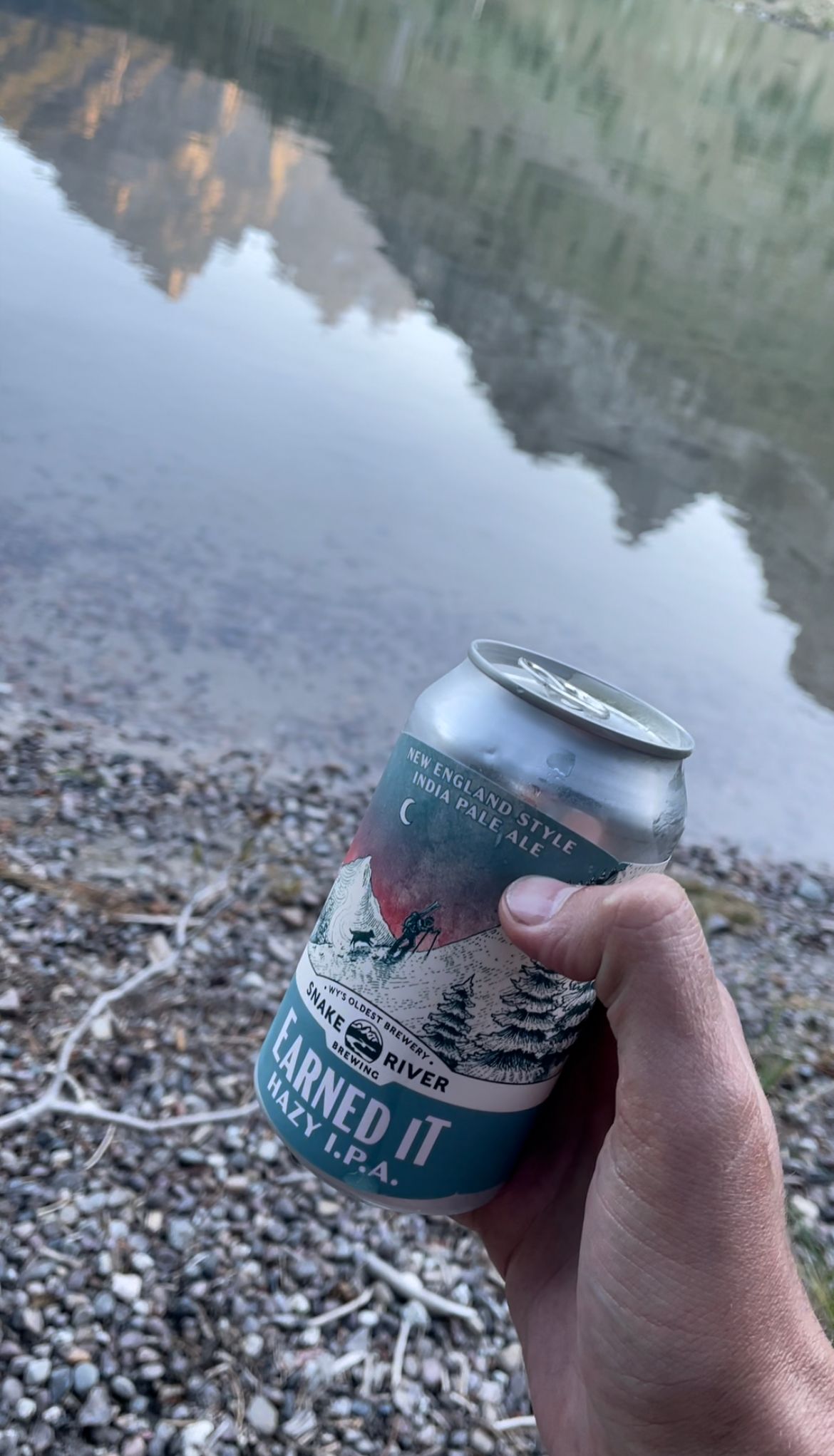 Finally, I checked Shoshone Lake off my wish list.
Next Up for Yellowstone
Winter non-guided snowmobiling (checked off in February 2022)
Stock camping trip in Lamar Valley
Ski Cooke City and Beartooth Pass (not quite in the Park, but close)
Circumnavigate Yellowstone Lake via canoe
Explore the southeast corner, one of the most remote parts of the lower 48