Snowmobiling Yellowstone's Lower Loop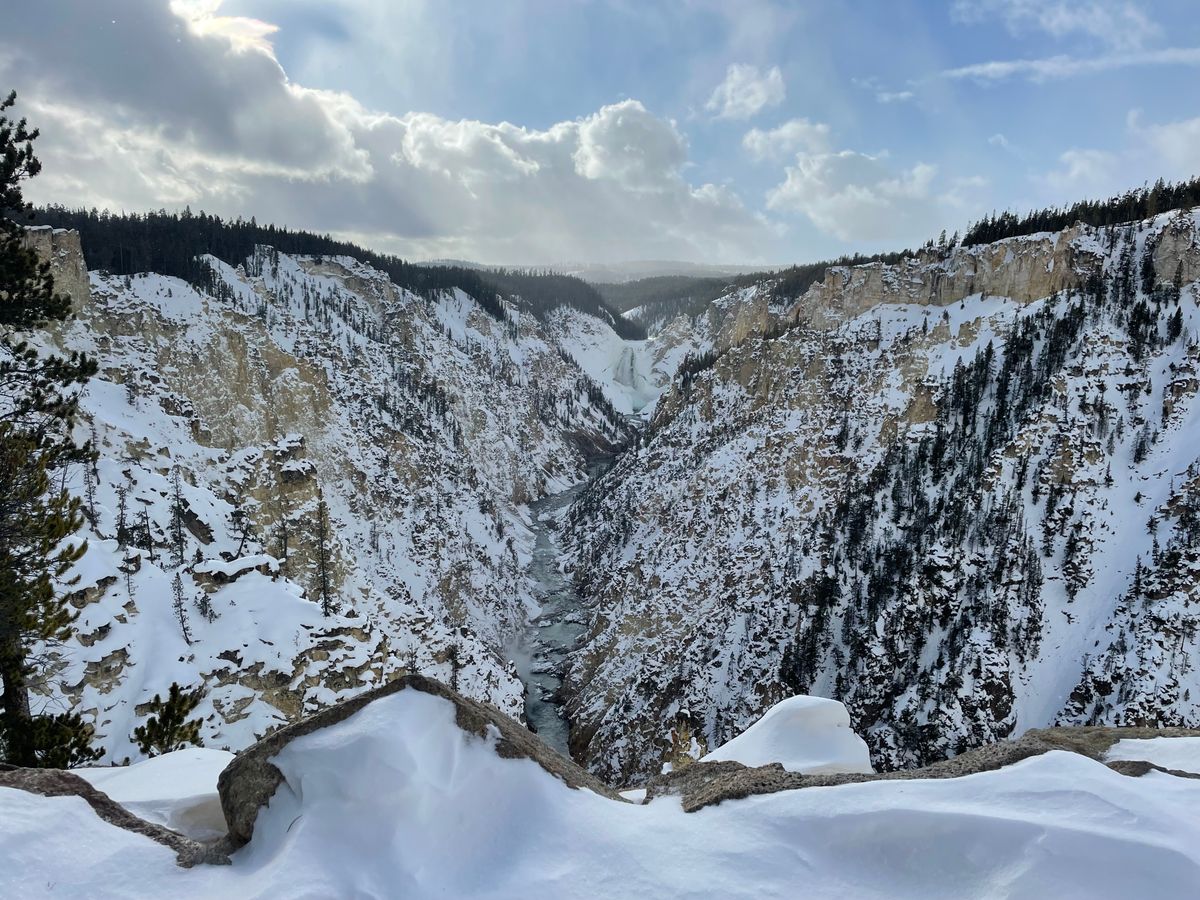 February 11, 2022:
Non-guided snowmobiling in Yellowstone National Park.
Entered the East Entrance and completed the full Lower Loop clockwise, ~150 miles on our sleds.
Started at 9am, the earliest check-in for the East Entrance, and returned by 6pm for 9 total hours in the Park.
Highlights: West Thumb geyser basin, lunch at Old Faithful, Grand Prismatic pit stop, ciders overlooking Canyon at Artist Point, cruise through Hayden Valley and sunset in Sylvan Pass.
Background
From November through mid-April, Yellowstone is largely out of reach. The Park Service only plows one section of road between the North and Northeast Entrances – from Mammoth to Cooke City via Lamar Valley. The Park Service grooms most other roads with cats for over-snow travel (e.g., snowmobiles, snow coaches).
During a college summer in 2011, I worked at Canyon Village. When Xanterra bused us into the Park in May, we saw the end of winter. For a few weeks, it alternated between new snow and melts, gradually transitioning to a brief mud season. All of a sudden on a weekend in late June, it was summer.
Most of the developed areas in Yellowstone sit at 8,000'+ – legacy of super-volcano eruptions that created an elevated caldera. Winters are longer and colder in Yellowstone than its immediate surroundings.
The Park was beautiful in mid-May. Thermal features stood out from the surrounding snow, spewing steam. New snow dusted lodgepole pines.
It was also rugged. During the winter, the Park's wildlife is in survival mode. Bison plow snow to find grass. Foxes listen for mice beneath the surface. Elk migrate to lower elevations to escape the worst of winter.
After getting a taste of winter that spring, I wanted the full experience. In 2020, I moved from New York to Jackson, and in winter 2022, finally got an opportunity for a winter trip in Yellowstone.
Trip Planning
Research
The easiest way into the Park during winter is a guide service. Many offer day excursions from borders towns, West Yellowstone being most popular. You can also book a stay at Old Faithful's Snow Lodge or Mammoth Hotel (later accessible by car). All other Park facilities are closed in winter.
Alternatively, you can enter a lottery for a non-guided snowmobile permit. At the time, the Park issued four permit per day, one from each accessible entrance. A friend was lucky to snag a permit for the East Entrance. Unable to use it, I took over. Each permit allows five sleds or ten people assuming double sleds.
The permit itself cost $40 in 2022. If you don't own a snowmobile (we didn't), rentals can cost up to $400-500 per sled for one day.
With an East Entrance permit, we needed to start in Cody, WY – a 5-hour drive from Jackson. We planned to drive to Cody the night before to overnight before an early start.
We hoped to snowmobile the full Lower Loop, more ambitious than most winter day trips into the Park:
Enter the Park via Sylvan Pass, cutting through the Absaroka Range.
Refuel at Fishing Bridge, then head west to West Thumb geyser basin.
Lunch at Old Faithful, the busiest part of the Park.
Pit stop at Grand Prismatic, before beelining to Canyon for another refuel and overlook at Artist Point.
Cruise through Hayden Valley and back to Fishing Bridge, before exiting via Sylvan Pass.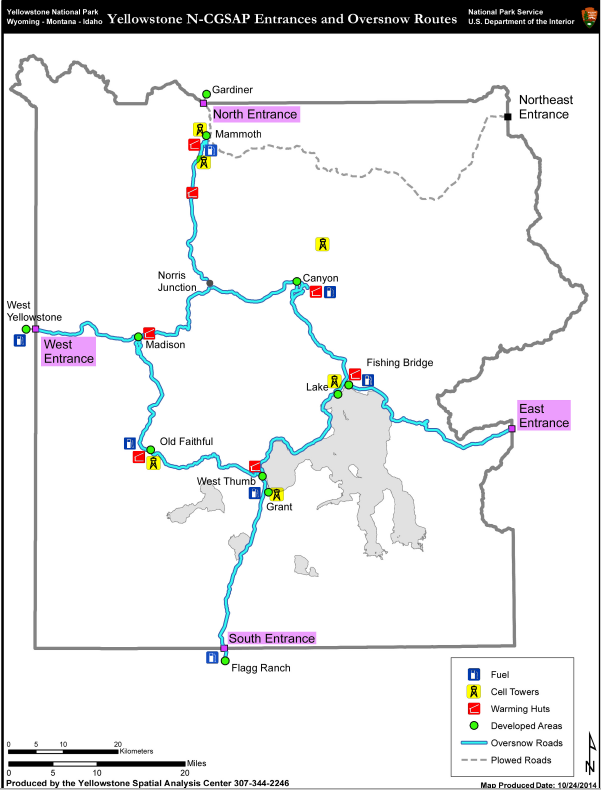 Averaging 30mph, our route required ~5.5 hours of sled time. (The Park's over-snow speed limit is 35mph.) The rental company wanted us back by sunset at 6pm, leaving 3.5 hours for stops with a 9am start. The NPS requires sleds exit by 9pm, so the 6pm deadline governed.
The NPS requires all non-guided drivers to complete a free online course before entering. They review certificates during check-in at the permit's designated entrance. The online course covers the rules of the road, snowmobile best practices and emergency information.
Here's a PDF guide from the Park Service with highlights:
The Park maintains minimum standards for snowmobiles known as Best Available Technology or BAT, focused on noise and emissions. The NPS has a list of approved rental companies from which we chose Gary Fales in Cody.
Gary Fales also provided insulated jumpsuits and helmets. We just needed to pack layers: long underwear, sweatpants, a sweater, a puffer and ski gloves did the trick. The forecast was partly cloudy and 10-20F – as good as it gets in February. We also brought ski goggles, since helmet visors can be drafty.
I packed basic emergency gear: avy shovel (if a sled got stuck), portable charger, first aid kit, hand warmers, space blankets, headlamp, lighter and Leatherman multi-tool. One friend rented a satellite phone. Turns out, the phone malfunctioned, sending her mom SOS alerts all day. A frustrated rental company (and a nervous mom) spent a lot of time on the phone while we enjoyed Yellowstone.
Each of the sleds also had an extra drive belt each stashed away. I watched a few YouTube videos on belt replacements, just in case.
Finally, we packed snacks, lunch and water. The Snow Lodge at Old Faithful also has a cafeteria for hot food.
Snowmobiling Yellowstone's Lower Loop
At 5pm, we drove north on US 191/89, out of Jackson and past the Tetons. The sun set as we approached Moran Junction, southernly aspects of the Tetons glowing orange with the low sun angle. We drove Togwotee Pass in twilight, keeping an eye out for black ice.
The Absaroka Range stands between Jackson and Cody, leading to a long detour. We drove southeast through the Wind River Reservation, then turned northwest at Riverton. A direct northeast route, if possible, would be no more than 3 hours.
At 10pm, we reached Cody, stopping for beers at Buffalo Bill's Irma Hotel. The Irma is a western landmark, where a few friends chose to spend the night. We opted for another nearby hotel, checking in by midnight.
At 6am, we returned to the Irma for breakfast. Gary Fales expected us by 7am, but due to a slow breakfast, we didn't arrive until 7:45am. We seemed to stress them out a bit (if you're reading, sorry!), but managed to arrive at the East Entrance by ~9am, right on time.
At 7:45am, we grabbed jumpsuits and helmets from Gary Fales' office, then drove another 30 minutes to the sleds, which were parked in front of Pahaska Tepee Resort at the end of the plowed road.
We geared up by 9am and started up our sleds. It was only 2 miles to the East Entrance. The ranger checked our paperwork: permit, online course certificates for each driver, driver's licenses and Park entry passes.
My sled had a special non-guided sign on the front. Per regulations, I had to stay at the head of the group, as the permit holder.
The ranger laid out ground rules and asked where we were headed. In response to "Lower Loop," he said, "Woah... big day." We didn't have much goodwill left with the rental company, so I was nervous about our sunset deadline.
Squared away, we drove into the Park at 9:15am.
Sylvan Pass to Fishing Bridge
Aside from one pair of sleds that got a head start and a lone Nordic skier, we had Sylvan Pass to ourselves. Wispy clouds, fresh snow dusting the lodgepole pines and fog floating through canyons below.
It was my first time driving a snowmobile. It was easy to maneuver on groomed trails – perfect "corduroy" for any skiers reading.
After ~30 minutes, we spotted a bison in the road and slowed down. After a brief stand-off, we slipped by one by one, all too aware of how little protection a snowmobile offered.
At 10am, we arrived at Steamboat Point, a series of fumaroles (aka steam vents) on the shore of Yellowstone Lake. After a quick photo op, we started on the final stretch to Fishing Bridge, our refuel stop.
To date, 2022 was a low snow year, so a few stretches of road were down to bare pavement. The Park Service lays wood chips when able. The key is to avoid turning. Snowmobiles on pavement are like cars on ice.
At 10:15am, we stopped in Fishing Bridge to top up the gas tanks. The gas station was unmanned, but pumps accepted credit cards. We had Fishing Bridge to ourselves; during summer, there's a busy campground and general store.
The Park Service maintains a warming hut at Fishing Bridge, along with four other junctions in the Park. On sub-zero days (common in Yellowstone), warming huts can be a life saver, especially factoring in wind chill from riding sleds. The hut's chimney smoked. A ranger stopped by to stoke the fire earlier that morning.
Lake and West Thumb Geyser Basin
Back on the road, we turned left toward the Lake. We soon passed Lake Village and Bridge Bay – each ghost towns in the winter.
We crossed paths with one cat grooming the road and enjoyed fresh corduroy in his wake. Light snow fell from a few passing clouds. Across the Lake, steam spewed from isolated thermal features.
By 11am, we arrived at West Thumb Geyser Basin.
We walked on snow-covered boardwalks, packed from prior groups. Hot springs, fumaroles, geysers and mud-pots stood in contrast to their snowy surroundings. An otherwise frozen lake thawed near the shoreline, runoff from the basin warming the water. Notes of sulfur hit with each wave of steam.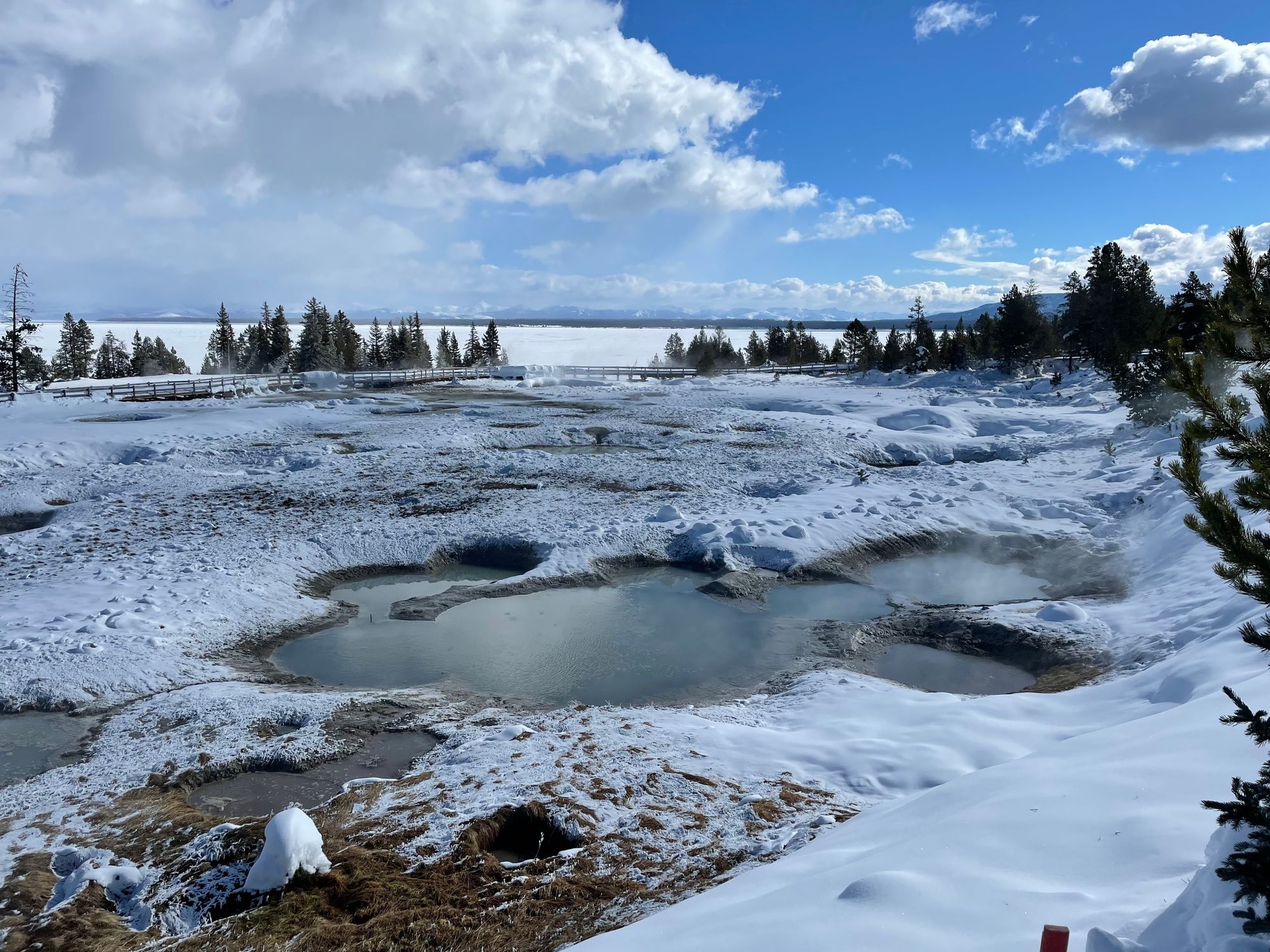 After 30 minutes of exploring, we headed for Old Faithful. My sled partner took over, enabling me to snap a few pictures.
The sleds had adjustable, heated seats and handles for both driver and rear passenger. I cranked up the rear settings.
Lunch at Old Faithful
Now close to Old Faithful, we passed more groups. We saw a few Nordic skiers, likely on a day trip from the Snow Lodge. We also passed a snow coach headed south from Old Faithful.
Park regulations stipulate groups spread out no further than a third of a mile. As we drove, I periodically counted headlights in our sideview mirrors.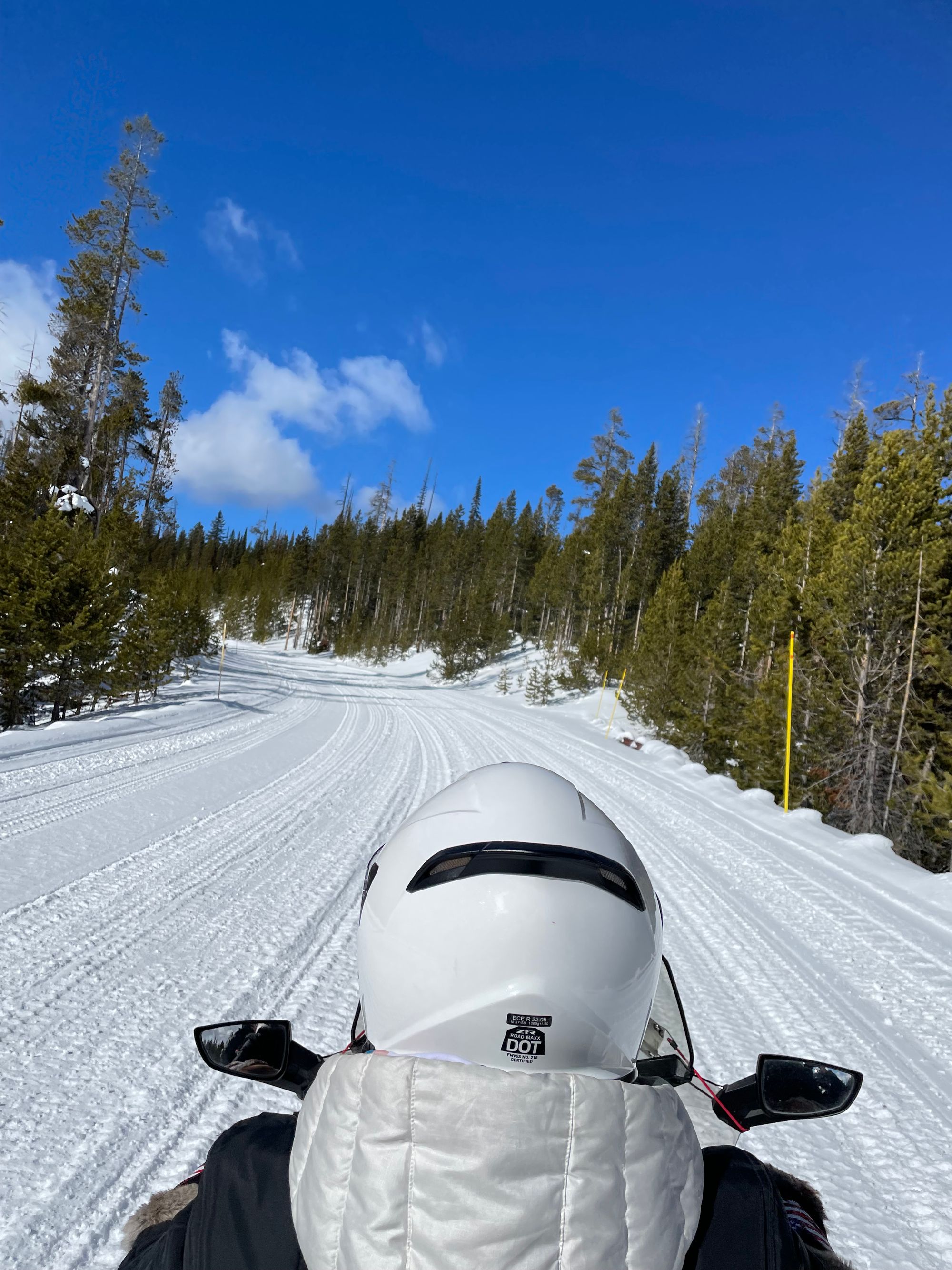 We approached Old Faithful at noon, passing a snow coach at junction. We parked in a line outside the Snow Lodge's main entrance. After seeing the food lines in the Snow Lodge café, we brought packed lunches to the boardwalk overlooking Old Faithful. It was busier than some of my fall and spring visits.
We ate, drank some cider and waited for an eruption. Finally, Old Faithful woke up – first with 4-5ft teases, then the full eruption.
All of a sudden, it was hailing. We sat downwind from the geyser, pelting us with sulfuric hail for our rookie mistake. At least we kept ski goggles on. We scrambled to a safe stretch of boardwalk fifteen feet away.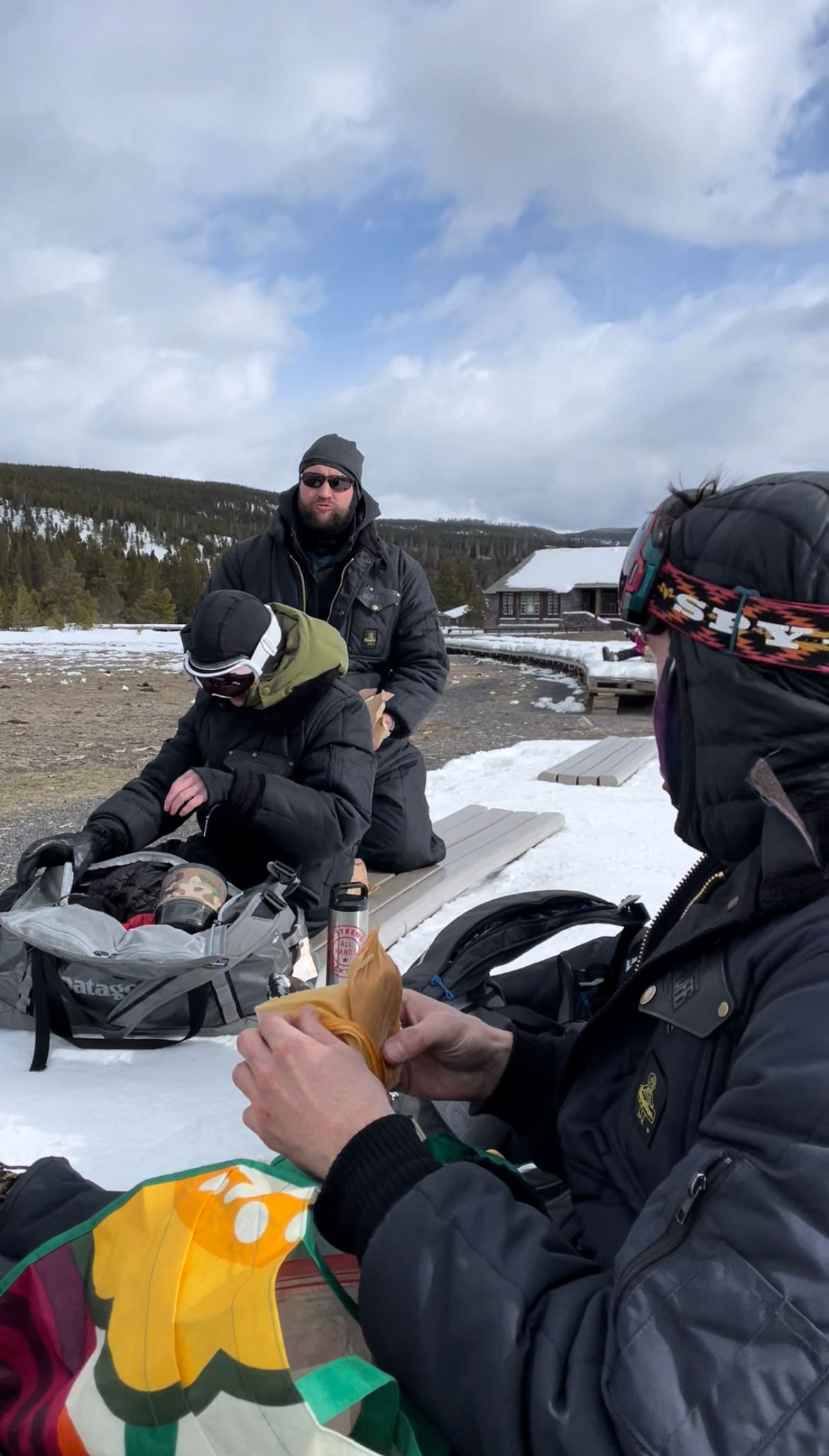 After a few minutes, Old Faithful settled down and we gathered our bags. On the way back to our sleds, I stopped in the Visitor Center and Yellowstone Forever Store, taking advantage of the bathroom on the way out.
With enough gas in our tanks, we skipped a refuel and hit the road. In retrospect, I cut it close on my sled (stay tuned).
It was already 1:30pm. We spent more time at Old Faithful than expected and would cut it close to our 6pm deadline with other planned stops. The group voted to prioritize Grand Prismatic over Canyon.
Grand Prismatic to Canyon
The road was busy between Old Faithful and Madison Junction, filled with guided groups from West Yellowstone. The West Entrance must be the most popular in winter with lodging right on the Park border.
Guided sled groups moved slow at 20-25mph, so we passed quite a few to maintain the 35mph speed limit. We had a long way to go before sunset.
Shortly after Old Faithful, we stopped at Grand Prismatic, the Park's most famous hot spring. The boardwalk was icy and I forgot my YakTrax. Steam condenses and melts snow, which then refreezes into a slick surface.
As the wind shifted, thermal features emerged from steam – much denser in cold February temperatures.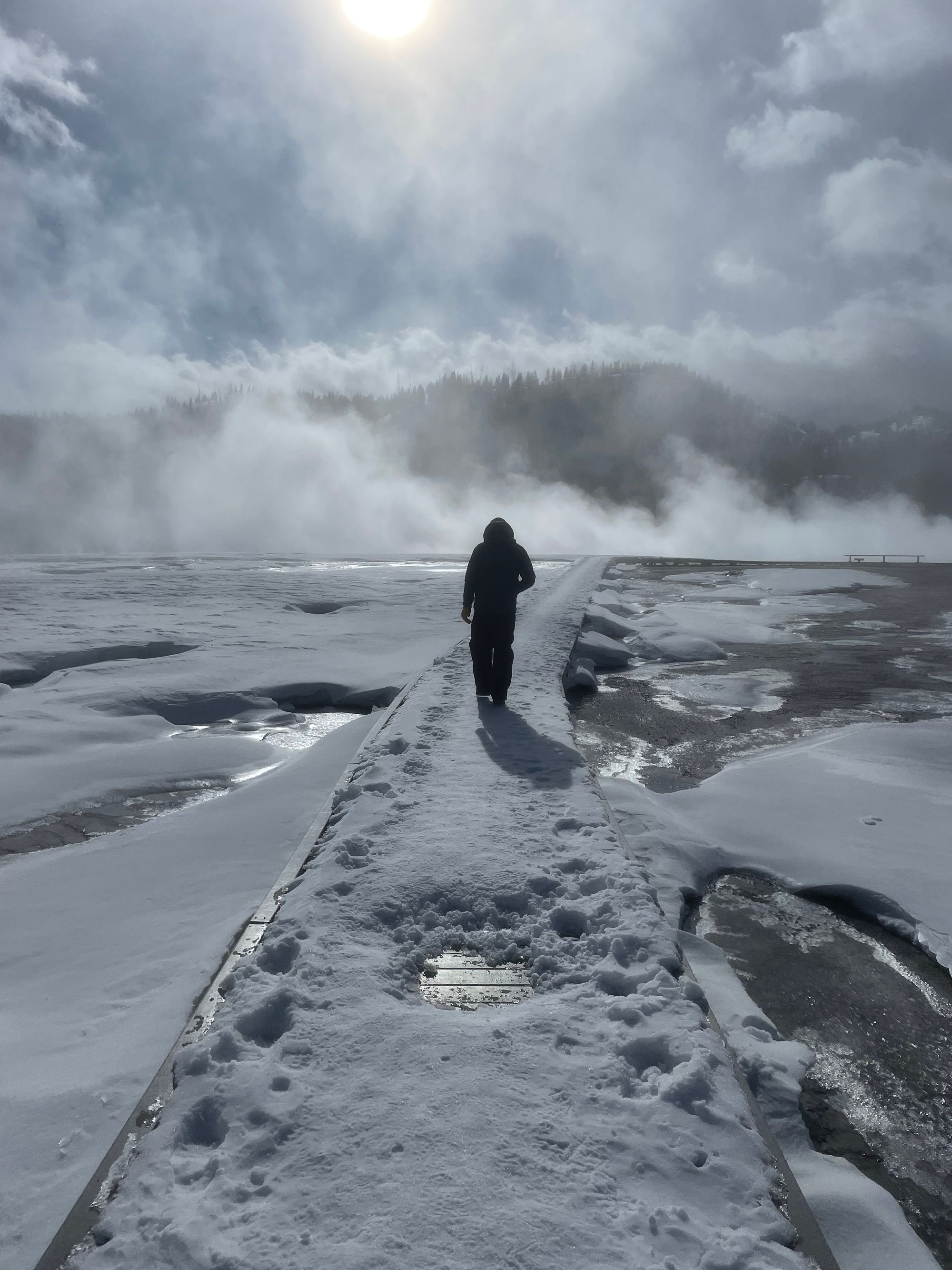 By 2:30pm, we hopped back on our sleds. The next scheduled stop was Canyon. We tried to make up time between Madison and Canyon, cutting close to our 6pm deadline.
We passed a few more groups on the way to Madison. Then, traffic slowed. From Madison to Norris, we passed only a couple snow coaches. We turned right at Norris (straight takes you north to Mammoth), passing one more snow coach returning from Canyon. That coach was our last company in the Park.
It snowed heavier a few times on that stretch. I had to slow down periodically to regroup. Overall, I felt very safe in the conditions.
On the final stretch between Norris and Canyon, I watched my sled's fuel gauge closely. It dropped below a quarter, then down to an eighth of a tank. A tow would be a nightmare, so I crossed my fingers.
To my relief, we descended into Canyon Junction holding at an eighth of a tank, gas station in sight. I pulled up to the closest pump.
It was about 3:30pm. We decided we could spare 15 minutes for Artist Point.
Artist Point and Hayden Valley
We headed south toward Hayden Valley. A couple miles past Canyon Junction, we turned left onto South Rim Drive. The road was groomed right up to the Artist Point parking area.
Artist Point is my favorite overlook for the Grand Canyon of the Yellowstone. During summer 2011 at Canyon, I'd hike the Canyon rims before afternoon shifts. From Canyon Village, I started with the North Rim Trail, crossed a bridge above Brink of the Upper Falls and picked up the South Rim Trail to Artist Point.
In the winter, snow breaks up the yellow cliffs, bordered by lodgepole pines. The Lower Falls flows behind a veil of ice.
We paused for a cider photoshoot. (Two members of the group own Highpoint Cider – highly recommend trying a can.)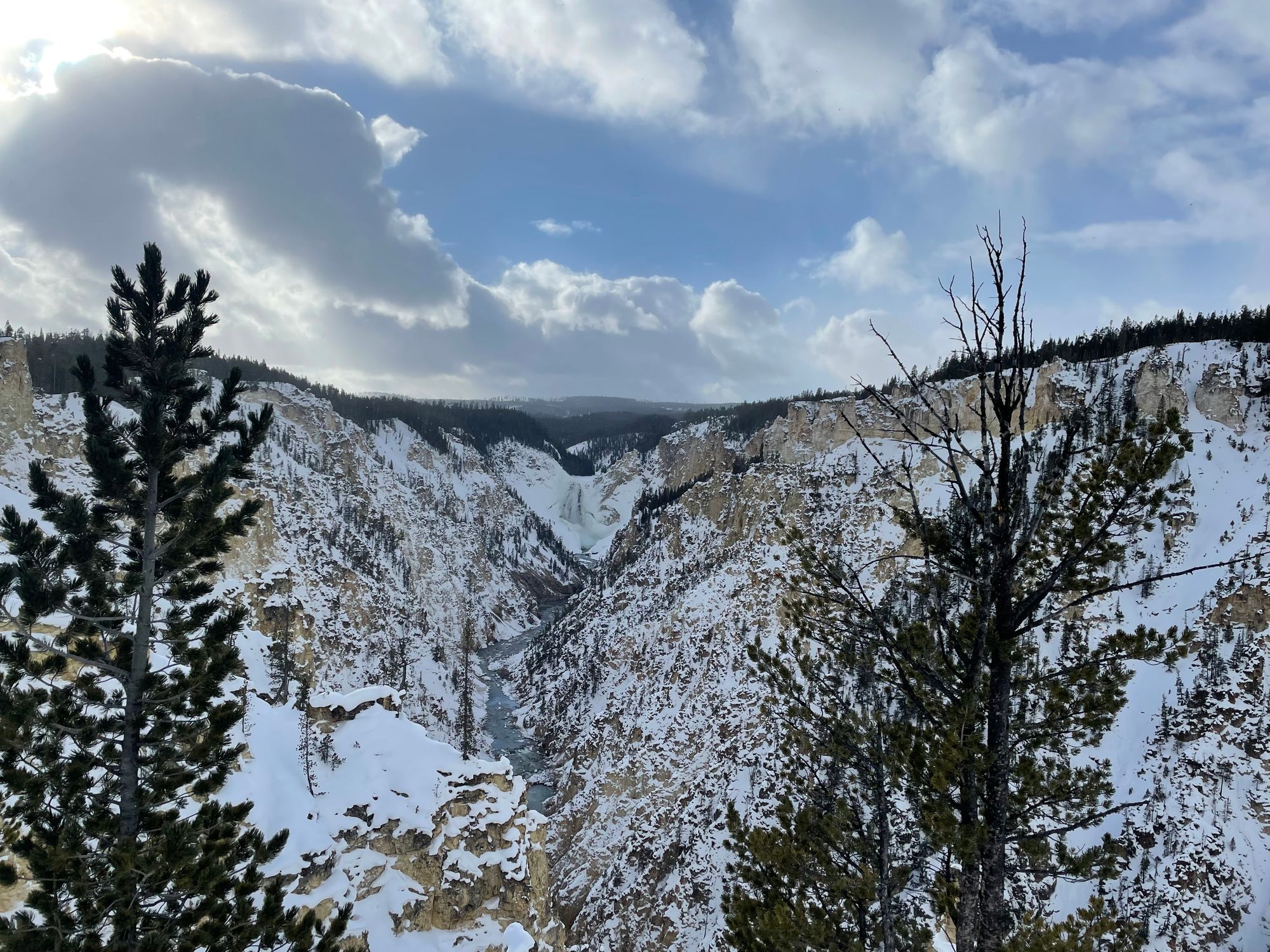 Just after 4:15pm, we left for Hayden Valley, one of my favorite parts of the Park.
Hayden Valley, along with Lamar, boasts the highest concentration of wildlife in Yellowstone. I've watched wolves, grizzlies, coyotes, elk and more bison than I can count. From Yellowstone Lake, the Yellowstone River flows through rapids, past mud pots and into the rolling hills of Hayden Valley.
Today, we only spotted one coyote in the distance. The sun was dropping and temperatures along with it.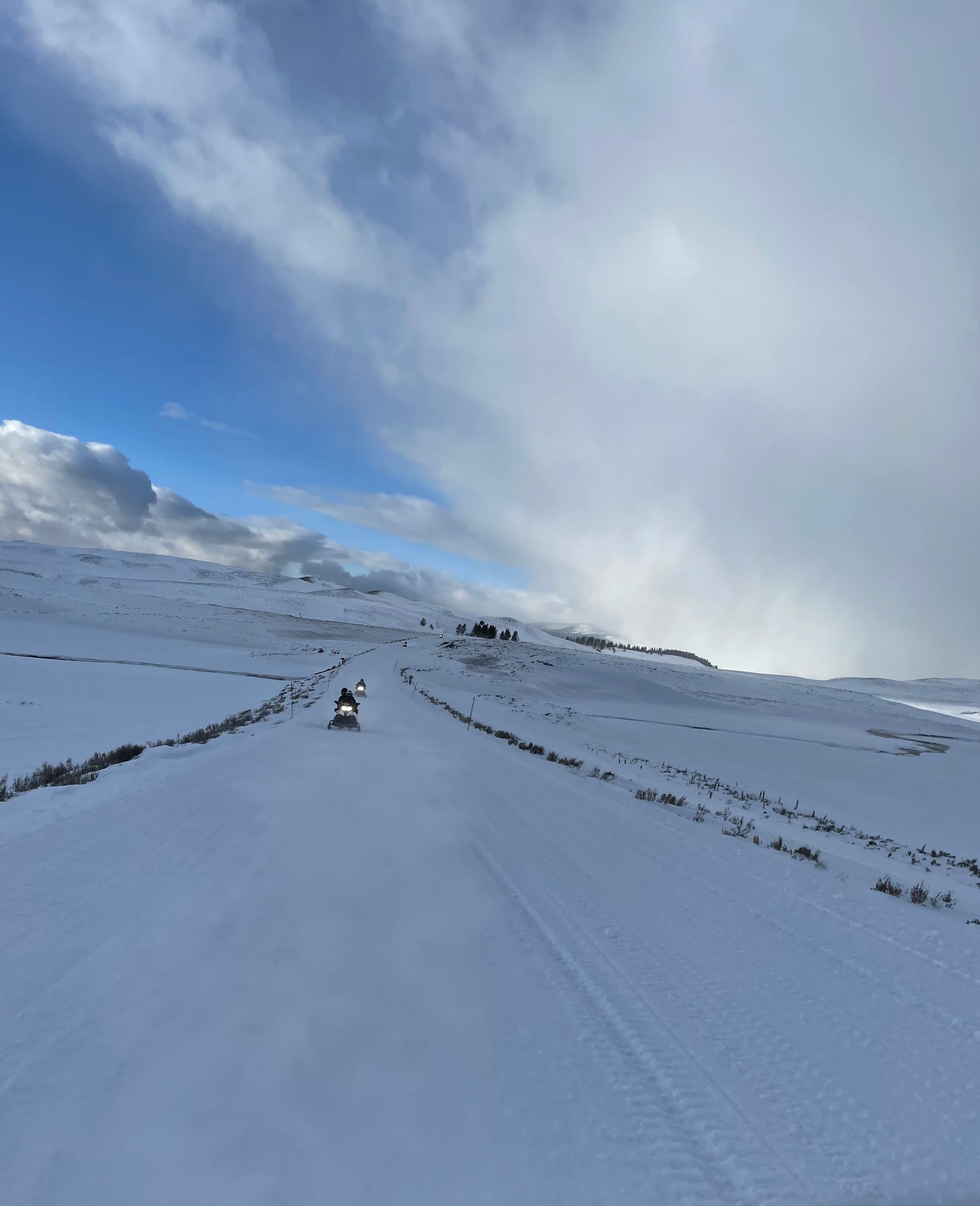 At 4:45pm, we made it back to Fishing Bridge, completing the Lower Loop. The group used restrooms and checked out the warming hut.
We hit the road again at 5pm.
Sunset on Sylvan Pass
Cruising past Yellowstone Lake, we made it into Sylvan Pass just in time for sunset. The setting sun lit up west-facing summits in the Absaroka's. Clouds above became orange. On the way out of Sylvan Pass, the road felt narrower and steeper. Descending, we looked into a deep canyon below.
At 5:45pm, we passed the East Entrance, taking a group picture at the Yellowstone sign. 15 minutes later, we were back where we started – groomed snow turned to pavement. We parked our sleds, ditched the jumpsuits and headed for Gary Fales.
It was late, so the rental company closed up. We left sled keys, suits and helmets in the office and drove to Cody.
Before setting out on a 5-hour drive home, we stopped in town for steaks. In cattle country, we expected local cuts. Turns out, our steakhouse sourced its meat from Sysco (sorry I asked). After Sysco steaks and wine, we drove south. Just after 1am, we pulled into Jackson.
Winter in Yellowstone finally checked off the wish list.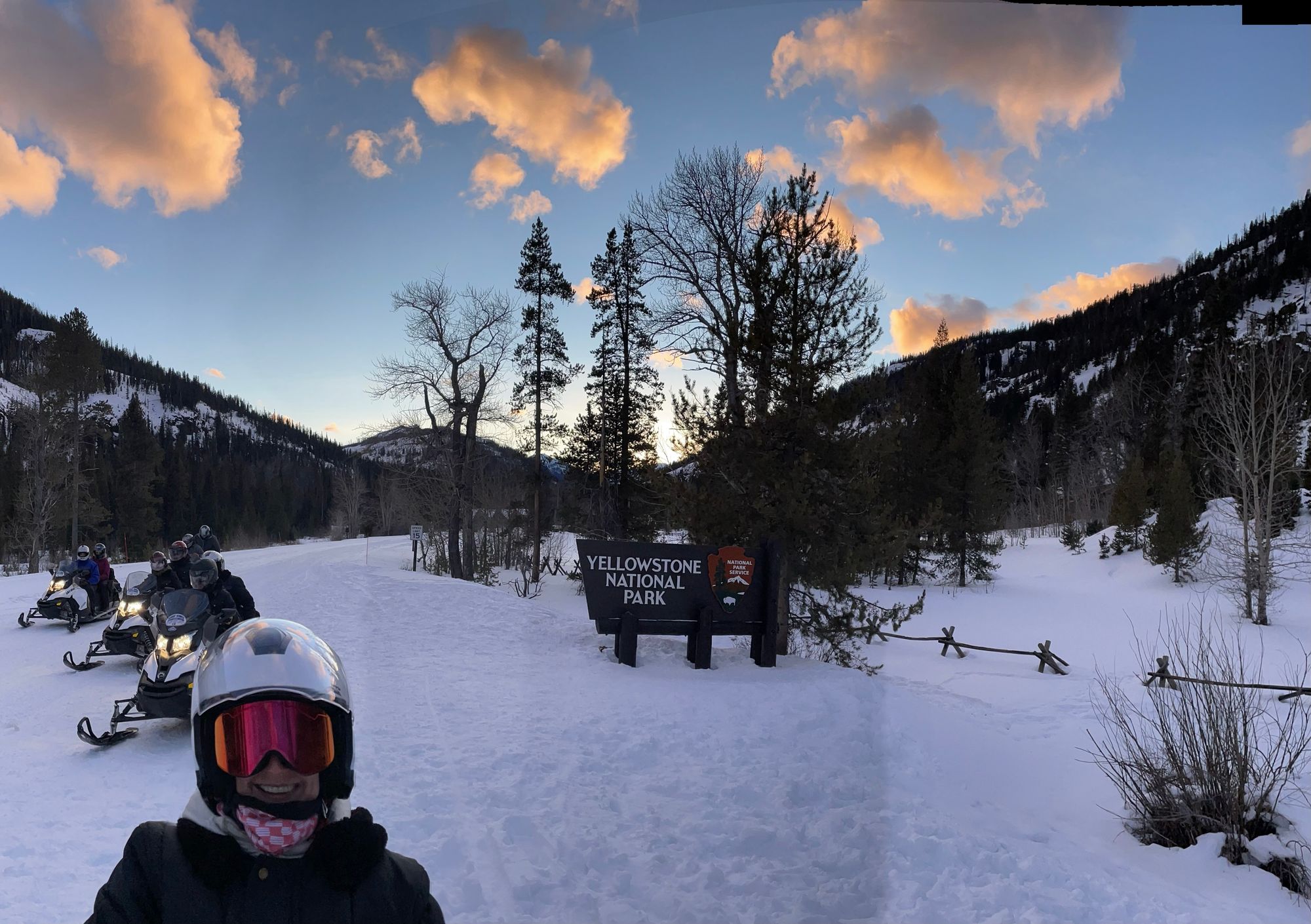 Next up for Yellowstone
Stock (horseback) camping in Lamar Valley.
Ski around Cooke City and in Beartooth Pass (not quite in the Park).
Circumnavigate Yellowstone Lake via canoe.
Explore the southeast corner, one of the most remote areas in the lower 48.