Ski
Table Mountain Ski Ascent/Descent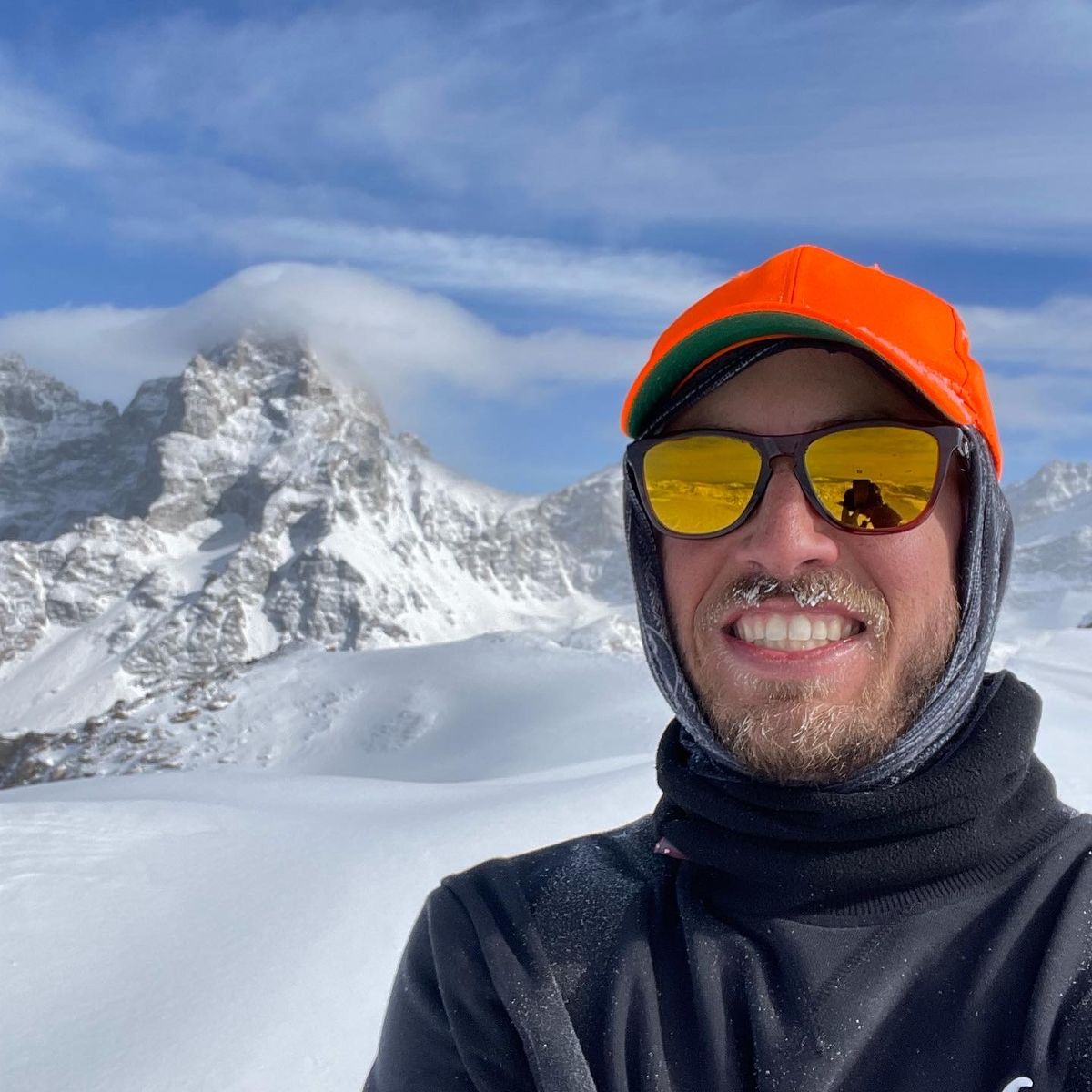 Monday, March 7, 2022:
Left New Sheep Bridge Trailhead at 9:30am; returned at 6:30pm.
16 miles (including descent) and 4,500' vertical ascent.
Successful summit; ski return along the ridgeline to our original bootpack.
Find the story highlight on my Instagram.
Table Mountain
Table Mountain is a Wyoming peak on the west side of the Tetons. The summit itself is only a mile west of Grand Teton, offering some of the most rewarding views of any Teton ascent. It's most readily accessible from Driggs, Idaho.
Due to its unparalleled views of Grand, Middle and South Teton, Table Mountain is a very popular summer hike starting from Teton Canyon Trailhead. In the winter, the 4-mile stretch of road from New Sheep Bridge Trailhead to Teton Canyon Trailhead is groomed for nordic skiing, much like the Park Road in Grand Teton National Park.
Planning
Research and Forecasts
My partner for the trip, who's based on the Idaho side of the Tetons, has summited Table Mountain a number of times in prior summers. So while a winter ascent/descent was new, we had good experience for our route.
We scouted Table the day before from Grand Targhee, a ski resort just northwest. The best vantage point is the saddle between Mary's Nipple and Peaked Mountain, a short bootpack.
Winter 2021-22 was one of the driest on record with virtually no storms in January/February, aside from a couple scattered 6" storms. We were finally expecting snow on March 8th with some light precipitation on the leading edge—otherwise the forecast was clear.
Table Mountain has some fun chutes and bowls, but we planned on a conservative descent following our skin track along the ridge and then our bootpack through the trees to the Teton Canyon Trailhead. Absent new snowfall, we expected low avalanche risk. The portion of our descent without trees was 15-20 degrees, so even if avalanche risk was elevated, we wouldn't have been too concerned.
We decided a ~9am departure would leave enough time to beat the storm with a few spare daylight hours. (Earlier would've been better, but I had a COVID test that morning ahead of a roadtrip to Banff, Canada in a couple days.)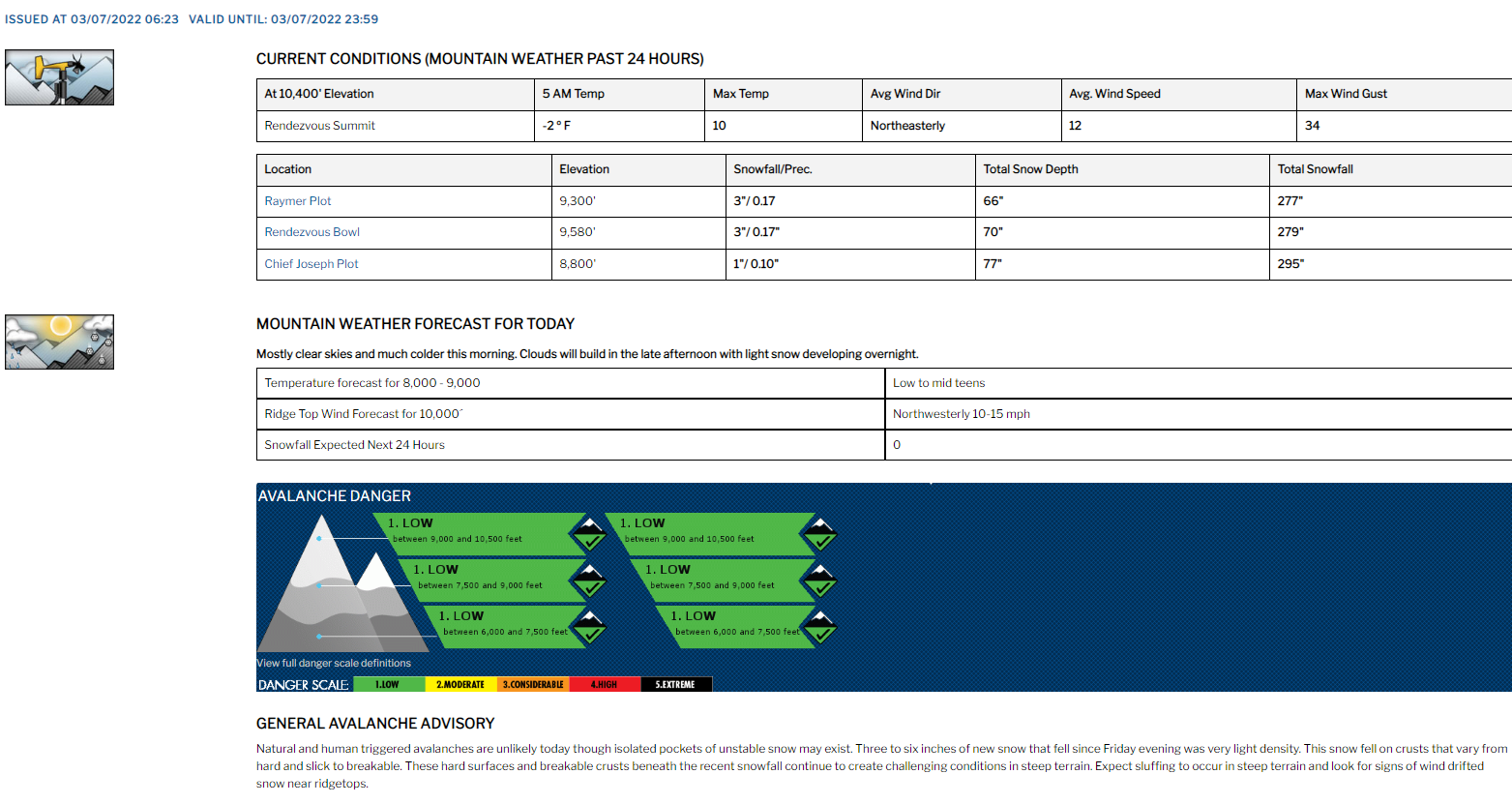 Gear
I packed up my gear the night before while carbo-loading. This was one of my first big tours, so it was a good learning experience (beneath this list are some items I wished I packed in retrospect).
Liberty 190s with Salomon frame bindings (my starter touring set-up; upgraded to proper touring skis before attempting the Skillet)
Black Diamond skins and skin savers
Nordica Strider hybrid boots (bought new in winter 2020-21)
Normal ski poles and helmet
Mammut Barryvox avalanche beacon; Mammut avalanche shovel and probe
Ortovox 26L airbag pack with Voile straps to add outside capacity (skins, shell and helmet); integrated back protector and whistle
Extra ibuprofen (fearing return of a knee overuse injury in the prior summer)
Ultralight medical kit: bandages, basic medications, antiseptics, tape, etc.
Calories: granola bars and baby food (should've just packed more energy gels)
Electrolyte powder added to a 1L Nalgene of water
Hand warmers (never used them; mostly for emergencies)
Leatherman multi-tool
Sunscreen
Firestarters and Coleman waterproof matches (for a forced overnight)
Space blankets (to counter hypothermia)
Orange hunting hat for visibility (paired with a buff for uphills; fits under helmet on downhills)
GoPro with foam wind cover ($12 on Amazon); helmet mounted
Sunglasses for the uphill
Bandana (a bit redundant with voile straps, first aid kit tape, etc.)
Gorilla tape (duct tape on steroids)
Extra voile strap (super versatile: secure ski tips in A-frame carry mode, emergency tourniquet, gear repairs, etc.)
Black Diamond LED headlamp
Extra AAA batteries for headlamp/beacon
Smith goggles with high-light, low-light and clear lenses; Microfiber cloth to clean goggles
Patagonia Down Sweater
Under Armor ColdGear base crew and mid-weight sweater
Helly Hansen shell jacket
North Face insulated ski pants
Smartwool targeted cushion socks (wish I wore low-friction liners beneath; feet were raw for the final 4-mile skin)
Neck gaiter with a fleece bottom (protection from the sun/cold beneath hat/helmet)
Lightweight gloves (used up to the ridgeline skin), Head ski mittens (used starting at the ridgeline) and liners (added after the summit)
My partner also had a satellite phone if we needed to call search and rescue.
List for the next trip:
Compass, in case we lost visibility and phones died
Extra electrolytes and energy gels to replace baby food/granola bars
A more comprehensive repair kit with baling wire, zip ties, hose clamps, etc., to repair gear in the event something failed
Proper touring skis/bindings/poles (I breezed up the bootpack, but struggled to on the skins with extra weight from my frame bindings)
The Trip
Entry Skin from New Sheep Bridge Trailhead
The first stretch is the 4-mile, groomed stretch of road from New Sheep Bridge Trailhead to Teton Canyon Trailhead with about 500' net elevation gain.
Most skiers snowmobile to the start of their routes in Teton Canyon, but without a sled, we opted for the long skin. I was eyeing Mt. Moran's Skillet for later in the season, which involves a 6-mile skin over Jackson Lake, so I saw the extra mileage as a trial run.
We thought about going Nordic (no skins), but the route wasn't quite flat enough to make that more efficient.
At 9:30am, we skinned out of the trailhead passing nordic skiers and some pups returning from early morning workouts. The road meanders through Teton Canyon and over a couple bridges before spilling into a dead-end: the Teton Canyon trailhead.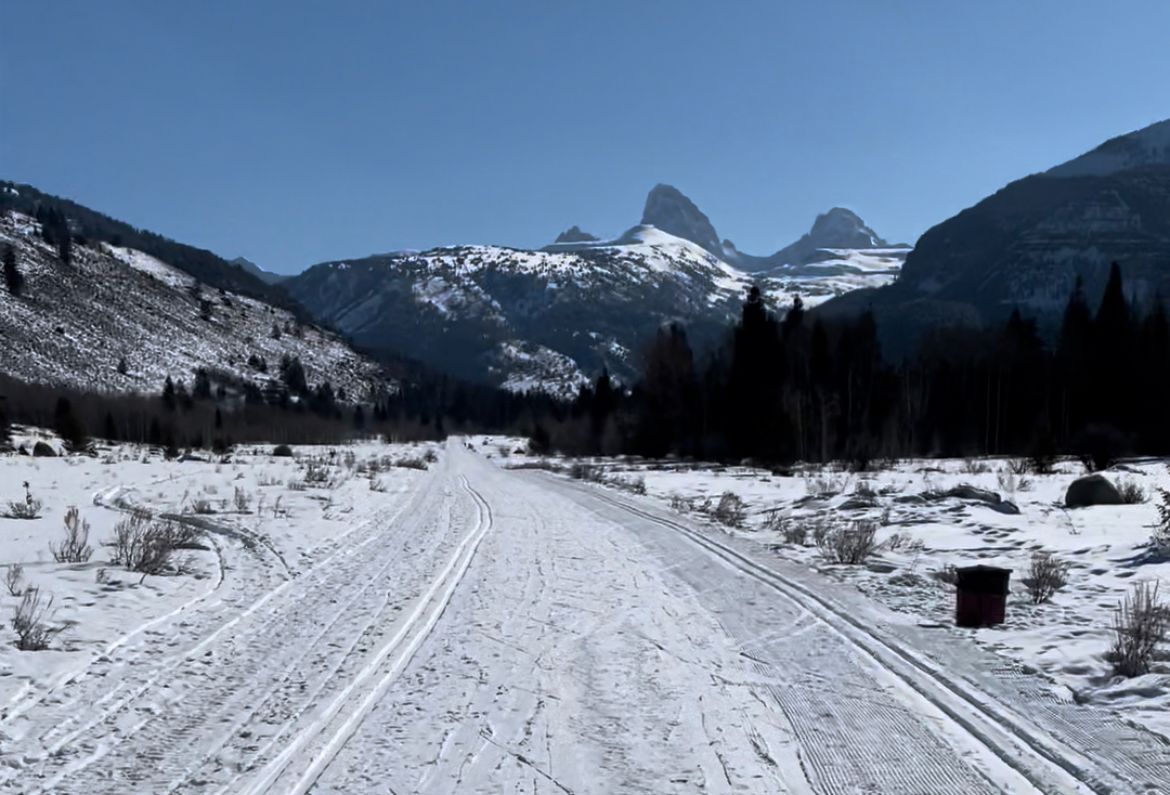 A few snowmobiles zipped past as we skinned, one with three skiers in tow, sparking some envy. But by 11am, we arrived at Teton Canyon Trailhead and started transitioning for the bootpack.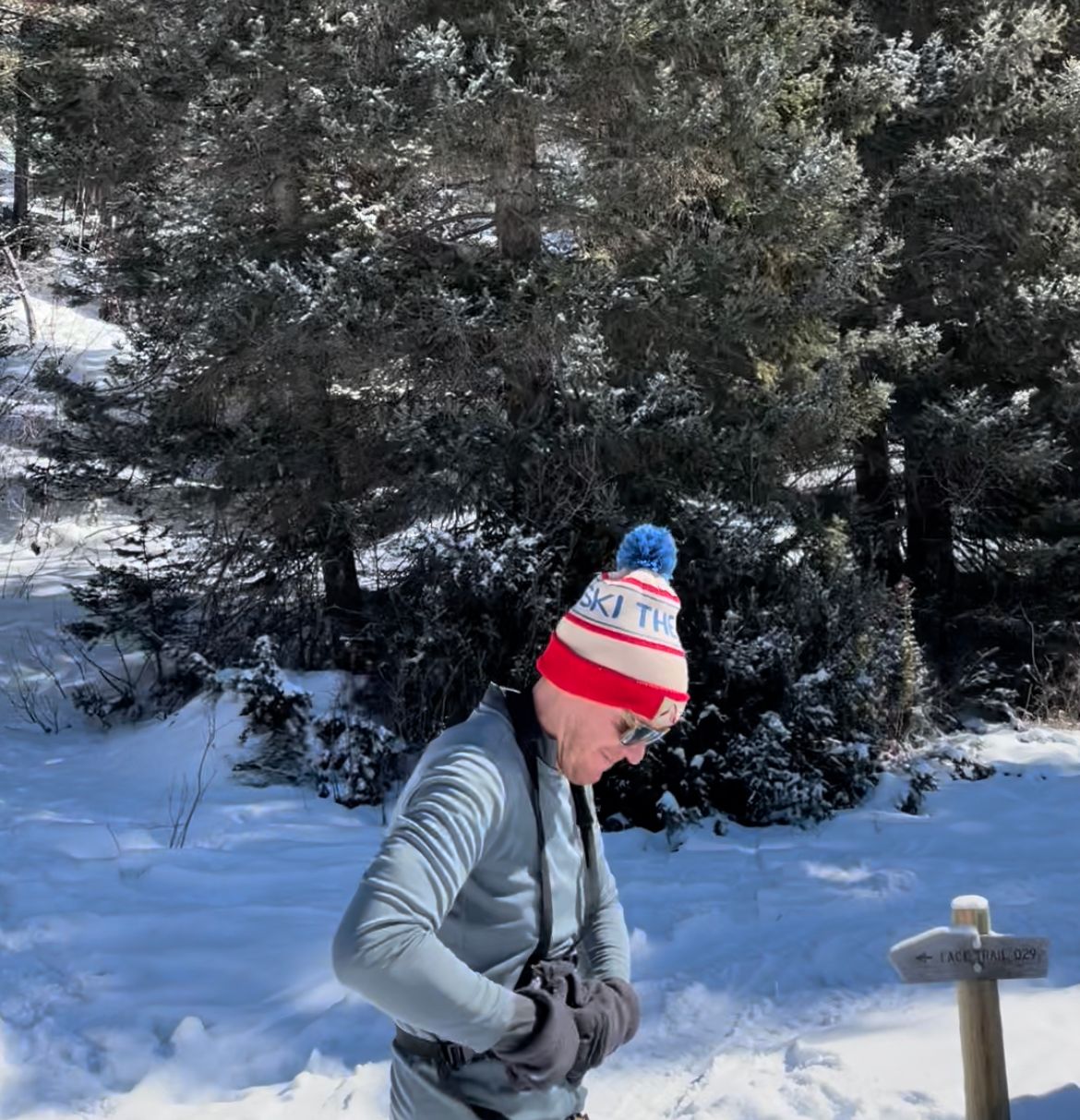 Bootpack from Teton Canyon Trailhead
Beacon check, skis in A-frame mode and a quick snack, then we started hiking up a snowshoe track just to the left of the trailhead restrooms (closed for the season). The total elevation gain was about 4,000' from the trailhead, mostly packed into the initial bootpack.
We were lucky to find a snowshoe track that generally supported our weight in ski boots. Otherwise, we'd have been postholing 2,200', since the ridge was too steep to skin. (Occasionally our boots punched through the snow, but not often.)
We trudged up a couple steep sections of pines and aspen groves. The snowshoe trail hugged the northwest ridge. After ~2,200' and 2 hours, the terrain leveled out to a long skin for the final 1,800' vertical.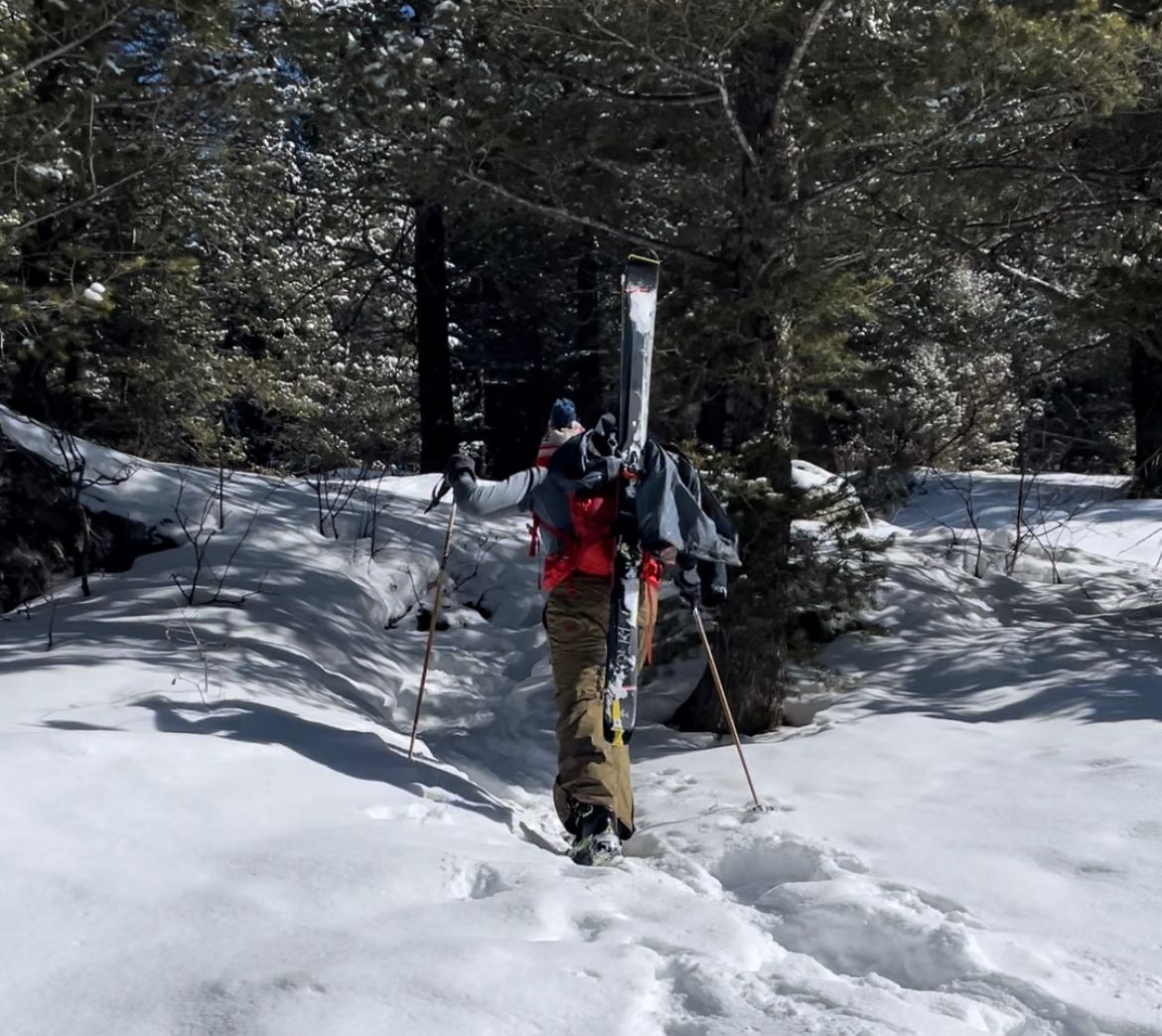 Skin (and Bearcrawl) to the Summit
After another quick snack at 1pm, we ripped skins and started heading southeast, following the ridge toward the summit, which wasn't visible yet.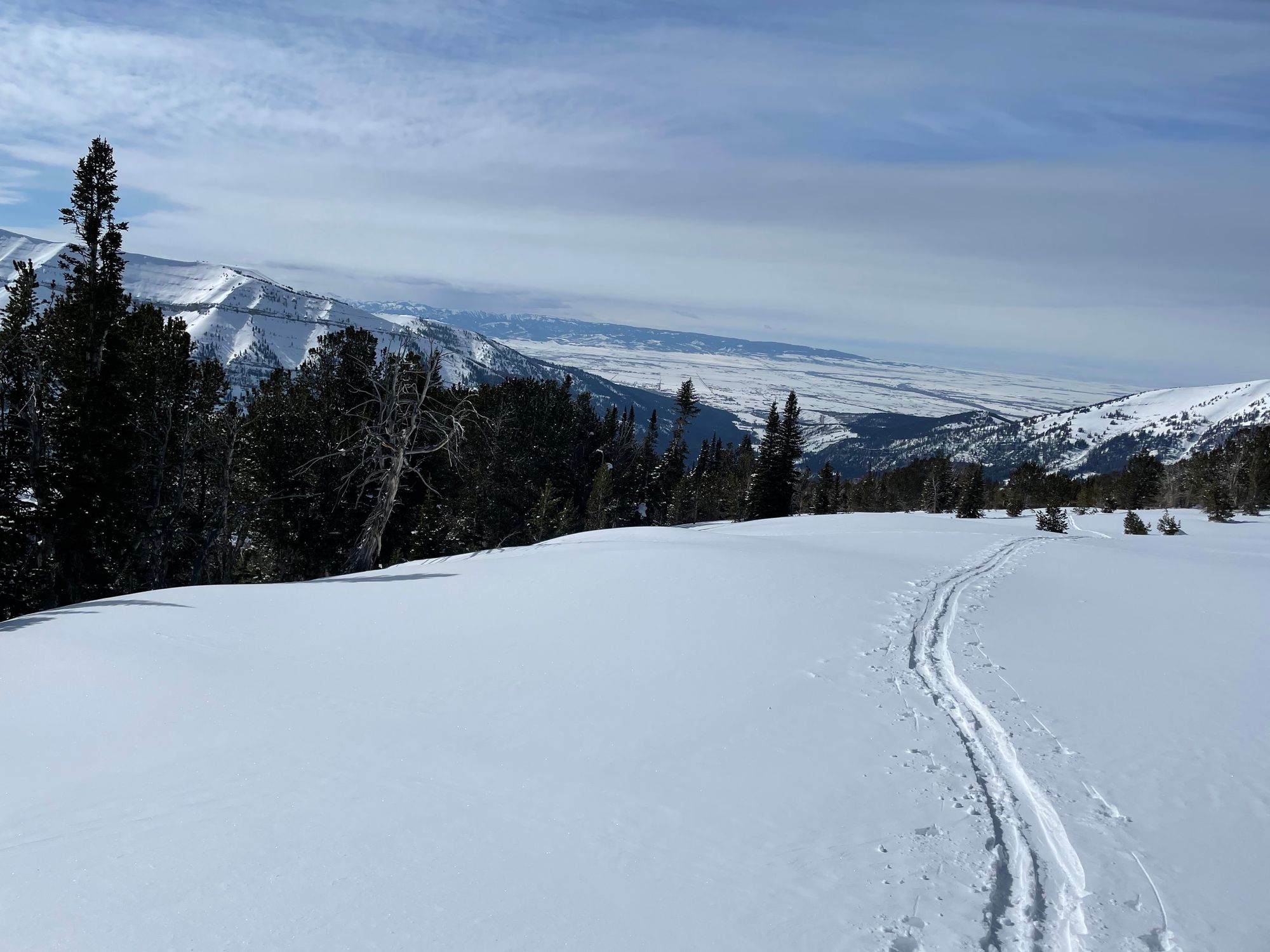 The skin dragged on, exacerbated by the weight of my frame bindings. The summit came into view within 30-40 minutes, but seemed closer than it was. Most of the ridgeline's 15-20 degrees without trees/boulders as reference points. My hands started to go numb, so I swapped lightweight glovers for mittens.
With a storm forecasted overnight and clouds rolling into Teton Valley, we debated a turn around about a mile from the summit, but decided we had enough time to clear the ridgeline. There was a cornice on the north side of the ridge and relatively few reference points to keep us on track if visibility dropped.
By 2:30pm, about an hour and a half into our skin, we approached the final section, which pitched up to 30–40 degrees for a final bear crawl.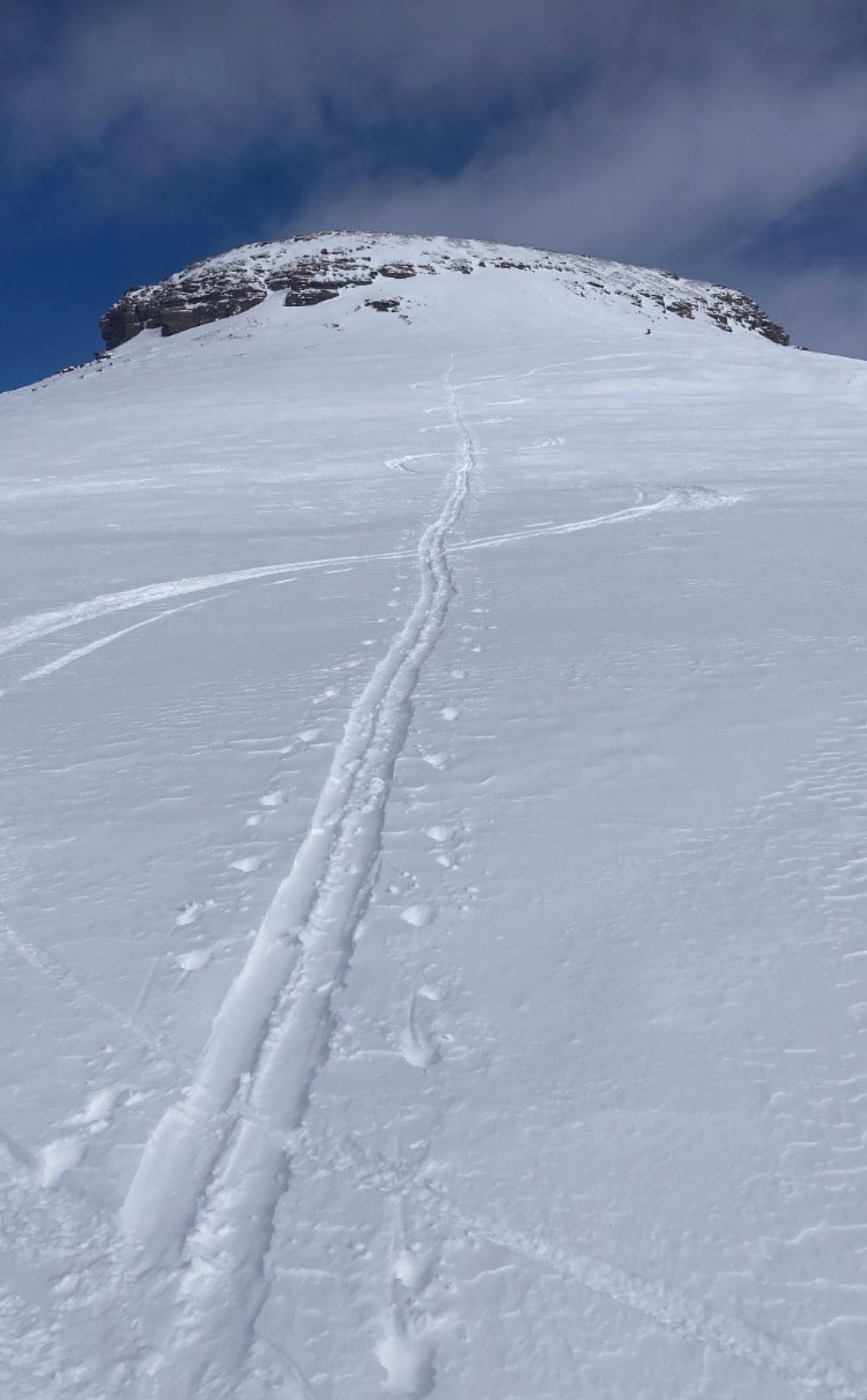 At the base of the summit, I ditched my skis, grabbed my poles and started scrambling up the final ~100' vertical to the summit. In retrospect, an ice axe would've helped, but the snow was soft enought to get traction with boots/poles.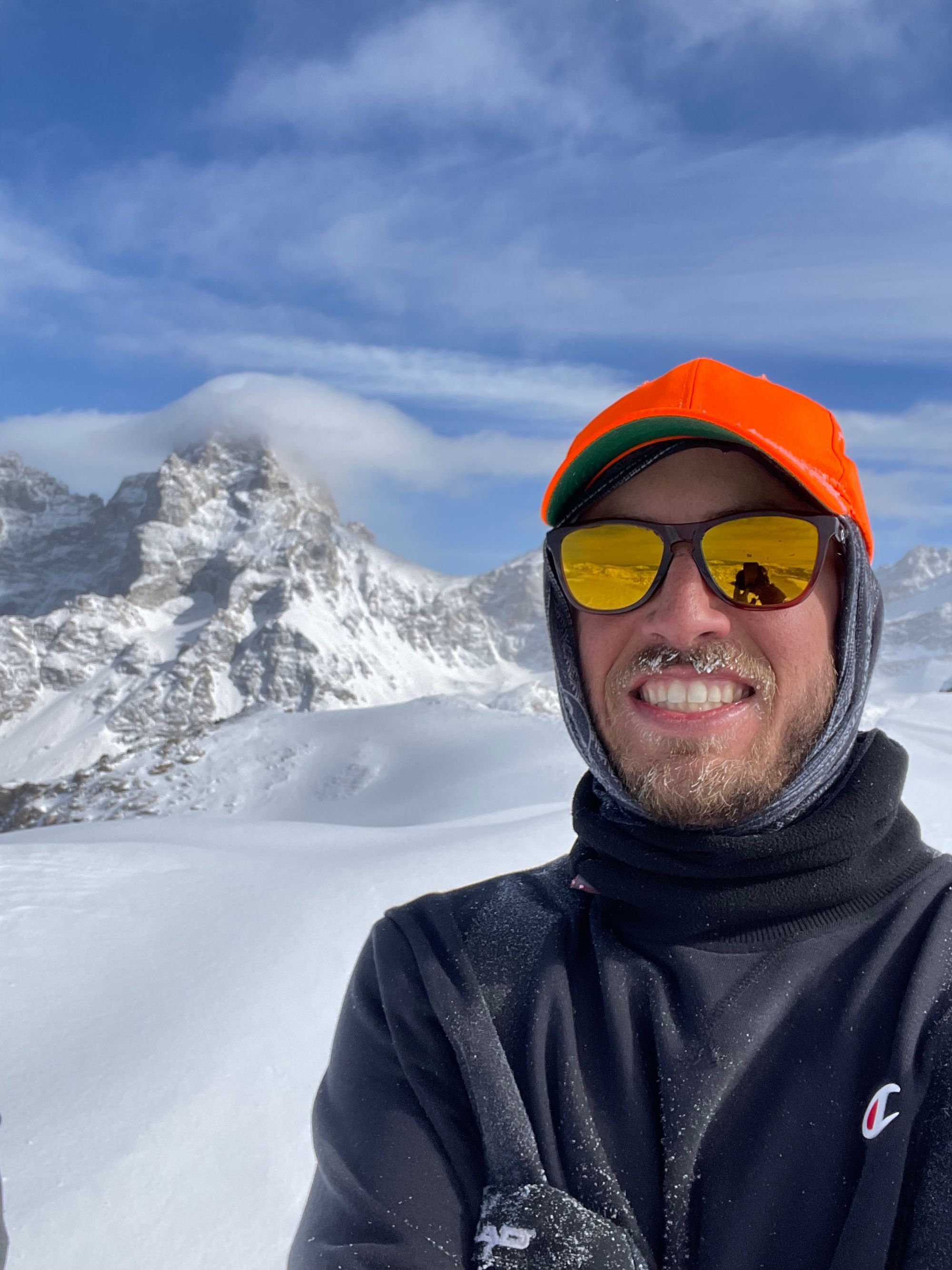 Careful to stay back from the leeward edge (cornices have a habit of breaking further back than expected), I snapped some quick pictures on the summit, then scrambled out of the cold, west wind.
As I started transitioning, I felt my hands going numb again from that ~30 seconds of exposure snapping pictures. I added liners beneath my mittens, swapped my frozen sweater for a puffer and tossed on my shell. With slow hands, the transition was clumsy, but by 3pm my skins were packed, frame bindings in downhill mode and helmet buckled.
Ridgeline Ski to our Bootpack
My legs felt like jelly on my first turn. This was my first long tour with my prior ascents closer to 1,500-2,000' vertical. I also skied and deadlifted the day prior (silly move in retrospect). With that flimsy start, I knew I'd be skiing conservatively all the way back to the trailhead.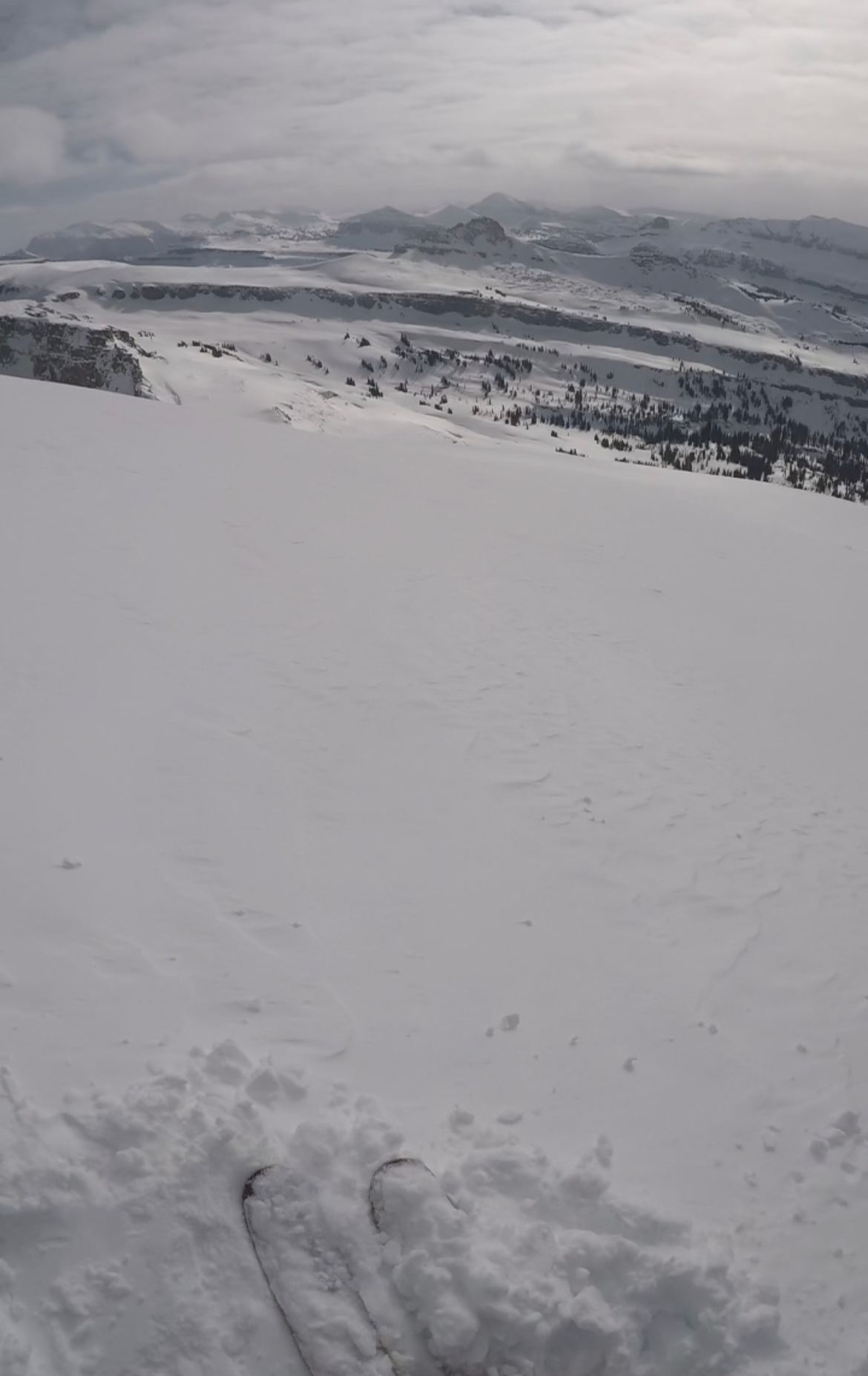 To ensure we ended up at the trailhead, we followed our skin track and then bootpack back down the ridgeline. There were a few inches of fresh snow from the night before sitting on a sun crust from the dry stretch before, so skiing was generally fine with only some inconsistency.
As we worked our way down in elevation, coverage dropped with less recent snowfall and more crusts. When we hit the steeper portion of the ridge with tight trees, we decided to downhill bootpack, given spent legs.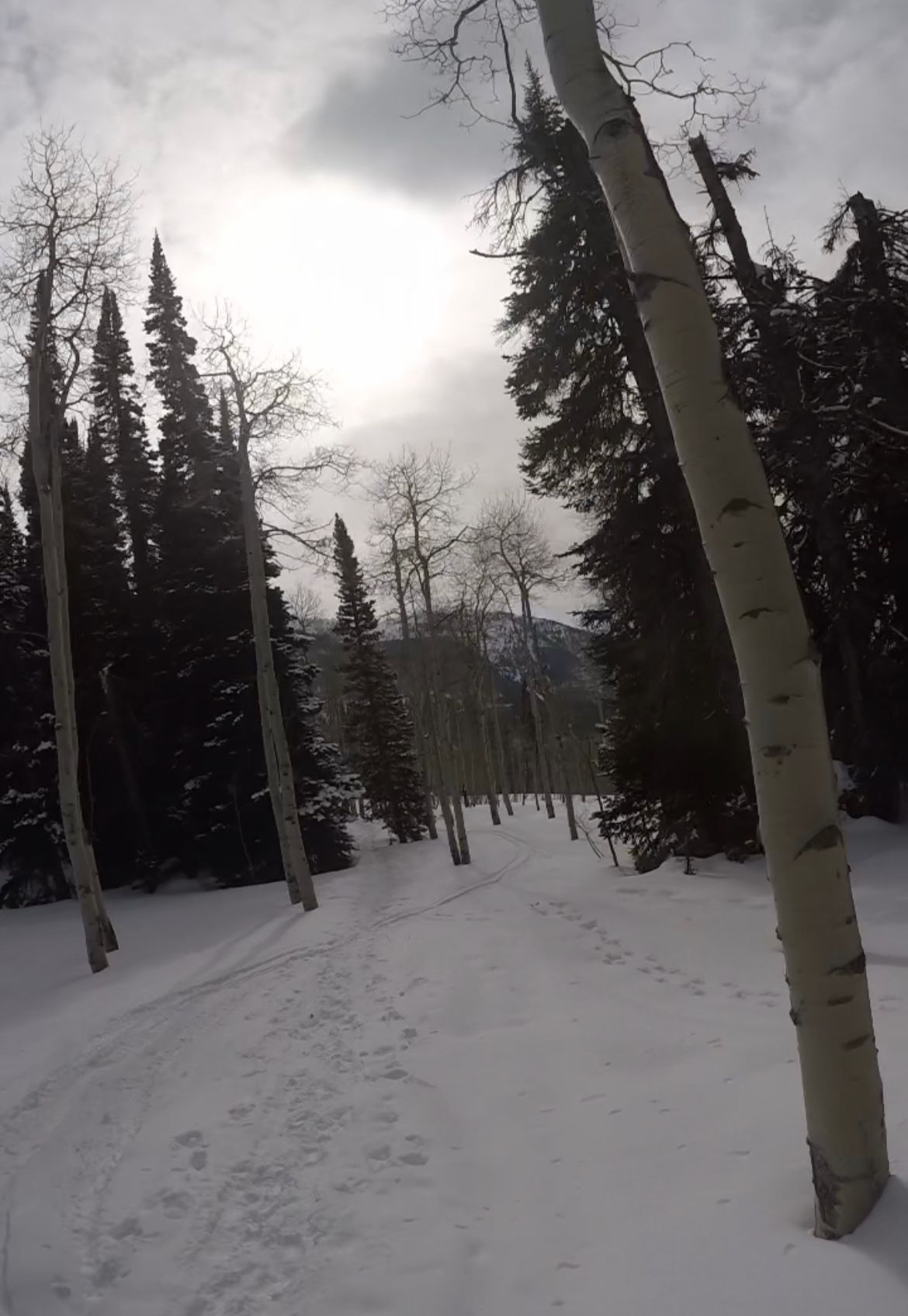 After transitioning back to pack carry, we carefully made our way down the same snowshoe track we bootpacked a few hours earlier. Like on the uphill, occasionally our boots broke through, which felt riskier facing downhill. We took it slow to minimize risk of injury.
At 5pm, we reached the trailhead parking area, took a quick breather and transitioned for the final skin home.
One Last Skin
That last stretch was uneventful, but felt longer than the morning. We only passed one group of hikers about halfway back to our cars. Envy of the morning group towed in/out by snowmobile hit again, but it was a good trial run for the Skillet. We finally got back to our cars at 6:30pm.
First order of business after a few gulps of water: Broulim's in Driggs, ID, for Pedialyte, a protein bar, baby food and my go-to snack (Spicy Queso Popcorners) for the drive home to Jackson, WY, over Teton Pass.
The snow was falling in ernest at this point, so the drive home was slower than I hoped. But eventually, I pulled in and cooked up a quick steak with onions/mushrooms and potato wedges for a 9pm dinner.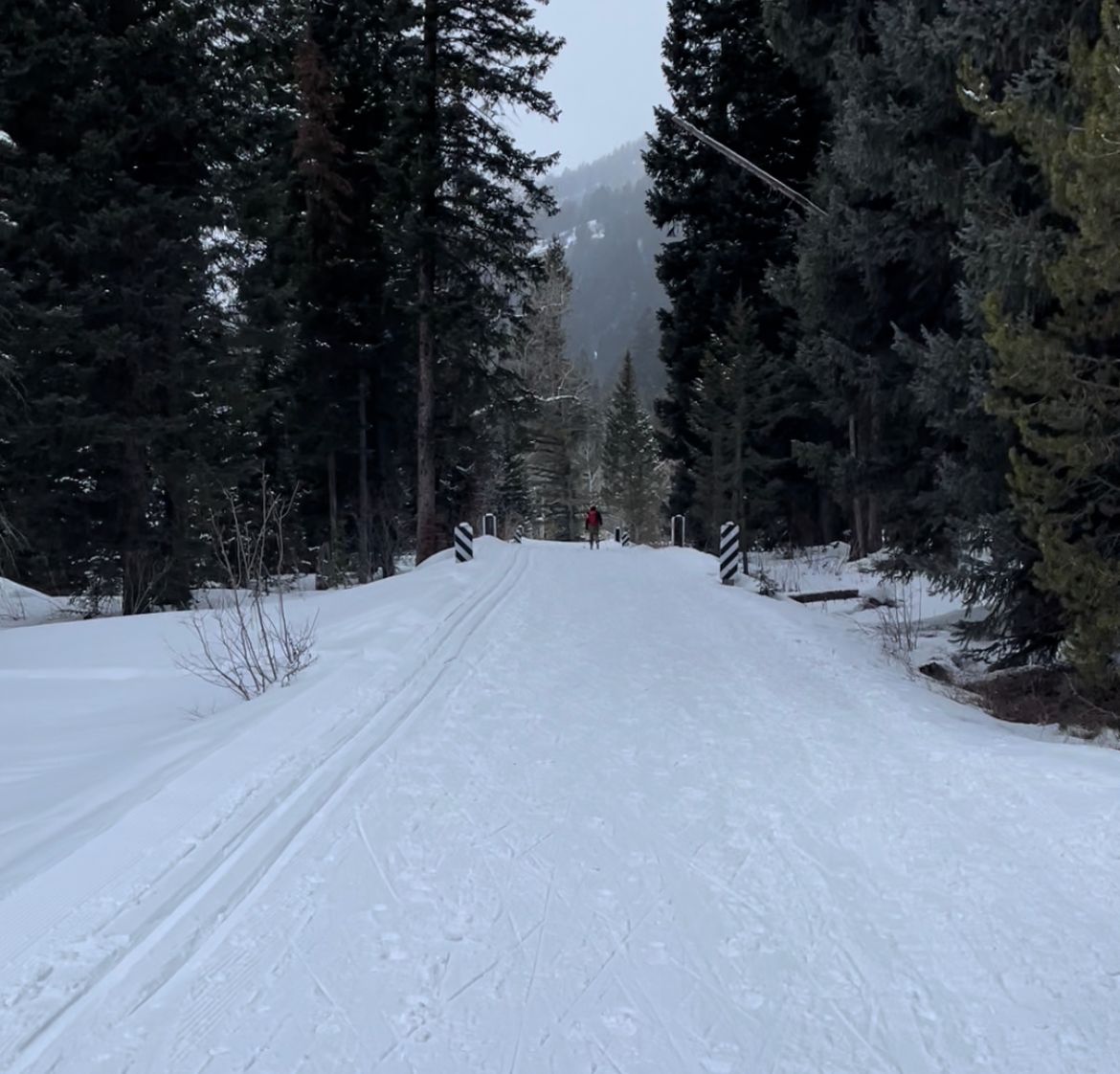 Takeaways
Learnings
More calories, specifically lightweight stuff like energy gels and Justin's packs, and hydration
No leg workouts for the 24 hours leading up to a long tour (duh...) and more carbo-loading/hydration
Lighter touring equipment to balance out my skins and bootpacks
Stats (Apple Watch)
16 miles, including descent
4,500' vertical (500' initial skin, 2,200' bootpack and 1,800' final skin/bearcrawl)
2,500 active calories