How to Start Backcountry Skiing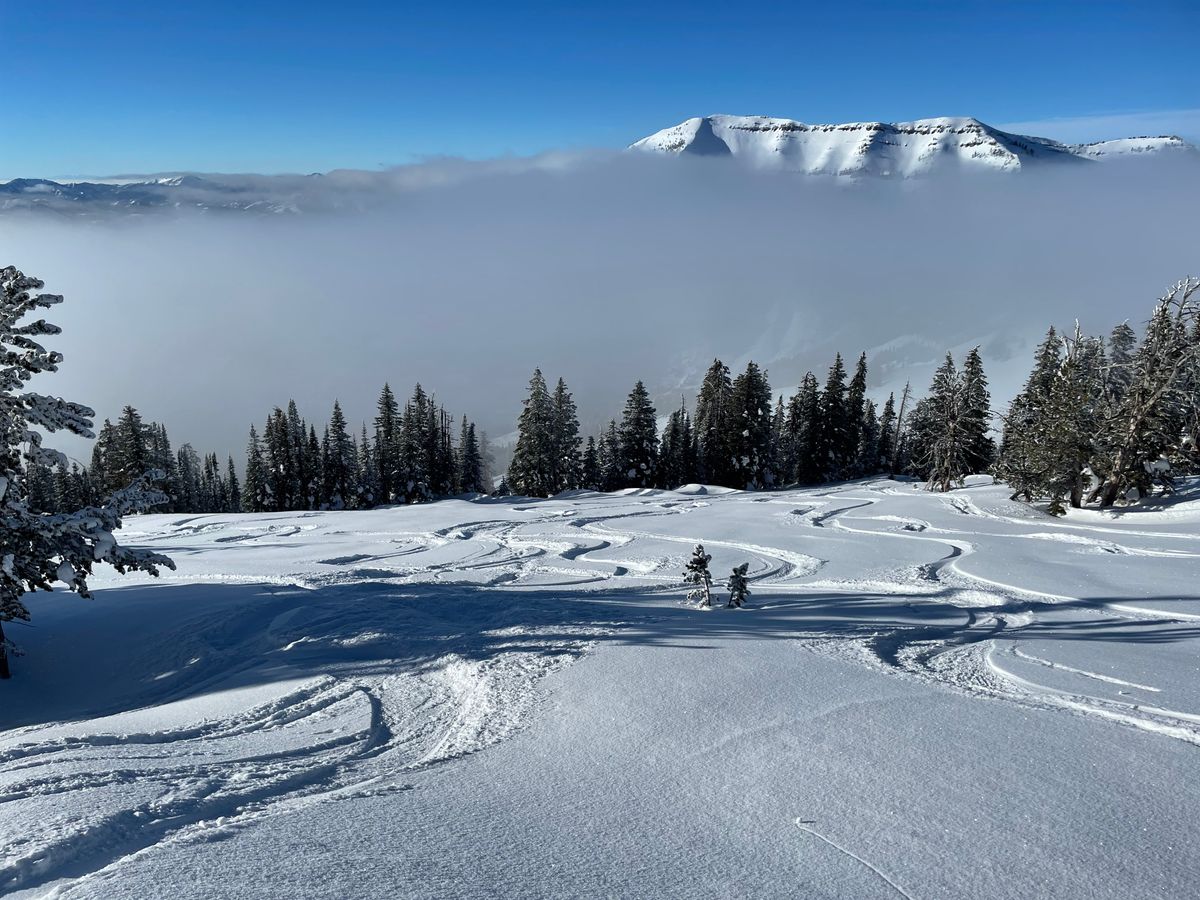 After a lifetime on the east coast, I moved to Jackson and started skiing the big mountains. I grew up on Long Island, NY, skiing ME, VT and the Catskills on holiday vacations.
I love summer backcountry treks, so touring caught my attention. But new skis, boots, skins and avalanche gear? What's the big deal with avalanches anyway?
During my first season in Jackson, a friend suggested an Avy 1 (entry-level avalanche awareness, planning and rescue) and a basic touring kit. I picked up used powder skis with frame bindings ($225), new Black Diamond skins ($130 on sale), a Mammut Avy kit ($300 on sale), and a used Ortovox airbag pack ($400). By April, I logged 40 resort days (mostly afternoons), two ~2,000' vertical tours and a handful of sidecountry days from gates at Jackson Hole.
For my second season, I doubled down on touring. I skipped the Jackson Hole season pass, opting for Mountain Collective: 2 days at 20+ resorts, including Jackson Hole and Targhee, and 50% off thereafter. By the end of the season, I logged two big tours – a Table Mountain summit and an attempt at the Skillet ("biggest backcountry line in the US"). I also logged 40+ smaller uphills, including near nightly bootpacks / skins up Snow King. Before the Skillet, I bought used touring skis and skins ($400) to upgrade from heavy frame bindings.
Read this article for context on backcountry skiing, tips to get started without breaking the bank and to find out if the sport's a good fit for you.
A Practical Roadmap:
Phase One: Use your resort skis to explore sidecountry terrain (accessed from resort gates) after taking an Avy 1 course.
Phase Two: Invest in touring equipment and try shorter tours, building avalanche skills through self-study and an Avy Rescue course.
Phase Three: Build up to longer backcountry treks and ski mountaineering with ice / rock skills and more snow science.
Disclaimers
I'm a skier, so not well-versed with splitboard gear. But the same overall logic applies: start with sidecountry terrain after an Avy 1, then build up to touring.
This is just one approach to start backcountry skiing. The one step you can't skip is developing avalanche knowledge.
Why Leave the Resort?
There's a big spectrum for backcountry skiing: gates at your local resort (aka sidecountry), short tours, multi-week hut trips deep in the backcountry, scaling mountains with ropes / crampons / ice tools, etc.
Any skiing beyond resort boundaries requires avalanche training. Some say, "there's no such thing as sidecountry." I have friends who've suffered severe injuries from sidecountry avalanches.
1. Powder
You won't find better powder. Without heavy resort traffic, snow can hold up days after a storm with cold temperatures.
But for each deep day in the backcountry, you'll get more challenging snow: crusts, wind loaded, wind scoured, etc. Natural snowpack isn't consolidated like resort snow, so you have to take the good with the bad (or be selective on tours).
January / February 2022 featured the "least snowy period since 1992" in the Tetons, making for unusually meh snow. On the bright side, avalanche risk was low. Even with lower risk, the Tetons had multiple winter fatalities.
2. Adventure
My favorite adventures are type II fun: painful in the moment; a good story when home safe. Touring offers plenty of type II fun for the adventurous. You can also limit yourself to all-around fun tours if you're type II-averse.
To read trip reports from a couple type II adventures in winter 2021-22, check out Table Mountain and the Skillet Parts I (training) and II (trip report).
3. Fitness
Ski touring is taxing: uphill travel in winter weather with heavy packs, especially if you have an airbag. After my first few tours, I was light-headed, nauseous and shivering – dehydration and insufficient calories from the learning curve.
Endurance athletes well-versed in fueling will adapt easier. But even long-distance runners struggle on their first uphill skins from the added weight.
Downsides: Avalanches and Extreme Cold
Avalanches: Avalanches are scary. Assuming you survive trauma from trees / rocks, you're trapped in frozen concrete, hoping for rescue. If lucky, you'll be able to breath. If fully-submerged, you'll succumb to CO2 poisoning – survival odds nosedive after 15 minutes.
As you lie motionless in the dark, your partner must (1) switch their beacon from send to search, (2) initiate a sweep of the debri field, (3) hone in on your signal, (4) pinpoint your body with a probe and (4) move a ton of snow on average. It's a tall order for 15 minutes under stress, skiing through chunky avalanche debris.
After clearing your airway, your partner needs to administer first aid and potentially initiate extraction by search and rescue (SAR). That's assuming you have an urgent injury and you're in a region serviced by a SAR team.
Avalanches generally occur on 30–50 degree slopes after recent snowfall, wind loading or warming. Some common "problems" include wind slabs, persistent slabs, dry / wet loose and wet slabs.
We generally overestimate slope angles when skiing. Typical resort days probably consist of 25-35 degree slopes with the steepest double blacks at ~45 degrees. The best skiing, especially on powder days, tends to be right in that 30-50 degree avalanche sweet spot.
Other hazards: Whenever you enter the backcountry you need to be capable of self-rescue. With cell service or a satellite phone, you can likely contact search and rescue. But they often can't get to you immediately. With bad weather or limited resources, they might not be able to for a day or longer.
And that's assuming an urgent injury in an area serviced by a SAR team with a helicopter. (We're lucky to have a well-funded team in Teton County.) If you just have broken gear or non-urgent injuries, it's your responsibility to self-extract.
It's easier to survive an unexpected overnight in the summer. In the winter, hypothermia kicks in fast absent proper emergency gear (space blankets, extra layers, firestarters, etc.) and shelter skills (snow cave, lean-to, etc.).
Check out the Fine Line podcast for SAR stories from Jackson Hole.
Pros and Cons Recap
In summary, potential for unmatched powder, type II adventures and a reason to train like an athlete – but significant risks to be managed.
Given those risks, you should start with avalanche education and sidecountry laps on lower risk days. Then, you can dig deeper at a comfortable pace.
Phase One
Avy Training and Sidecountry Laps
Goals:
Develop basic avalanche knowledge and skills
Experience backcountry skiing without a investing big in touring gear
Decide if you'd like to dive deeper
Prerequisites:
Normal downhill skis / boots: no additional cost
Avalanche beacon / probe / shovel: $250 on sale
Backpack to store avalanche gear (potentially with an airbag, but that increases cost): $75 or less on sale for a small pack
"Avy 1" course: $450-550, plus touring rentals, and three days
Before dropping $2,000+ on new gear, you can take downhill gear into the sidecountry at your favorite resort (most have gates). Resorts generally have non-avy controlled terrain accessible via short bootpacks, versus sustained uphill travel (which requires tech bindings / boots and skins).
Note: The sidecountry is just as dangerous as the backcountry. It's just easier to access. Avalanche preparation still applies, but you can use resort skis / boots.
Avalanche Safety
First, an Avy 1 course and avalanche gear (beacon / probe / shovel). You can rent tech bindings / skis if needed for the course. It's worth buying the avalanche gear, so you're familiar with the specific equipment when it counts. You could also rent the avalanche gear, but you'll need to do so on each sidecountry venture.
During my Avy 1, we toured a few days in Grand Teton. Most of our rookie group rented uphill skis / boots from a local backcountry shop. Kits like the Mammut Barryvox package come on sale a few times a year – watch Amazon, Evo, Backcountry.com and REI around Black Friday, spring clearance, etc.
The most important part of avalanche education is avoiding them. To do so, you need to understand and apply the forecast, evaluate local terrain, communicate within your group and make conservative decisions.
After your Avy 1, you should read avalanche reports regularly, follow weather events driving those risk assessments and apply new knowledge in the field. It helps to reflect after each tour on what went well / poorly. Each commonly-skied region has a center that publishes daily reports (e.g., Bridger Teton).
It takes experience to build snow science intuition. After two seasons, I still have a ton of room for improvement.
Once you have the avy basics under your belt and find a partner on the same level, or ideally more experienced, you're ready to explore the sidecountry. If you're willing to spend some money, you can also hire a guide. It's best to start on "low"-risk days when you're starting.
Other Sidecountry Hazards
The sidecountry is littered with unmarked cliffs, creeks, rocks, downed trees, etc. In bounds, maintenance crews mark, close and clear hazards. Risk is often highest early in the season with low coverage.
If you venture into the sidecountry on a low-visibility day, it'll be even more difficult to find your way home and avoid hazards.
So ideally you have a friend with experience on your planned route to ensure you avoid hazards and don't get lost.
Examples:
In Granite Canyon on the north side of Jackson Hole, if you ski below the skate track leading back to Saratoga Bowl, you have a very long hike home. It can be near impossible without skins.
In the Green River Canyon on the south side of Jackson Hole, you need to cut left for the Hobacks toward the bottom of the drainage, or you're stranded on Fish Creek Road in Wilson. Even worse, if you somehow drop off the west side of the resort without skins (it happens), you might need a  SAR extraction.
Downhill Skills
If you're exploring backcountry skiing, you're probably comfortable on almost all resort runs. If not, you should probably push yourself harder in the frontcountry before facing avalanche risk. You can also start with mellow tours (<30 degree slopes) or hire a guide service with emergency support (e.g., heli-skiing).
The biggest difference between skiing the backcountry and frontcountry is natural snowpack. (Upside-down snow, wind loading, sun crusts, etc.) Heavy traffic consolidates resort slopes, so it's easies to hold an edge. Natural snow varies in consistency at different depths, so sometimes you need to ski lighter on your feet. If you grew up skiing east-coast groomers like me, it's a learning curve.
Fitness
You can build uphill fitness as you tour, but consistent cardio and strength training lessens risk of overuse injuries. You won't need much for sidecountry laps, but you'll feel it on 1,000'+ vertical hikes.
Some ski resorts permit uphill travel, a chance to train without avy risk. Absent skins and touring skis / boots, you'll be limited to bootpacks. E.g., Snow King has a base-to-summit bootpack near the summit gondola.
It won't hurt to run or hit the stairmaster with a weighted pack, plus strength train via squats/lunges, pistol squats, box jumps, etc. Higher maximum lifts translate to less capacity with each endurance movement and greater time to exhaustion.
Phase Two
Touring Equipment and Short Treks
Goals:
Deepen avalanche knowledge and skills
Get fit through short tours
Embark on progressively bigger adventures
Decide if you're interested in longer treks and ski mountaineering
Prerequisites:
Hybrid or full touring boots with tech inserts: $700-1,000 with molding / footbeds (given personalized fit, it's hard to buy used)
Touring skis / bindings: $300-700 used or $1,000+ new
Skins: $150 on sale (can often find used touring skis with skins included)
Poles with powder baskets and mid-grips: $50 used (e.g., demo shops at the end of the season)
Higher capacity backpack: $150 without airbag or $400+ with airbag (recommended)
Avy Rescue course: $100 and one day
So you logged some sidecountry days and caught the backcountry bug. You'll need to invest in proper uphill gear to tour. This stage gets pricey, so I recommend used gear for all but boots if you're budget constrained.
Skinning Basics
First off, why do we need to skin? If you've ever hiked in deep snow, you'll understand the inefficiencies of "postholing." Our ice-age ancestors invented skis for flotation. Beyond relatively firm bootpacks at resorts, you need flotation to navigate long distances on natural snowpack. Slapping skins on your ski bases is the most efficient approach. Skins have fibers pointing backward that prevent you from slipping as you move uphill.
You'll still bootpack from time to time when terrain is steep. And with each step, you'll gain an appreciation for skinning.
Uphill vs. Downhill Trade-Off
Touring gear is designed for comfort on uphills: less weight and more flexibility at the ankle joint. The downside is reduced downhill performance.
Note: Each pound on your foot equals five on your back.
A personal decision you'll need to make is your tradeoff between uphill and downhill performance. For the 80% resort skier taking occasional tours, heavier hybrid boots and frame bindings might be the answer. If you're eyeing multi-day hut trips, you'll want lighter gear.
Caution: If you need full downhill performance, you're probably skiing too aggressive for the backcountry. You need to be able to self-rescue and should minimize injury risk – push your limits in bounds where ski patrol can help.
Bindings
There are three general buckets for touring bindings:
Frame: Whole heel plate rises, compatible with normal downhill boots (no tech inserts required); heavy, but good downhill performance
Shift: Tech pins for uphill, so you'll need hybrid boots; removable toe piece allowing traditional downhill lock-in; heavier than tech, but lighter than frame; a good Goldilocks option for many
Tech: Pins for uphill and downhill; lightest option, but least downhill performance; many versions do have DIN-equivalent settings
Generally, I recommend tech bindings once you start eyeing longer tours. If you're concerned about downhill performance, frames get the best reviews – but you'll struggle on the skins. A system like CAST is expensive but affords the best downhill performance with Pivot bindings.
When shopping frame and shift bindings, you'll see "MNC". That means the bindings work in downhill mode with anything from certified alpine to touring boots. Check out this explanation of standards by Powder magazine.
Skis
Pure touring skis will be lighter than comparable downhill skis. Lighter materials result in more chatter, somewhat tempered in the most expensive skis that incorporate materials like carbon fiber.
To learn more about different models of touring bindings / skis, I recommend OutdoorGearLab, Switchback Travel and GearJunkie rankings. Ultimately, I recommend shopping used, as long as you can inspect for core shots and mechanical issues with bindings. Boots will make or break your experience, but skis generally work fine if they're decent-quality last generation.
Buying used saves $600+ you can invest in better boots and a decent backpack – the best bang for buck in my opinion. But it comes down to budget. If you're planning to ski high-consequence terrain, you might opt for new gear.
I picked up my powder skis with frame bindings for $225 on Facebook Marketplace and new skins for $150. I milked those skis for two seasons in the backcountry – including a 16-mile tour – before swapping frames for Pivots and converting them to resort-only skis. I bought used Black Diamond touring skis with Dynafit tech bindings and skins for $400. Similar, new gear would've cost $1,000+, even with end-of-season clearance deals.
You should be able to find reviews for older models to ensure it's quality equipment. This sizing chart is helpful. If you're at this Phase in the article, you should be an advanced to expert skier.
Skins
Once you have skis, you'll pick skins matching their length. If you bought used skis, owners often throw in custom-cut skins.
If not, just buy new skins at the right length (usually +/- 5cm via adjustable tail clips) and use a box-cutter to trim the excess. You can find how-to videos on YouTube. You'll probably want to start with nylon skins.
Some new skis come with manufacturer-cut skins.
Boots
I used old alpine boots with frame bindings for my first tour (the Avy 1). After ~2,000' vertical, I had massive blisters on my ankles, putting me in flip-flops for three days. At a minimum, you want boots with ankle flexibility like walk-to-ride mode. Generally, new boots with a walk mode also have tech inserts, or holes on the toe / heel for tech binding pins.
Then the question becomes: heavier hybrid boots optimized for downhills or lighter touring boots for comfort on uphill's?
If your current downhill boots are nearing the end of their life, you should probably get hybrids with tech inserts and walk mode. You can always buy lighter touring boots for longer treks. If you have non-hybrid downhill boots with a significant remaining life, it might make more sense to buy pure touring boots.
Either way, I'd start with the latest rankings from OutdoorGearLab, Switchback Travel or GearJunkie, then hit your local boot-fitter. Unlike skis, boot fit is highly personalized. Some brands / models just won't fit your foot, ruining your day.
Be prepared to drop $800-1,000 for new boots, including custom footbeds and molding. Heat molding accelerates the break-in process, but don't go crazy or you'll unnecessarily shorten the liner's life span. If the boot fits great right off the shelf, you might want to skip heat molding.
Backpack
I recommend an airbag pack, even for side-country laps. If you're caught in a slide, the airbag reduces risk of critical burial from 50% to 20% (according to some studies), and likely reduces burial depth within that remaining 20%. It's far from an insurance policy, but the airbag significantly reduces odds of full burial.
Note: An airbag shouldn't lead you to ski more aggressively or take fewer precautions. Even with a back plate, it won't offer much protection from trauma. Airbag downsides are cost, limited capacity and weight.
I bought a used Ortovox 26L with an airbag for ~$400 and refilled its canister for $50. New systems cost closer to $1,000.
Most packs rely on compressed gas, which you need a refill after each deployment, can only deploy once in the field and can't bring on an airplane. Some newer packs have electric fans and batteries that handle five+ deployments per charge. Electric packs are easy test and take on flights, but they're more expensive.
I'd err toward more pack capacity. I consistently run out of space in my 26L on full-day tours and end up adding capacity outside using Voile straps. It's easy to compress an underfilled pack, but hard to add capacity.
Poles
For poles, you'll want powder baskets and mid-grips for boot-packs. You can find cheap used poles in end-of-season sales at rental shops. If they're missing mid-grips, you can wrap duct tape or Voile straps around the middle. Bonus: easy access for repairs.
More Education
As you log more tours, you'll naturally build avalanche knowledge. That's assuming you monitor the forecast regularly and apply the AIARE framework in the field. That framework emphasizes continuing education and rescue practice each season. On each trek, AIARE emphasizes proactive and inclusive planning, active snowpack monitoring, adapting to conditions and debriefing to improve your risk assessment / management process.
Tip: Review printed materials from your Avy 1 and online encyclopedias (e.g., Avalanche.org and Avalanche.ca) each season.
At this stage, you'll should probably take an Avy Rescue course to refresh beacon / probe / shovel skills and learn about multiple burials. An Avy 1 and Avy Rescue are prerequisites for an Avy 2 or Pro 1. You'll want to log more backcountry hours before investing in courses beyond an Avy 1 and Rescue.
Throughout the season, you should visit a beacon park (most resorts maintain one) and practice searches / shoveling to build muscle memory. Parking-lot snow banks have similar consistency to avalanche debris, making for good shovel drills.
You can also dig snow pits to get a better sense for the snowpack that's described in local avalanche forecasts. You'll likely dig a snow pit in your Avy 1.
Caution: Don't over rely on snow pits. Conditions change dramatically between aspects / elevations and snow pits can yield false negatives. For this reason, some Avy 1 courses skip snow pits.
Aside from avalanches, you should consider a Wilderness First Responder, or at least First Aid. Search and rescue can't respond immediately (if at all), so first response falls to you and your partners. There are quality programs hosted year-round across the country. (E.g., NOLS and WMA.)
Skills to build snow caves, lean-to's and other shelters can help you survive an unexpected overnight. Other topics: bear safety for spring skiing, ice rescue for lake crossings, rock fall for skimo and crevasse rescue for glacial travel.
How to Plan a Tour: Teton Pass Case Study
Ideally, you have an experienced friend to show you the ropes when you're new to an area. My first few times on Teton Pass, I was guided by friends who were familiar with the lines we chose.
But, you'll short-change yourself by deferring to friends. You should study topo maps, read and apply forecasts in the field – and ask for feedback to see if you arrive at the same conclusions.
You should think about slope angle, aspect and elevation in the context of problems described by your local avalanche report and recent weather patterns. That applies to both uphill and downhill travel.
Most commonly skied areas have published maps with route names. For Teton Pass, you'll find topo maps with route names in Teton Mountaineering. You can also download packs for mapping apps. Over time, you'll piece together an area by regularly stopping, referencing your topo map and identifying surrounding slopes from terrain features.
You should review avalanche forecasts regularly and anticipate changes resulting from recent weather to accelerate learning. Over time, you'll be able to more accurately predict avalanche risk based on recent weather, especially important in early / late-season when centers aren't reporting.
Example: On days with moderate risk from wind slabs on east-facing aspects, you might choose west-facing slopes (e.g., for Mt. Glory, Calvert's Ridge versus Glory Bowl). On stormy days with moderate risk of storm slabs or large dry loose slides, you might want to ski tight trees that serve as anchors (minding tree wells).
Each time you tour, you should aim to follow the AIARE framework. It gets tedious and we all cut corners from time to time, but it's the best way to control human factors in the field and ensure no one's beyond their comfort level.
Note: It can be hard to find touring partners at first. Experienced skiers tend to keep circles small, understandable given all the risks. Unless you already have a bunch of friends who backcountry ski, it takes time to build a crew.
Fitness
Check out Training for the New Alpinism for detailed fitness recommendations for longer ski tours and off-season training.
Emergency Gear
Each time you enter the backcountry, you should be prepared to spend the night (check out Fine Line episodes for real examples). In terms of gear, I try to pack these basics on every tour, even short laps off Teton Pass:
Extra Voile straps
Repair kit (Gorilla tape, hose clamps, baling wire, extra pole baskets, skin tail clips, etc.)
Extra layers (with limited pack size, a dry puffer usually does the trick)
Extra gloves
Extra socks (for longer tours)
Matches / lighter / fire-starter
Backup calories / hydration (packs like GU / Justin's and electrolyte powder most efficient)
Check out my trip report for the Skillet for an example list.
Phase Three
Ski Mountaineering
Prerequisites:
Pointy stuff (axe, ski crampons and boot crampons)
Advanced courses like Avy 2 or Pro 1
Winter camping gear for overnights (all-weather tent and subzero mummy bag)
Climbing gear (ropes, harness, anchors, etc.)
As of winter 2022, I'm just transitioning from Phase Two to Three, so I'll keep this section brief to avoid getting over my skis. Table Mountain and the Skillet were two less technical tours toward the end of my first full backcountry season. (Almost... we stopped 1,000' short of Mt. Moran's summit.) For the Skillet, I picked up an ice axe and ski / boot crampons for hard snow on the ascent.
In addition to skiing more consequential terrain, I'm hoping to advance ice / rock and snow-science skills over the next few seasons, potentially taking an Avy 2 or Pro 1 after gaining more experience.
Stay tuned for ski mountaineering guides in future seasons!
TL;DR
Start slow with side-country laps after basic avalanche education
To start touring, scout for used gear to keep costs in check
Build up with shorter tours and ongoing avalanche education
Progressively tackle bigger objectives
Resources
Avalanche centers:
Avalanche.org: Partnership between the American Avalanche Association and the US Forest Service National Avalanche Center
Avalanche.ca: NGO dedicated to public avalanche safety in Canada
Find links to avalanche forecasts from centers throughout the U.S. and Canada and resources like encyclopedias (very useful for ongoing learning).
Gear reviews:
Mapping tools:
Lou Dawson's ski descent rating system
Fifty Classics project by Cody Townsend (for inspiration)