Part II: Mt. Moran's Skillet Ski Descent – Trip Report
April 9, 2022:
One-day ski ascent / descent of Mt. Moran's Skillet.
Colter Bay departure via Jackson Lake; left at 4:30am; returned at 8:30pm.
21 miles, including descent, and 5,000' vertical.
Turned around 1,000' short of the summit due to weather/daylight.
For context on the route and my winter 2021-22 training/education, check out Part I. For a more comprehensive backcountry ski primer, see my 101 guide.
Note: I may get commissions for purchases from certain links in this post.
Trip Planning
Research and Forecasts
The Skillet is a very popular ski descent, so there are plenty of trip reports and YouTube recaps. After reading / watching everything I could find, we compared the three most common approaches on CalTopo: (1) Colter Bay across Jackson Lake, (2) Signal Mtn. Lodge across Jackson Lake and (3) the Leigh Lake trailhead via a 4-mile bike ride on the newly plowed Park Road from the Taggart Lake trailhead.
We were a bit concerned about ice stability given recent warm weather (up to 60 degrees in prior weeks), but heard positive reports and observed a seemingly solid surface from U.S. 191 using binoculars.
After the warm weather, the ice seemed a bit less solid in the bay next to Signal Mtn. Lodge.
In the winter, the Park Service grooms Grand Teton's Park Road from Taggart to Signal Mountain for Nordic skiing. Depending on conditions, it's plowed for bikes by late March/April, and on May 1st, reopened for cars. At that point, Leigh Lake is the easiest approach. (And once Jackson Lake thaws, the ideal approach is drop-off by boat at the base of Mt. Moran.)
As exciting as a bike / skin / ski triathlon via Leigh Lake sounded, we opted for the dull but straightforward 6-mile skin across Jackson Lake. Even later in the season, skiers can boat to the base of Moran or park at the Leigh Lake trailhead. But by then, crevasses on the Skillet Glacier are more likely.
Due to travel schedules for the group, only one day worked for the attempt: Saturday, April 9th. Most groups attempt the Skillet in April / May when the snowpack stabilizes.
In late March / early April this season, we experienced a warming cycle with above-freezing night temperatures increasing wet slide risk (a no go). A week before our tentative attempt, night temperatures dropped back below freezing, which stabilized the snowpack for a morning descent. In general, groups aim to ski the Skillet by late-morning to avoid increasing risk of wet slides as the slope warms. Appropriately named the Skillet, the east-facing bowl heats up quick in the morning with sun amplified by surrounding cliffs.
About a week prior, the Tetons received fresh snow with strong winds, but we expected the wind slab risk to settle within a few days. In the days immediately leading up to our attempt, warm temperatures – again without overnight refreezes – increased wet slide risk. On the Saturday tentatively marked for our trip, temperatures were forecasted to drop from 35-40F Friday night to 20F Saturday afternoon ahead of a storm system hitting that night.
Taking all that data into account, we expected wet slide / wind slab risk to be low on Saturday with the impending storm a more concerning risk factor.
We settled on a 3am departure from Colter Bay (ultimately delayed to 4:30am). In retrospect, a 12-1am start might've led to a successful summit with more buffer to cross the Lake before the storm hit Saturday night.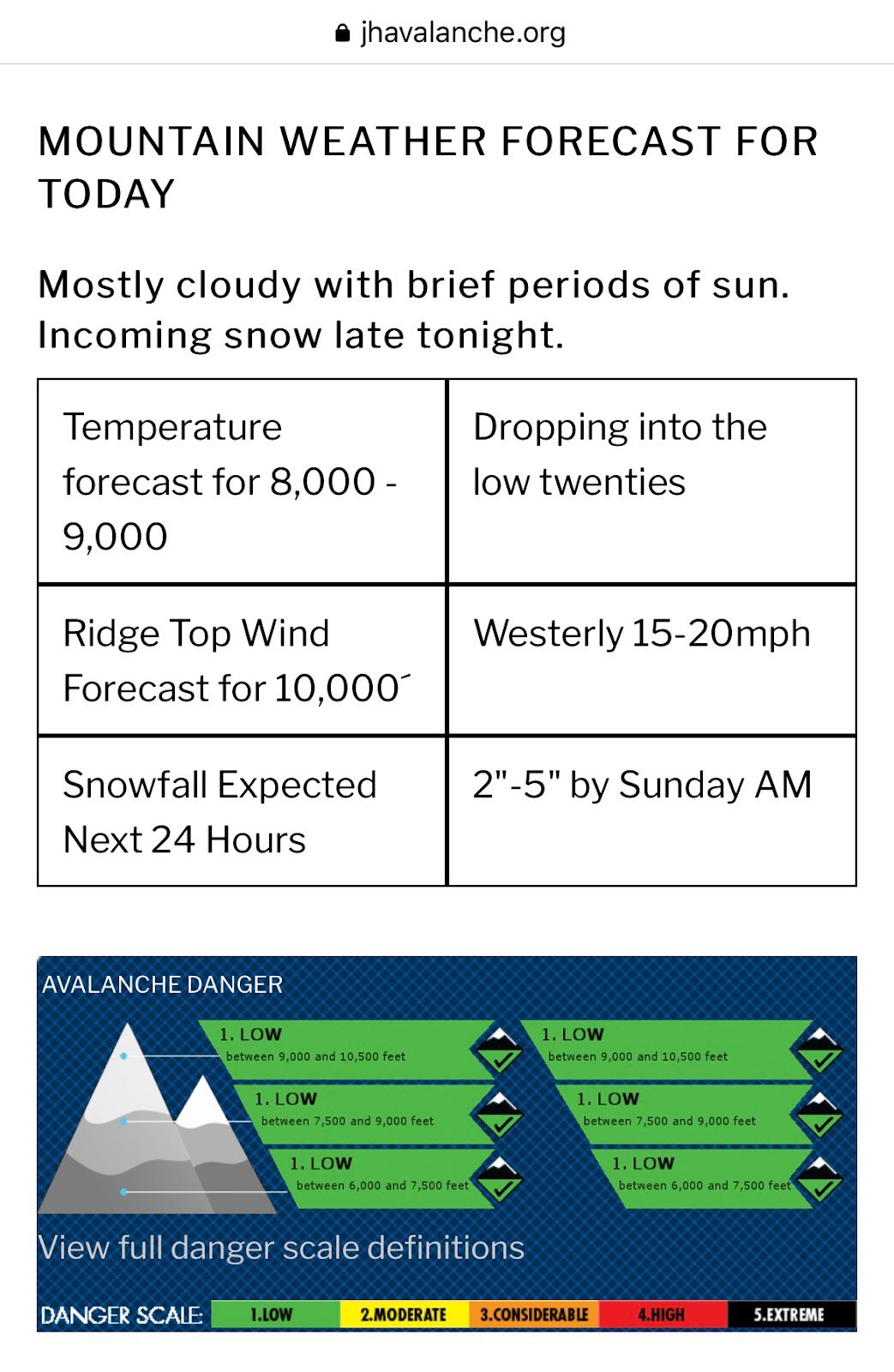 Gear
I laid out all my gear on Thursday, including new pointy stuff (axe and crampons) just in case we hit hard snow on the ascent (never used).
Disclaimer: I definitely have some refining to do, but the gear pictured/described below covers most of the safety, calorie, hydration and layer minimums for a big one-day push. Most of the non-avalanche safety gear came from my summer camping stockpiles. Whenever you head into the backcountry, you should be prepared to spend the night.
Pictured (top left to bottom right):
Repair kit: heavy duty zip ties, extra pole baskets, baling wire (multi-purpose), hose clamps (to repair ski poles) and Black Diamond skin tail clips – miles into the backcountry, you need to be able to repair gear to get home
Black Diamond Raven mountaineering ice axe (to self-arrest when skiing and for balance on steep/icy ascents; I didn't pull mine out given the conditions)
Petzl Leopard boot crampons (snow was soft enough to not need)
120mm ski crampons (the group split on ski crampons; in retrospect, if we all used them, we might've been able to extend our skin and delay a slow, postholing bootpack)
Extra ibuprofen (fearing the return of a summer knee overuse injury)
Ultralight medical kit: bandages, basic medications, antiseptics, tape, etc.; re-reviewed all items the day before and best practices (need to re-build pending my Wilderness First Responder course)
Calories: Justin's almond / peanut butter, RXBar, granola bar, GU Energy Gel and baby food (just the lightweight, high-calorie packs would've been enough for the ascent; could have reserved the rest for carbo-loading)
Grand Teton NatGeo topo map (waterproof; backup if phones died)
Electrolytes (powder for the 1L Nalgene, plus liquid 750mL)
Bear spray (necessary toward the end of hibernation cycle in grizzly territory)
Kinco gloves (~$30 at ACE; best bang for buck and plenty warm with liners on most days)
Hand warmers (never used; mostly keep for emergencies)
Sunscreen (strong April rays amplified off snow is a recipe for rosy noses)
Firestarters and Coleman waterproof matches (for a forced overnight)
Space blankets (essential in emergencies to counter hypothermia)
Trucker hat (usually paired with a buff for uphills; fits under helmet on downhills)
1L Nalgene bottle
GoPro with foam wind cover ($12 on Amazon); helmet mounted
Whistle (realized my pack has one built in, so an extra wasn't necessary)
Sunglasses for the uphill
Bandana (a bit redundant with Voile straps and first aid kit)
Gorilla tape (duct tape on steroids)
Extra Voile strap (super versatile: secure ski tips in A-frame carry mode, emergency tourniquet, gear repairs, etc.)
Black Diamond LED headlamp with red mode to save night vision (huge help on the initial lake skin searching for Mt. Moran's silhouette in the dark)
Extra AAA batteries for headlamp / beacon
Mammut Barryvox avalanche beacon; Mammut avalanche shovel and probe (beacon worn around your chest beneath your jacket; shovel and probe in a dedicated compartment, unobstructed for quick access in the event of a burial)
Ortovox 26L airbag pack (a bit too small) with Voile straps to add outside capacity (skins, shell, helmet and pointy stuff) and an integrated back protector
Smith Mission MIPS helmet, labeled with my blood type
Black Diamond skins and skin savers
Smith goggles with high-light, low-light and clear lenses
Not pictured:
Clif BLOKS (caffeinated)
Black Diamond Amperage touring skis (185cm length; 115mm waist) with Dynafit Vertical FT tech bindings (bought used with pre-cut Black Diamond skins for $400)
Black Diamond adjustable poles with mid-grips and powder baskets (bought used from the Kicking Horse demo shop for $45)
Nordica Strider hybrid boots (bought new in winter 2020-21)
Patagonia Down Sweater (stayed in the pack on this trip)
Helly Hansen shell jacket
Burton Reserve shell bibs
Smartwool targeted cushion socks (wish I wore low-friction liners beneath; feet were on fire for the final 6-mile lake skin)
Neck gaiter with a fleece bottom (protection from the sun / cold beneath hat / helmet)
Lightweight gloves (used for the ascent up to the "Pan")
Glove liners (never used)
Microfiber cloth to clean goggles
Lighter (matches backup)
Compass in case we lost visibility (and phones died) on the Lake
List for the next trip:
Larger capacity backpack and/or more efficient airbag system
Sock liners to reduce blistering
Three more AAA batteries (my headlamp died 15 minutes into the skin, leaving no backup for the beacon; though, low odds of needing both at once)
Airbag test deploy (allowed myself to skip given low risk)
With all the gear stashed in my pack / truck on Friday, I carbo-loaded, then started the hour drive up to Colter Bay for the campfire rendezvous.
A Long Day
Colter Bay Shenanigans
I learned the night before that our trip was sponsored by alcohol, apparel and gear brands, so I guess I'm a ski model now. We sported puffer pants and LED lamps around a camp photoshoot, then knocked back some IPAs and huckleberry vodka shots. Beer counts for carbo-loading right?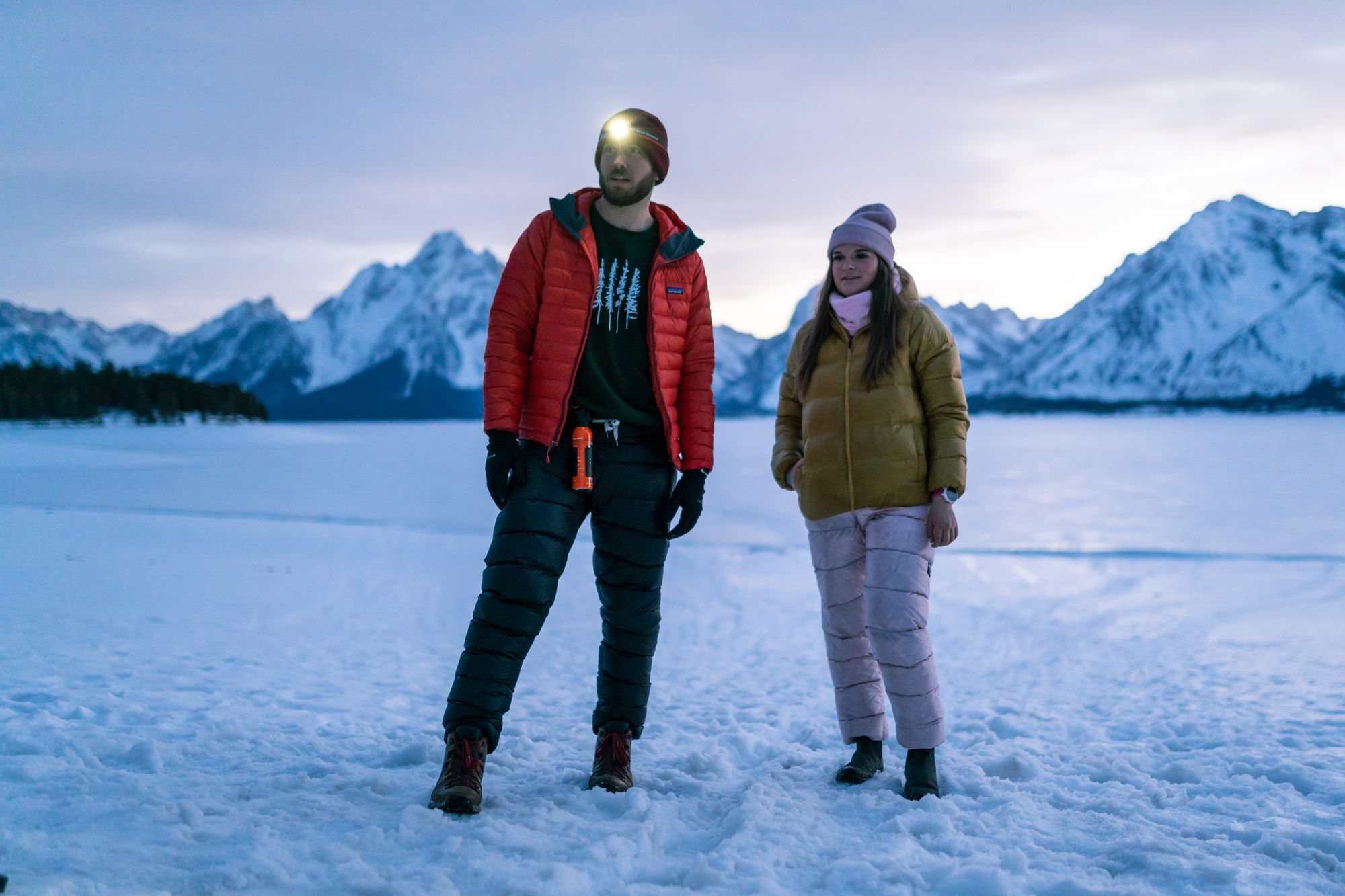 In the preceding 24 hours, I loaded up on oatmeal, pasta and lean protein, and after hitting the road, kept going with bananas, baby food and rice cakes. (Not to mention campfire hot dogs.) One of my lessons from Table Mountain: when you think you're full, eat more.
Camp was also my first time meeting Brigette, Kelsey and Kirsys – good to get intros out of the way before a 21-mile backcountry trek. Connor and I met on a Mt. Glory full moon ski early that winter and skied JHMR on Gaper Day. He mentioned a Skillet trip at the Cowboy after Gaper Day and I jumped in.
At 10pm, we headed to bed and set alarms for 2:30am. I was in my truck; everyone else in tents. I keep my '06 Tundra set up for camping: gear totes lining the sides, a mattress pad inside a waterproof cover and a -35F mummy bag, all beneath a topper. Despite some tossing and turning, I felt fresh when I woke up at 2:30am.
We camped in the tent area of the campground (not yet open for the season), but most people camp in the main parking area next to the bathroom. The Park Service maintains one heated bathroom with plumbing in northern Grand Teton during the winter—right next to the Colter Bay marina. A quick tooth brush and proper bathroom stop, then we headed to the lakeside picnic area.
Pitch-Black Stroll Over a Frozen Lake
We decided to start Nordic (no skins), since the Lake would be slick. Kirsys, a Nordic ski instructor, was stoked. It was 4:30am when we wrapped up final packing. After a quick beacon check, we pointed our headlamps southwest.
Along the way, I turned off my torch to catch a glimpse of Mt. Moran's silhouette and track another cluster of headlamps working their way up the Skillet, a group that likely camped across the Lake Friday night.
I added skins about halfway as 20mph winds and gusts up to 30-35mph added some frustration. (Kirsys didn't follow suit.) The wind made me nervous the storm might roll in early, but the sky wasn't too ominous yet.
I was hoping to be in the lower glacier basin by daybreak, but the sunrise behind us and glowing mountains ahead were stunning from the Lake.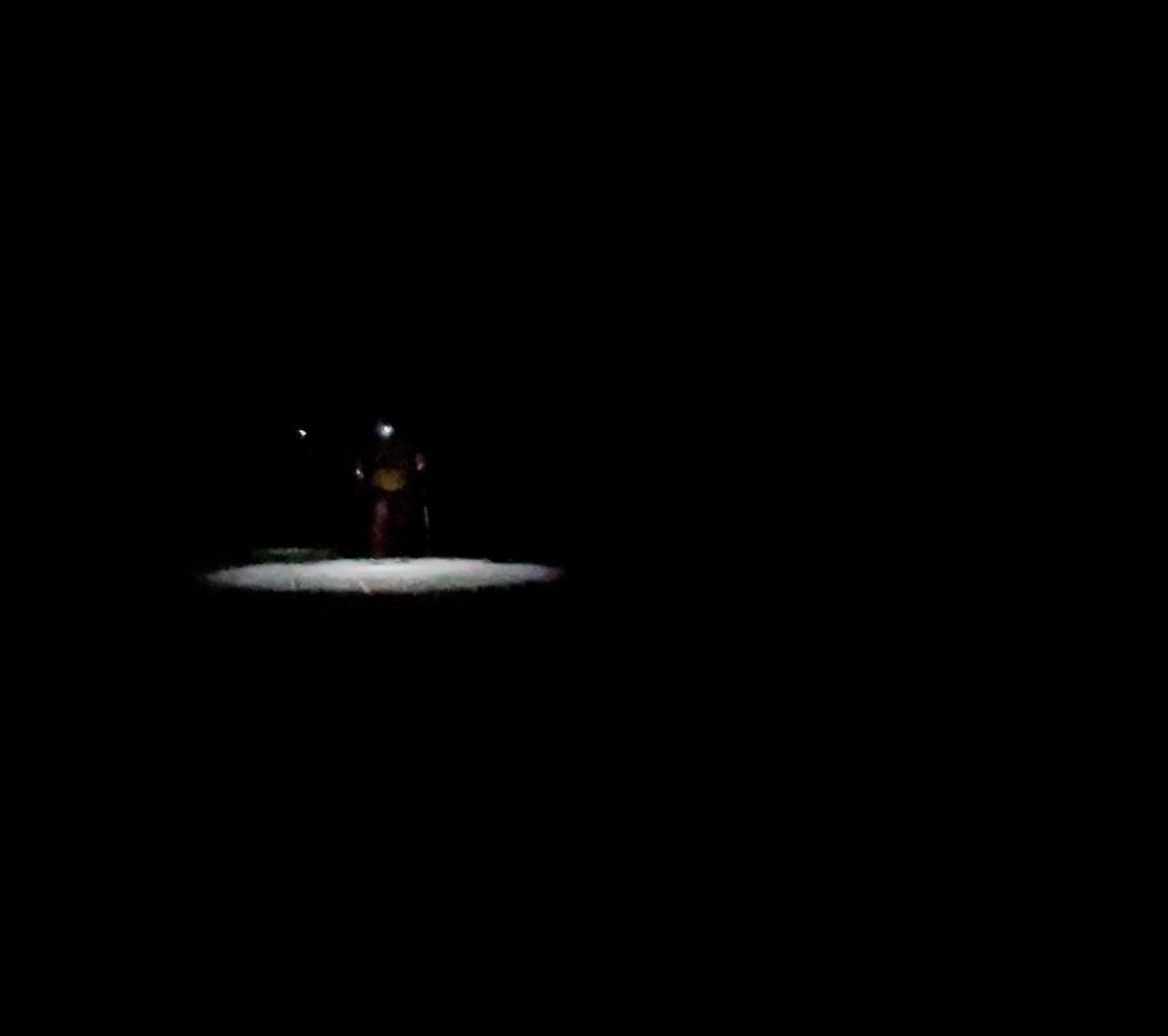 We came across cracks at a few points on the Lake from recent warming. Each time we approached cautiously, listening for further cracking and instability. Hearing and feeling nothing, we pushed forward, a few times spreading out or traveling one-by-one, just in case we misjudged stability.
At 7:30am, we landed on the beach beneath Mt. Moran, and after a regroup / snack, started uphill.
Bushwhack and Skin to the Handle
The first stretch uphill was dense with trees, involving one steep section with a few bare spots. We tried to follow an existing skin track as best we could, but kept losing it. After about an hour and a half, we hit the lower glacial basin and the terrain opened, providing our first clear view of the Skillet's "Pan" above. At this point, we turned on beacons and performed one more safety check.
Following a prior group's skin track as best we could (a bit weathered), we snaked up the right side of the basin, avoiding gullies and other terrain traps, since temperatures hadn't yet dropped below freezing. (The snow was mostly corn crust on the ascent.) There was one steep section of avy debris before the "Pan" that we boot-packed, but otherwise stuck to skinning. The group split on ski crampons after that boot-pack (I skipped them).
It was 11am when we reached the base of the "Pan", and if temperatures hadn't dropped below freezing, I might've turned around to avoid wet slide risk. But, the base corn was already getting crunchy and seemed stable. Around that time, I also switched from my lightweight gloves to the Kinco's.
At the top of the "Pan," just before it narrows into the "Handle," we saw the start of a prior group's boot-pack and decided to transition. It was 12:30pm and the snow was soft enough beneath the crust to keep axes stashed. I locked my skis into an A-frame and joined the group to rotate leader.
Two Steps Forward; One Step Back
With 2,000' vertical ahead, we estimated a summit in two hours. (If only…)
Our pace was glacial as the leader tried to cut a staircase into a 40-degree pitch, sinking knee-deep with each step. The task basically boiled down to repeated bouts of bear crawling until the leader tapped out and rotated.
After two hours, we were only halfway to the summit with 1,000' vertical remaining. It was 3pm, so we wouldn't summit until 5pm at our current pace. Meanwhile, snow started falling and obscured visibility of the top chute.
Up until the bottom of the glacial basin, I was pessimistic on our odds of summiting given the late start. But, warm mid-morning sunshine, a relatively quick ascent of the first 2,000' vertical and mesmerizing views of Moran's east face infected the group with summit fever.
I've felt summit fever before, most recently on Table Mountain. Weather started turning, our legs were spent and we still committed to a final push. All worked out, but it wasn't the most conservative call. It's much easier to say "f–k it" and push when you're close, than to process and trust a conclusion that risk is too high.
Kirsys raised concerns at that point, and after a minute processing our pace, I echoed her concerns and we stopped climbing. We were a quarter up the "Handle" with the top chute in sight. In retrospect, we should've turned around an hour sooner given the impending storm and a 6-mile skin at the base.
We dug a small platform into the 40-degree slope, and one-by-one, clicked in. It took me a few minutes to clear the ice from my toe / heel inserts and stomp into my bindings. (Not the last time I'd long for my frame bindings on the descent.)
By 3:15pm, we looked down on some funky snowpack and started the "fun" part.
At this point I'd finished a pack of caffeinated Clif BLOKS, 3 GU energy packs, an RXBar, 2 baby food packets and 2 Justin's packs. I had about 400 calories in reserve for the descent and Lake skin. I also finished my 1L Nalgene (with powdered Pedialyte) and had 750mL of liquid electrolytes in reserve.
Crunchy, Icy, Crusty Descent
We slowly worked our way down the north-facing aspects where snow was less baked, keeping an eye out for wind-blown features. We hit one decent stretch of snow right at the top of the Pan that was sheltered from direct sun.
The descent was a pretty straightforward funnel without much exposure. Toward the top of the Pan, snow started impairing visibility, but by the time we dropped below the Pan, snowfall slowed.
The final stretch was a bushwhack with manageable corn snow and some crusts through aspen groves and pine stands.
I'd love to try the Skillet again with better snow like Cody Townsend and team found on their Fifty trek. For the same reason we didn't turn around at 11am (low wet slide risk from dropping temperatures), the descent wasn't great – but that's a trade off: the best snow's often the riskiest (e.g., storm slabs).
The Lake, Again
We were down to one more transition, using skins from the start this time to keep it simple. By the time we started at 6pm, snow was falling again. Jackson Lake turned into a white blur, but at least wind died down relative to that morning. Periodically we checked Google Maps to tweak our heading for Colter Bay.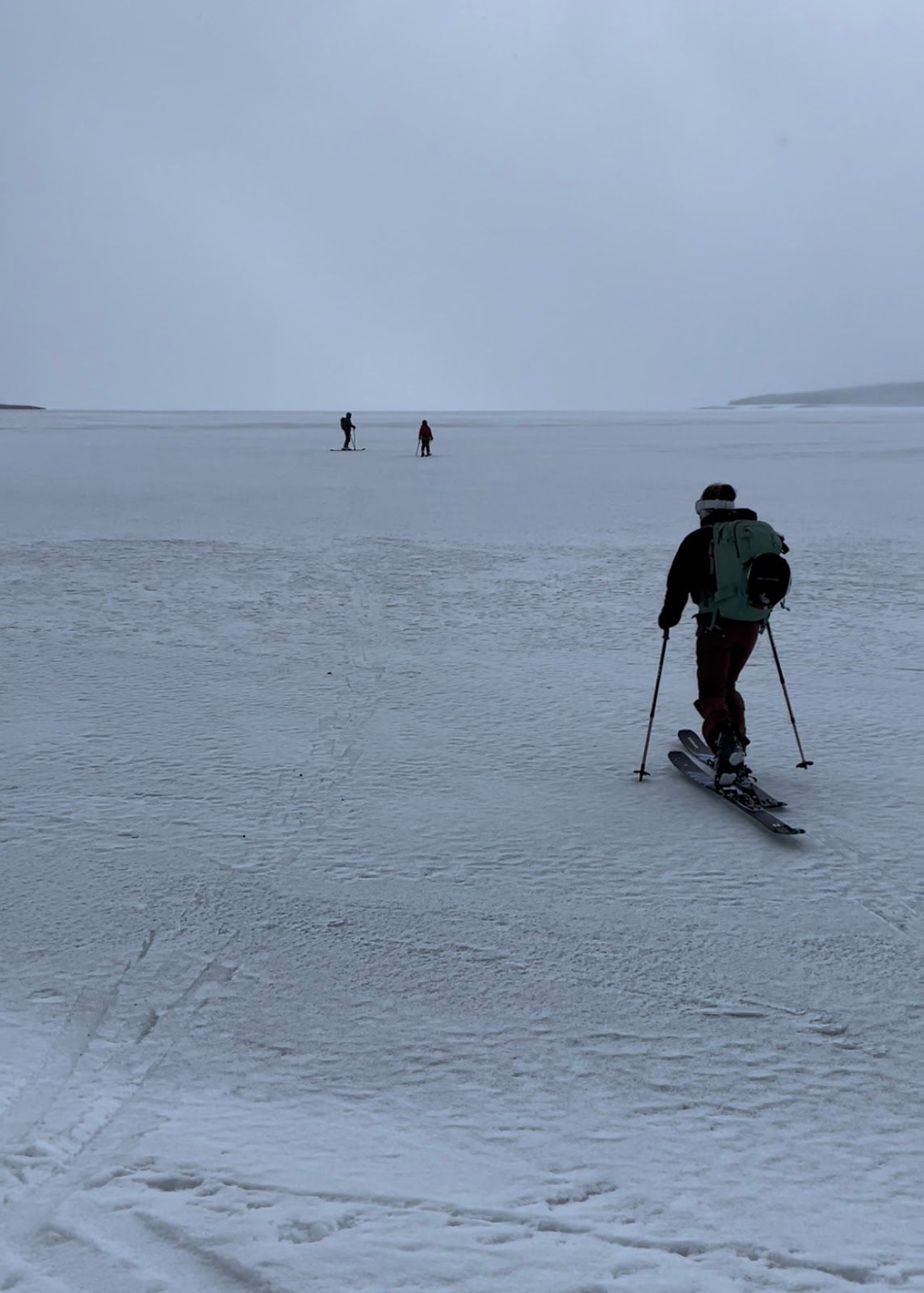 Aside from recent snowfall, the Lake surface was unchanged from fourteen hours prior – slightly crunchier from refrozen slush channels.
The visibility ranged from whiteout to slight outlines of the closest hills, decreasing steadily as sunset neared. At 8pm, within a mile of Colter Bay, we stumbled into wetter snow and our skins caked up. A Nordic shift did the trick for about thirty steps, then our bases caked up too. It took more effort to clear the snow than it was worth, so half the group shouldered skis and the other half (myself included) limped along with sticky bases.
At 8:30pm, we stumbled onto the beach right next to our cars – entirely thanks to GPS, since we couldn't see the bank until we tripped over it.
The Oasis
After a clumsy effort to toss everything in my truck and remove ski boots that seemed welded to my feet, I chugged a cold brew stashed in my cooler, knocked back my last GU energy gel and started navigating whiteout conditions in Grand Teton, hoping to avoid moose, bison and elk.
Arriving in Jackson at 10pm, only fast food joints and grocery stores were open, so frozen pizza, chicken nuggets and Pedialyte from Albertsons it was. I limped through the checkout and headed home.
The day had one last surprise in store: I found myself locked out with my roommate on an overnight to Boise, ID. My quad cramped up as I hoisted myself through the kitchen window, but thanks to a midnight break in, at least I wasn't sleeping in my truck another night.
I saved gear sorting for the morning, preheated the oven, dropped some nuggets in the air fryer, and 30 minutes later, slipped into a 12-hour coma.
Takeaways
Learnings
It (almost) never hurts to get an earlier start. We probably could have summited with an extra 3 hours.
Next time, I'm packing more fast-acting energy gels. Best bang for grams, plus slower-burning calories like Justin's packs for earlier in the day.
For the Skillet specifically, I'd skin across the Lake the day before and camp beneath Mt. Moran. A one-day push is doable (and a "Type II fun" challenge), but skiing would've been more enjoyable with 6 less miles on our legs.
Billy goat plates would be clutch on similar boot-packs.
I'm adding low-friction sock liners beneath wool socks to my standard set-up (at least while using hybrid boots).
I need to be mindful of summit fever and err toward more conservative decision-making. We could've calculated our pace earlier into our boot-pack (maybe an hour) and concluded a summit wasn't happening.
I found myself wishing I had my Wilderness First Responder certification thinking about potential injuries 6 miles across a frozen lake from the nearest road. (Planning to sign up in summer 2022.)
Inspiration
First, another run at Mt. Moran's summit, hopefully winter 2022-23.
Second, hopefully Middle and Grand Teton in the next few seasons, after more training on high-consequence terrain.
Third, expeditions like a Denali summit attempt. (This article has me pumped up for some Type II fun.)
Note: Bucket lists can be dangerous, so I'd think of the above as more of a wish list. If risk is too high, I'll skip an objective.
Stats (Apple Watch)
Skin from Colter Bay to Mt. Moran: 6 miles; no elevation gain; 3 hours (could have completed in 2 hours).
Skin to the top of the Pan: 3 miles; 4,000' vertical; 4.5 hours.
Boot-pack to the summit: 1.5 miles; 2,000' vertical; 4 hours (turned around halfway, so only completed 1,000').
Ski back to Jackson Lake: 4.5 miles; 6,000' vertical; 3 hours (could have completed in an hour with more reserve energy and better snow; only skied 5,000' with the abort).
Skin from Mt. Moran to Colter Bay: 6 miles; no elevation gain; 2.5 hours.My active calories at 6'2" / 175lbs: 2,800.