Grand Teton via Owen Spalding – Free Solo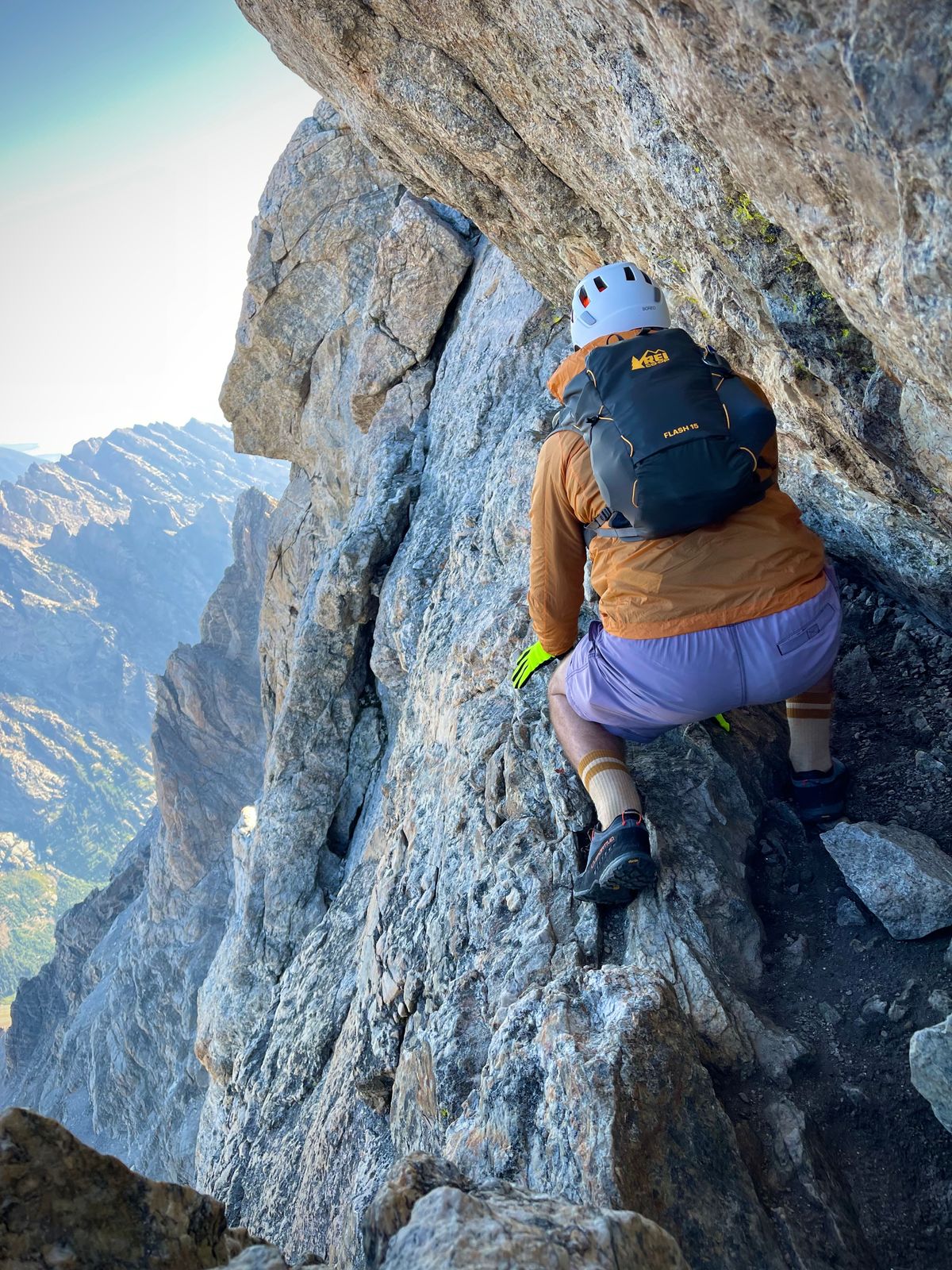 August 4, 2022:
Grand Teton summit via Owen Spalding ("OS"), a 5.4 route.
Free solo, downclimbing OS instead of rappelling.
12 miles roundtrip from Lupine Meadows trailhead; 7,000' vertical.
11 hours trailhead-to-trailhead, leaving at 3:30am and returning at 2:30pm.
High enough energy at the summit to attempt the Picnic (trip report), my big adventure goal for summer 2022.
Planning
Some context on my research and planning process below. Feel free to skip ahead to the trip report.
Background
Completing the Picnic, a Grand Teton triathlon, was at the top of my summer 2022 adventure list. The Picnic involves 46 miles of biking, 2.6 miles of swimming and a 16 miles / 7,000' vert ascent of Grand Teton. A critical first step was an Owen Spalding (OS) dry run. OS is the easiest route up the Grand, a 5.4-rated climb.
Spoiler: We completed the Picnic on August 15th. Check out the trip report.
As of the beginning of August, I'd yet to climb outside a bouldering gym. I moved to Jackson in fall 2020, but limited myself to hikes and scrambles. In winter 2021-22, I dove into ski touring, culminating with a Mt. Moran Skillet attempt in April 2022 (trip report).
To swim and ascend efficiently on the Picnic, I hoped to save weight by skipping a rope and free soloing the route. Most parties rappel below Sargent's Chimney to avoid downclimbing the crux. But there are also plenty of downclimb precedents. E.g., runners attempting fastest known times or FKTs downclimb to save weight.
The OS FKT as of this article is 2 hours 53 minutes trailhead-to-trailhead! By contrast, most groups take a couple days to ascend / descend the Grand.
With a mid-August deadline, I was running out of time. So I started researching the feasibility of soloing OS later that week.
Research
The best resource for Owen Spalding is the Wyoming Whiskey guide. The article is extremely detailed, breaking down the route and all its variations. It includes pictures from various angles at different times of year, many marked up. I read it a few times and downloaded a PDF (99 pages!) to my phone for my dry run. Dozens of YouTube videos also feature groups tackling different portions of the Grand.
After exhausting the internet, I turned to friends in Jackson for beta – outdoorsy jargon for advice. A couple friends soloed the ascent, but no one downclimbed.
My overall takeaway: I should be in good enough shape for a free solo attempt. The route's toughest climbing moves compare to v0-v1s in a bouldering gym. From a summer of trail running, cardio wouldn't be a limiting factor.
Ideally, my first Grand ascent would be with a friend who previously climbed route. But most people don't want to repeat OS – due to crowds, limited technical climbing and a long approach. Plus, schedules are hard to line up. OS repeaters are usually runners who maintain a pace I wasn't ready to match. Guide services are pricey ($1,000+), and based on my OS research, seemed like overkill.
Lacking a partner on short notice, I decided to go it alone. In the summer, the route's busy from trailhead to summit. Exum Mountain Guides – an elite Teton-based guide service – even maintains a base camp on the Lower Saddle. If anything went wrong, there'd be plenty of support.
The earliest day I could manage (August 4th) was clear until early afternoon, when thunderstorm risk increased. I didn't want to be in the high alpine during storms, so I planned on a 3am departure. I estimated 3 hours to the Lower Saddle, another 3 hours to the summit, then 5-6 hours on the return, getting me back to the trailhead by 2-3pm.
New Gear
Taking one friend's advice, I bought a basic climbing kit (harness, belay device, helmet, a few carabiners, personal anchor and prusik). While I still planned to skip a rope, I wanted the option to rappel with another party in case of medical emergency, bad weather, etc.
Note: Climbing helmets are designed to withstand multiple impacts without breaking (i.e., rockfall from above). Ski and bike helmets are designed to break upon one big impact (i.e., collision with a tree or car). So while you can get away with a ski/bike helmet in a pinch, it won't provide the same sustained protection.
I watched a few rappeling tutorials on YouTube (e.g., this REI guide), then practiced with a friend in Jackson's boulder park at the base of Snow King. (She brought the rope.)
I bought new approach shoes and a 15L hydration vest (low profile with storage pockets on the chest). My HOKA trail runners were great for approaches, but too soft for toe moves on climbs. My climbing shoes were overkill for a 5.4 route. And my hiking backpack was high profile for narrow climbing sections and awkward to jog downhills.
With a few months of use now, I recommend vest packs over traditional backpacks for day hikes. Centering weight between the back / chest reduces strain on shoulders and makes jogging much easier. Aim for at least 15 liters of storage.
Aside from the new kicks, a vest pack and a climbing kit, I packed standard emergency gear (multi-tool, first-aid kit, space blanket, tourniquet, etc.), bear spray, a headlamp, food / electrolytes (including GU gels), a windbreaker and a vest. Overnight lows would be 50-60F with daytime highs of 80-90F.
Check out a more detailed gear list in the Picnic trip report.
Rating Primer
OS is a 5.4-rated climb. As a climbing newbie, I read up on rating systems. Some background from Wikipedia:
The Yosemite Decimal System (YDS) is a three-part system used for rating the difficulty of walks, hikes, and climbs...
The class 5 portion of the class scale is primarily a rock climbing classification system, while classes 1–2 are used mainly in hiking and trail running. Class 3 describes easy and moderate climbing (i.e. scrambling), with varying amounts of exposure (length of a possible fall). Class 4 is an "in-between" rating that describes a very exposed scramble...
Class 5 is subdivided into parts, currently 5.0 to 5.15. Ratings 5.10 and above are further subdivided, for example, 5.10b or 5.15c.
For context, the El Cap route Alex Hannold climbed in Free Solo is rated 5.12d.
5.1–5.4 routes are "beginner" climbs. Footholds and handholds are large, but on exposed sections, climbers generally use protection (i.e., ropes). Routes are rated for their hardest segment, also known as the "crux." Owen Spalding is a "non-sustained" 5.4, which means only a few moves warrant that rating. The rest of the route consists of class 3–4 scrambling and 5.1–5.3 climbing.
Trip Report
Night Life in Jackson
So plan laid, gear packed and carbos loaded, I headed to Lupine Meadows. I left town at 9pm the night before, planning to sleep a few hours at the trailhead. Before retreating into the bed of my '06 Tundra (equipped with a cap for truck camping), I skimmed through the Wyoming Whiskey guide again on my phone and took shorthand notes for quick reference.
A parade of traffic at the trailhead stymied my sleep plans. All night, cars pulled in and groups geared up – chatting and playing music. One group even discussed divvying up a watermelon, grill and sausages for a planned summit BBQ. (Jackson natives.)
I learned Lupine Meadows is the busiest late-night spot in Jackson Hole. With many climbing objectives in the Tetons, some pushing 24 hours (e.g., Grand Traverse), groups depart at all hours of the night.
At 3am, I gave up on sleep, turned on my headlamp and started gearing up. By 3:30am, I hit the trail.
Dark Approach
It was a warm night, so I started with supplex shorts, a sun hoodie and a Patagonia vest. By the switchbacks, I was sweating and ditched the vest. There are two junctions on the lower trail – one before the switchbacks and another that forks left for Garnet Canyon near the fifth switchback. I almost missed the second junction in the dark.
I passed a few groups on the way up – maybe 30 people in total – headlamps snaking up the mountain.
Just before 5am, I entered the first of two boulder fields before the "Meadows," a popular camping area in the base of Garnet Canyon. Both fields were tricky to navigate in the dark with only one prior trip (the South Teton trip). But by 5am, I cleared the fields and passed the "watermelon group" in the Meadows.
After the Meadows, the right-most trail winds up to the Lower Saddle, easy to follow with the exception of one large a boulder field toward the end. (A left in the Meadows takes you to Middle / South Teton.)
It was my first time on the route and I ascended a bit too high in the boulder field. Wind ripped over the Lower Saddle, so I added a windbreaker. First light was filtering into the mountains, helping me pick a course through the boulder field.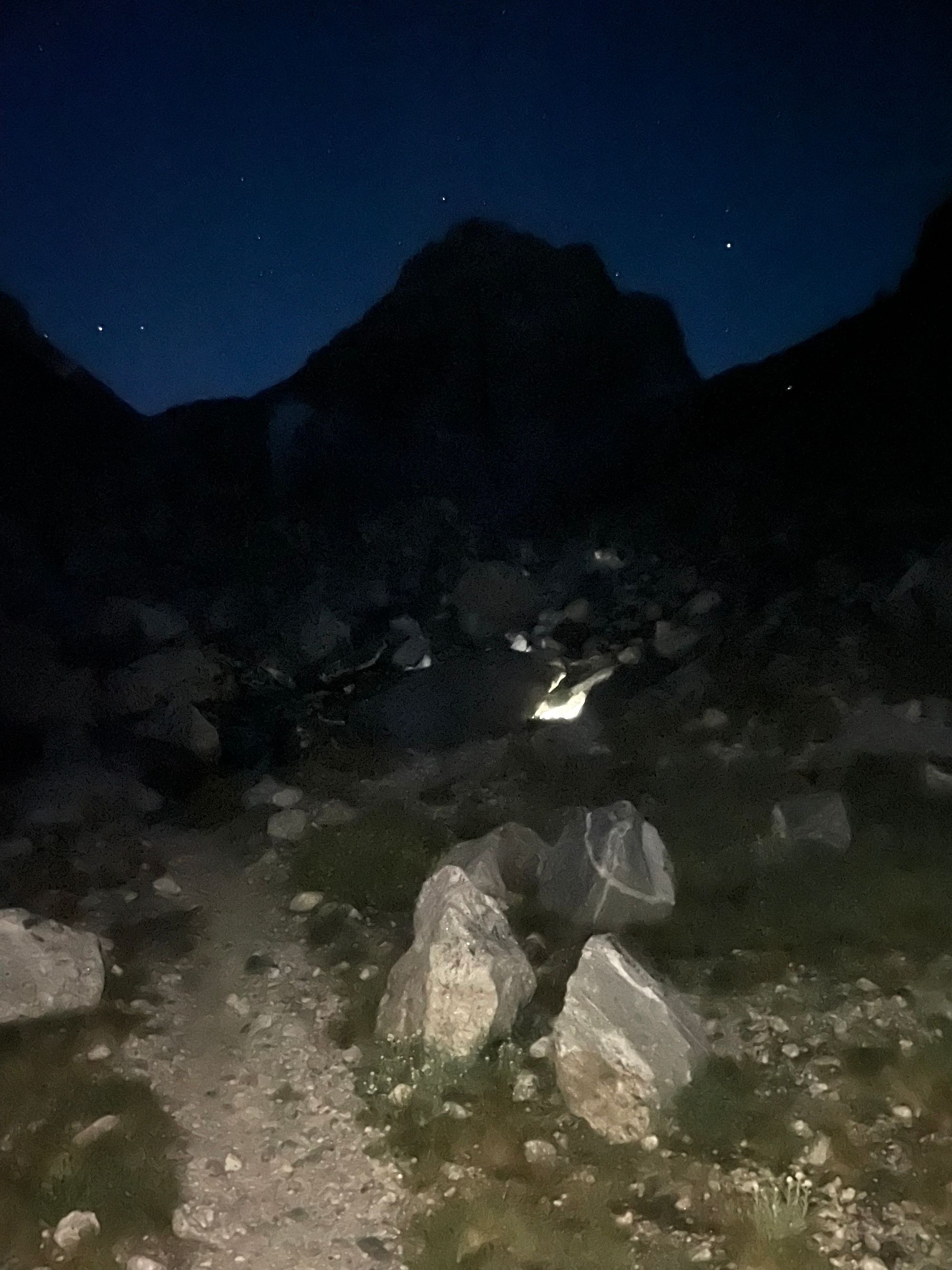 Note: The fastest route through that boulder field involves a sharp left when the trail ends and a short scramble through a gully. Then, the trail resumes. Also, the second half of the trail between the Meadows and Lower Saddle has sections of scree, so tread carefully.
The Lower Saddle is the saddle connecting Grand and Middle Teton. Shortly after, Grand Teton climbing routes like Upper Exum and Owen Spalding begin. Exum Guides and the Park Service maintain seasonal camps on the Lower Saddle. Its elevation is 11,600', about 5,000' above the valley floor with 2,000' remaining to the Grand summit.
To reach the Lower Saddle, you climb a short stretch of rock called Fixed Rope, named for a series of ropes maintained by guides for the benefit of all climbers. Fixed Rope is on the right side of the cliff band, so aim for that north side if you get lost in the upper boulder field. At Fixed Rope, I grabbed my helmet off my vest pack (clipped on the back), in case of rockfall.
By 6:30am, I cleared Fixed Rope and headed for a spring at the base of the Lower Saddle, which absent very dry conditions, is the last refill opportunity. Middle Teton glowed orange in the sunrise and a light layer of fog hung in the valley.
At the spring, I ate breakfast with another solo climber, adding to energy blocks and bars from the approach. Later on, I partnered with that climber to route find from Belly Roll through Sargent's Chimney.
After topping off my filtered water bottle, I picked up the trail, passing Exum's camp and forking right toward the Grand. The trail snakes up to the Black Dike a streak of black rock in a wall of gray granite. At the Black Dike you need to start referring to route instructions.
Finally, Some Climbing
For detailed instructions, check out the Wyoming Whiskey guide, by far the most comprehensive resource. I'll stick to highlights in this post.
My shorthand notes and one of many excerpts from Wyoming Whiskey: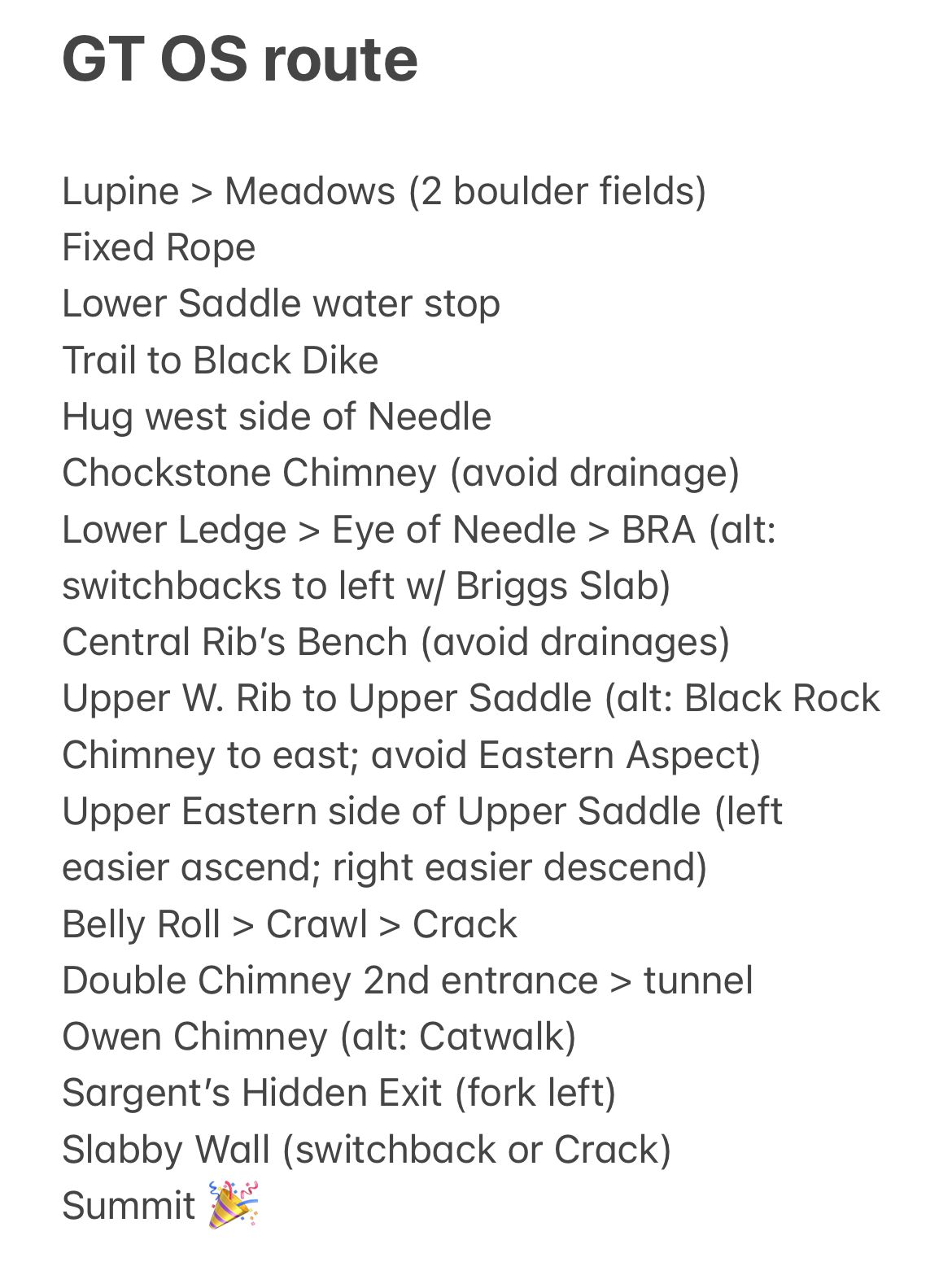 I backtracked once after climbing too far east on the Central Rib toward the Upper Exum route. I also spent too much time in drainages, exposing myself to the risk of rockfall from parties moving above.
But all roads lead to the Upper Saddle, a saddle between Grand Teton and the Enclosure. (The Enclosure is the second highest peak in the Tetons, just off the west side of the Grand.) I ascended too far left on the Upper Saddle and had to downclimb, then re-ascend the right side near Grand Teton.
I troubleshooted once with a pair of climbers, debating where to cross after Belly Roll Almost and passed a few other groups descending. Otherwise, it wasn't too busy that early.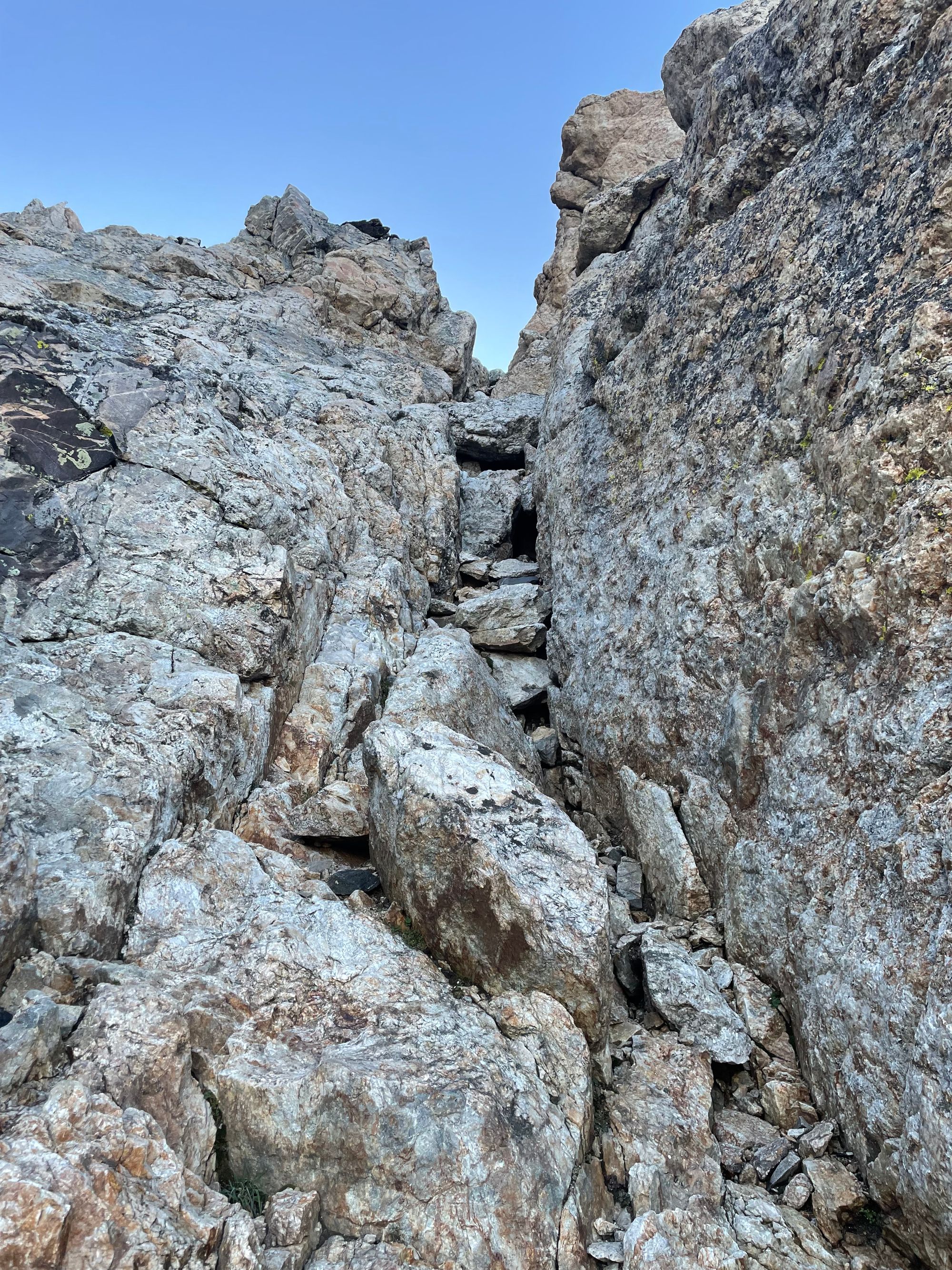 By 8am, I reached the Upper Saddle. Owen Spalding starts with a narrow ledge and some exposed moves (Belly Roll and the Crawl) that are almost indistiguishable from the cliff face. The handholds are very easy, but most groups use ropes. If you slip, you'll tumble 2,000' before arresting.
There was a small traffic jam at the start of Owen Spalding. I waited with my troubleshooting partners, who were using ropes. Then, the free soloer from breakfast caught up. By 8:15am, the group ahead entered Double Chimney. Roped parties usually let free soloers pass, so the other free soloer and I started on Belly Roll ahead of my troubleshooting partners.
I'm not afraid of heights, so the exposed moves were fun. But, many people get anxious on this stretch.
Another excerpt from Wyoming Whiskey (left):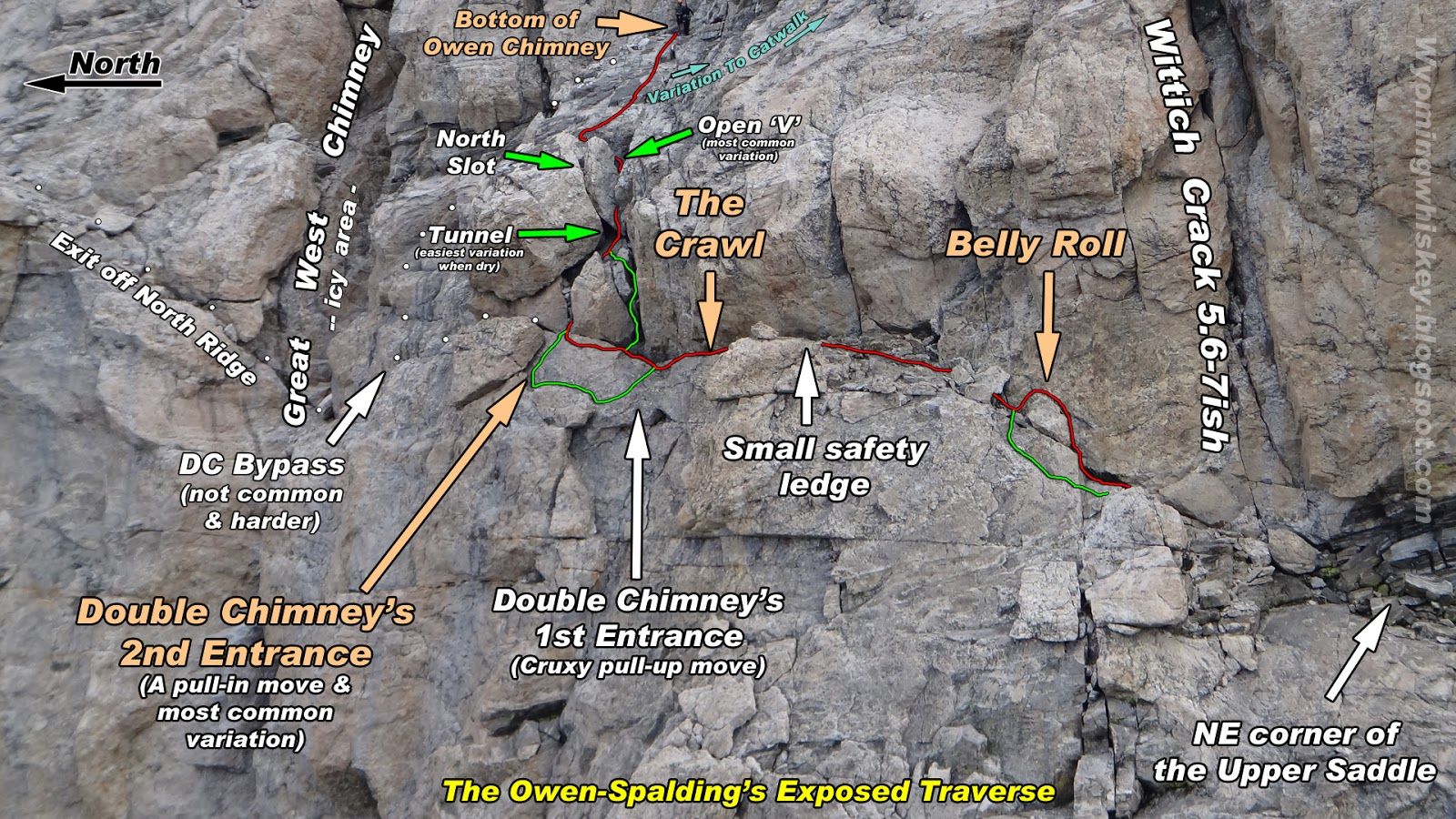 After entering the Double Chimney via its second entrance, the route feels less exposed. After Double, we took Owen Chimney, the crux of the route that gives Owen Spalding its 5.4 rating.
An alternative is forking right to the Catwalk, an angled and exposed series of ledges up to the rappel station below Sargent's Chimney. I scraped my knee on one friction move in Owen Chimney (hazard of shorts), but otherwise we climbed efficiently.
After Owen Chimney, we tackled Sargent's Chimney. Hidden Exit, a slight left toward the top of Sargent's Chimney, seemed like the easier way out. All that stood before me and the summit were a few ledges called the Slabby Wall.
At 9am, I looked out on the Teton Range from its highest vantage point at 13,775'.
Jackson Hole opened up to the east and Teton Valley to the west. Mt. Moran loomed to the north. Middle / South Teton and Buck scratched the sky to the south. Teewinot broke up the valley view and alpine lakes sparkled in the morning sun.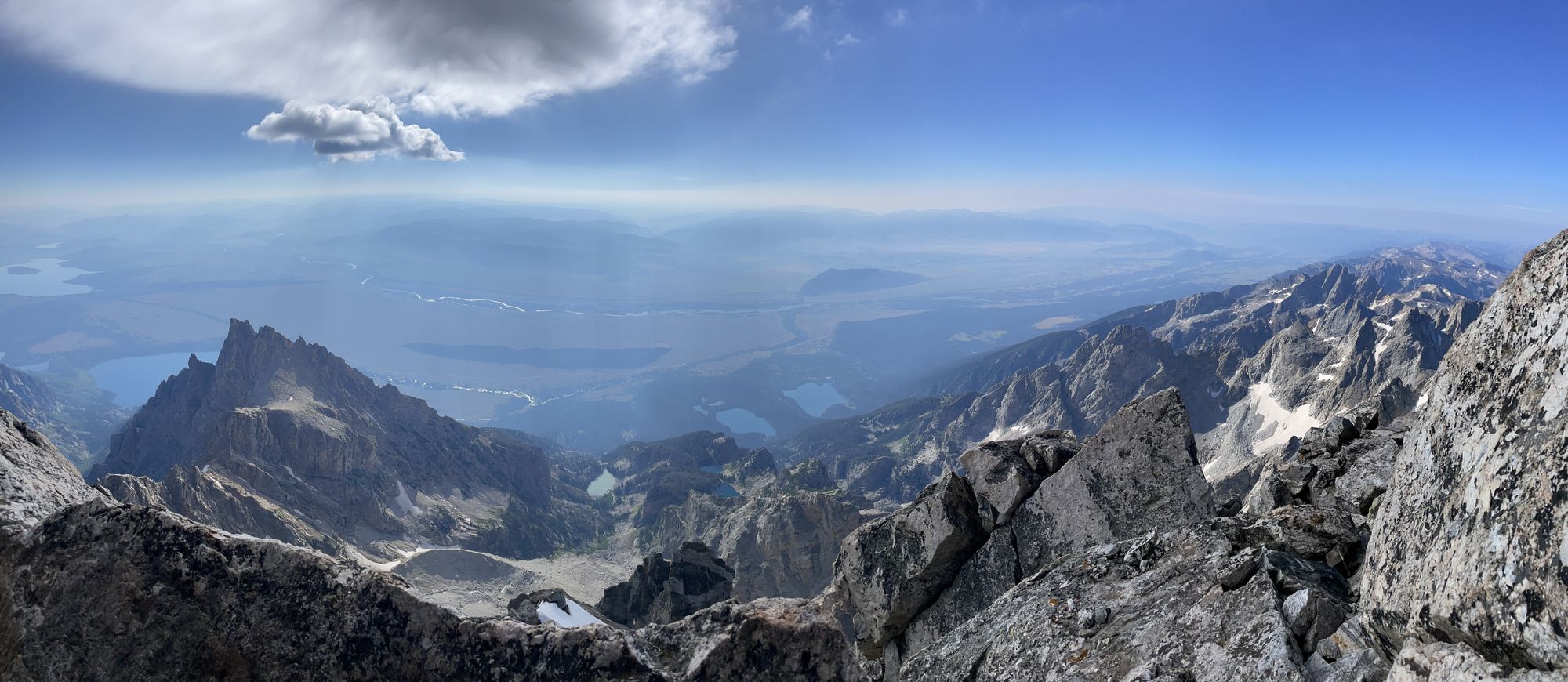 My energy level was high and I wasn't noticeably winded at that elevation. I felt like I could add a bike and swim before the next ascent – the Picnic was a go!
I snapped a couple summit selfies, panos and pictures of the USGS marker, then settled down for a snack. Before long, I had the company of few more groups, including a couple runners. After 15 minutes or so, I started downclimbing.
Reverse Course
After Sargent's Chimney, I opted for Catwalk instead of Owen Chimney, passing the rappel station. The vast majority of climbers opt for the 100' overhanging rappel instead of downclimbing. Since I planned to skip ropes for the Picnic, I wanted to try the downclimb.
Rappeling usually doesn't save much time between the transition and traffic at the station, but it's definitely a bit easier. If there's significant uphill traffic when you downclimb, time saved from rappeling can be substantial. To rappel, you need at least 60 meters of rope, ideally 70 meters.
I paused a few times for roped groups during the downclimb, including a 10min stop at the bottom of Double Chimney. Roped parties move much slower than free soloers. It was smooth sailing after clearing Belly Roll, the end of OS.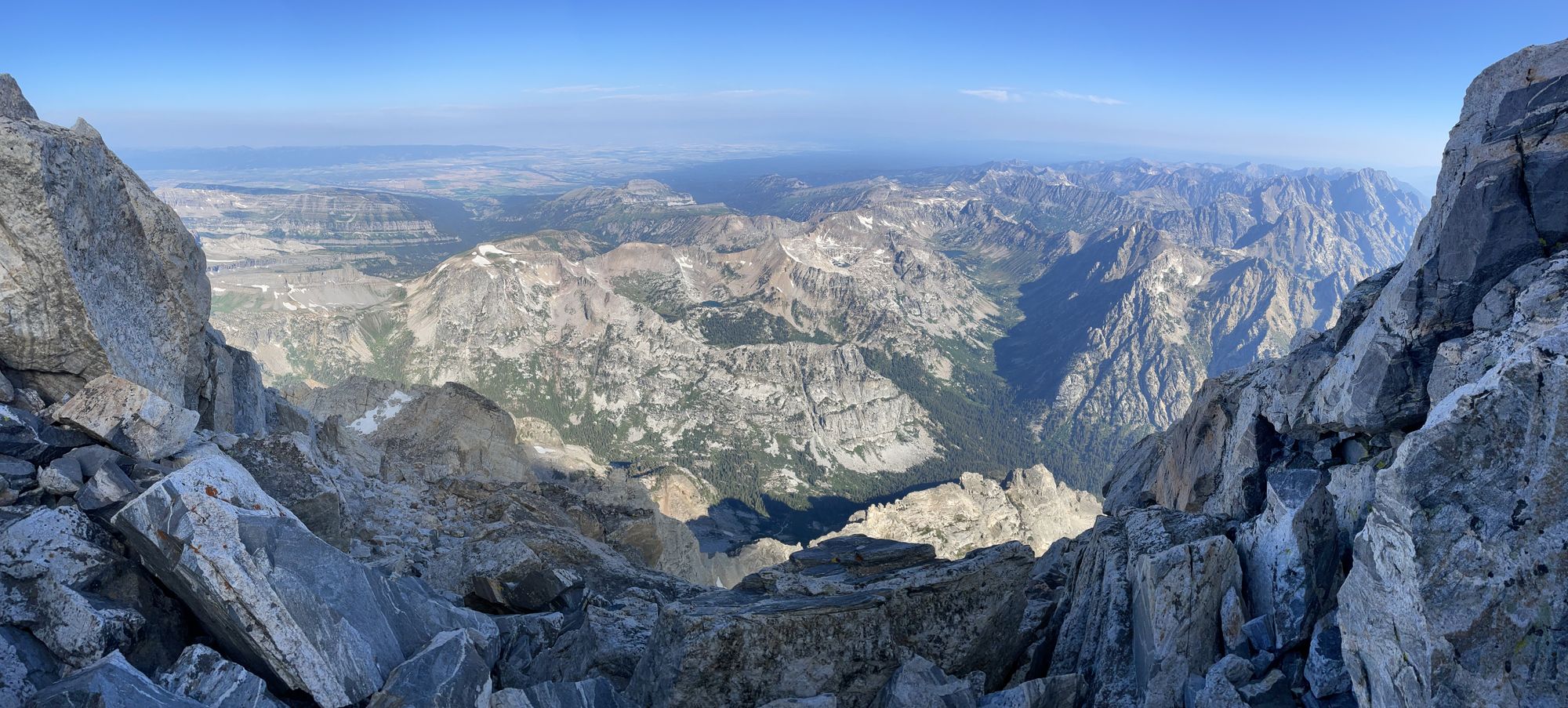 I retraced my steps to the Lower Saddle, again struggling to find the best route down Central Rib, then to the Meadows. In the Meadows, I started crossing paths with more day hikers. Below the Meadows, you almost exclusively find day hikers aiming for Delta or Ampitheater Lake. Climbing gear elicits bemused looks.
I heard distant thunder and felt some raindrops on the lower switchbacks. One pair of backpackers told me they were camping out, then climbing OS the next day. One seemed taken aback by my one-day push without ropes. I was taken aback by the idea of a high-alpine campout in thunderstorms.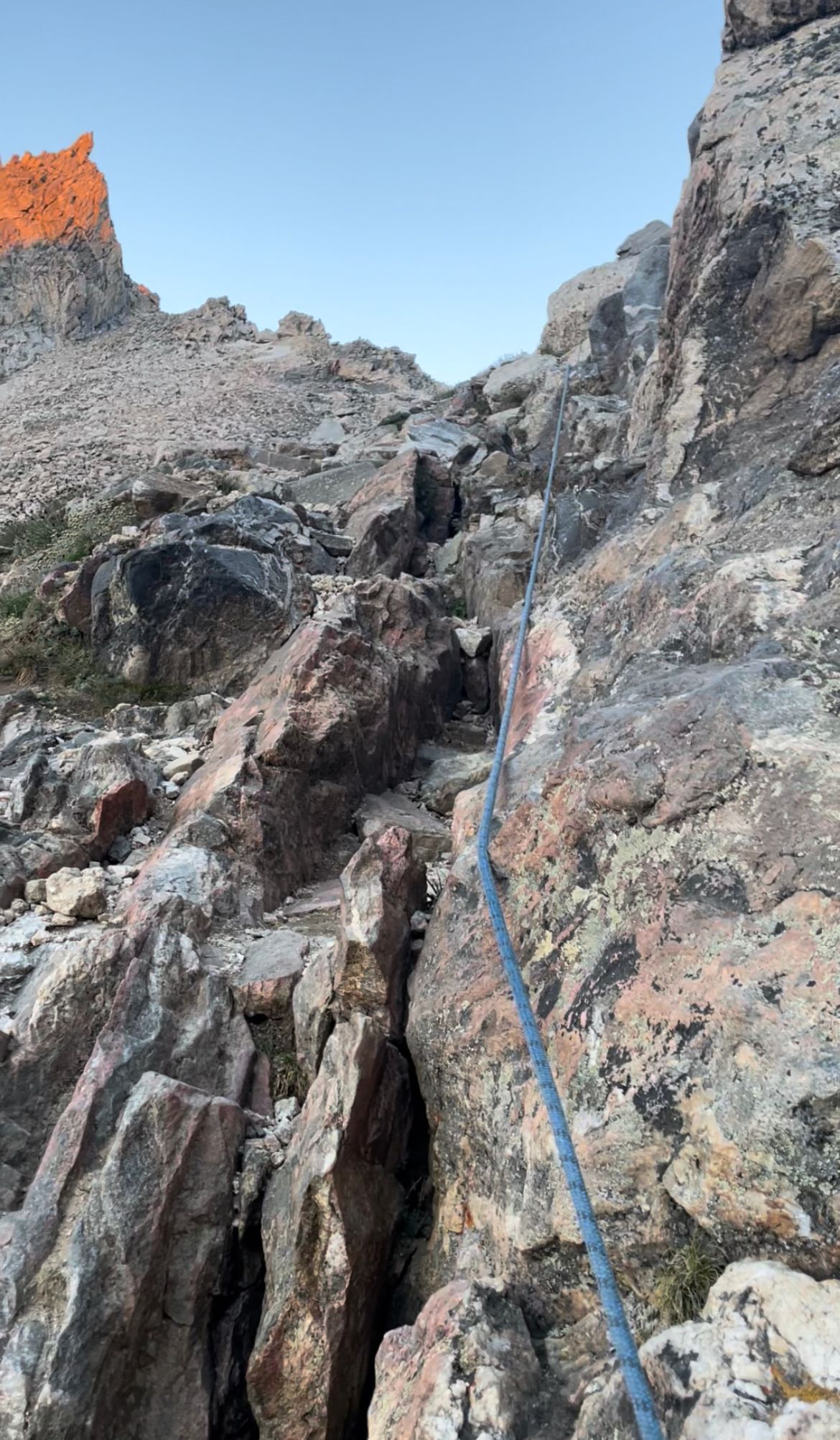 Tip: Bring a WAG bag. You can bury waste at the lower elevations in the Park, but not in the alpine. Suffice it to say, a WAG bag would've made for a less painful (and faster) descent.
Finally at ~2:30pm, I arrived at Lupine Meadows and beelined to the outhouse.
I stopped at Dornan's for a coffee on the way to Teton Sports Club (RIP) for a hot tub soak. Running without sleep, I needed one more coffee to make it through a friend's birthday dinner.
Then, I settled in for my best night's sleep of the summer, dreaming of the Picnic attempt now in reach.