Mt. Moran via CMC Face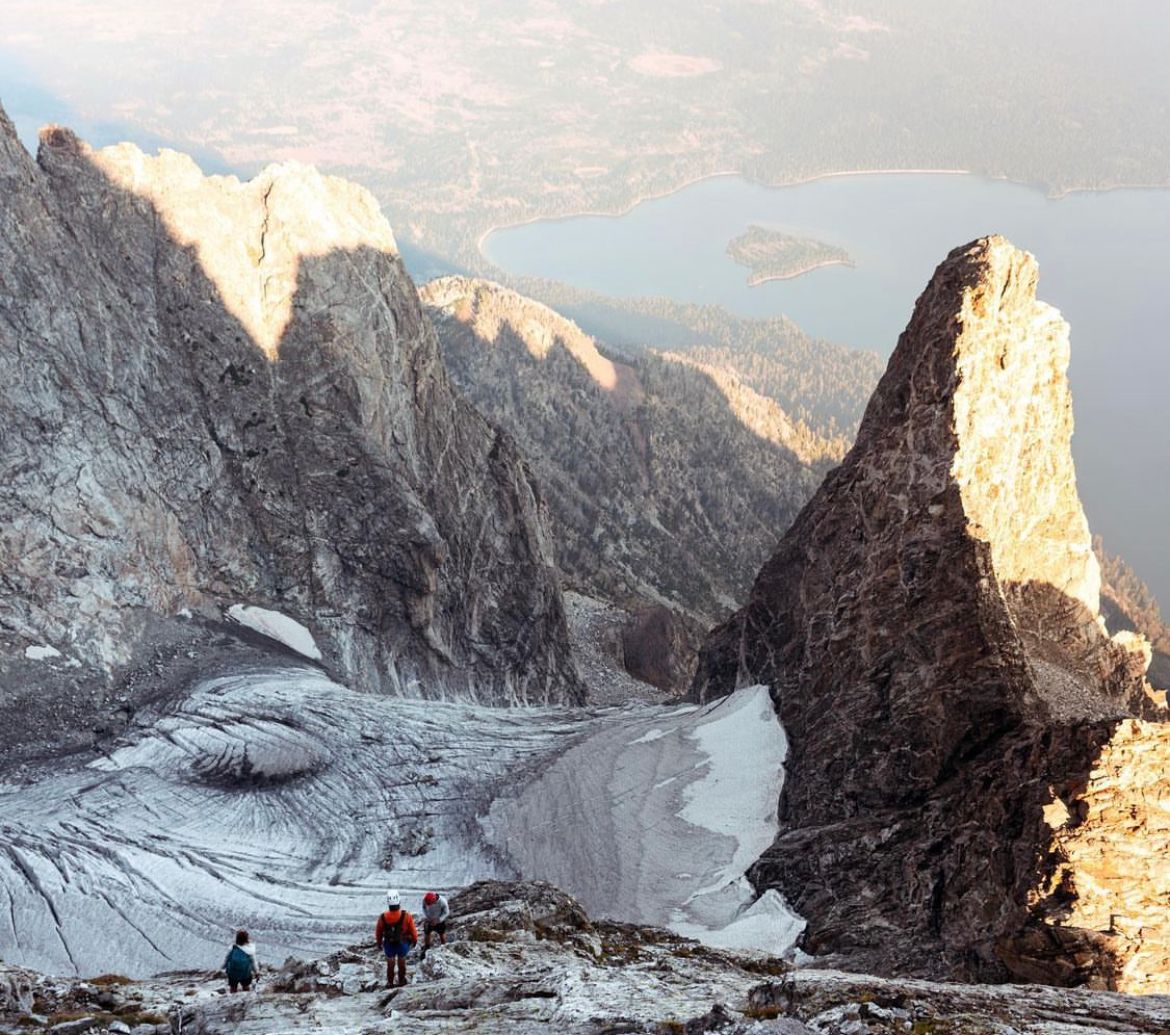 Monday, September 12, 2022:
Mt. Moran ascent via CMC Face, a 5.5-rated climbing route.
6,000' vertical with a paddle approach over String/Leigh Lake.
1,000' vertical of climbing on CMC Face.
18 hours roundtrip, 8am to 2am.
Mt. Moran is a 12,610′ mountain in the Tetons. The summit is 1,000' lower than Grand Teton (13,775'), but harder to climb. The Park Service doesn't maintain a trail to the base, so the approach requires a lake crossing or bushwhack. From the base, the ascent involves sustained boulders, talus and scree with a few stretches of better trail in between. The same crew (Connor, Kelsey, Brigette and I, plus Kirsys) attempted a winter summit via the Skillet Glacier in April 2022, turning around 1,000' from the top due to weather/daylight.
The CMC Face roundtrip took as long as the Picnic (trip report), a mountain triathlon Kelsey, Connor and I completed in August. The Picnic involves 46mi of biking, 2.6mi of swimming and a 7,000'/16mi Grand Teton ascent. Granted, we free soloed the Owen Spalding route up Grand Teton, saving some time.
After completing the Picnic, I wanted to try the Moranic (Leigh Lake to CMC Face) and Moronic (Jackson Lake to NE Ridge) variations on Mt. Moran. First, I wanted to complete dry runs on CMC Face and the NE Ridge. After tackling Upper Exum on Grand Teton (trip report) a week prior, another 5.5 route in the Tetons, I felt up to CMC Face. Connor, Kelsey and Brigette planned to tackle it and I jumped in.
Note: Climb ratings refer to the Yosemite Decimal System. Class 1-4 is reserved for hikes and scrambles. Class 5 is considered proper climbing; 5.1-5.4 are beginner climbs. Rating are determined by a route's most difficult move (aka crux). For more background on climb ratings (e.g., 5.4, 5.5), read the "Research" section of my Picnic trip report.
Preparation
Mt. Moran is a big one-day push that requires good conditioning. It's also a sustained climb, requiring technical climbing skills. At the beginning of summer 2022, my climbing experience was limited to bouldering gyms in New York.
Training
In January, I came off an inactive stretch rehabbing my left knee. I worked down from 10-minute pace for 5-mile runs to 7:30-pace by the beginning of the summer (thanks to ski touring). In mid-July, I started trail running a few times a week. By the end of August, I was hitting 7-minute pace for that distance and 5:35 for 1 mile. I had also conditioned for longer distances and uphill's, completing a half, 15K trail run and a couple 18-hour treks in the Tetons.
For more on my winter and summer conditioning, check out my Skillet Part I and Picnic articles.
Climbing
Over the summer, I learned climbing basics. Training for the Picnic, I completed a dry run on Owen Spalding, a 5.4 route up Grand Teton. Before that dry run, I bought a basic climbing kit (helmet, harness, personal anchor, belay device, prusik and carabiners) and practiced rappelling. I didn't use the kit on Owen Spalding (aside from the helmet), but wanted the option to partner with a group and rappel in the event of an emergency.
After that dry run and the Picnic (trip report), I climbed Upper Exum with a Jackson native, Zack Smith. Upper Exum is a 5.5 route up Grand Teton. We used ropes on most pitches, which served as my intro to trad climbing.
I relied on Zack to organize our systems and place protection. After that trip, I was familiar with trad climbing, but not fully self-sufficient.
Note: Lead climbing (e.g., sport and trad) involves one climber leading with a rope, clipping it into anchors along the route to protect from falls. Another climber belays from below using a belay device, extending slack as they climb and ready to arrest a fall. Trad climbers create anchors by inserting cams / nuts into the rock as they climb. Periodically, the lead climber stops to belay the next climber on the same rope. The last climber removes protection as they ascend. Sport climbers use permanent, bolted anchors.
For the three Grand Teton climbs, I leveraged Wyoming Whiskey's Owen Spalding and Upper Exum guides for beta on the routes. I couldn't find an online guide nearly as comprehensive for Mt. Moran.
CMC Face's 5.5 rating comes from Drizzlepuss, a pinnacle just below the wall that you need to ascend/descend to access CMC. The rest of CMC Face involves low class 5 climbing and class 3-4 scrambling near the summit.
Connor, Kelsey and Brigette approached CMC Face on a Moranic attempt in 2021, turning back on Drizzlepuss. We figured we could piece together Drizzlepuss and CMC Face, the sections they hadn't climbed, as we went. CMC Face is a big wall with many variations. Generally speaking, anything between the south ridgeline and Black Dike is fair game.
Other Research
Bears: The base of Mt. Moran sees less foot traffic, lacking maintained trails or road access. There's also dense brush at the base. As such, you're more likely to cross paths with grizzlies. In one trip report, a climber woke up to a black bear licking his face at high camp. Bear spray at the ready and noise on ascent/descent was a must—easier with a group of four.
Water: Midway up Moran, the trail forks left (west), away from the Falling Ice Glacier drainage. That creek is the highest water on the route by mid/late summer, so we needed to fill up extra bottles. We planned to stash a few at Drizzlepuss to spare weight on CMC Face. One trip report mentioned "water pirates" stealing stashed bottles. Fingers crossed they wouldn't strike twice.
Approach: The Park Service doesn't maintain a trail to the base of Mt. Moran's southeast ridge. The approach involves either a (1) bushwhack from the closest maintained trail at the northeast corner of Leigh Lake or (2) paddling across Leigh Lake. We opted to paddleboard String Lake, portage from String to Leigh Lake (150 yards) and then paddle across Leigh.
Timing: We estimated a ~14-hour roundtrip and planned to start paddling at first light. It was a late start compared to my three Grand ascents that summer. Turns out, we underestimated Moran (again).
Gear
I used most of the same gear from Upper Exum (trip report), the Picnic and the Owen Spalding dry run (combined trip report).
We brought two 60-meter ropes, alternating the weight on ascent / descent, and an assortment of cams / nuts to augment permanent rappel stations on the route. We also borrowed two paddleboards, each able to carry two people.
Layers: running shorts, sun hoodie, windbreaker and puffer (cold nights / mornings in September)
15L REI vest pack
30L Marchway dry bag, plus Ziplock bags for the paddle
Three carabiners: one large auto-locker for my belay device and two smaller ones for my daisy chain and prusik
Prusik (for a third hand)
Daisy chain (personal anchor)
Gloves from ACE Hardware (only used for rappels)
Bear spray (Mt. Moran is grizzly country)
Blaze orange ball cap
LifeStraw filtered water bottle (on my list to buy a flexible version that can fill up other containers, like a bladder)
Food: GU gels, Clif bloks, RX bars, etc., plus Ziplock bags for organization; started packing salty snacks (Goldfish) to balance out the sugar
Emergency gear: first aid kit, tourniquet, space blankets, Gorilla tape, baby powder (for chafing), Leatherman multi-tool, lighter, whistle, Ibuprofen, Voile straps (multiple uses)
CMC Face
I had a booth in a local art show, Arts on the Green hosted by the Art Association of Jackson Hole, the day before. I was promoting prints from my art project, the Yellowstone Firepit Crew. (Currently available in a few galleries, shops and venues around the Park, and in summer 2023, select gift stores in Yellowstone.)
I didn't wrap up until 7pm, leaving just a few hours to grab paddleboards, pack gear and get some shut-eye. I set my alarm for 5am, much more pleasant than my other Grand Teton wake-ups that summer. The rest of the crew lives in Victor (Teton Valley, ID) and would call from Teton Pass. They got a late start, so I ended up snoozing until 6am. With an even later start than expected, I grabbed a burrito from Cowboy Coffee on the way to String Lake.
It was clear but chilly at ~30F. We expected daytime highs of 70F. On the drive into the Park, I knocked down that burrito and a cold brew. At 7:15am, I pulled into the String Lake parking area. Connor, Kelsey and Brigette arrived soon after. We organized gear and pumped up the paddleboards. We also hit the bathrooms before a full day in the backcountry.
Paddle
At 8am, we waded into String Lake and paired up on our paddleboards (Connor / Brigette and me / Kelsey. String Lake is shallow, and as such, one of the warmest lakes in the Tetons, a bit below 60F in September. The air temperature was 30-40F, so we wore puffers.
As we turned the bend in String Lake and neared the Leigh Lake portage, we were greeted by a mirror-image reflection of Mt. Moran. That monolith seemed far away, a reminder of the big day in store.
Grand Teton caps off the Cathedral Group, a cluster of summits constituting eight of the highest in the Tetons. By contrast, Mt. Moran stands alone, the Tetons' own Mount Doom. Grand Teton's summit can handle a ping-pong table. Mt. Moran's could hold a football field. Moran is lower elevation (12,610′ versus 13,775'), but more imposing.
String Lake was beautiful, as always. The sun burned off light fog as we paddled. We passed a few ducks and one mule deer.
The water level was the lowest I'd experienced. We had to walk our paddleboards twice. Water levels in the Tetons are generally at historic lows, particularly Jackson Lake. (Colter Bay's marina couldn't open in 2022.)
We approached the Leigh Lake portage at 8:15am. My feet were a bit numb from the chilly water, making the barefoot portage easier. (Not worth transitioning to shoes for a 150-yard carry.)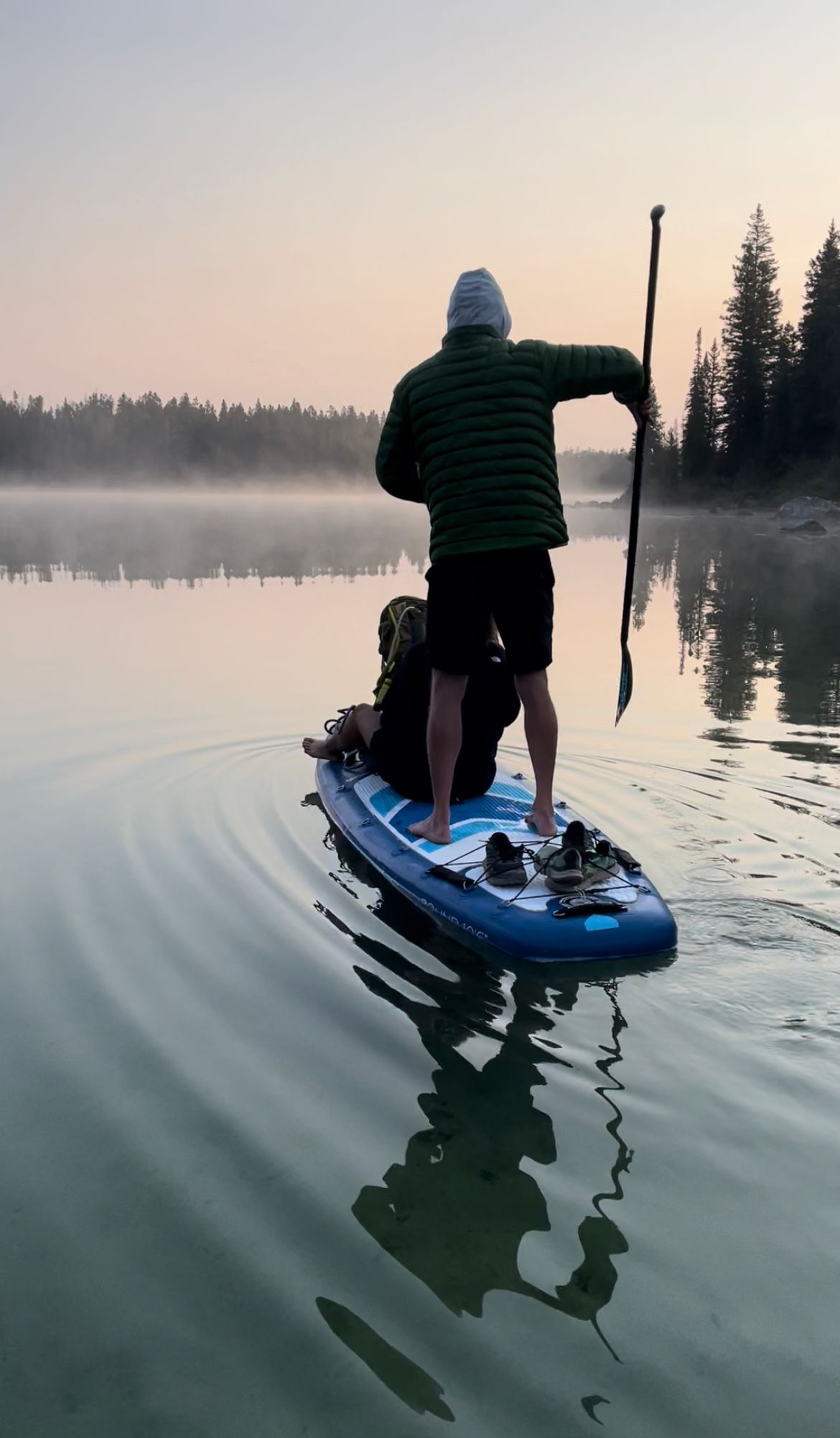 By 8:30am, we launched in Leigh Lake. Leigh is a larger and deeper lake, so it's colder and usually lacks those mirror-image reflections. Air temperatures slowly rose with the sun angle.
At 9:30am, we arrived at the northwest corner of Leigh Lake. Groups attempting CMC Face stash canoes / kayaks / paddleboards just left of the drainage from Falling Ice Glacier. We let some air out of the paddleboards to prevent afternoon sun from increasing pressure and busting a seam.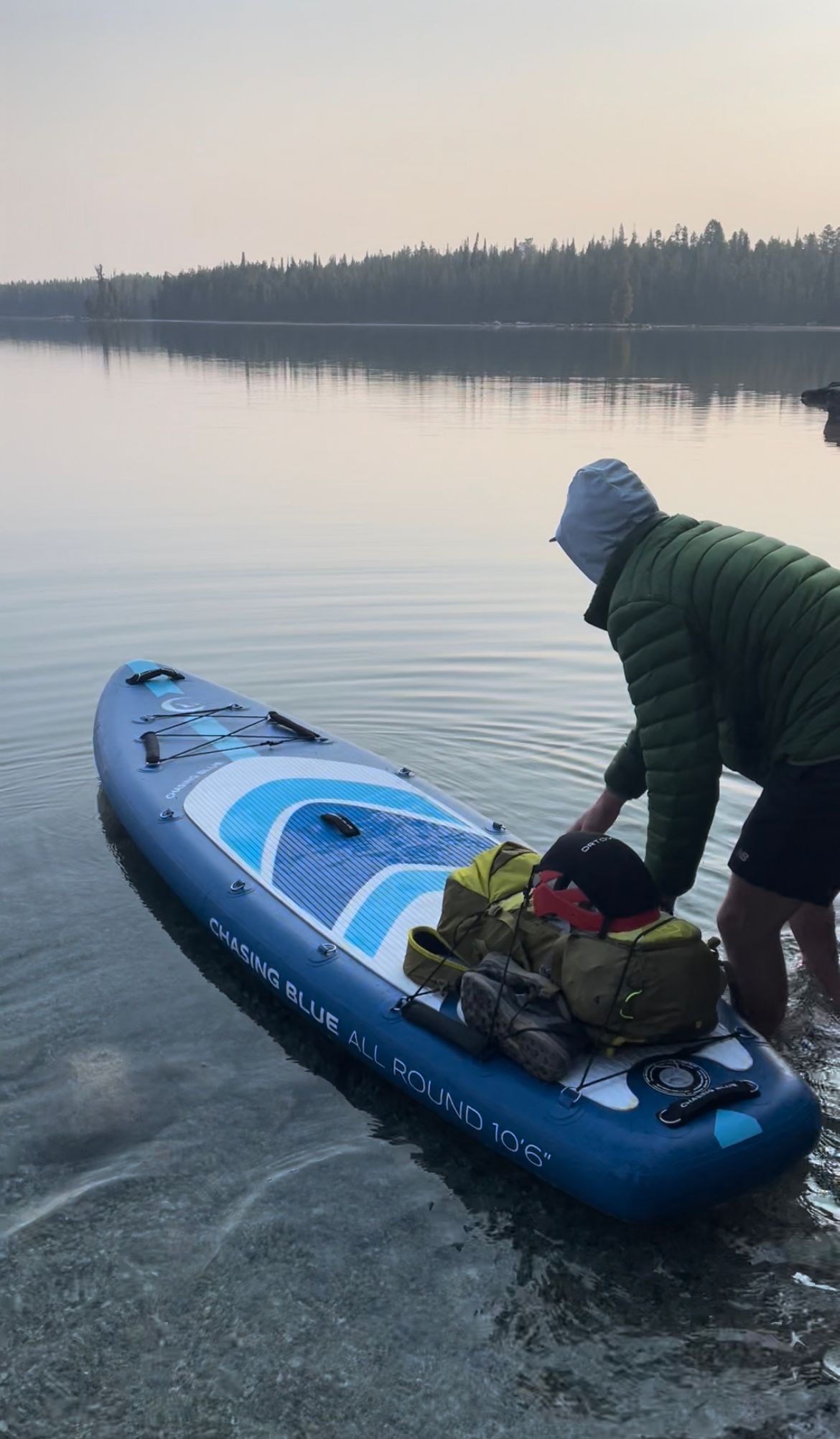 Ascent to Drizzlepuss
By 10am, we started ascending. For the first 750', we followed boulders/talus up the Falling Ice Glacier drainage. At times, we walked above water gurgling through the rocks.
The Skillet and Falling Ice are two glaciers on the east face of Mt. Moran. Snowmelt flows east into Jackson Lake from the Skillet and southeast into Leigh Lake from Falling Ice Glacier. We skied the Skillet in April (trip report), but this CMC attempt my first time on the southeast face.
Eventually, we found a loose trail on the left side of the creek. We followed that trail another 750' until it forked left away from the drainage. From other trip reports, we knew the fork was likely our last water source, so we took a break and filled up. It was 10:45am.
After the creek, the trail was in better shape, generally firm and easy to follow. At 11:45am, we passed through CMC Camp at 9,700', where most groups overnight before climbing. I'd prefer a one-day push to packing all that gear and water up 3,000'. We passed a couple tents at the camp.
After CMC Camp, we encountered a few class 4 climbs / scrambles. We found a few cairns and aimed just left of the West Horn, eventually picking up a trail of scree.
Two horns border Falling Ice Glacier, the leftmost being the West Horn. Drizzlepuss is a bit higher and further west than the West Horn. Downclimbing Drizzlepuss is the only way to access CMC Face.
We passed a couple groups descending as we passed the West Horn and then started climbing up Drizzlepuss. One let out, "wow, good luck," in response to our one-day push – an ominous sign.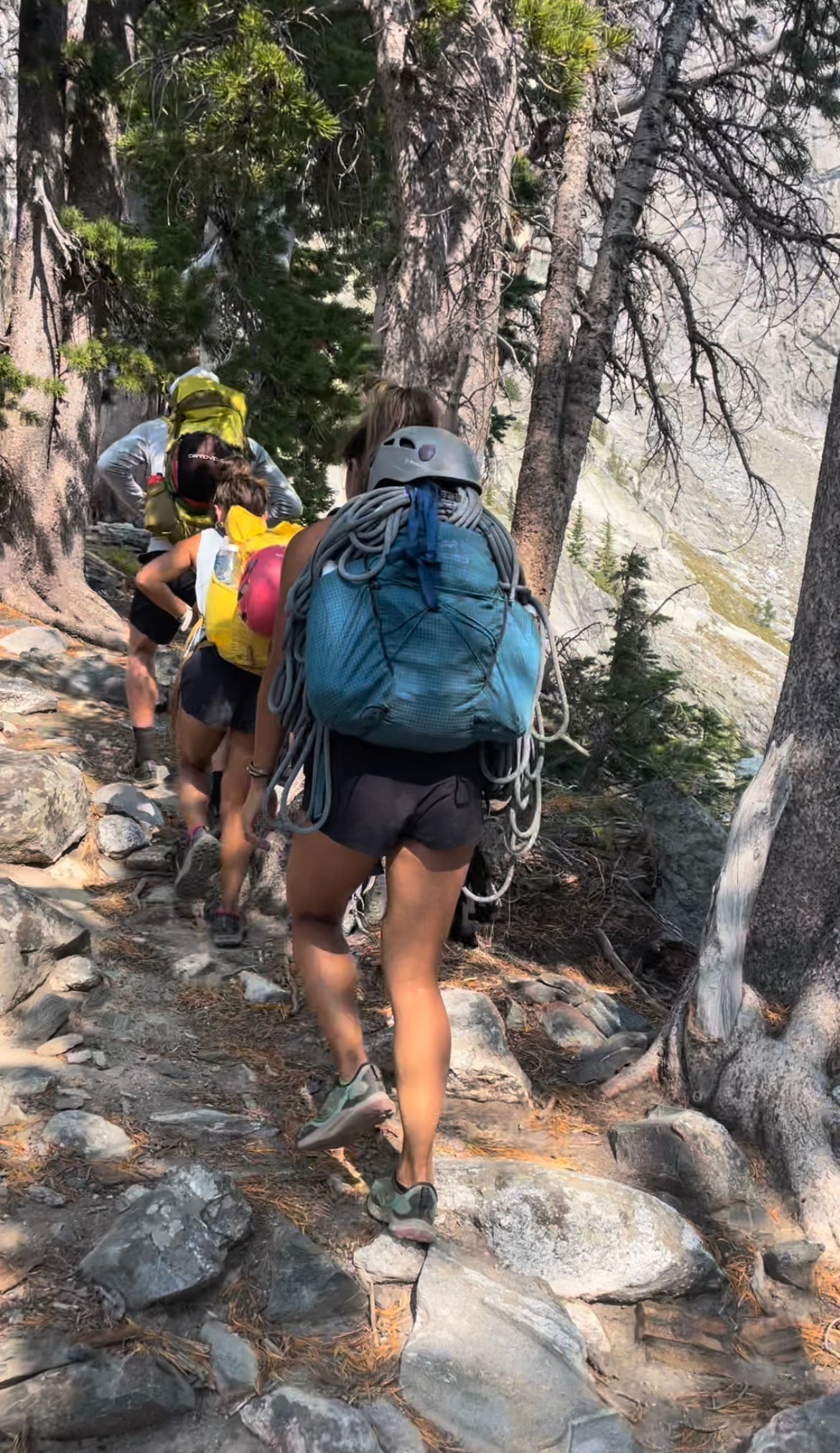 It was an easy climb to the Drizzlepuss summit. At 12:45pm, we looked out on CMC Face, a 1,000' rock face between the Black Dike and the southeast ridge. We downclimbed Drizzlepuss, following ledges to a rappel station on its northeast side. It took us a few minutes to find the rappel station. Some groups downclimb, but we opted to rappel given its 5.5 rating.
We stashed a few water bottles near the rappel station. We slipped into harnesses, organized ropes and clipped into belay devices. At 1:30pm, we rappelled into the notch between Drizzlepuss and CMC Face. One 60-meter rope did the trick.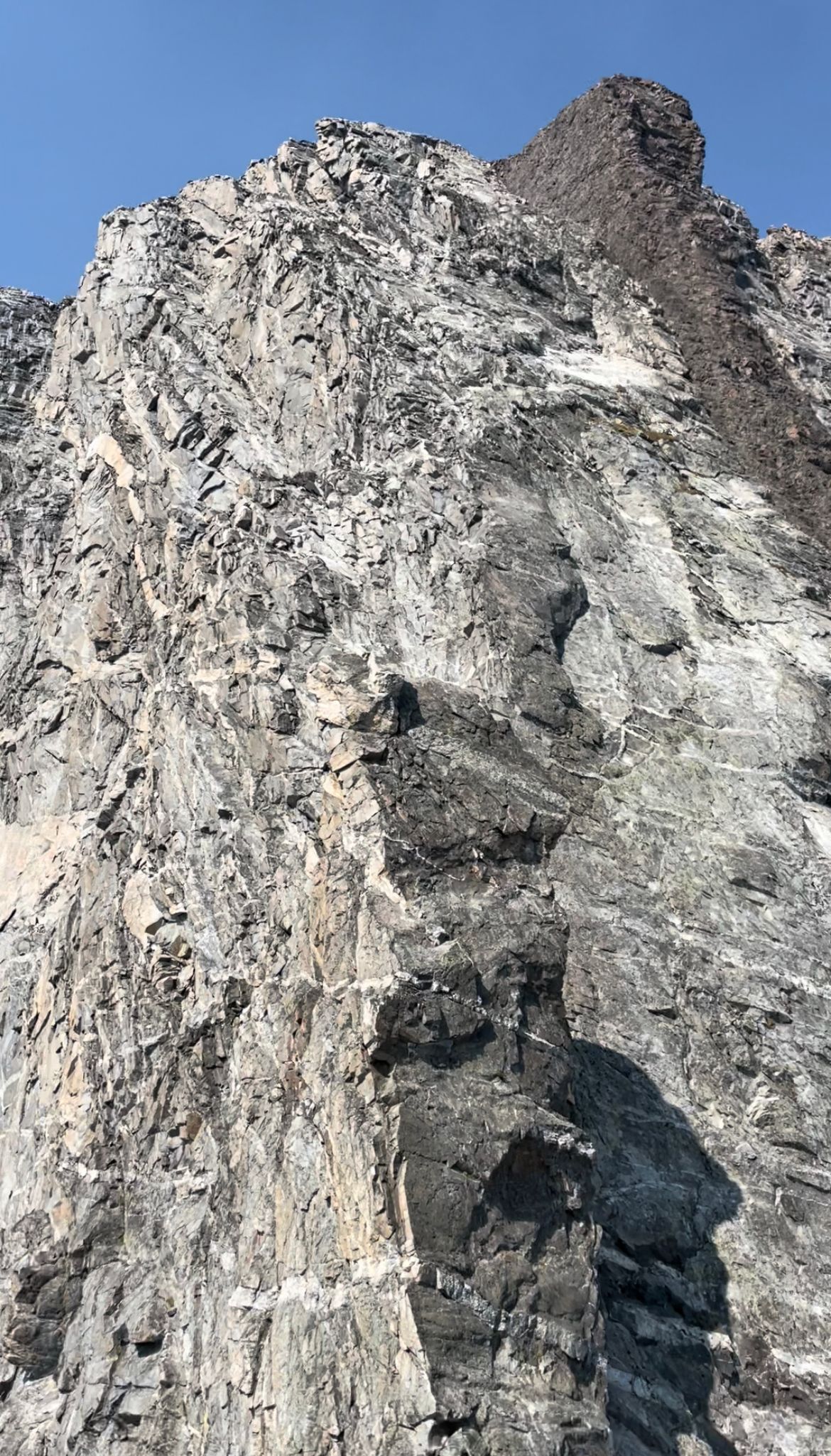 CMC Face
As we organized gear in the notch, another pair of climbers rappelled down from CMC Face and transitioned for Drizzlepuss. They were the last group we passed on the trip. It was a bit colder in the shaded notch, so we added windbreakers.
We planned to use both ropes for the climb. Connor would free climb tied to the first rope. He felt comfortable without protection on exposed, low class 5 climbing. When he neared the end of that 60-meter rope, he'd place protection. Then, Brigette and Kelsey would simul-climb, belayed by Connor. When they reached the anchor, Kelsey would belay me on the second 60-meter rope. As the last climber, I'd clear any protection we placed as I ascended.
At 2pm, we started climbing the ridge connecting CMC Face to the notch. The ridge deposited us on a wide ledge where we found a permanent anchor, noted for the descent. We used ropes on the ledge, but could have free climbed.
When I reached the anchor at the end of the ledge, Connor was already tackling the next stretch. The ledge spills into a gully below the south ridge of CMC Face. He reinforced an anchor on that ridge and we followed.
When I reached the second anchor, I realized I left a cam on the ledge. Ugh. I downclimbed, belayed from the ridge, and grabbed the cam. That detour added 15 minutes to our climb. CMC Face has a number of maintained rappel stations, so we didn't need to place protection on every pitch.
We followed the ridge for one more pitch, then shifted to the center of the wall. The climbing was low class 5, no higher than 5.4, but sustained. CMC Face is a wide route with many variations, all leading to the summit.
As I climbed one of the last pitches, I saw something tumble down the face. Brigette lost a shoe. Yikes. She gave her feet a breather from the constriction of climbing shoes and one slipped off the ledge. At first, I thought I could grab it. But the shoe kept tumbling all the way to Falling Ice Glacier below, a reminder of the consequences of a slip. We were nearing the end of the route, so Brigette could make due with her trail runners.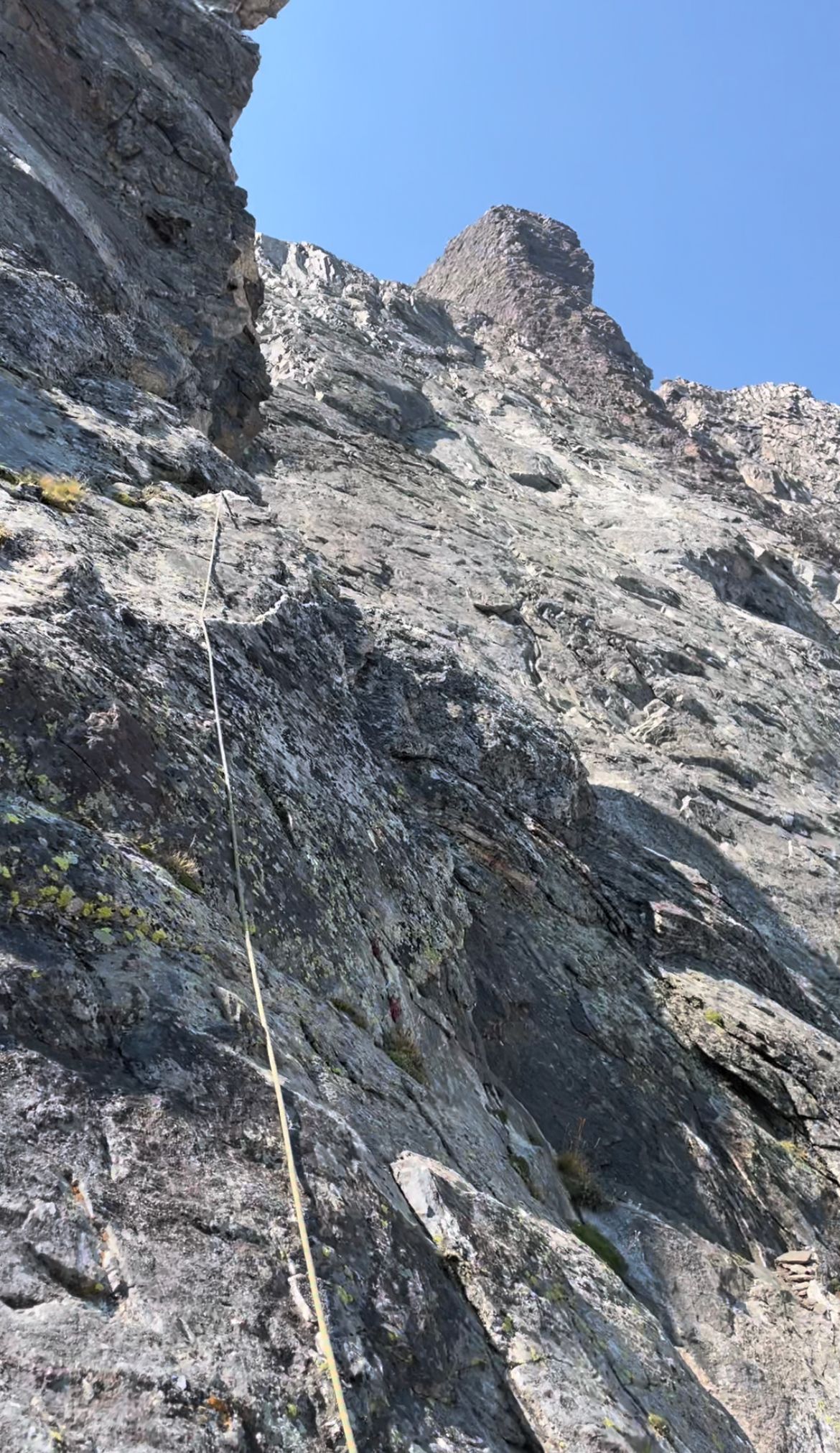 It was late. Concerned about daylight, we discussed a turnaround time. If we bailed, it'd be the group's third defeat on Mt. Moran (my second). In April, we turned back 1,000' from the top of the Skillet. Connor, Kelsey and Brigette turned back at Drizzlepuss on a Moranic attempt in fall 2021.
After 5-6 pitches and ~700' of climbing, the wall dropped to class 4. We found a maintained rappel station and coiled our ropes just above. It was ~4:45pm, almost 3 hours since the notch. From that rappel station, we scrambled the remaining ~300' to the summit.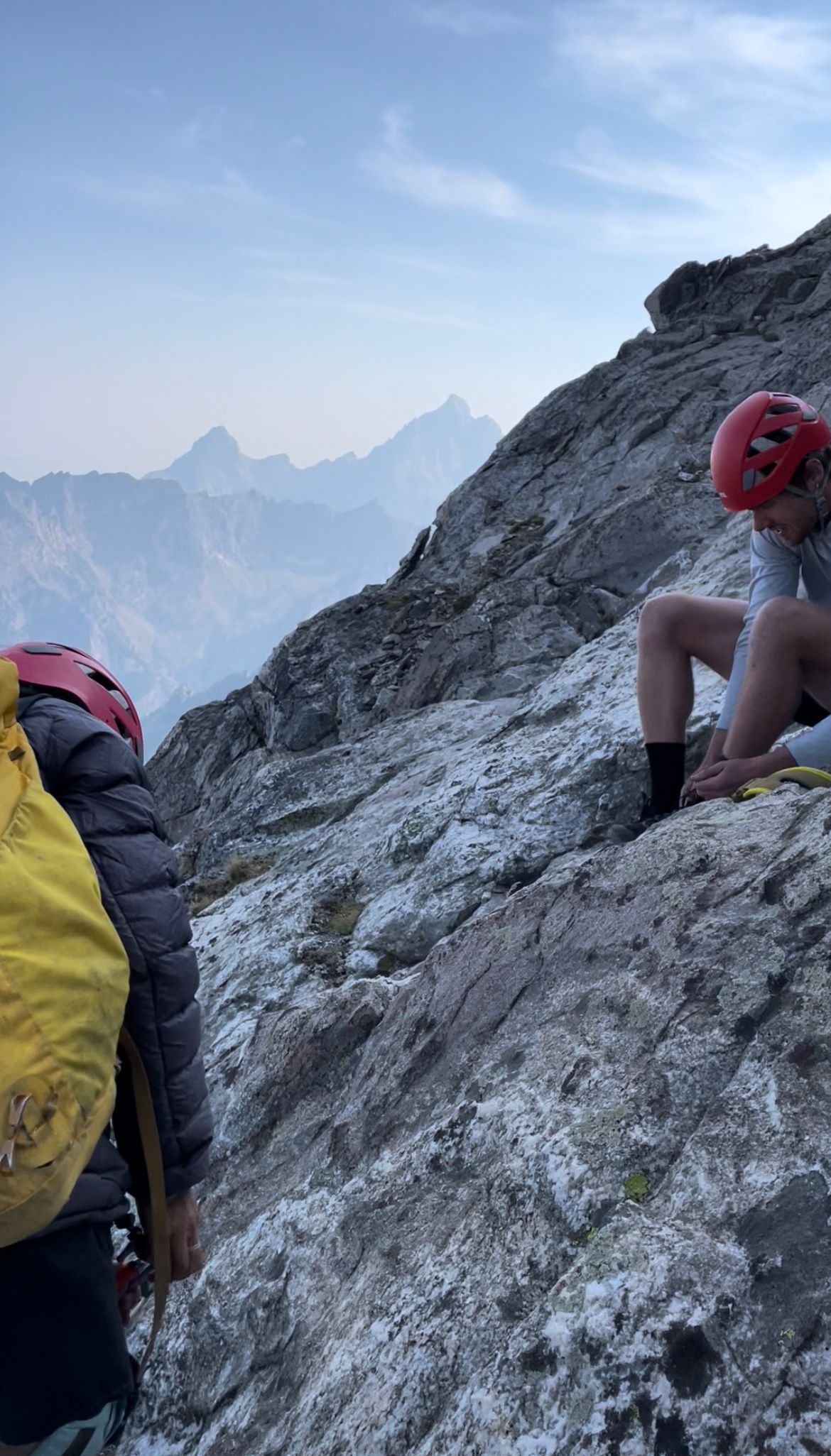 At ~5:30pm, we reached the top of CMC Face and walked north to the summit. The top of Mt. Moran could fit a football field – the monolith of the Tetons.
Jackson Lake stretched out to the northeast; Leigh Lake to the east-southeast. Grand Teton, Mt. Owen and Teewinot of the Cathedral Group beckoned to our south. The remote and under-rated Northern Tetons extended past Moran's summit toward Yellowstone. The Tetons' shadow fell across Jackson Hole as the sun dropped, still beaming on Teton Valley to the west.

We scrambled to the USGS marker and took some pictures. I walked a bit further to scout the Skillet, a glacier just north of CMC Face and Falling Ice Glacier. I hope to ski the full length in winter 2022-23.
We ate a few more GU gels and bars. I also brought some flavor-blasted Goldfish to break up the sweets.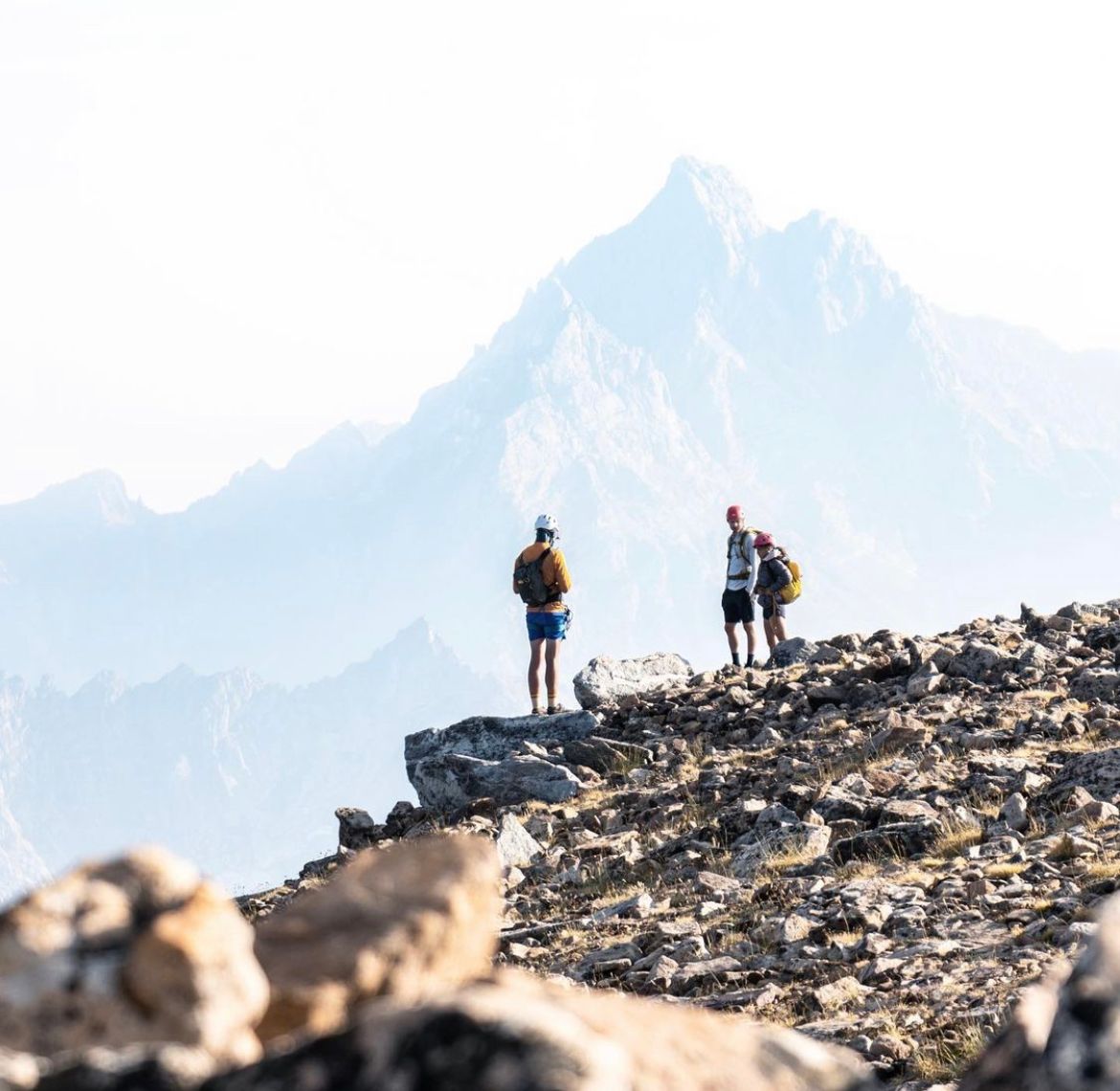 By 6pm, we started downclimbing. We had ~1.5 hours until sunset. We hoped to clear Drizzlepuss before last light.
We downclimbed to the first rappel station. We joined the two ropes for a 60-meter rappel. At first, we planned to rappel one at a time. On the first rappel, the rope got caught in a rock. (The next rappel station was to the right with plenty of obstacles in between to catch the rope.) We were still in class 4 / low class 5, so the remaining three of us downclimbed to free the rope.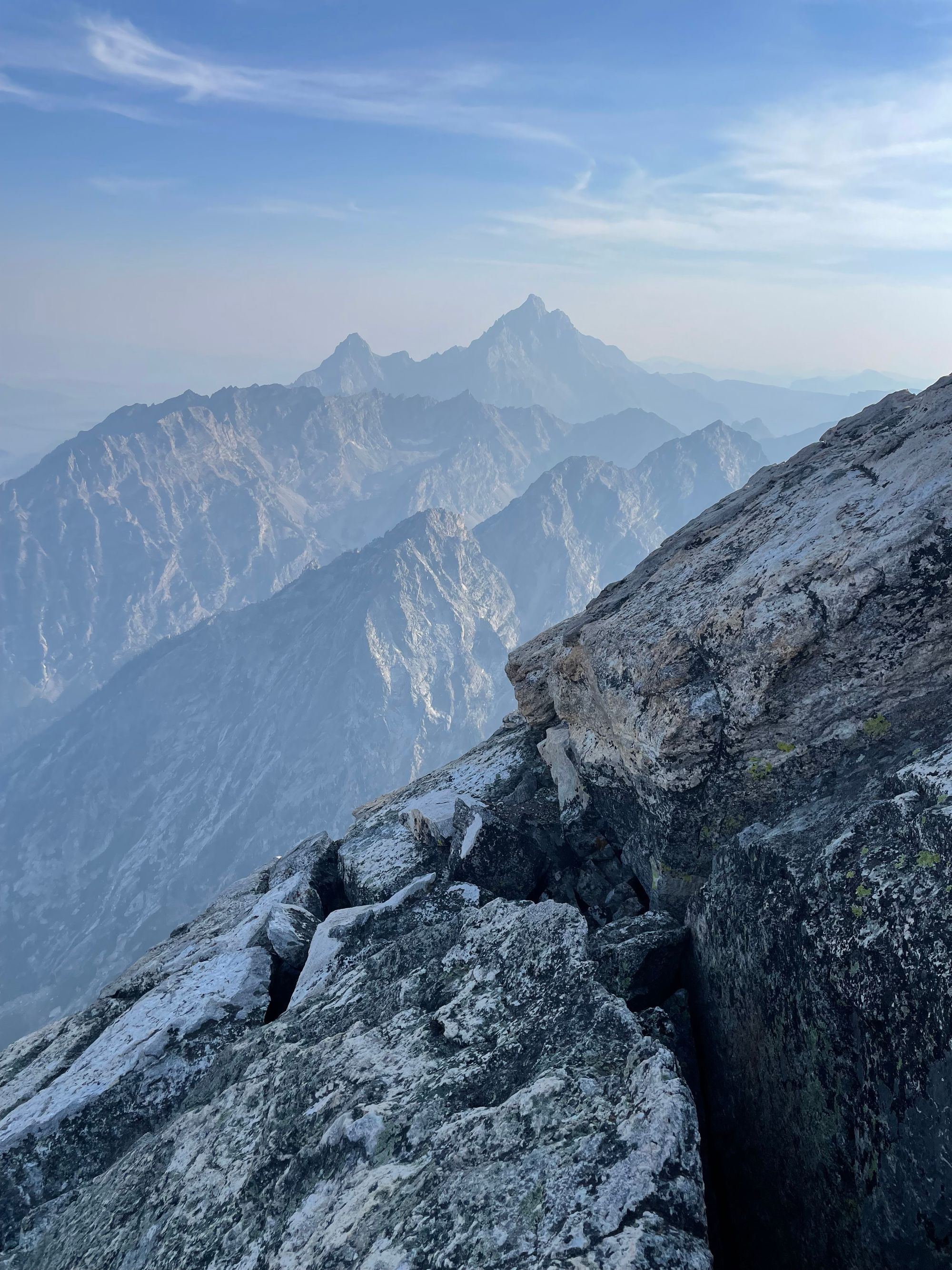 At the second rappel station, we decided to save time by double rappelling. My partner and I were a bit out of sync on our first rappel and I slipped a couple feet. My running shorts were an asset on the ascent, but a liability on a fall, leaving me with a nasty scrape. We synced our rappel and started rappelling again. Blood was dripping from the scrape, but it wasn't worth patching up. I blotted my leg with a red bandana at the next rappel station.
After a couple more double rappels, we landed back in the gully just past the wide ledge. It was 7:45pm and last light was approaching. We were on track to clear CMC Face, but would probably climb Drizzlepuss in the dark.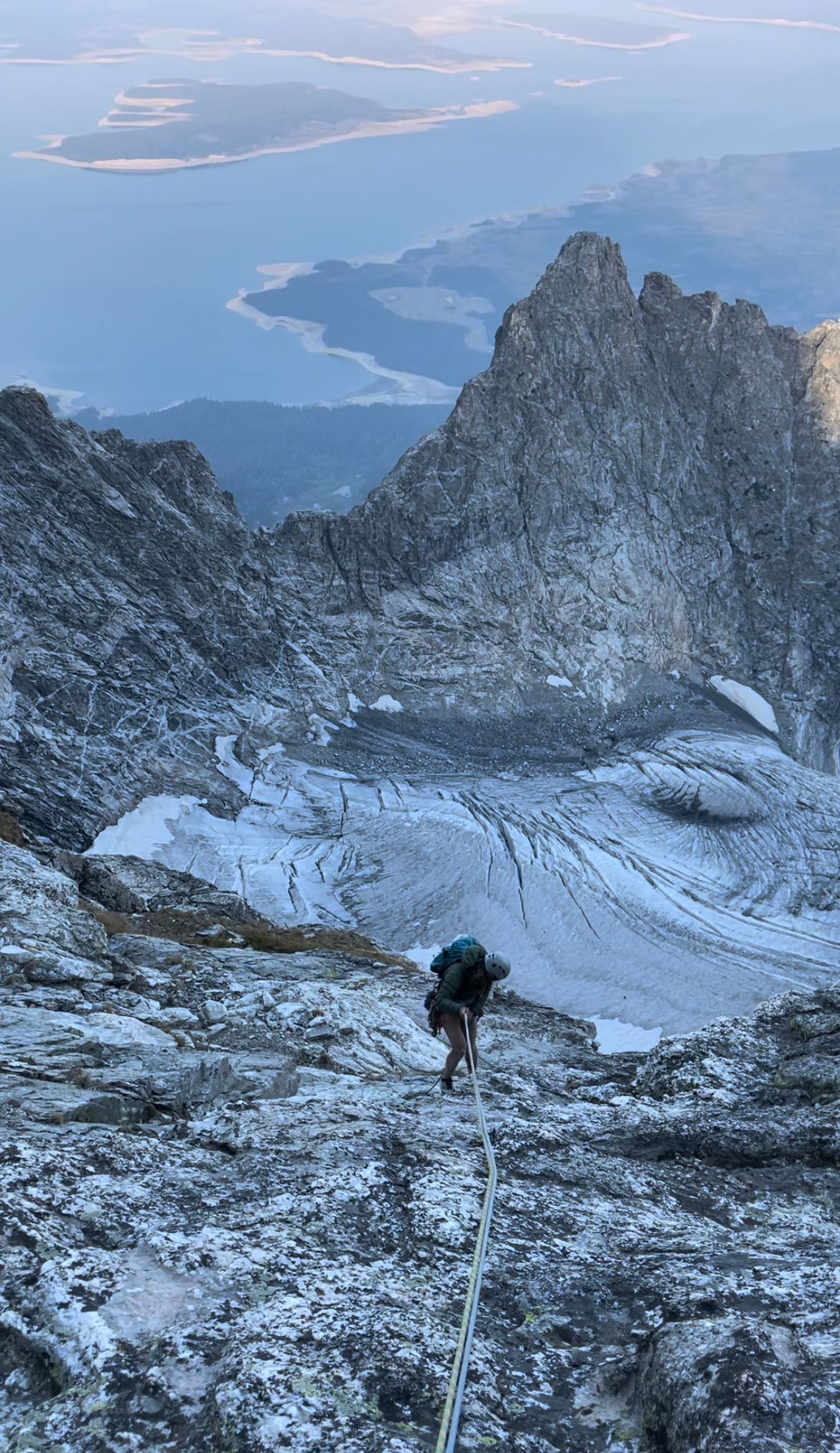 I coiled one of the ropes on my back. We needed one 60-meter rope for the final rappel into the notch and climb up Drizzlepuss. I caught up to the third member of our group rappelling into the notch. We used the permanent anchor we passed on the ascent. I clipped into my belay device and rappelled into the notch, absorbing the the last remnants of sunset over the Cathedral Group to the south.
In the notch, we debated climbing left through a chimney or right up a series of ledges. The group we passed earlier climbed left, which seemed to be the proper route. Drizzlepuss is rated 5.5, the crux of the CMC Face climb.
From the notch, we watched an orange moonrise over Jackson Hole. Some wildfire smoke rolled into the valley during the day.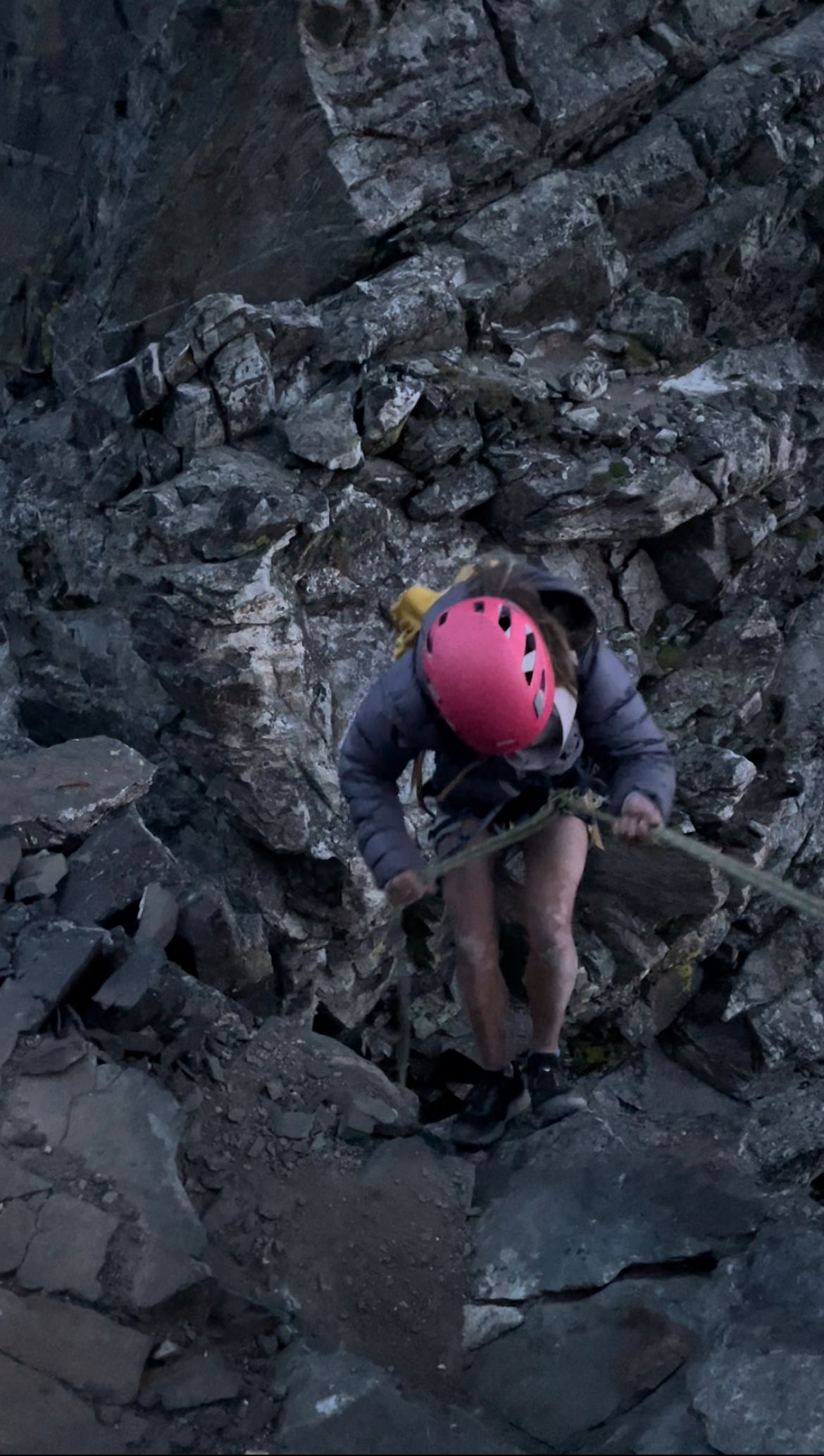 Drizzlepuss to Leigh Lake
At 8:15pm, Connor started on the chimney, placing a couple cams as he ascended. It was totally dark, so we relied on headlamps. He tackled a couple tricky pull-up moves at the start, then disappeared into the rocks above. We waited as he set up an anchor to belay the rest of the group. He used a third of the rope, so the climb would be about 60'.
He called down, and after some more debate on the route, we followed one-by-one. I tied into the end of the rope. The lead let out some slack after the second finished, so that I'd have enough.
My headlamp was dim, indicating low batteries. (My Black Diamond automatically shifts to power-save mode.) I tried replacement batteries, but they didn't seem to work. I surrendered to a dim headlamp for the climb.
The first few moves weren't as awkward as they looked from below. A brighter headlamp would've helped. I climbed up the chimney, then through a notch to a series of ledges, clearing cams along the way. The ledges had good hand/footholds.
By 9pm, we re-grouped at the top rappel station near our stashed water. No water pirates today. We packed ropes, harnesses and protection. I secured one of the ropes to my vest pack. I was able to bend the metal inside my battery compartment to create a better connection for replacement batteries. With a functioning headlamp, I was ready for the 5,000' hike down to Leigh Lake.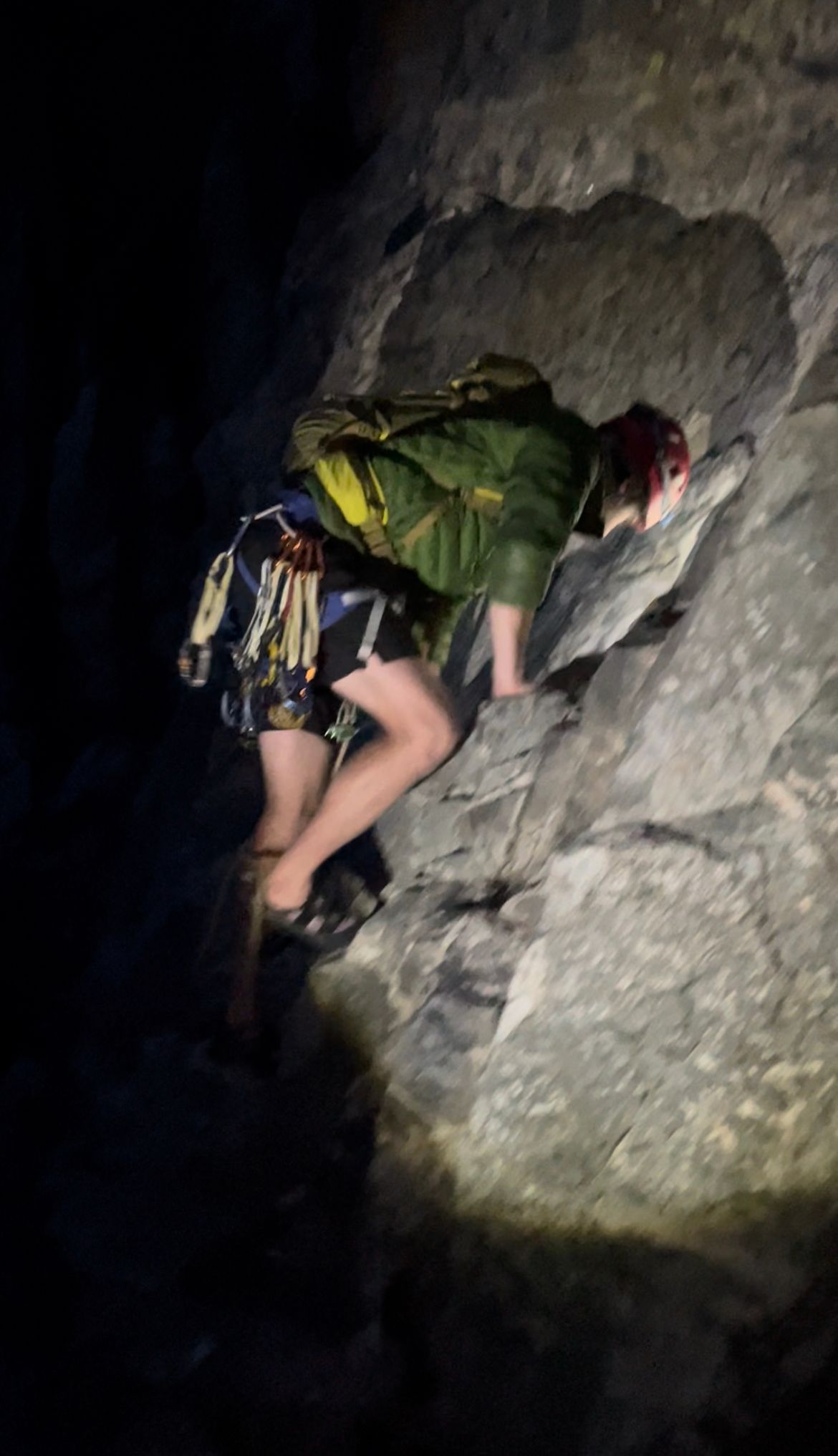 At 9:15pm, we cleared the final series of ledges up Drizzlepuss and started downclimbing. After more ledges, we started on switchbacks alongside the West Horn. The switchbacks were a mix of loose talus and scree, so we took our time. By 10pm, we reached a firmer section of trail. We downclimbed a couple stretches, making our way toward CMC Camp.
Below Drizzlepuss and out of the wind, it was warmer. The moon rose above the haze, lending us some light. We had to backtrack once above CMC Camp, returning to the ridgeline after a slight detour southwest.
At 10:30pm, we passed through CMC Camp, a bit envious of the sound-asleep campers. After 30 more minutes on the firm trail, we heard flowing water. Just after 11pm, we stumbled through a boulder field to the creek draining from Falling Ice Glacier. Finally, we could top up water.
After a quick breather and snack break, we started on the final ~1,500' to Leigh Lake. The trail along the creek was very loose. Someone slipped every 5 minutes. Leigh Lake sparkled in the moonlight below. Halfway down, the trail yielded to talus and boulders. Absent a trail or markers, we followed the creek, knowing our paddleboards were close to the drainage.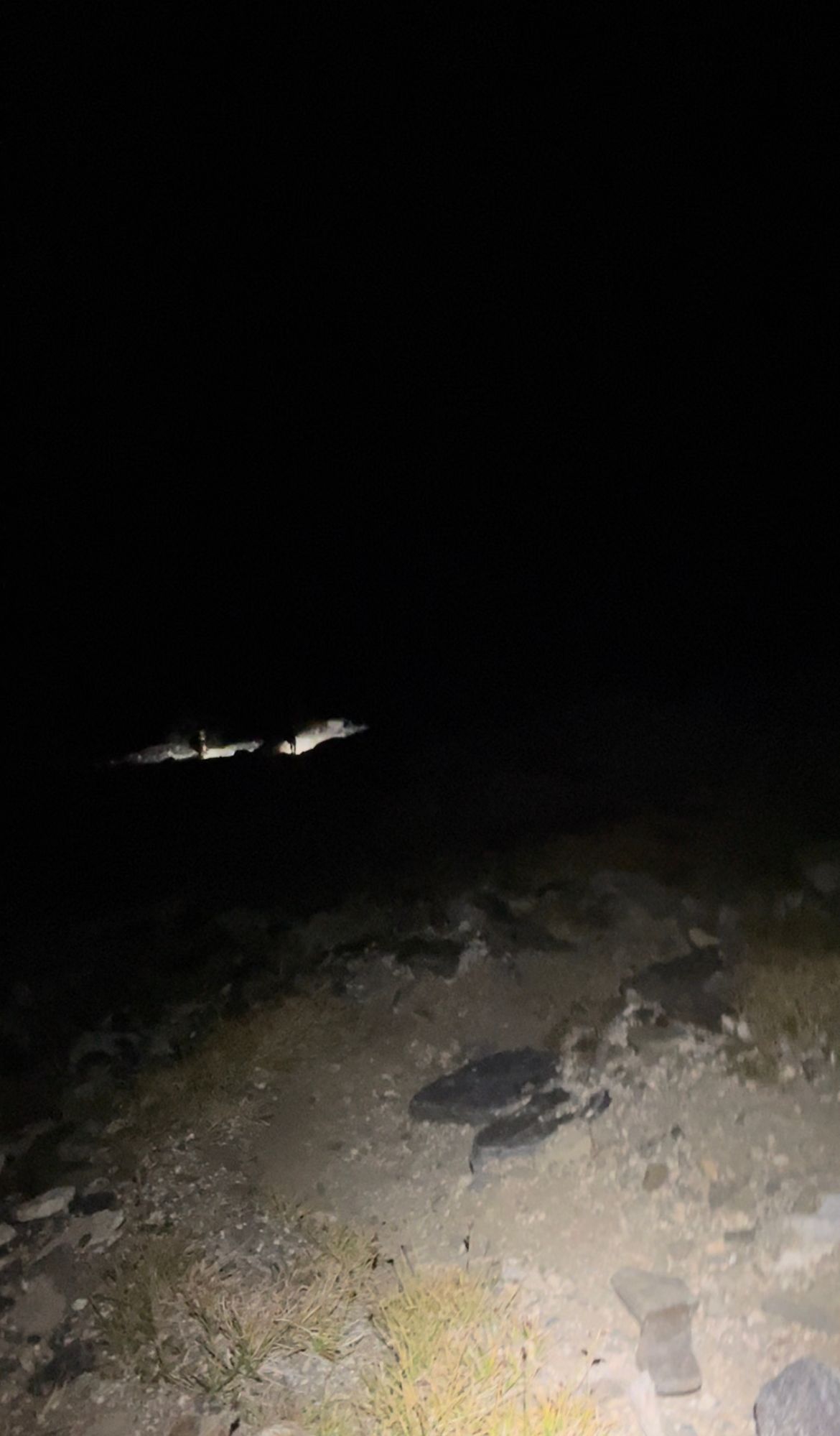 At times, brush was dense. I hoped we wouldn't surprise a grizzly. Water flowing and leaves rustling in the wind might mask our descent.
Nighttime Paddle
At midnight, we finally reached the shore, almost exactly where we stashed the boards. We reorganized, slipped gear into wet bags and pumped up the paddleboards. (We let out some air before leaving to prevent a rupture.) I was sweating from the descent, so I skipped my puffer despite dropping temperatures. Fatigue kicked in, so we ate the rest of our food.
By 12:30am, we set out onto Leigh Lake. An elk bugled in the distance. The lake shimmered in the moonlight. I soon regretted skipping the puffer, but didn't want to risk tipping the paddleboard by unpacking my wet bag. Toward the end of our paddle, I was shivering with a mild cold response.
We pulled up to the south bank of Leigh Lake at ~1:20am and dragged the paddleboards up to the portage. Still barefoot, I carried the paddleboard 150 yards to String Lake and assumed paddle duty. It wasn't worth stopping to add layers. String Lake was a short paddle.
This time, we avoided walking the paddleboard by staying left at the bend, where I suspected the water would be deeper. The air temperature kept dropping and I felt slightly nauseous, so my partner took over.
At 2am, we finally pulled up to the beach just below the parking area. We carried the board up to the cars. In the parking lot, I beelined for dry layers and fresh socks/shoes in my truck. I slipped into my puffer. Within a few minutes, I defeated the cold response. We deflated and loaded the paddleboards. As we worked, an owl hooted from a nearby pine.
I tossed gear into the back of my truck and cranked up the heat. I ate some rice crackers, took a few gulps of water and drove south to Jackson.
At 3am, I jumped into a hot shower, disinfected the scrape on my thigh and passed out. We finally conquered Moran, but it took its pound of flesh.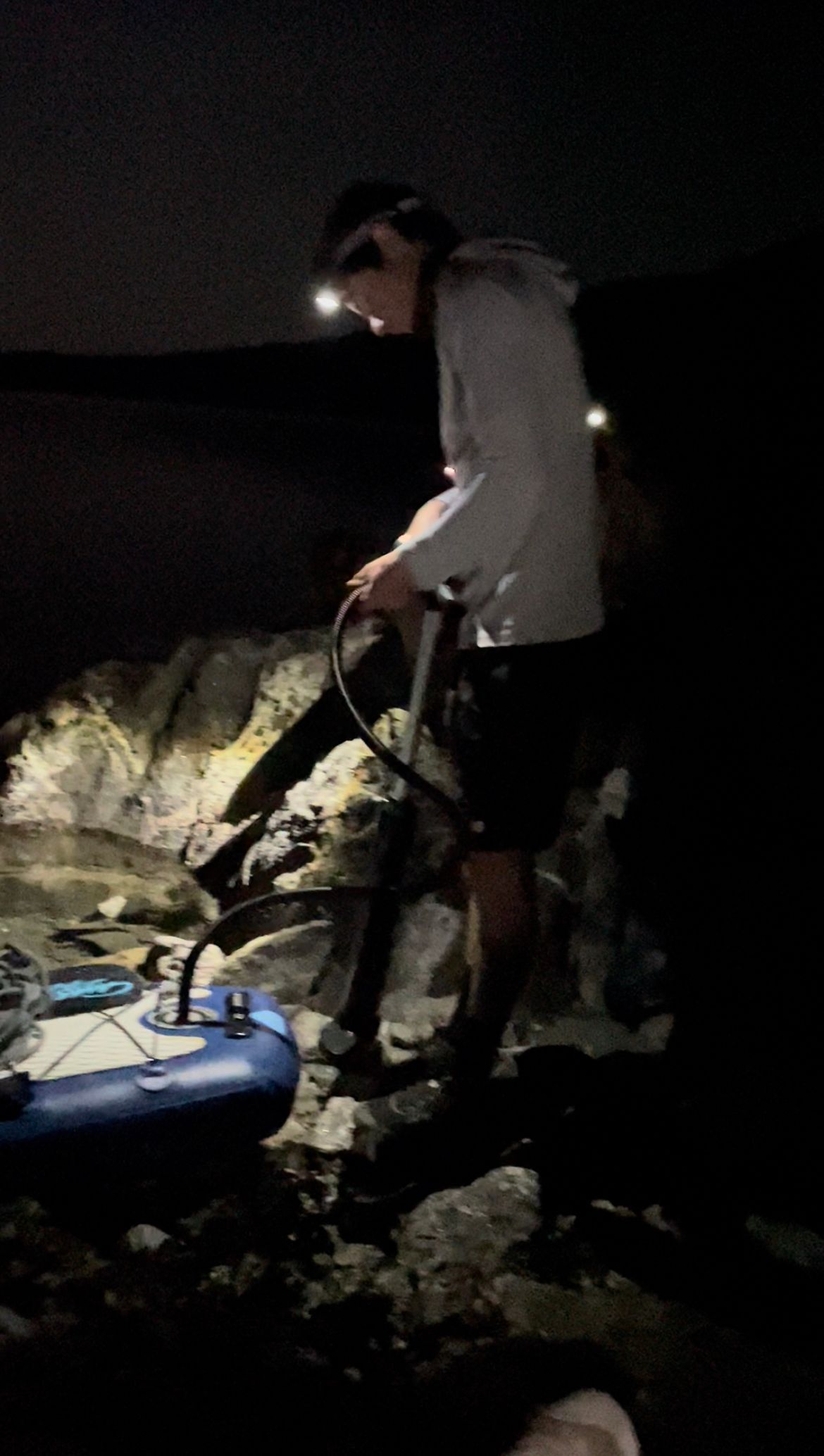 Next Up for Mt. Moran
Skillet ski ascent/descent take two (trip report from turning back 1,000' short in April 2022)
Moranic (CMC Face) and/or Moronic (NE Ridge) triathlons