Teton Crest Trail in a Day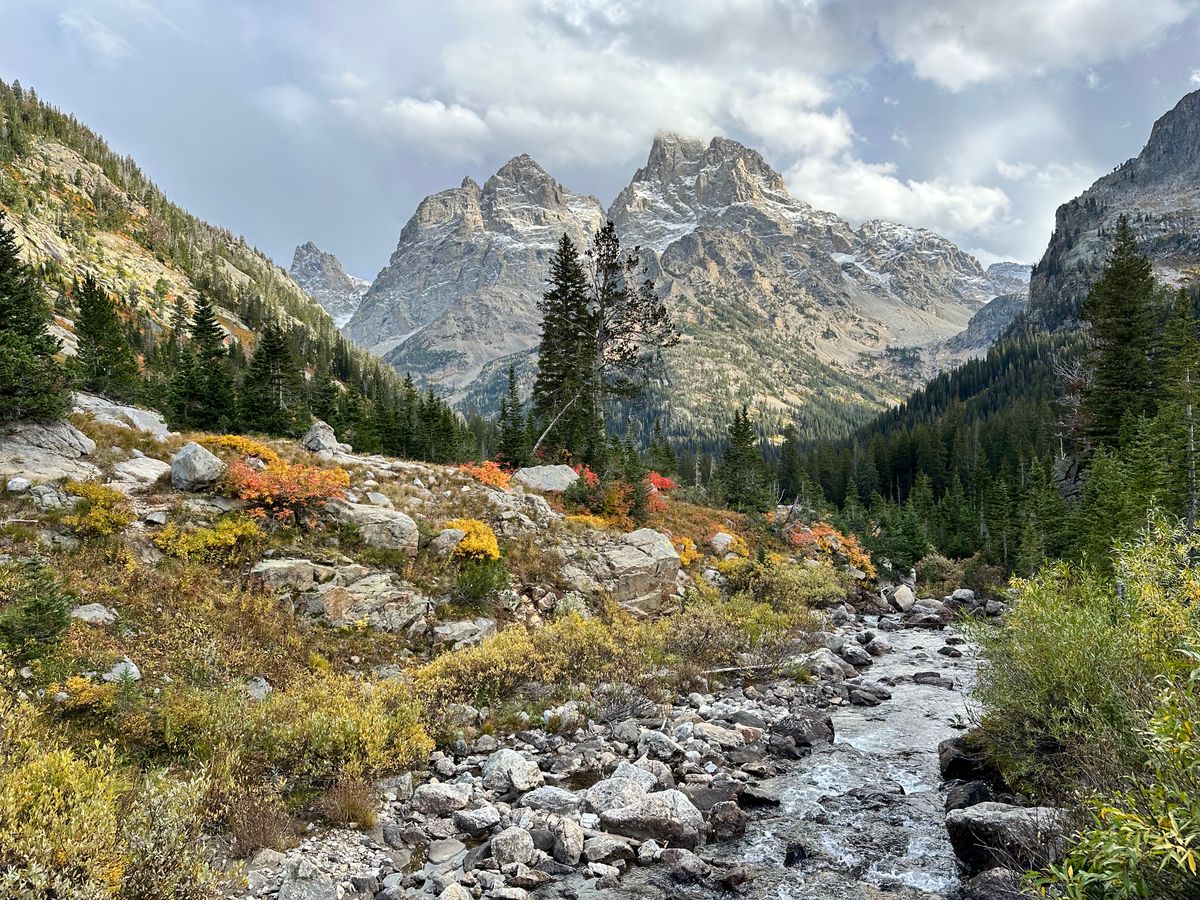 Thursday, September 28, 2023:
39 miles / ~9K' vertical of trails through the center of the Tetons.
South to North variation, starting at Philips Bench Trailhead (Teton Pass) and finishing at String Lake.
Ran + hiked in 12.5 hours (9am-9:30pm), more than my optimistic 10-hour target, but that's what inconsistent training gets me.
Highlights: Marion Lake, Death Canyon Shelf, Schoolroom Glacier, South Fork Cascade Canyon and Paintbrush Divide.
Note: I may get commissions for purchases from links in this post.
Background
Summer 2023 was one of the wettest on record in the Tetons. In July, I made a long adventure wish list, a mix endurance and climbing efforts. Come September, I barely put a dent in that list.
On the 18th, we finally tackled a big climbing objective. Pingora's East Face is an 11-pitch, 5.7 climb in the Wind River Range. Our top climbing objective was the Grand Traverse, eluding us due to ice / snow build up. Pingora was a good alternative to test multi-pitch trad limits.
By then, endurance challenges like the Moranic triathlon or Gannet Peak were off-the-table (or at least tough to justify) with snow / ice accumulation and cold nights. My endurance objectives the prior summer included the Grand Teton Picnic and Jackson Hole Marathon. That marathon was the furthest I'd ever run, leaving me with inflamed knees / legs for almost a month.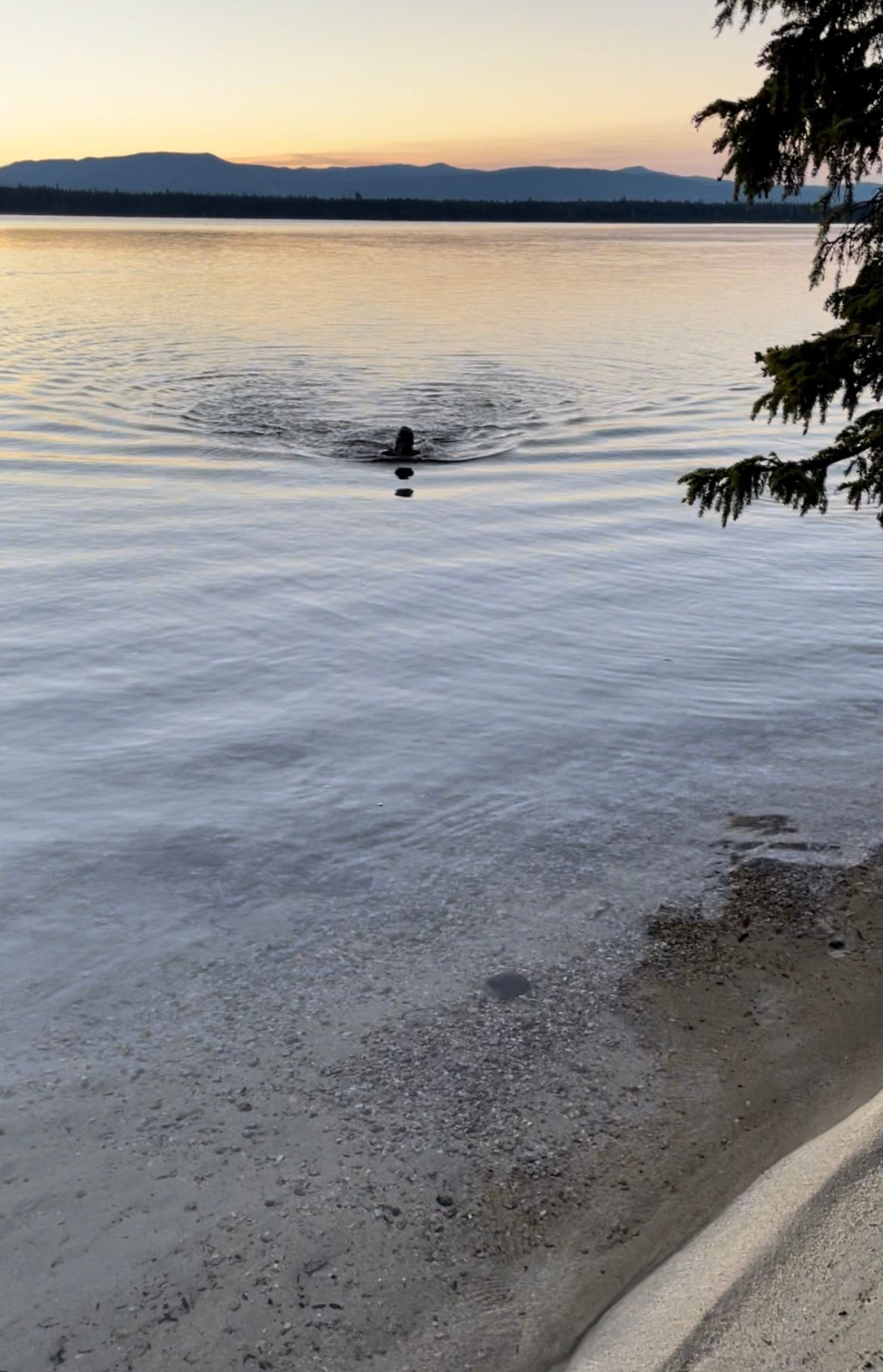 I wanted to push my distance limit in summer 2023, but trained very inconsistently. I can count my trail runs on one hand. But I figured ~39 miles of trail running on Teton Crest Trail (or TCT) wouldn't do too much damage. In each season I tackle a few burly objectives, skiing Grand Teton's Ford-Stettner route and Mt. Williamson most recently before Pingora. Endurance seems to compound, and with each season, my body can handle a bit more, even without much training.
TCT is a highly-regarded route that punches through some lesser-seen parts of the Tetons. I've explored at length the Cathedral Group / Mt. Moran in the Park and Mt. Glory and Taylor Mtn. on Teton Pass. But I never ventured into the vastness between, areas like Philips Bench, Death Canyon Shelf and Alaska Basin.
A couple storms hit the Tetons after Pingora. Snow dotted north-facing aspects at elevation. TCT peaks just below ~11K' on Paintbrush Divide, so it's fair game pretty late into the fall.
I figured after a few more storms, the north-facing switchbacks after Paintbrush might make TCT more trouble than it's worth. So, spotting a clear weather window at the end of the month, I pulled the trigger.
Preparation
Compared to other mountaineering adventures (check out the running list), TCT gear was easy. No ice tools, ropes, helmet, skis, etc. Maintaining a faster pace, I'd need more calories than usual – I'd target 300 calories per hour.
Gear and calories:
15L REI vest pack
Hoka Speedgoat (great for trails, less so for scrambles)
Calories: Goldfish (cheddar + pretzels), Fig bars, Pro bars, Clif Bloks, Gu gels, nut-butter packets, fruit snacks and a few other bars, plus a cold brew and popcorn stashed in my truck at String Lake
Water: Katadyn 1L filtered water bottle, 0.5L running water bottle (refilled with Katadyn) and Pedialyte electrolyte packets
Layers: Under Armour top, running shorts, sun hoodie, windbreaker, extra wool socks and a ball cap
Emergency / other gear: LED headlamp, first-aid kit, moleskins, tourniquet, fire-starter, lighter, space blankets, handwarmers and ibuprofen
Wednesday afternoon, a friend helped shuttle my truck to the String Lake parking area. A morning drop-off on Teton Pass was easier than an uncertain evening pick-up in the Park. We detoured for sunset moose watching and a near-full moon rise on the drive back to town.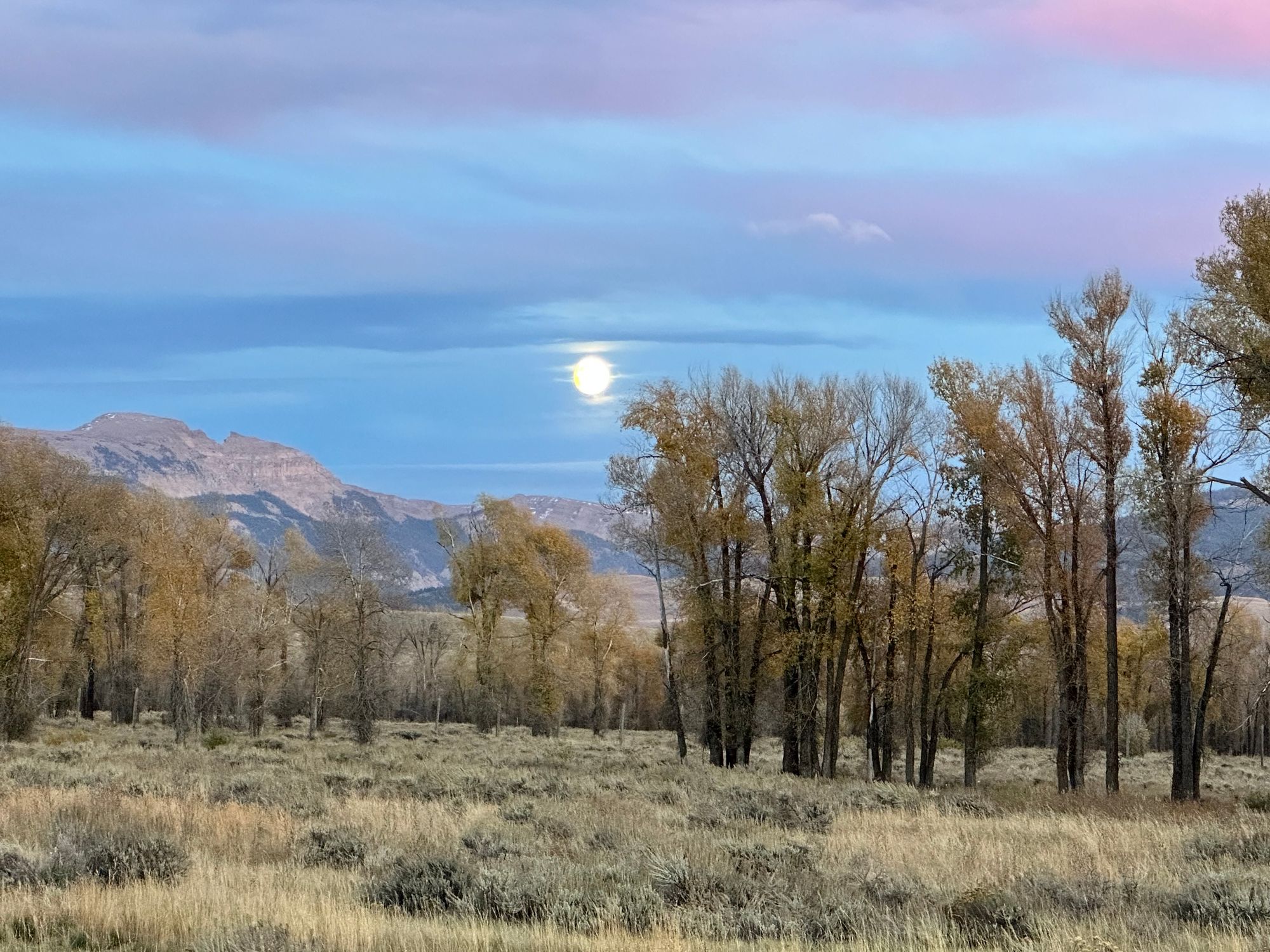 The next morning, a friend dropped me off at Teton Pass. I originally planned on 8am, but we were delayed until 9am. On the way, I scarfed down a breakfast burrito, Gatorade, coffee and banana. I also picked up some extra Fig bars from Alberstons. We passed a line of cars heading to Jackson, the daily rush-hour commute from Teton Valley, ID.
Teton Crest Trail
Late Start: Philips Bench to Marion Lake
Like most September mornings, the air was chilly, maybe 40 degrees. I would start with running shorts, an Under Armour top and a sun hoodie. I wore a sweater for the drive that I'd leave behind. The forecast projected mid-60Fs in the valley and mostly clear skies, so I minimized layers to save weight.
After taking a couple last bites of a breakfast of champions, I stepped out of the car, tossed the vest pack over my shoulders and crossed the highway. In the first 15 minutes, I passed a few dog-walkers on Old Pass Road, then turned left onto the trail, traversing hills overlooking traffic on Teton Pass.
It was 9am at 8K'.
I skied Mt. Glory dozens of times, sometimes traversing past the trailhead to reach a second car shuttle. But it was my first time exploring the Philips Bench trail. I traversed through pines and firs, a couple aspen groves, leaves bright yellow.
Near the Ski Lake junction, I passed a three hikers, turning right toward Philips Pass. I alternated between jogging and hiking, aiming for 15 minute/mile pace to hit my 10-hour target.
At three miles, I stopped for water at a creek, ditching my Under Armour top. The trail weaved west through meadows before Philips Pass. I stepped over black bear scat, filled with huckleberry pits. Meadows were shades of brown and yellow, reflecting below-freezing overnight lows. Green pines and yellow aspens covered north-facing slopes around me. I spotted Taylor Mtn. to my southwest, another favorite for backcountry skiing of the Pass.
By 10am, I cleared Philips Pass, passing another hiker. The trail turned north, traversing the western foothills of Rendezvous Peak.
30 minutes later, at mile five and 9.5K', I reached the first downhill segment, losing ~1.5K' over the next mile and a half into Moose Creek Basin. Despite the name, I didn't see any wildlife, barring the occasional songbird or squirrel.
After the descent, a series of switchbacks climbed to the first National Park boundary marker. Off Teton Pass, I started in Bridger-Teton National Forest, surrounding Grand Teton to the south and east. Later I'd exit again (briefly) into Caribou Targhee National Forest, bordering Grand Teton to the west and north.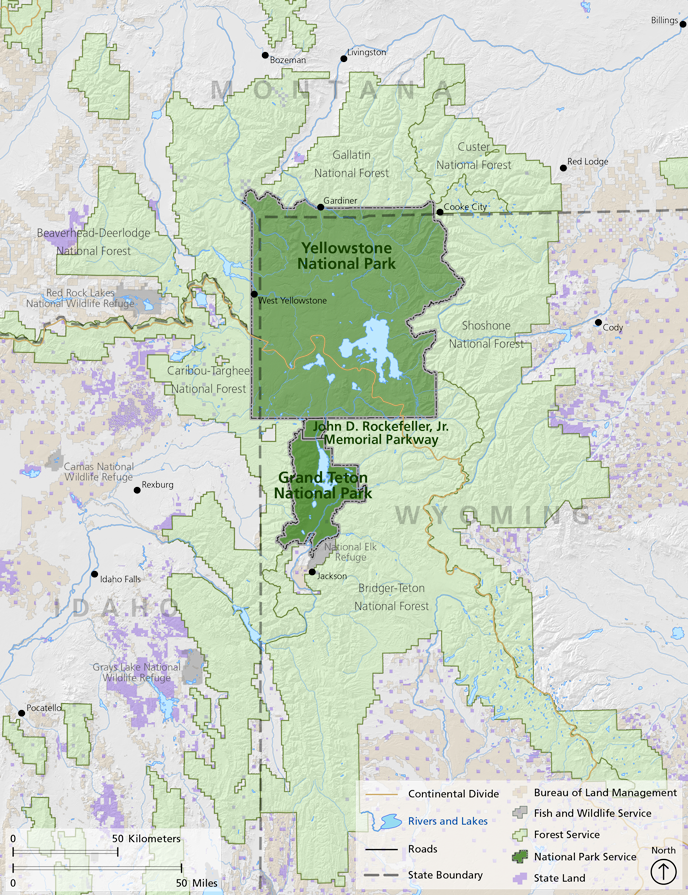 I refilled again at Middle Fork Granite Creek and switched to lighter socks. My feet sweated in the heavier wool socks. 29 miles ahead, I didn't want to risk hot spots.
The trail weaved through meadows and pines, then a large boulder field beneath Housetop Mountain. A final set of switchbacks led me to Marion Lake, the first highlight of the day and a popular stopping point for backpackers.
It was noon at 10.5 miles / 9.2K'. I was 30 minutes behind schedule.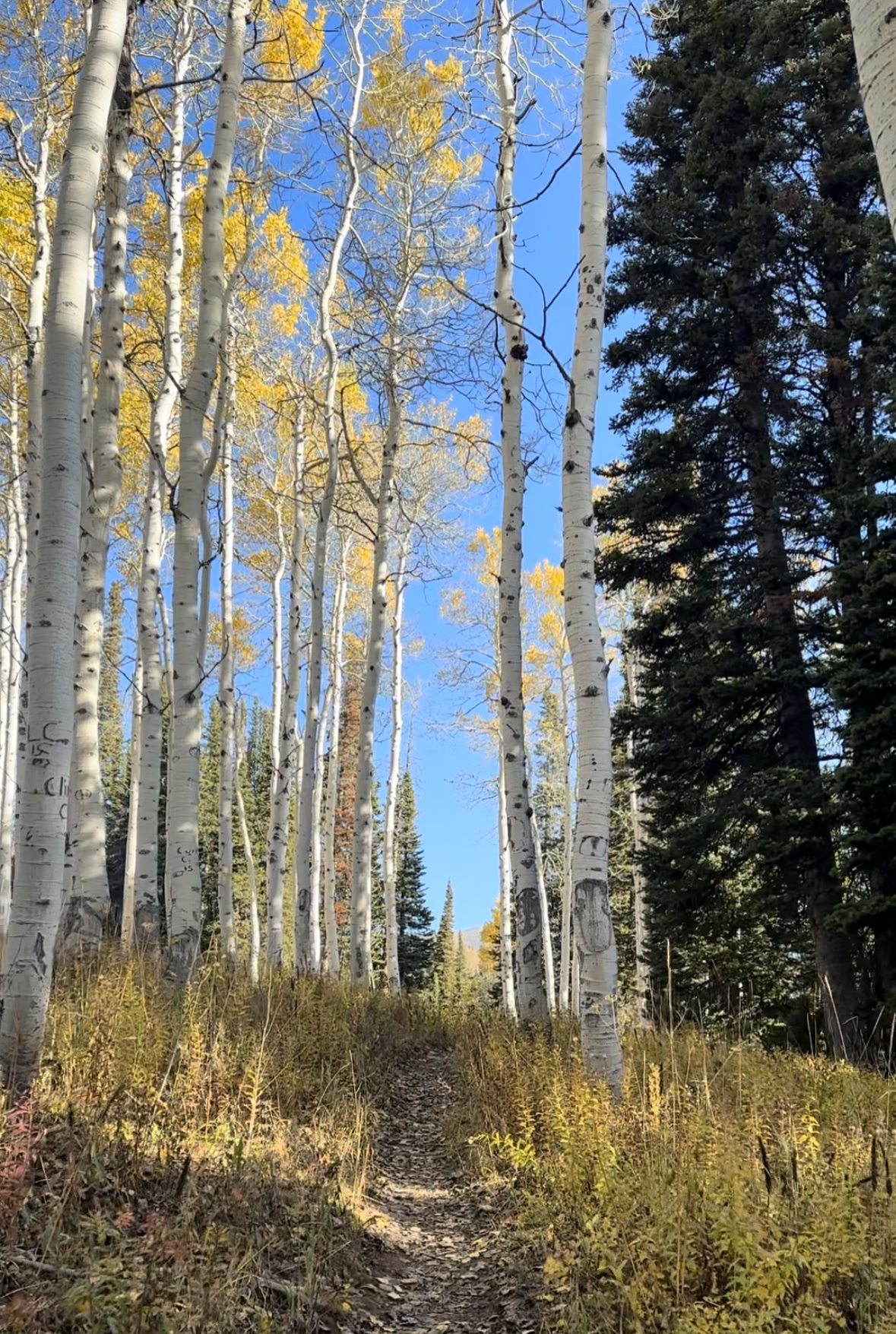 Slowing to a walk, I rotated some bars to the front of my vest pack and wrappers to a Ziplock in my pack. I minimized stops, instead eating during walking segments. I'd continue that system through the day.
Getting Good: Fox Creek Pass and Death Canyon Shelf
As I climbed the trail up to Fox Creek Pass, for the first time, Grand Teton emerged to the north. Slightly northwest, cliffs below Fossil Mtn. marked the start of the Death Canyon Shelf. To the east, Jackson Hole's tram station stood out from the horizon near the top of Rendezvous Mtn.
I ran with just my thoughts up to this point. Getting restless, I started Walter Isaacson's Elon Musk on Audible, which dropped in early September.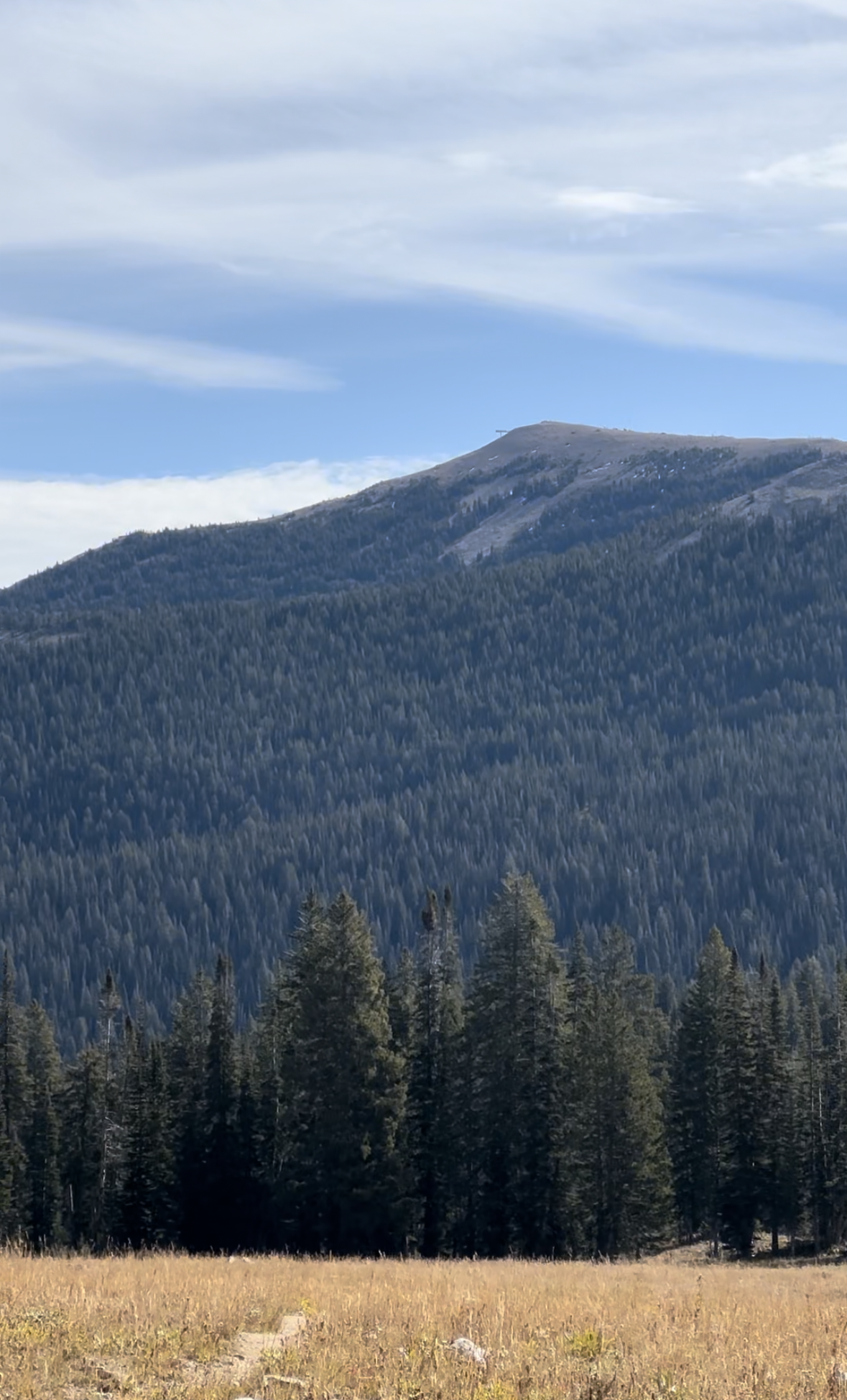 By 12:30pm, I cleared Fox Creek Pass, passing a couple backpackers headed south. Above Marion Lake, vegetation thinned in the exposed alpine. Fresh snow covered the north-facing cliffs to the southeast. I passed a small alpine pond, surface partially frozen from overnight lows.
At 12:40pm, I turned left to ascend Death Canyon Shelf, beneath the cliffs guarding Fossil Mtn. To the right, the trail led to Death Canyon.
Looking behind me, I could see a couple more Jackson Hole chairlifts, probably Apres Vous and Teton, not to mention Granite Canyon to their north. Granite hosts some of the resort's best side-country chutes and couloirs, followed by two miles of side-stepping and skating to get back to groomed slopes.
The Death Canyon Shelf stretched on for ~four miles, from mile 13 to 17. I refilled water at 1pm and slowed to a walk on uphills to shove fig bars down my throat. From Marion Lake to Hurricane Pass the route climbed steadily uphill, gradually and with plenty of rolling features that prompted light jogs.
As I ascended the shelf, Death Canyon emerged to my right, guarded by Prospectors to the south and Albright to the north. Phelps Lake was just below the canyon, but out of view. A pair of hikers passed, headed south.
I crossed an eroded rock feature resembling natural cobblestones and a field filled with house-sized boulders, once dislodging from the cliffs above.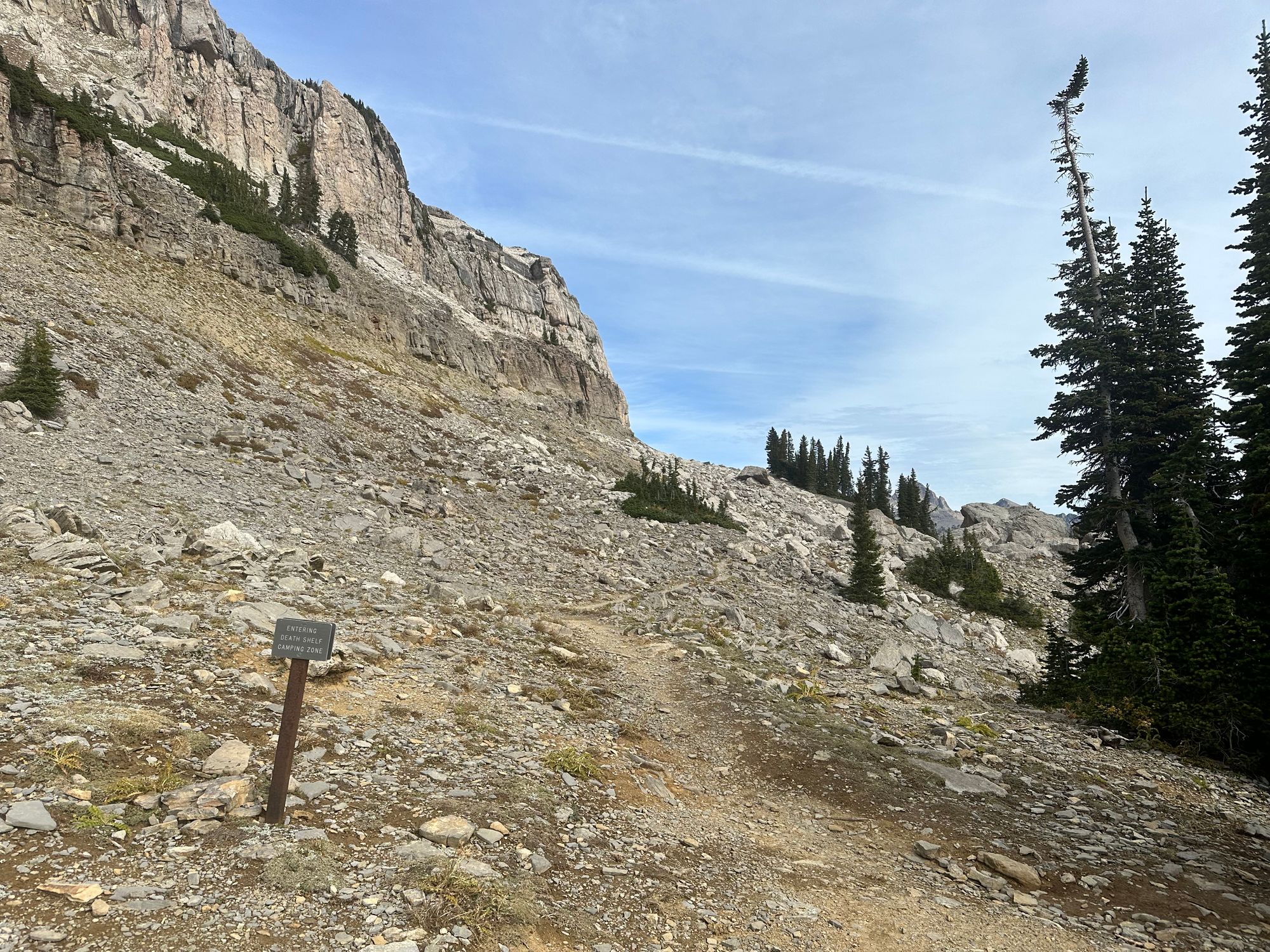 At 1:45pm, I reached Mt. Meek Pass and the first on-trail snow behind cliffs guarding the switchbacks into Alaska Basin. After jogging the switchbacks into Alaska Basin, I pulled out my best snack of the day, Extra Cheddar + Pretzel Goldfish, then refilled water.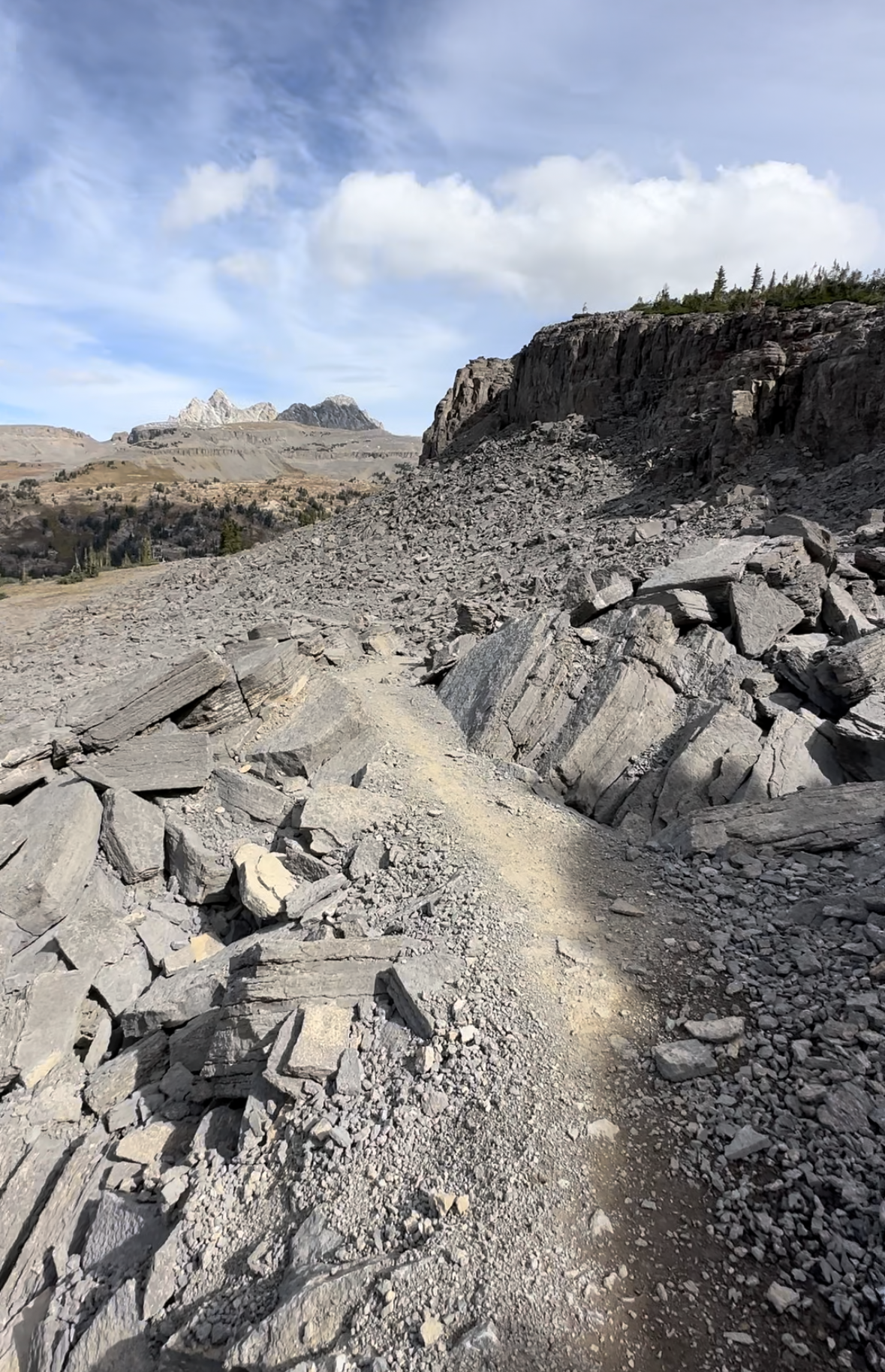 Slowing Down: Alaska Basin to South-Fork Cascade
My legs and feet held up to mile 17. But I could feel cramping on the horizon if I didn't manage calories and electrolytes. I added Pedialyte powder to my 0.5L bottle. I felt some pain on the top of my feet. In retrospect, loosening the laces might've helped. Instead, I popped a couple ibuprofen.
Alaska Basin was another highlight of the route. Buck Mtn. towered overhead to the east, and to the north, the ridgeline leading to Veiled / Wister. Scattered pines, boulders and granite slabs filled the horseshoe formed by the peaks. Water flowed west into South Fork Teton Creek to Teton Valley, ID, a few thousand feet below.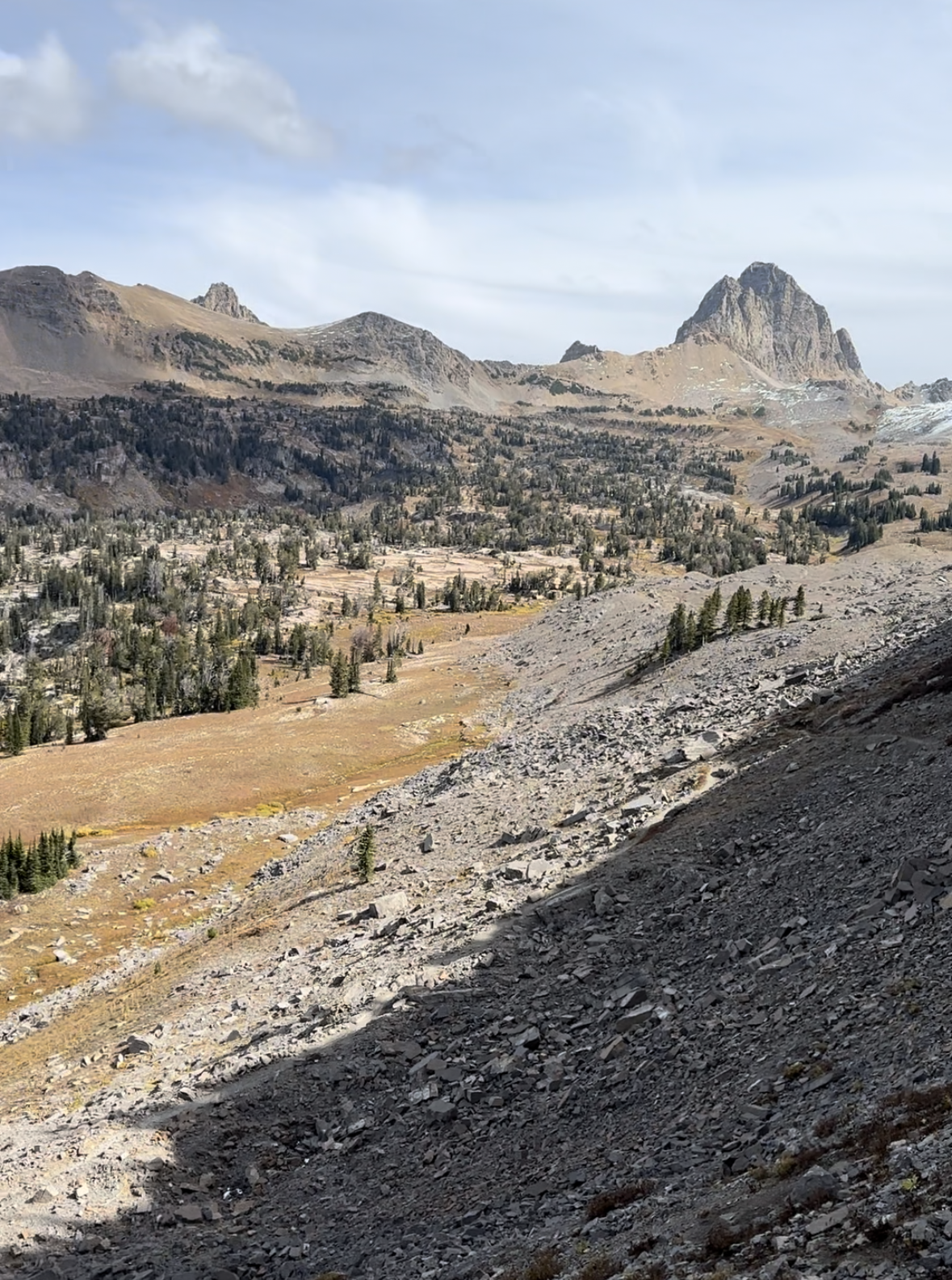 I walked most of the basin. Musk's PayPal ousting played over my headphones, as I inhaled cheddar + pretzel Goldfish. I followed the trail east, then west to switchbacks climbing over the basin's north ridge.
At 2:30pm, I escaped the basin, now descending to Sunset Lake. A group of backpackers sat near its runoff. They asked, "which way to Cascade Canyon?"
Looking north, I spotted a far-off trail leading over Hurricane Pass. In a mile and a half, I'd gain a final ~900' before a lengthy descent through South Fork Cascade Canyon. I jogged a portion of the trail near Sunset Lake, then hiked. I was deep into SpaceX trials by then.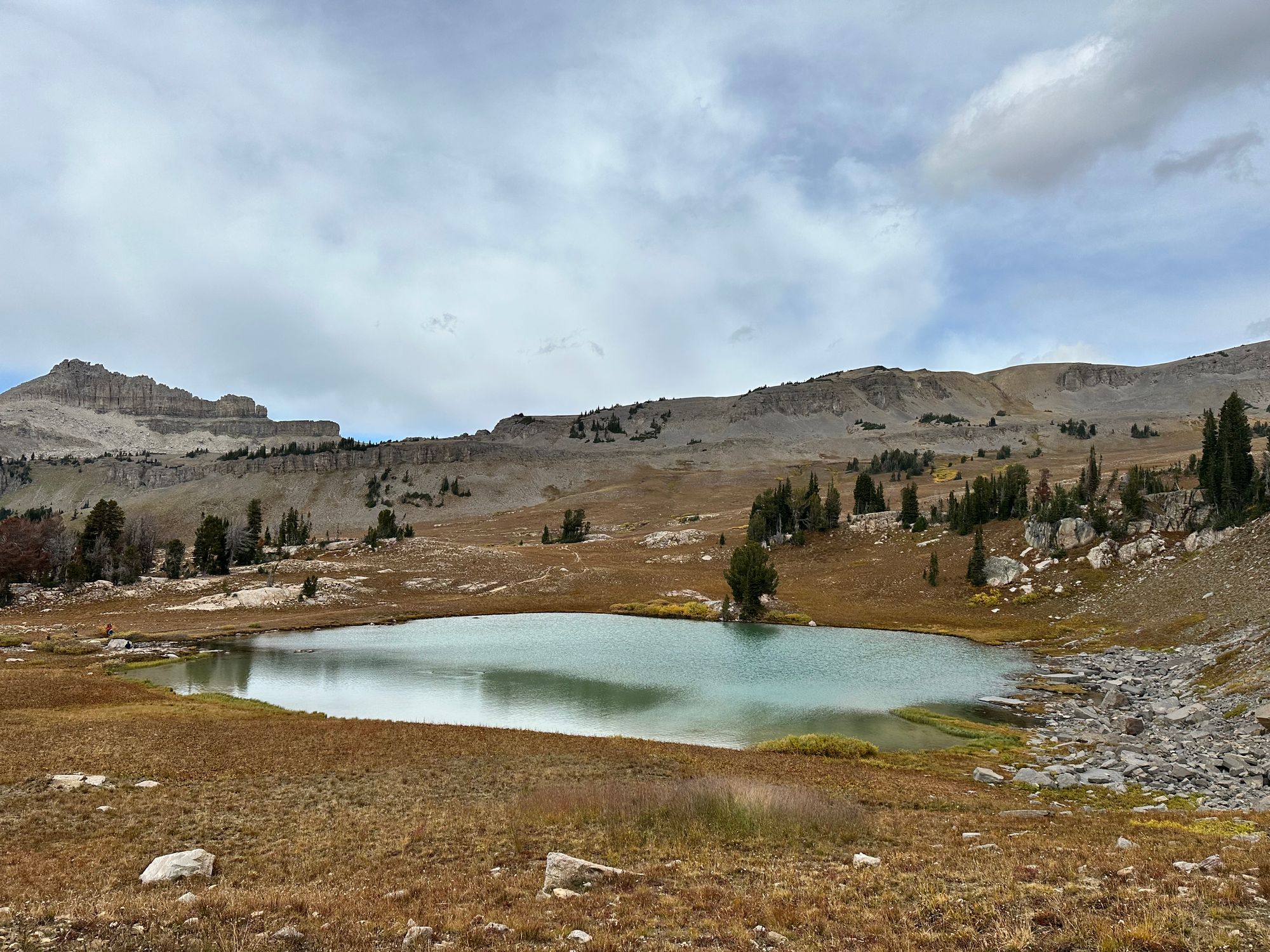 After a meandering ascent, one water refill and some switchbacks through the cliffs, I reached a gradual, final ascent. To the west, I spotted the new Peaked Mtn. terrain at Grand Targhee, plus Table Mtn., my first winter summit in 2022. The Cathedral Group reemerged on the horizon and the wind howled.
Just after 3:20pm, I reached the top of Hurricane Pass at 10.5K'. I held my hood with one hand to keep the wind from ripping out my Airpods. I contemplated adding a layer, but kept moving.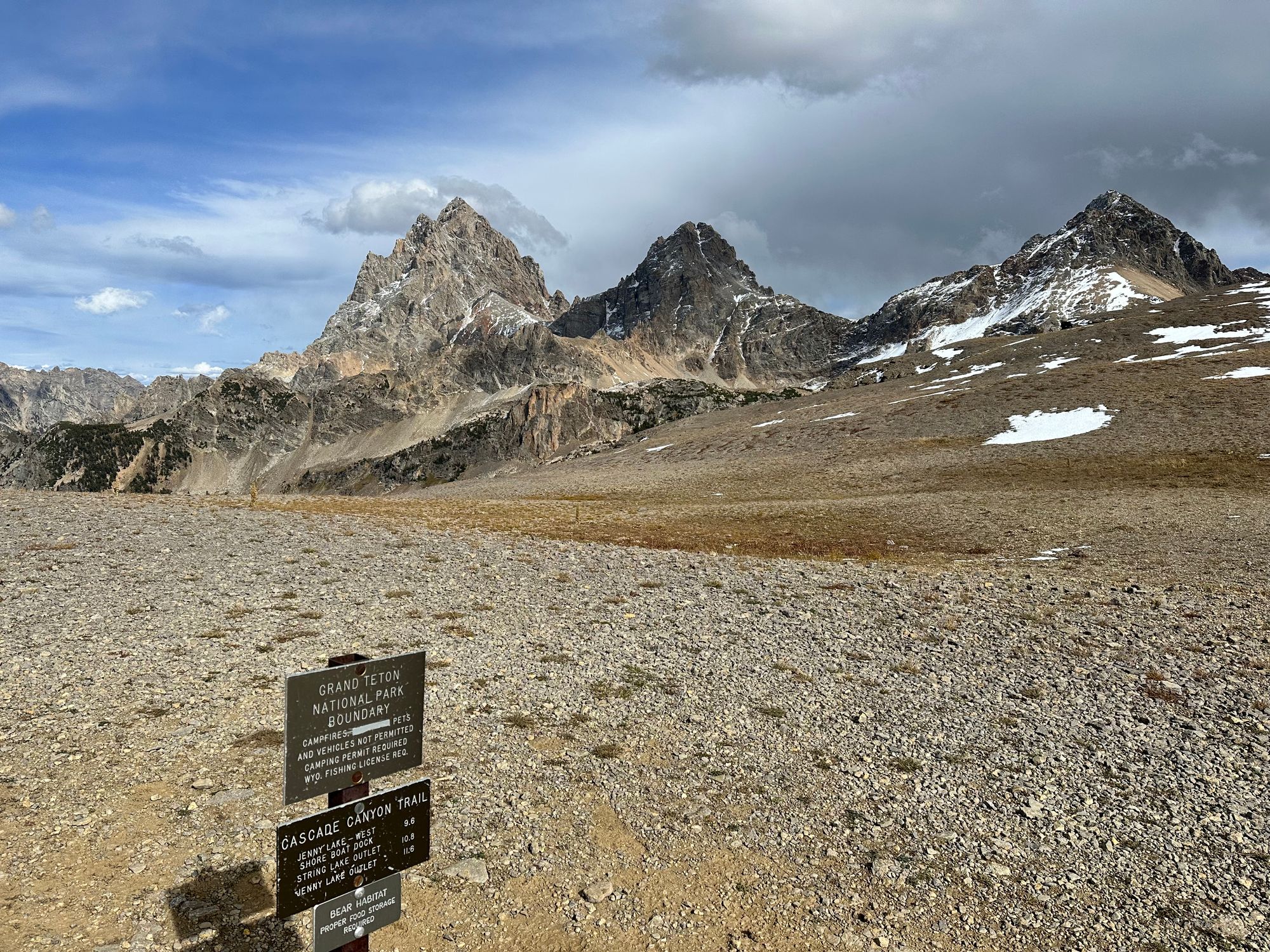 Once down the first couple switchbacks, I found enough shelter to pause for Schoolroom Glacier and its prominent moraine. South Fork Cascade Canyon extended to the north.
The small, receding glacier and a tiny glacial lake hid beneath the cliffs immediately below Hurricane Pass. I've never seen a smaller, more concentrated glacial lake and moraine, a 30' dam holding back the late-season runoff.
To the east, Grand, Middle and South Teton towered overhead. Grand Teton's summit stood at least 4,o00' above the trail. Wispy clouds floated overhead. Yellow shrubs filled the foreground.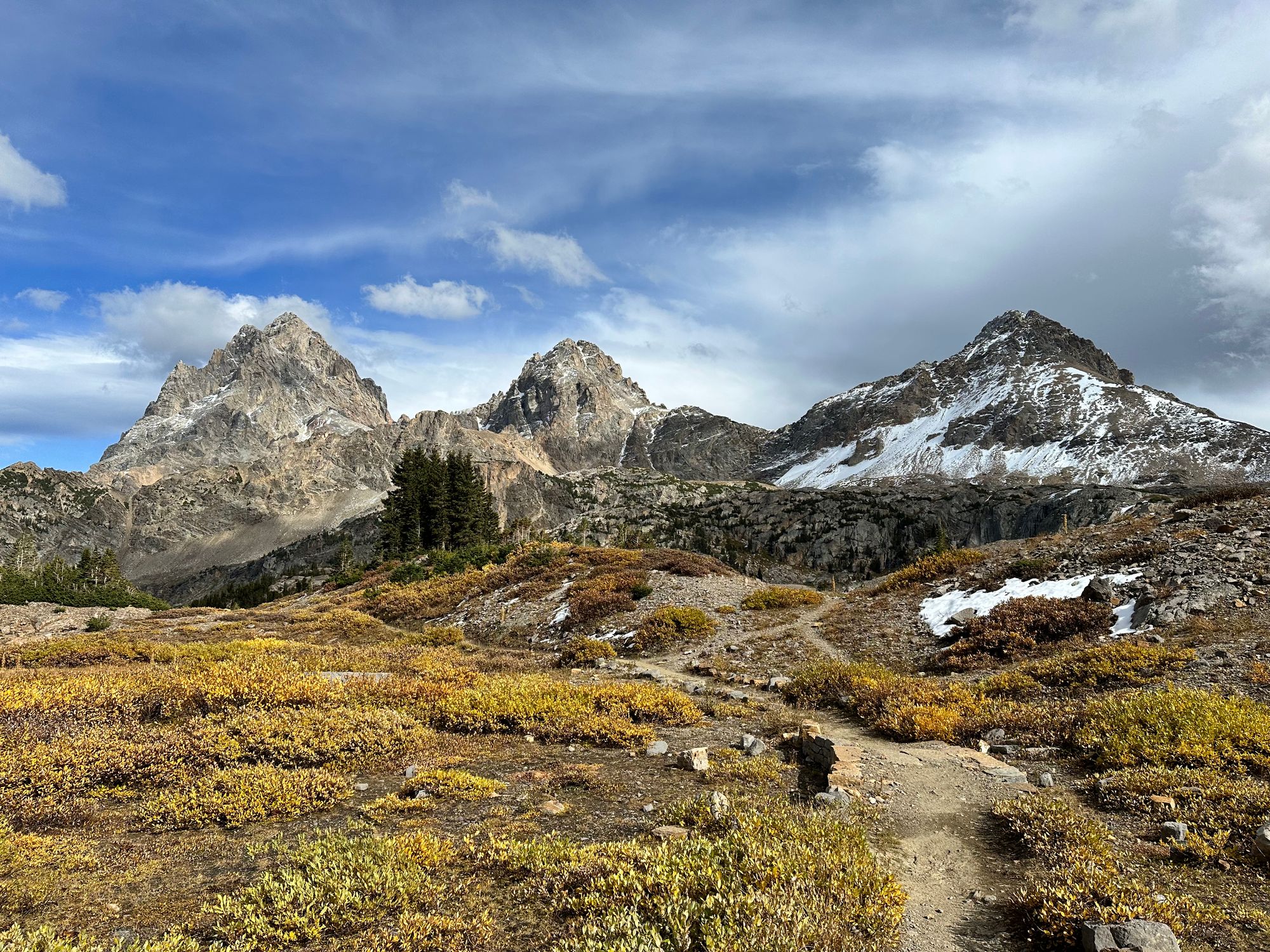 My foot pain increased as I jogged downhill. With the exception of a couple walking breaks to refuel, I maintained a slow jog to make up time. The trail would drop ~2,500' from Hurricane Pass to the Cascade Canyon junction. Then I had one final climb to Paintbrush Divide.
I passed another group of backpackers ascending South Fork. The trail weaved through pines and firs, South Fork Cascade Creek raging below. I paused to refill at a tributary flowing off Table Mtn.
As I jogged, I pondered timing and my feet. At the junction, I could turn right, following a 9-mile descent to String Lake. It wasn't much shorter than continuing 13 miles on TCT, but I'd skip almost 3K' of elevation gain.
I deferred the decision and learned about Tesla factory optimizations.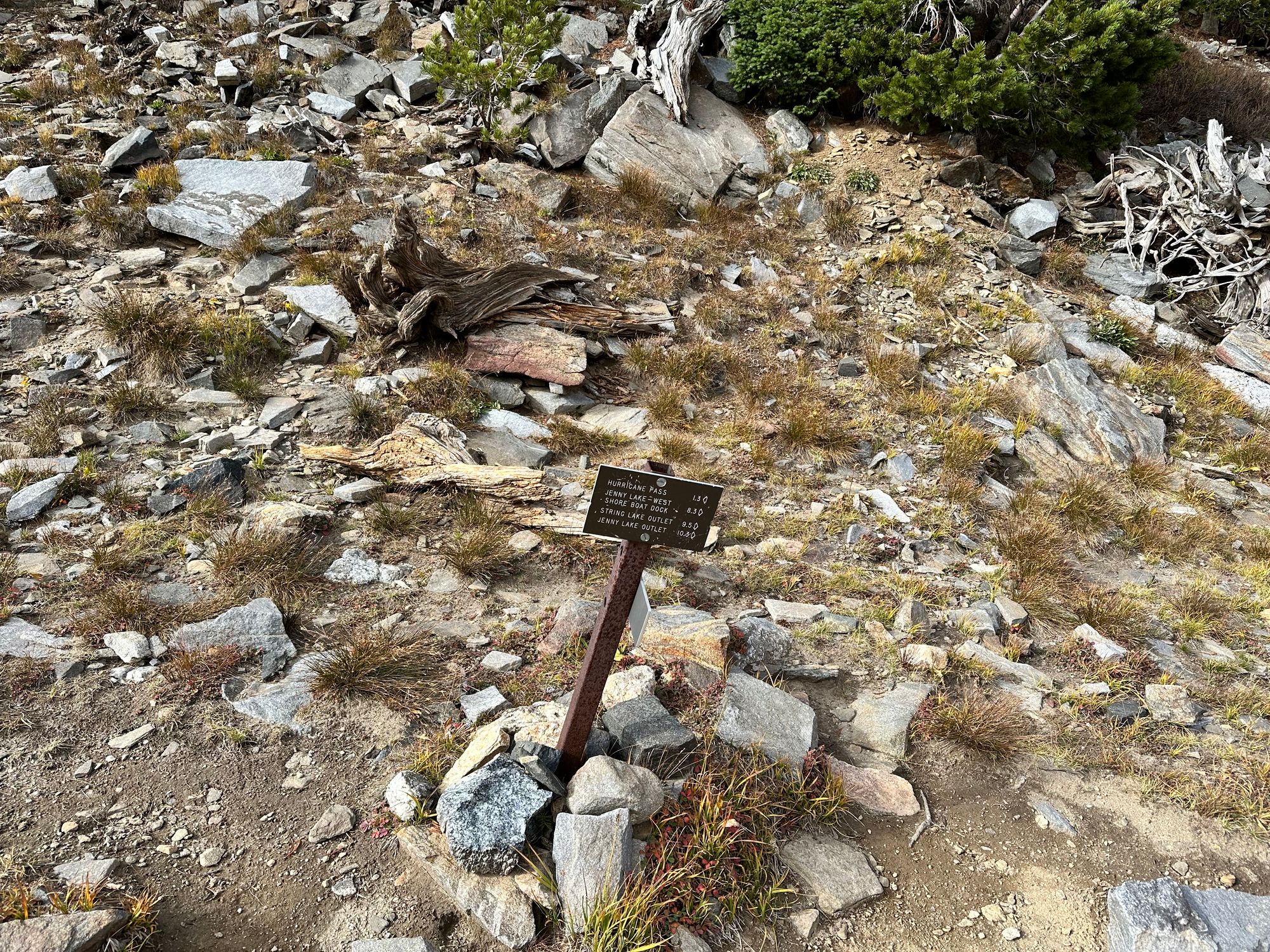 Decision Point: North-Fork Cascade to Paintbrush Divide
At 5pm, I reached the junction and a dilemma. My feet were screaming and my legs weren't feeling much better. Inconsistent training caught up with me. I ate a Pro bar and a few Gu gels, then drank some electrolyte mix.
After a few minutes, I said, "screw it." I had travelled 26 miles and figured the extra four wouldn't kill me. At my pace, I bit more vertical shouldn't be too big of a factor. I was right, but in retrospect, underestimated the pounding my feet would take on the final jog through Paintbrush Canyon.
I popped two more ibuprofen and hiked into North Fork Cascade Canyon. I passed one hiker, asking if I was headed to Lake Solitude. I said, "Paintbrush," to which he replied, "yikes, good luck."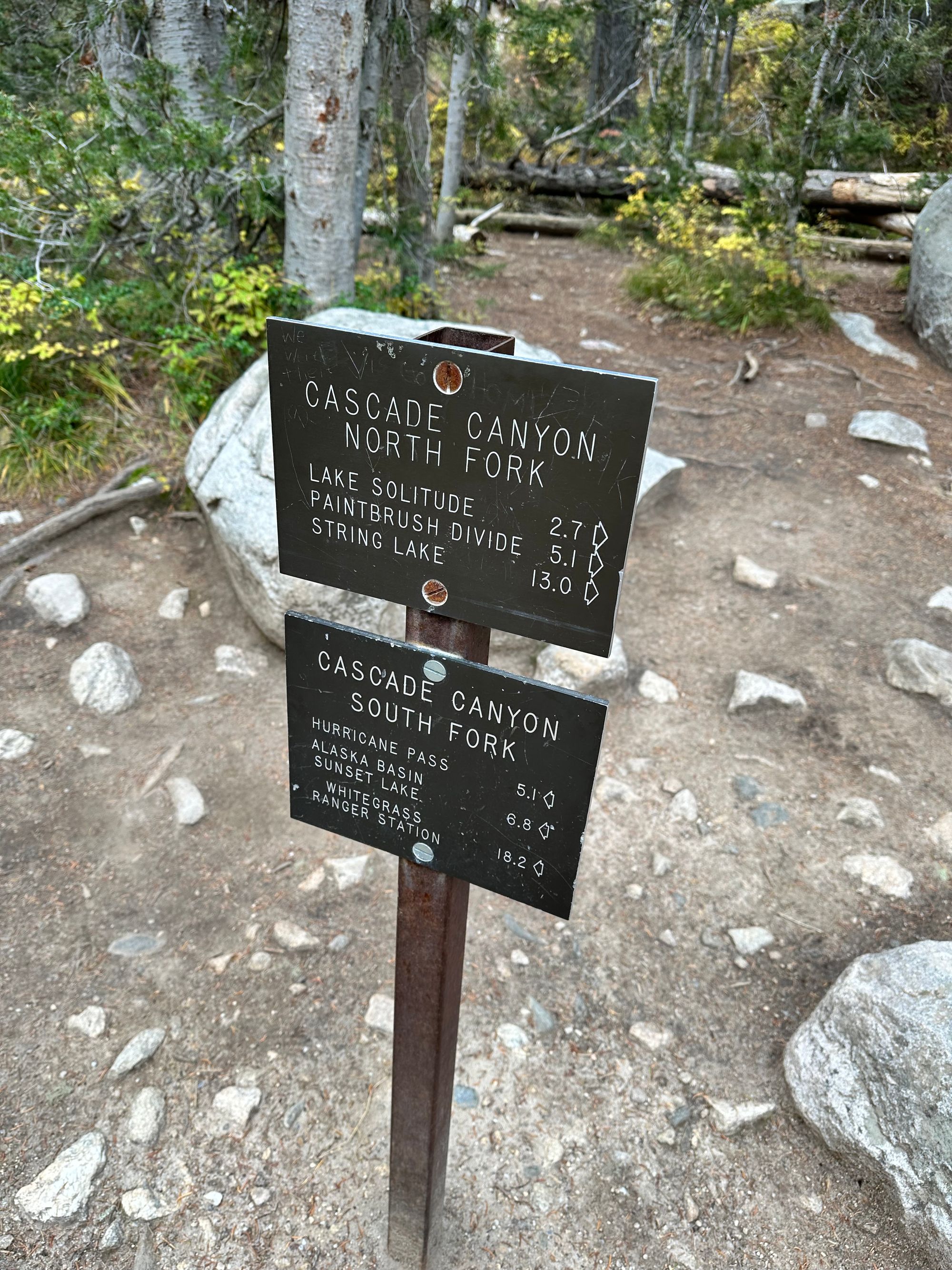 Aside from Schoolroom Glacier, North Fork Cascade Canyon was my TCT highlight. Yellow and orange dotted the canyon floors and ridges. Looking behind me to the east, clouds rolled over Mt. Owen and the Grand. I paused on a bridge to capture the view, North Fork Cascade Creek flowing beneath.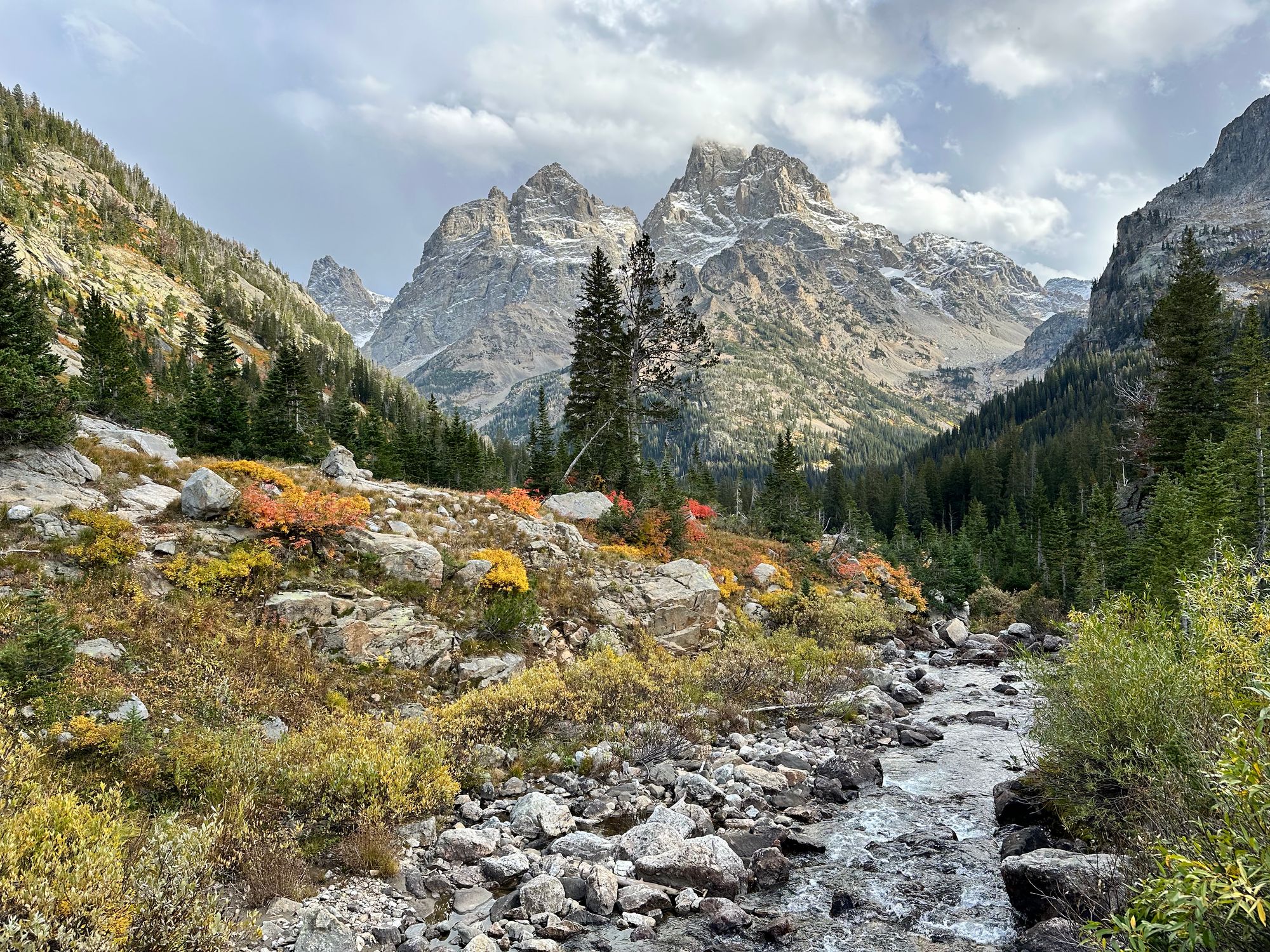 As I approached Lake Solitude, I spotted a trail climbing to Paintbrush Divide, a subtle break in the south-facing slopes to my north.
At 6pm, I passed Lake Solitude. The last time I did so was July 2021, when I led a bachelor party on an 18-mile hike from String Lake. I moved a bit faster on this visit, stopping for a picture, but not detouring for an alpine dip. The clouds thickened, just in time for the high-point of TCT. No thunder at least.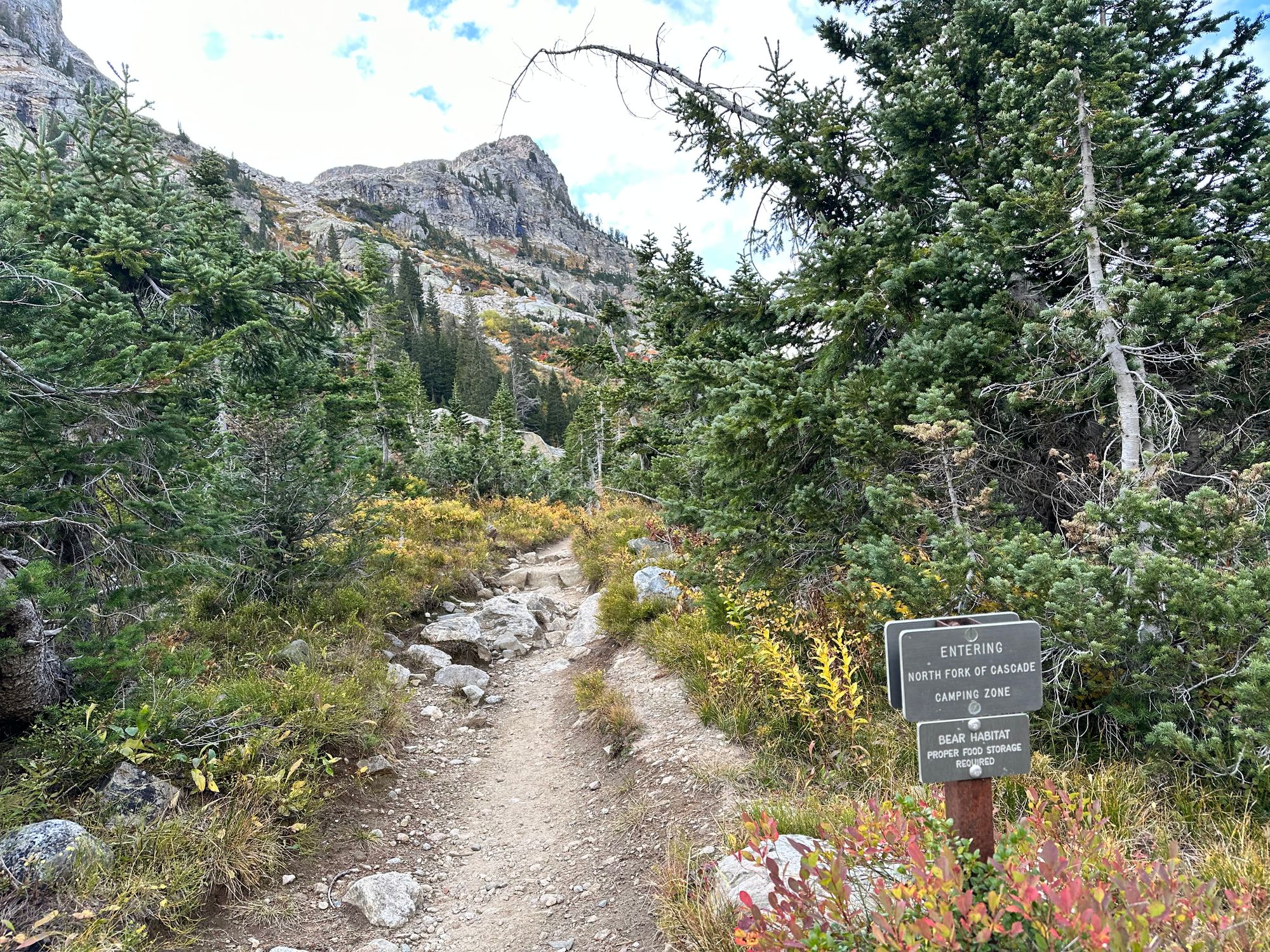 I turned right at the lake, now facing east, for a final ascent to Paintbrush Divide. A hiker passed on descent, asking me the distance to the junction. A pika scurried over a boulder below us. As I climbed, I saw scattered rain to the south. It also seemed to be raining (maybe even snowing) on the Grand.
From Lake Solitude, I'd ascend ~two miles and ~1.6K', following a long traverse east, then a few shorter switchbacks. Snow flurries fell as I neared the top. Wind ripped over the ridgeline and temperatures dropped with the sun. I took cover briefly to trade my sun hoodie for a base layer and windbreaker, sliding sleeves over my hands to avoid losing sensation.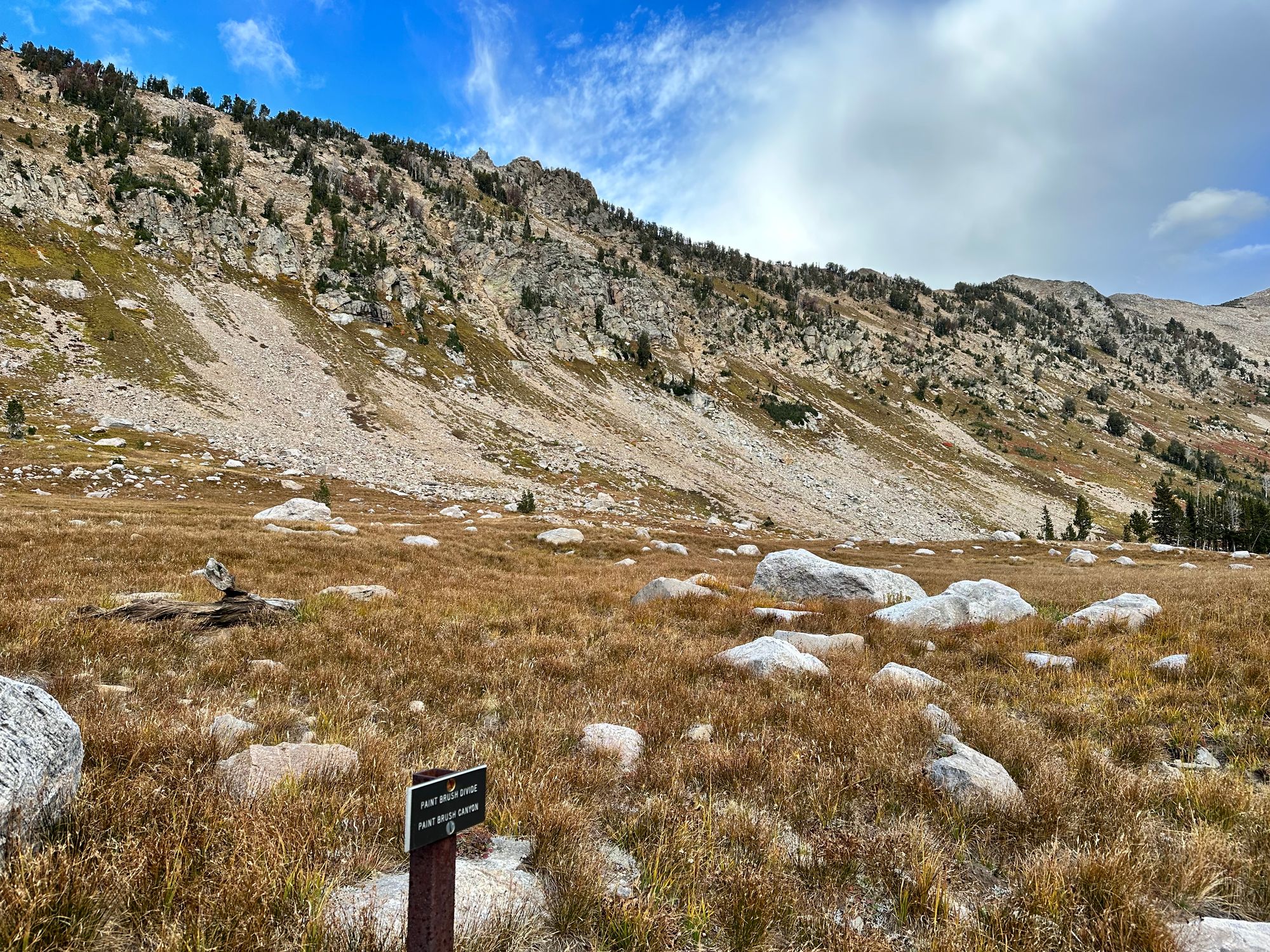 By 6:50pm, I reached the top of Paintbrush Divide. Looking behind me to the west, the sun lit the horizon bright yellow beneath a thick layer of gray clouds.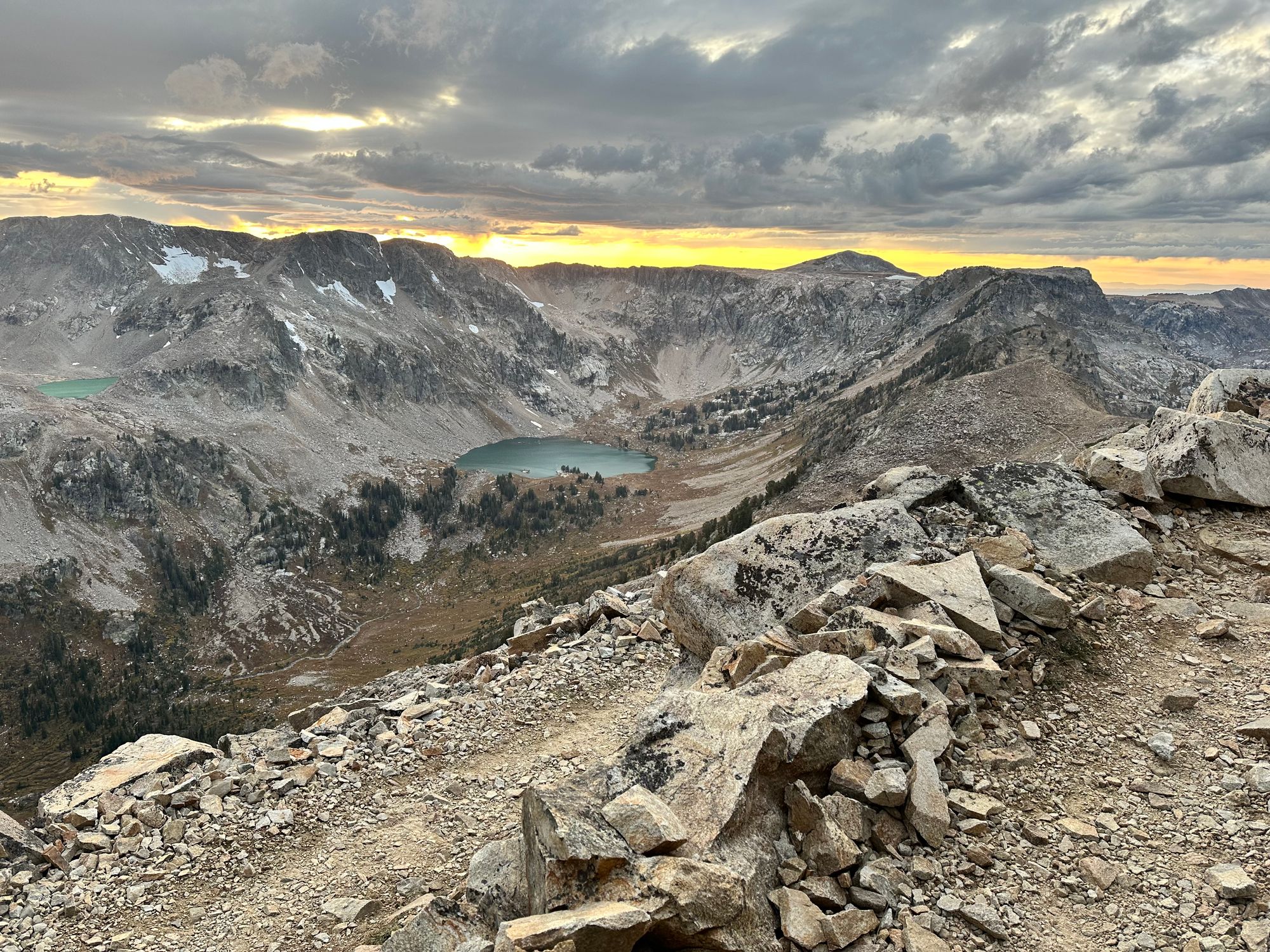 As I descended, the setting sun reached summits of surrounding peaks, at first matching the light yellow horizon, then shifting to a dark orange. Sunset from Paintbrush Divide was the last highlight of the day (aside from reaching my truck), tempered only by the frigid winds.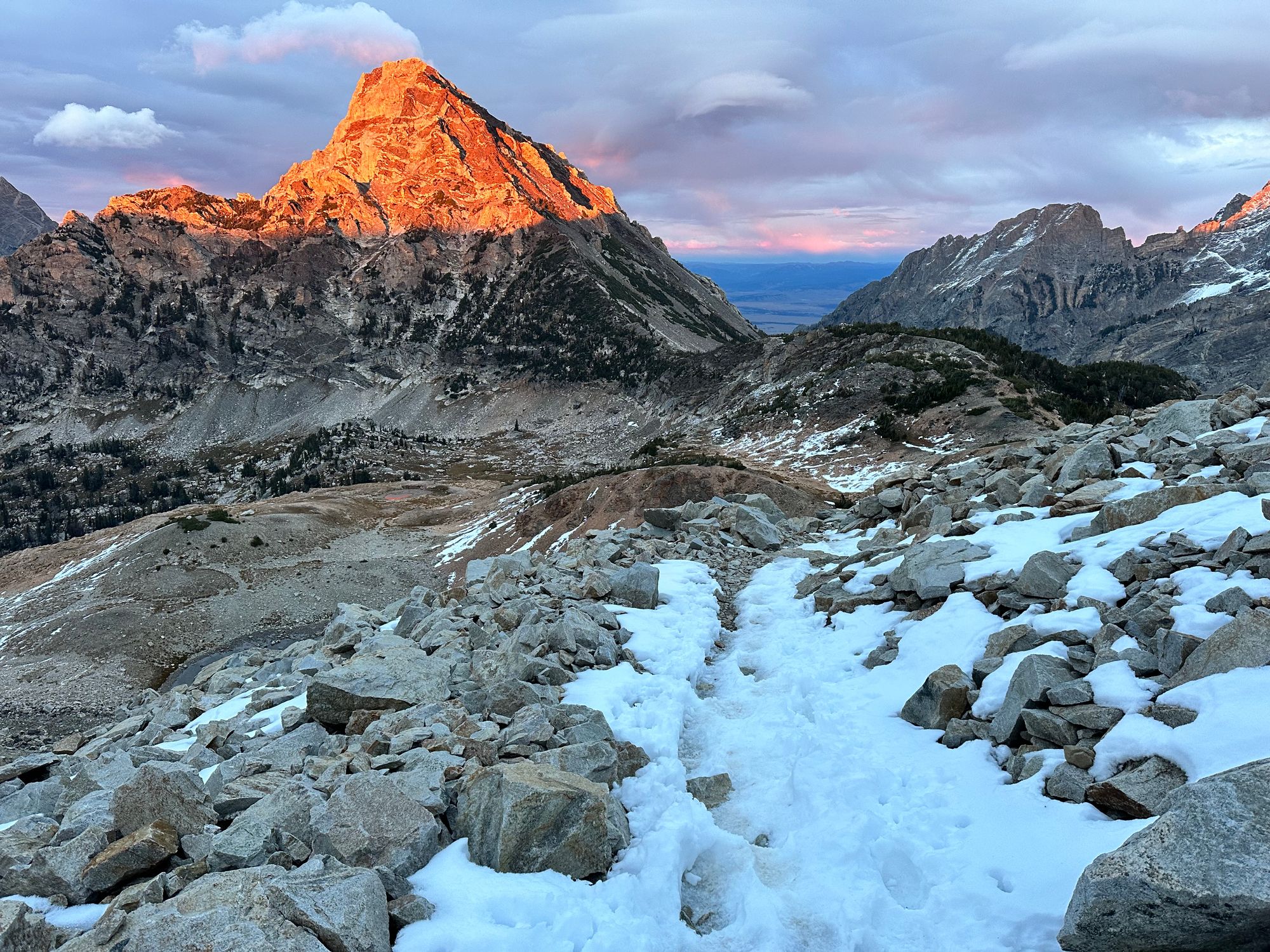 Hey Bear: Paintbrush Canyon to String Lake
I hustled down from Paintbrush Divide, nervous that I was a bit unprepared to spend the night if something happened – the downside to packing light. I crossed a few snowed-in sections of trail, taking careful steps over ice.
I spotted Jackson Lake in the distance, still far off, but a reminder that the end was near (kind of). By 7:30pm, I descended beneath the howling wind. 30 minutes past sunrise, I was losing light and paused to refuel, rehydrate, pop two more ibuprofen and pull a headlamp from my pack.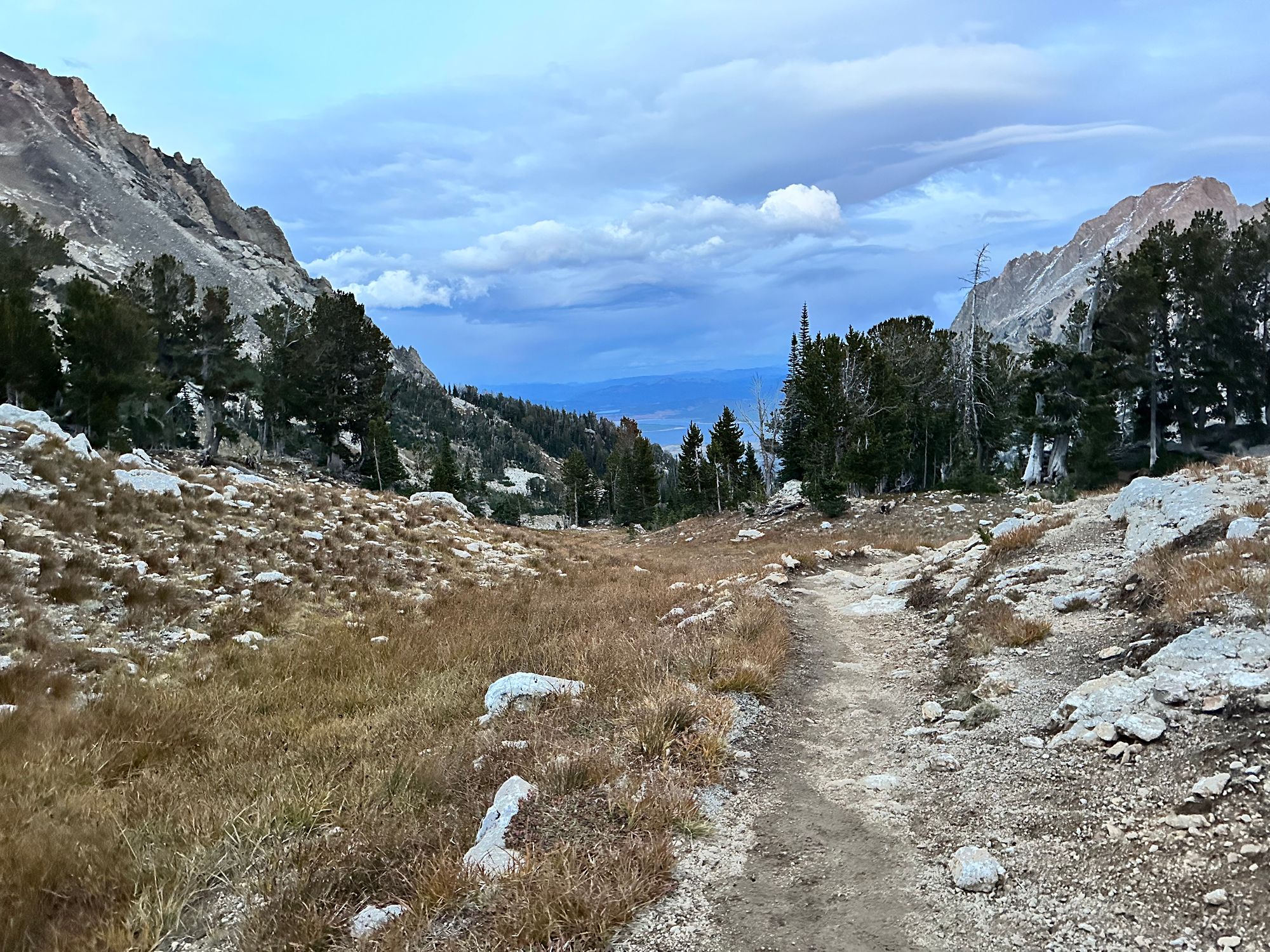 My Airpods died, so I played the ongoing Mush saga from my phone speakers. I skipped GPS tracking in Strava and had plenty of battery left.
The trail weaved through the Paintbrush Canyon, from the sparse alpine to thick pines, firs and willows. A few times I saw scat on the trail (though probably a horse), then started yelling "hey bear" once or twice a minute.
I passed a pair of backpackers in a tent just above the Holly Lake junction, scaring them before they realized I was a person. At 8pm and 9K', they didn't expect company. Five miles stood between me and my popcorn.
I maintained a slow jog, unable to run my usual downhill pace due to pain along the top of my feet. That next hour and a half was the most uncomfortable segment of TCT. Plenty of friends stumbled into grizzlies in Paintbrush Canyon. I was a prime encounter candidate alone at night.
I stepped up my "hey bear" rhythm, now twice a minute. Even more frequent nearing loud streams and jogging through dense willows.
Clouds broke up overhead. The near-full moon appeared to the southeast. Those final miles dragged on – I checked my GPS every 10 minutes or so.
Fears shifted from bears to frisky elk as I neared the more gradual terrain beneath Paintbrush. I watched a bull chase his harem through String Lake a few days before. Usually elk aren't aggressive, but all bets are off during rut.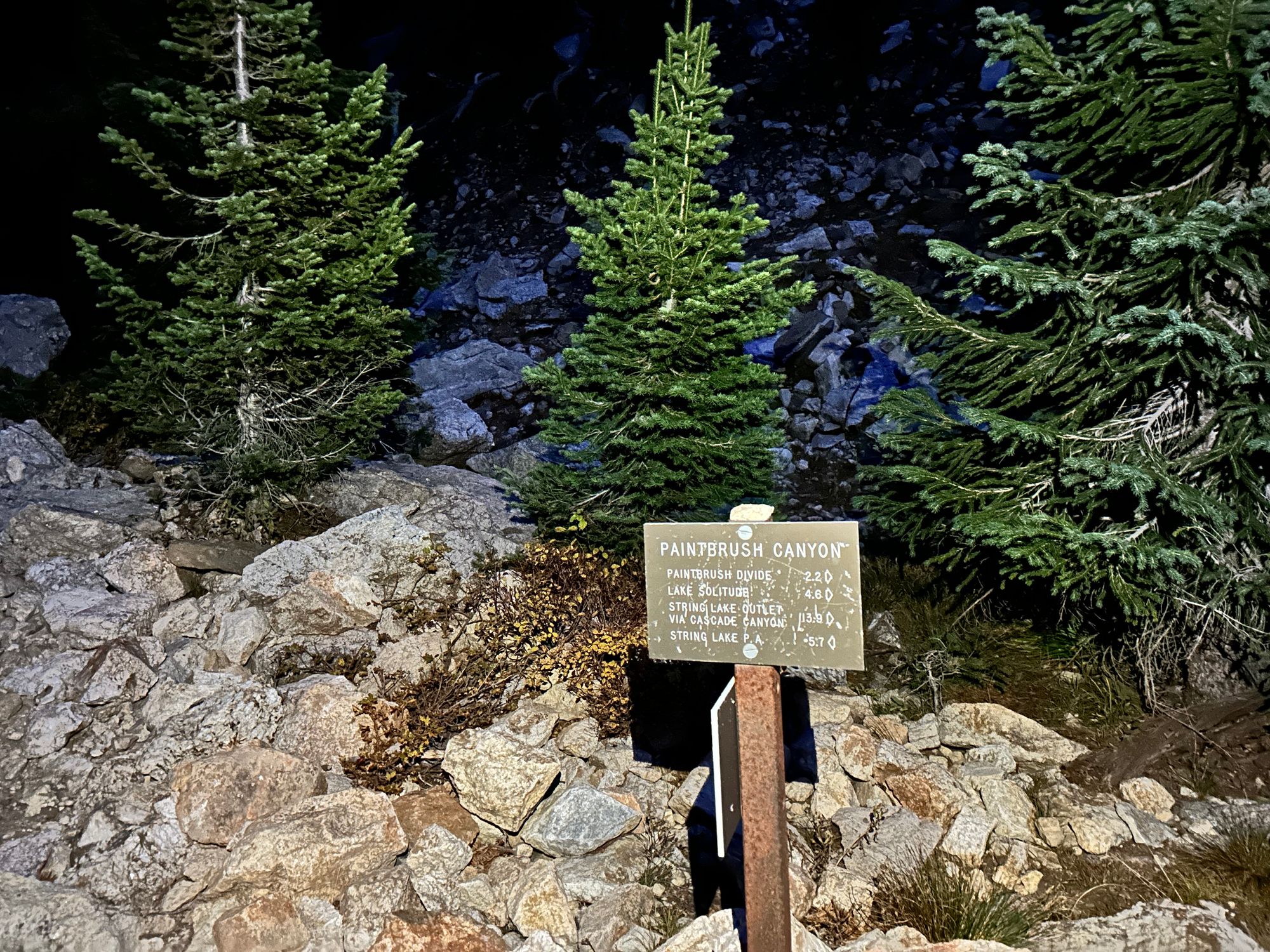 At 9:20pm, I crossed the bridge spanning a stream flowing from Leigh Lake to String Lake. I could taste the white cheddar popcorn stashed in my truck.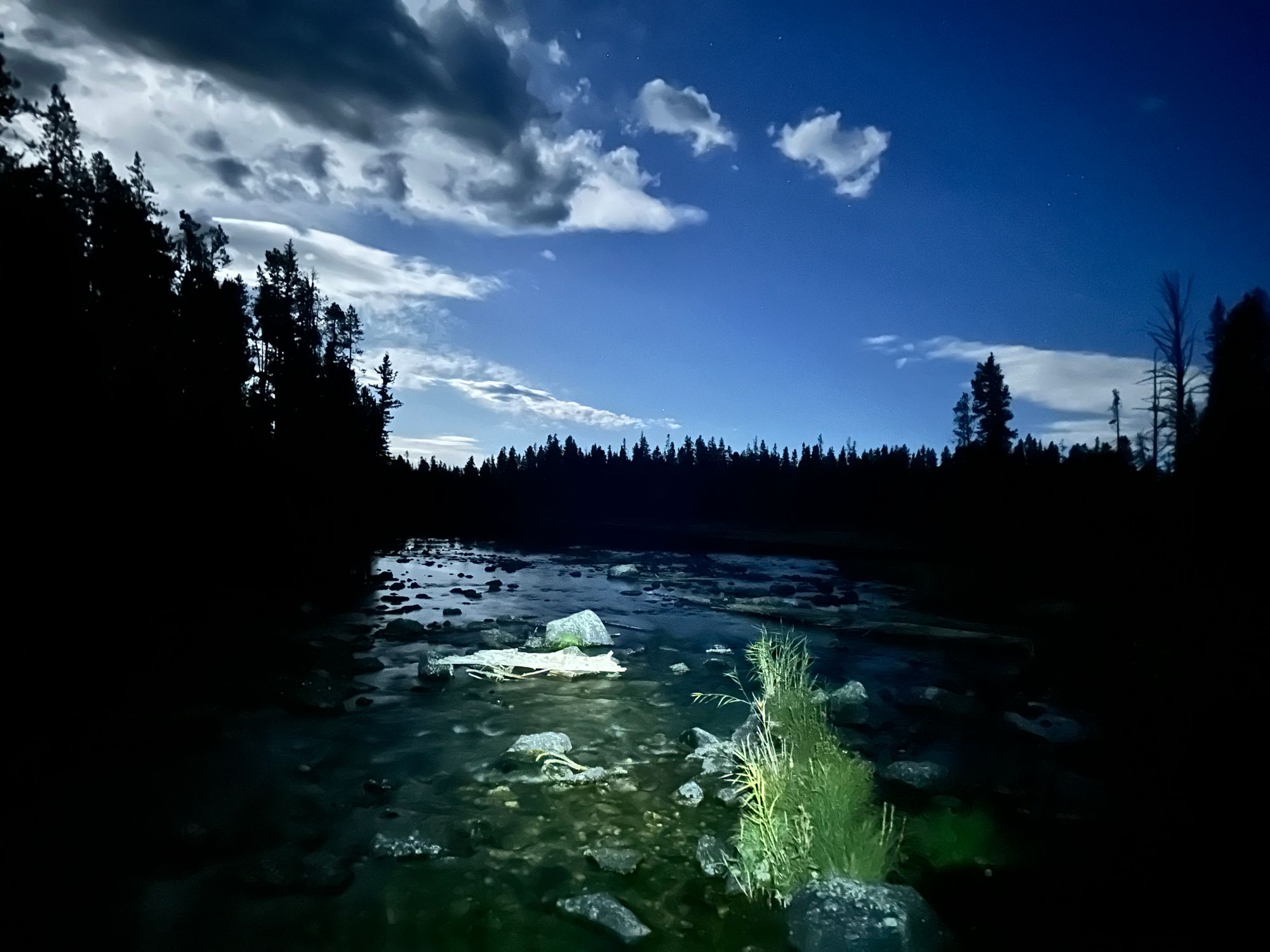 Following a familiar trail alongside String Lake, I paused to capture a couple long exposure shots of the mountains to the west, skies clearing above. On final approach, I friend called checking in. Two hours behind schedule, I said I was still jogging and would call back in five minutes.
At 9:30pm, I walked into the parking lot, found my truck and took a swig of water from a 1-gallon jug in the backseat. Mt. St. John and Teewinot loomed in the distance, the Grand and Owen poking out behind them.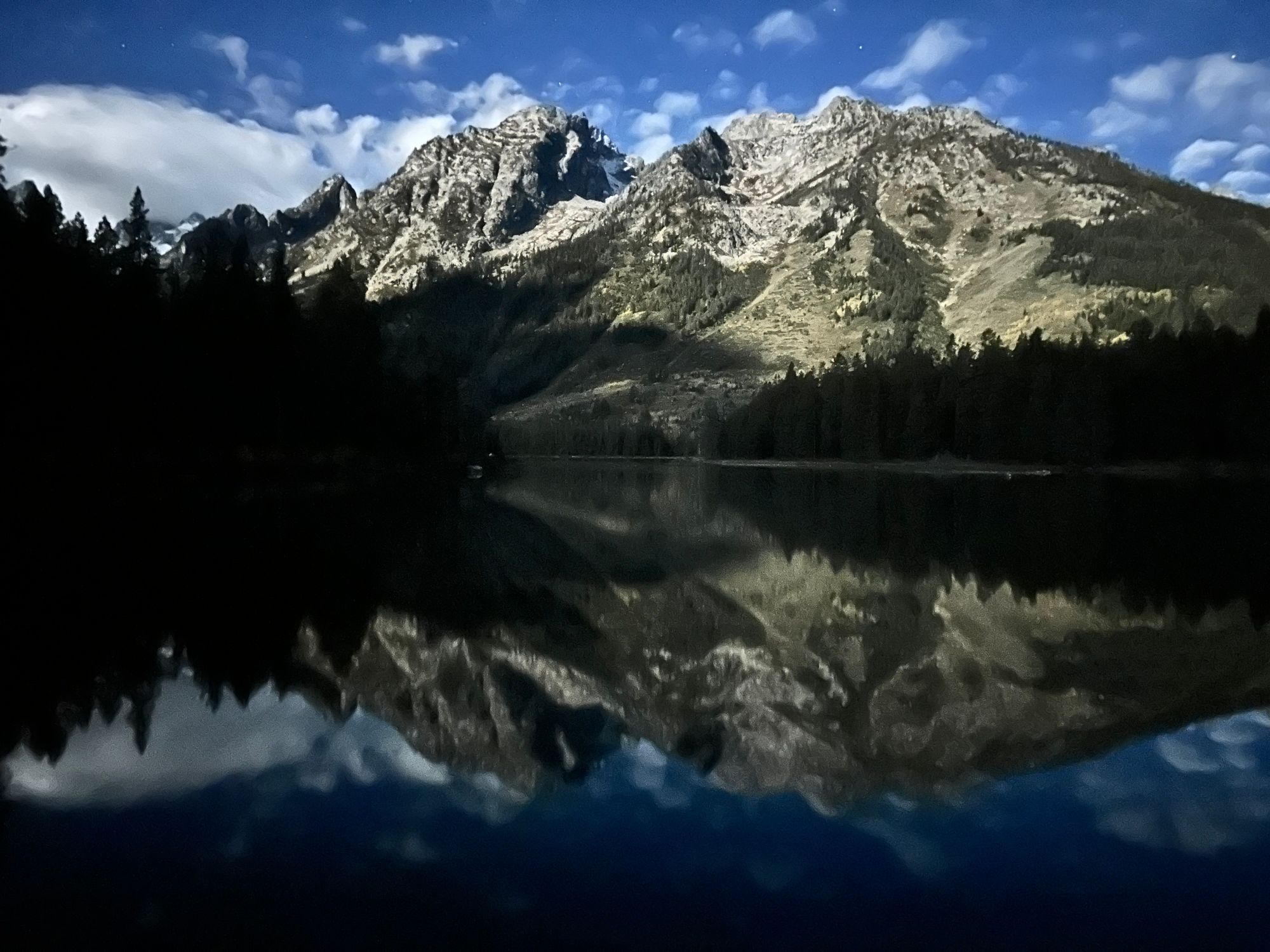 I hoisted myself into the driver's seat, opened the popcorn and blasted my running playlist to power the drive home. I was still slightly wired from caffeinated Gu gels and skipped the emergency cold brew in my cup holder.
By 10:15pm, I parked in front of the house, stumbled out of my truck and straight into the shower, then passed out. I winched with each step now that the ibuprofen and adrenaline wore off. A month later, I'm still limiting my runs to let the extensor tendinitis (less likely stress fractures) fully heal.
In the books, I have new distance limit and wish-list adventure. But it's also a reminder to train more consistently in the future.