Mt. Williamson Ski Descent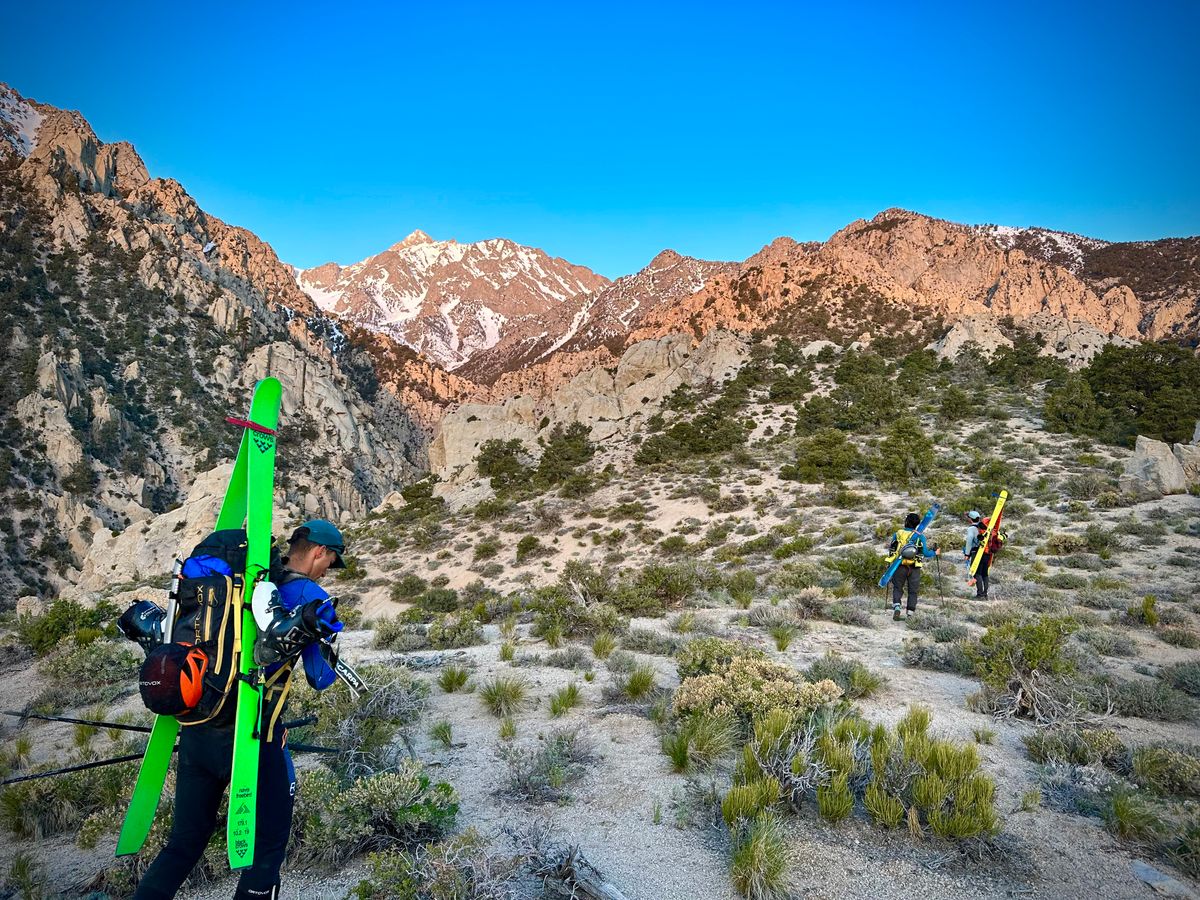 May 10, 2023:
Ski descent from the summit of Mt. Williamson, California's second highest peak (14,380'), a few miles north of Whitney in the Sierras.
On final summit approach, we split up. The first wave skied Giant Steps, our 50-classic objective. Williamson was my first tour post-MCL sprain ~6 weeks prior. Moving slow, I opted to descend via Bairs Creek Drainage.
Round-trip ~8,000' elevation gain (likely +1,000' vertical) and 15-17 miles, including night-time desert bushwhacking and scrambling.
Williamson was a suffer-fest. Some injuries included sun-poisoned thighs (new ski pants with outside vents), scraped up hands after a ski crampon broke and a thoroughly toasted face.
A Frustrating Nosedive
In spring 2023, I planned to tackle some long-awaited Teton ski objectives, hopefully culminating with Grand Teton's Ford-Stettner. Through the winter, I filled in the gaps in my skill-set: skiing no-fall terrain (Apocalypse Couloir), ice climbing (Hyalite Canyon) and more rope practice.
Then in March, I sprained my MCL. A couple friends and I took a casual morning lap on Wimpy's, a low-angle slope off Albright Peak in Grand Teton. Up high, the Park got 6-12" of fresh snow overnight, more falling on our ascent. Wimpy's offers ~3,000' of skiing. For the first 2,000', we skied bottomless powder. Lower in elevation, new snow depth decreased and we started hitting a stiff sun-crust below.
On one silly turn, I lost balance and fell forward. As I remember it, my left ski crossed under my right and punched through the crust. At slow speed, my binding released late and my left leg splayed out. My first thought: MCL.
We still had ~500' of Wimpy's and a couple miles of skate track back to the car. (Absent an life-threatening injury, SAR extraction isn't an option.) After catching my breath, I tested for instability to see if I had to build a splint.
I found my knee could handle conservative turns if I minimize side-bend. E.g., inclination only, no angulation. I felt instability in my knee most acutely on side-step portions of the skate track, then walking without skis at the trailhead. As we returned to town, tenderness increased and mobility decreased.
Waiting on an orthopedist appointment, I bought a hinged knee brace and wrote-off spring ski objectives.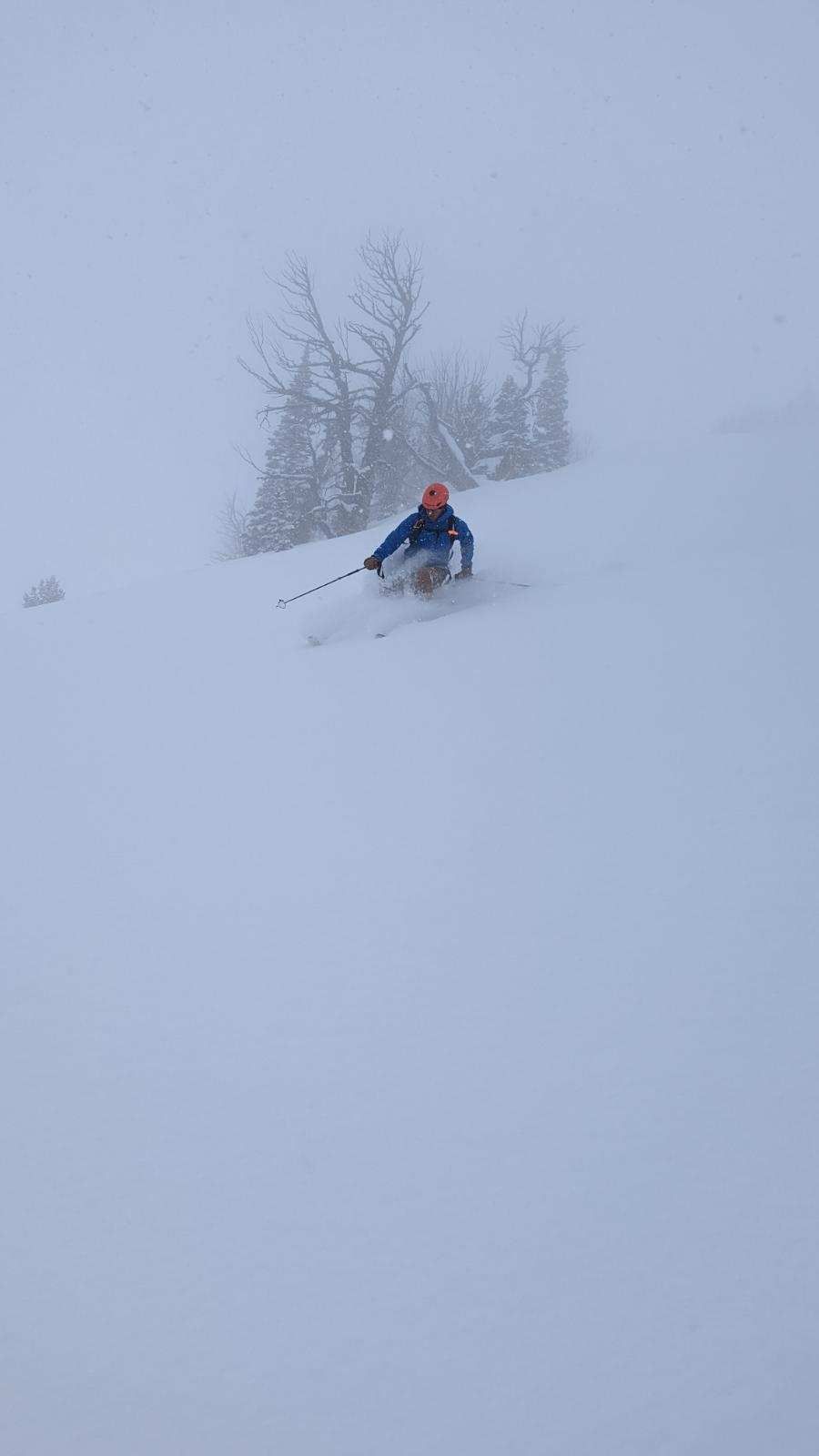 A week later, an MRI confirmed my MCL was sprained, not torn. I settled into a physical therapy routine, slowly regaining mobility week-over-week. By mid-April, I started entertaining a mid-May return to the mountains. Persistent snow through closing day at the resort would extend the backcountry season.
I discussed Grand Teton's Ford-Stettner with a few touring partners, most concretely with Connor Burkesmith and Xavier Campos.
Connor's a Teton-based adventure photographer who joined me on the Skillet, Picnic (aka Grand Teton triathlon) and CMC Face. Xavier was an unlikely connection. We each grew up in Suffolk County, NY, attended SUNY's and the same law school, then worked in Manhattan for a few years after graduation. Despite common ties, we first connected through a Facebook group dedicated to Teton backcountry skiing.
Connor and I linked up with Xavier for an "ice climbing bootcamp" in Hyalite Canyon that January (see trip report) to practice the final technical skills for Ford-Stettner.
Xavier planned to hold the second week of May for a Teton road-trip to attempt Ford-Stettner. By the end of April, my knee felt solid enough to commit. I kept up strength training, physical therapy and bike cardio. But, I stayed off snow to minimize re-injury risk.
Pivot to the Sierras
In the beginning of May, Teton weather was unpredictable, alternating between new snow, afternoon thunderstorms and warm nights preventing refreezes. The next high-pressure window appeared to be around the 13-14th.
Brainstorming, Xavier pitched a detour to Giant Steps, a 50-classic line off Mt. Williamson in the Sierras. Then, we might be able to bag a few more objectives on the road-trip to the Tetons. He mentioned Bloody Couloir, Terminal Cancer Couloir and Hypodermic Needle, among other. I was optimistic, but doubted my knee could handle that much that soon.
Giant Steps is a 50-classic descent ski line, rarely filled in enough to descend. After a record winter in the Sierras, a few groups tackled it in April. Mt. Williamson involves a burlier, though less technical, effort than Grand Teton. I was nervous about it being my first tour off the couch.
As a quick test, I skinned up Snow King's remaining corn snow. Jackson had been thawing out for a few weeks. My knee felt solid on the turns down, and with added blessing from my physical therapist, I bought a ticket to Reno.
Xavier would pick me up on his drive south from Bend. His brother Sebastian would rendezvous at our trailhead campsite later that night. Since Xavier and I planned to drive east to the Tetons after Williamson, and Sebastian had to return to Bend for work, they drove separately. Kyle, a friend of one of Xavier's touring partners, would meet us at sunrise the next morning.
Xavier got a GPX file from Jack Kuenzle, who skied Giant Steps in early April. We planned to ascend Bairs Creek Drainage, summit, ski Giant Steps, then ascend again via Shepherds Pass to return via the next drainage north. (The drainage directly below Giant Steps involves a gnarly bushwhack, we were told.)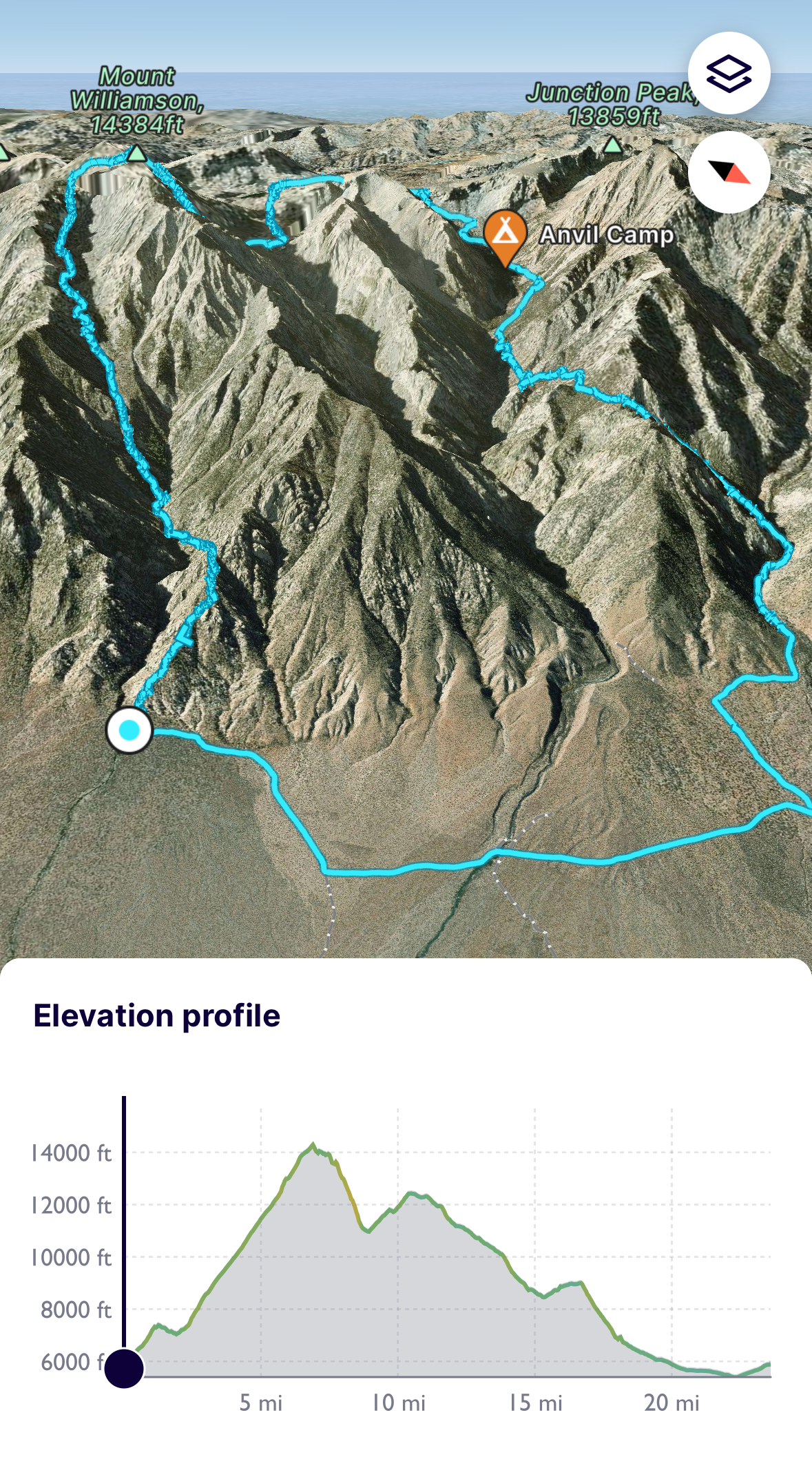 Gear
I loaded up my gear bag with everything we might need for Williamson and any other lines on the way home.
Mammut Pro 45L airbag pack and avy gear (beacon, probe & shovel)
New Blizzard Zero G's 105mm and MTN Pure bindings (dream set-up!), plus Black Diamond skins (re-purposed from my retired Liberty Origins) and adjustable ski poles
Nordica Strider 130 hybrid boots (way overdue on proper touring boots)
Sportiva TX4 approach shoes and Hoka Speedgoats (unsure of terrain across various line approaches)
Mammut shell pants and jacket, plus emergency puffer
Sweet Protection Ascender Mips helmet
Upper-body base layers, wool ski socks and sun hoodies; shades, buff, ballcap and runner's beanie for beneath helmet
Heavy gloves (Kinco's wax treated in the oven and wrist straps), driving gloves and glove liners – ended up needing the versatility not for temperature, but thanks to cactus spines...
Mountaineering axe (Black Diamond Raven)
Lightweight snow crampons (Petzl Leopards) and ski crampons
Rocky Talkies (radios)
Goggles (believe I left behind, using just Smith shades with multiple lenses)
Emergency / extra gear: fire-starter, lighter, space blankets, Leatherman multi-tool, headlamp, first-aid kit, extra moleskins and sterile pads, tourniquet, ski straps, Gorilla tape to-go, handwarmers, a collapsible filtered water bottle and a 1L Nalgene
Calories / hydration: bars, peanut butter packets, GU gels and electrolytes (picked up more food in Bishop, NV)
Repair kit: more ski straps, zip ties, bailing wire, ski pole baskets, skin tail clips and hose clamps (to fix a snapped pole) – mostly from ACE Hardware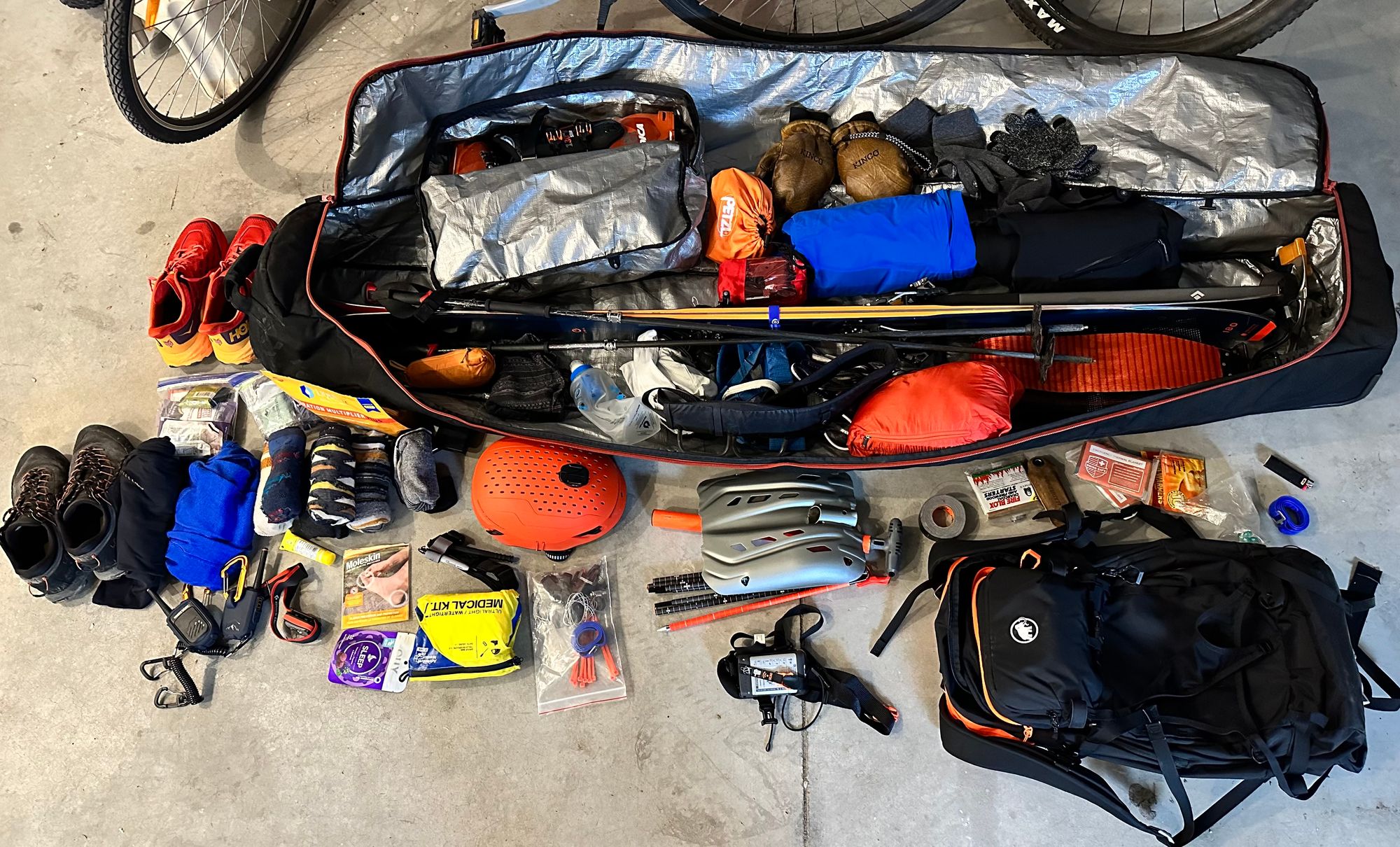 Into the Desert
Xavier picked me up at Reno-Tahoe International Airport in the afternoon on Tuesday, the 9th. We drove south toward Owens Valley, the barren east edge of the southern Sierras. We fueled up on Chipotle burritos and stopped at a Subway and grocery store in Bishop, CA, for final supplies.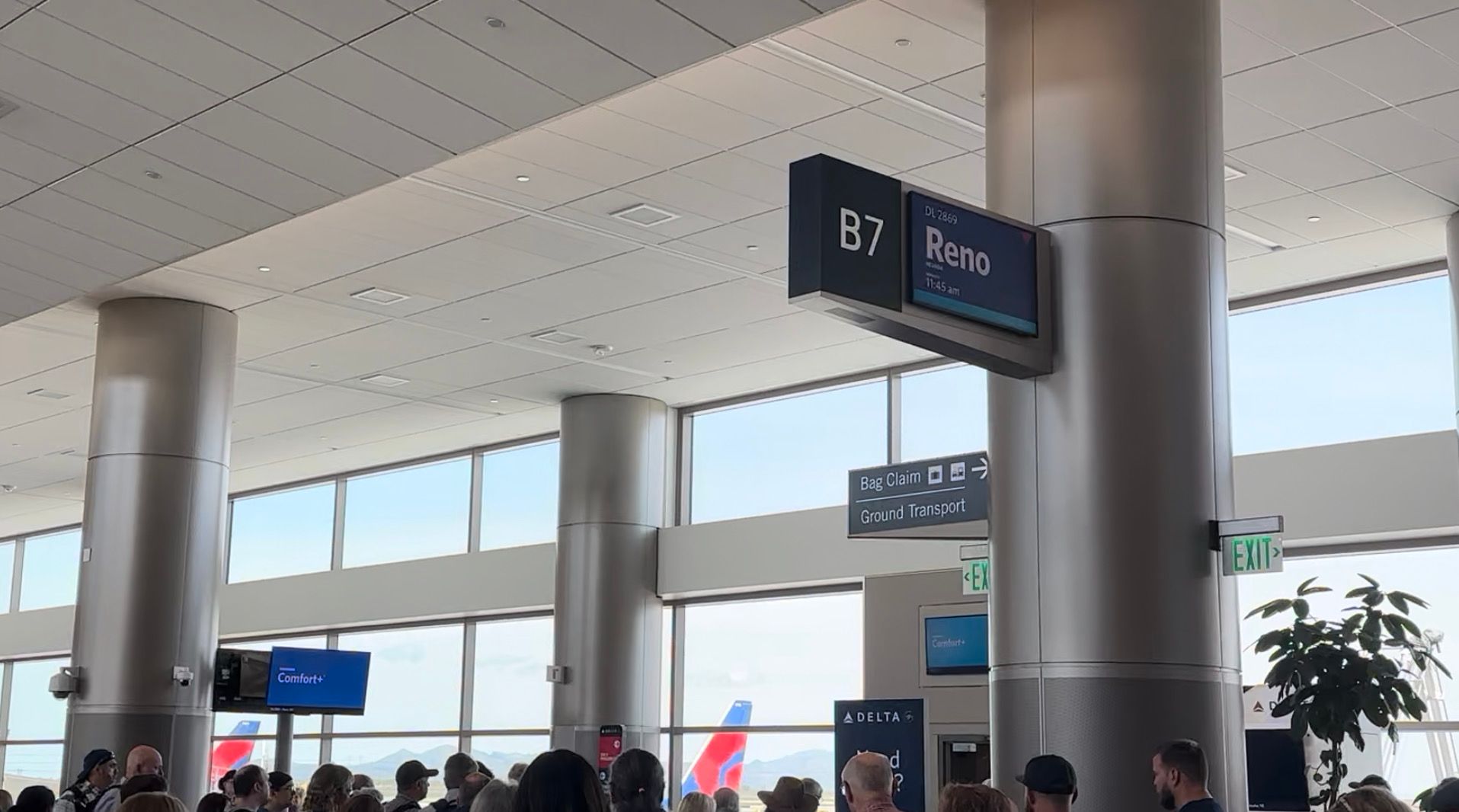 By 7pm, we found a dispersed campsite, a few miles southwest from Independence, CA, along dirt access road. Our planned exit the next day would lead us to Shepherd Pass trailhead, just a mile further on the access road. In the morning we planned to drive one car a few miles south to the entry trailhead. One car would remain for the return shuttle.
Xavier and I ate our Subway hero's, set up a tent and organized our packs. When settled, we started a small fire and waited for Sebastian. Lacking cell service, we hoped he could find us in the dark.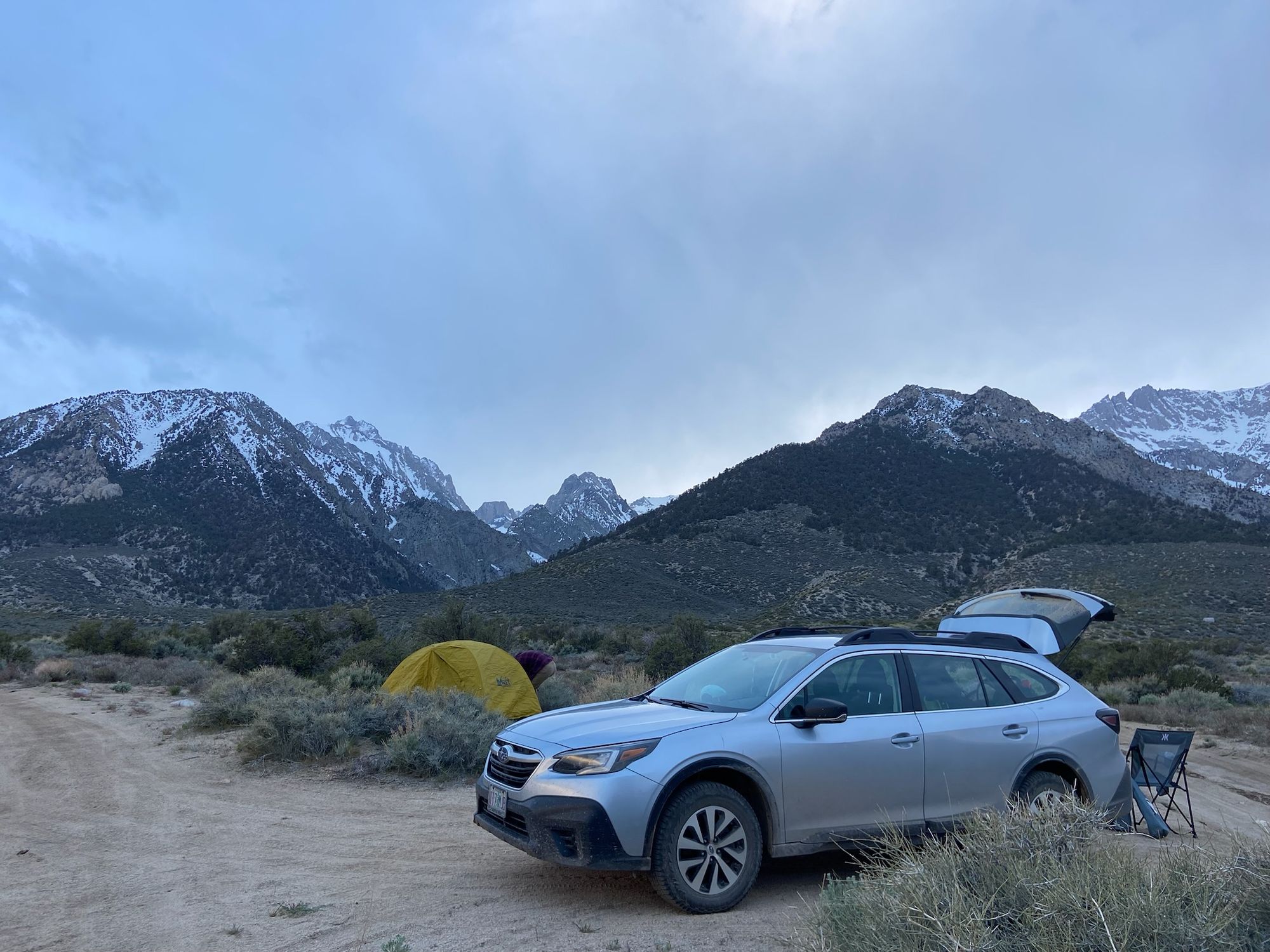 Just past 9pm, headlights approached. In the barren desert, you'd think any approach could be seen a mile away. But, rolling hills, boulders, junipers and large sagebrush shrubs turned the desert into a maze.
Sebastian almost drove past us, stopping only after we jumped up to wave him down. We smashed together a few PB&Js using Sebastian's stale whole-wheat bread and settled in for bed. Xavier and Sebastian in the cars; me in the tent.
I set my alarm for 4am. Wind rustled the nylon through the night.
Cactus Spines and Avy Debris
After a slow start, we piled into Sebastian's car by 4:45am and drove south. Still lacking cell service, we hoped Kyle would meet us at the right trailhead.
By 5am we reached the trailhead where Foothill Rd meets N. Fork Bairs Creek. Kyle rolled in 10 minutes later. I opted for approach shoes given the off-trail ascent. We strapped skis to our packs and clicked ski boots into bindings. At 5:30am, we hiked west, climbing from 6,000'.
Beta warned us not to follow the creek itself. The mouth of the drainage is guarded by dense brush and cliffs. Instead, parties ascend the foothill immediately north of the entrance, aiming for a notch on its north aspect. Then, we would downclimb / traverse to a creek crossing.
The notch was easy enough to find on the approach, but involves 4th class scrambling. Spoiler: It's harder to find in the opposite direction after sunset.
As we hiked toward the notch, the sun rose behind the mountains to our east. Red beams struck the Williamson summit in the distance, then moved down ridgelines, eventually reaching our foothill. Our ski tips caught on junipers and sagebrush, and occasionally, the tails bounced over boulders.
At 6:40am, we approached the notch at ~7,400'. Xavier pieced together the scramble from Jack's GPX. Behind north-facing walls, we found our first snow on the route. We traversed some fourth class moves along cliffs, made more awkward by ski / boot A-frames on our backs.
Then, we traversed / downclimbed into Bairs Creek drainage. Its North Fork was ~500' below, flowing into cliffs guarding the canyon entrance. We scrambled over boulders, sidestepped through dusty scree, crawled under spruce branches and (mostly) dodged cactus spines. Waterfalls carried snowmelt from shaded gullies above into the creek.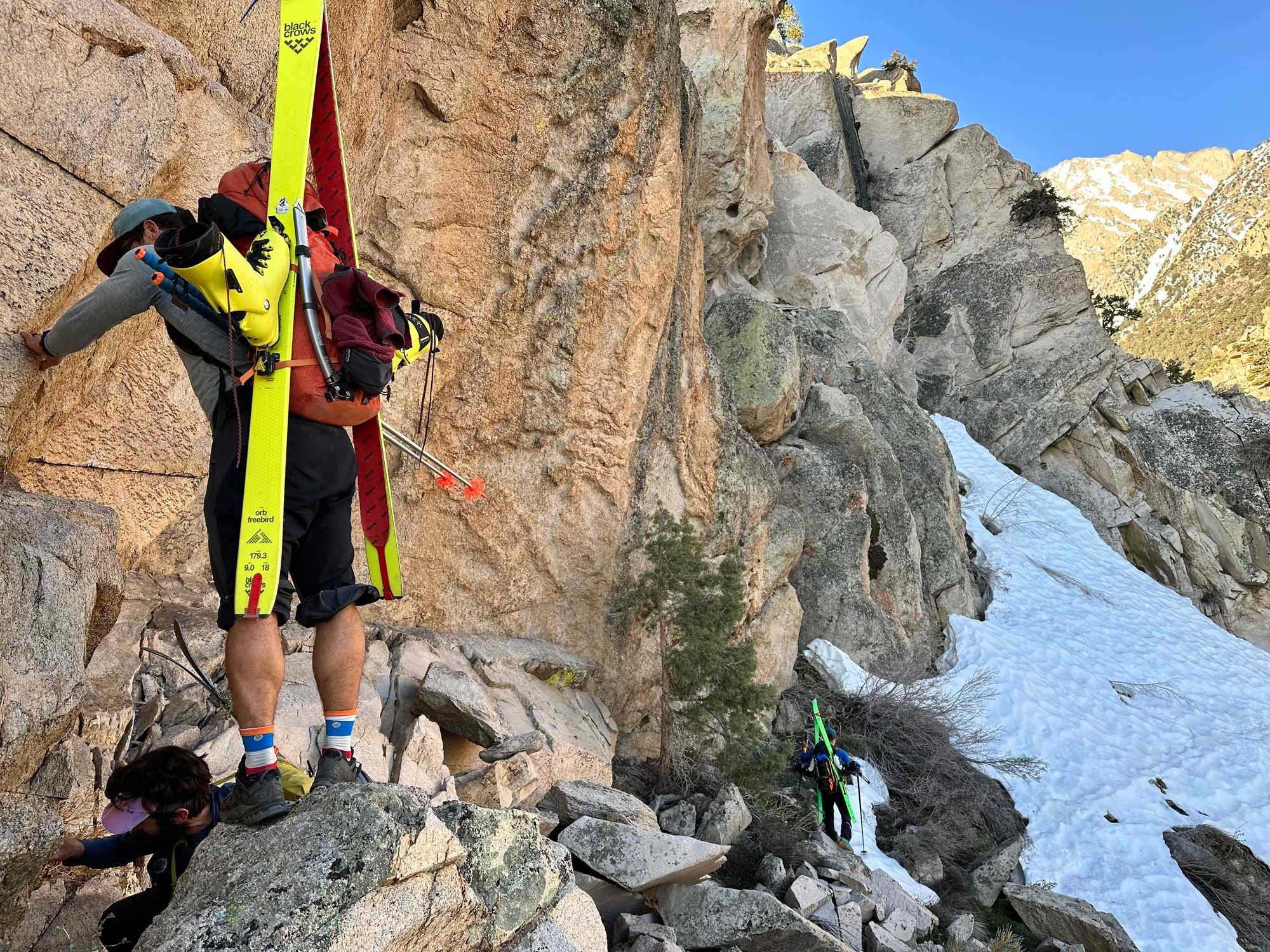 By 7:30am, we reached the creek crossing west of the notch and jumped to the south bank. Before long, we scrambled up avalanche debris, firm from an overnight refreeze. One debris field formed a bridge over the creek below. We placed our feet carefully, avoiding any potential weak points. We followed partially-melted steps from a prior group, probably only days before.
We reached what appeared to the start of continuous snowpack at 8:30am, at around 8,500'. Fresh off the couch, I fell a bit behind the group and transitioned to skinning out of sight. The snow was still firm, so I added ski crampons.
After 50' of awkward switchbacks, I felt a snap and started falling downhill. I scrambled to arrest, finally catching myself in a trough that melted our beneath a cliff to looker's left. My hands were bloodied from what felt like frozen sandpaper. I looked down and saw one of ski crampons broke at the bar (image below).
I called up over my Rocky Talkie and started bandaging my fingers. After cleaning with my water bottle (I'd miss that water later), applying 7-8 band aids and gingerly slipping on gloves, I over-corrected with boot crampons and my mountaineering axe. I didn't plan on taking another fall. Also, my last time moving on snow without gloves.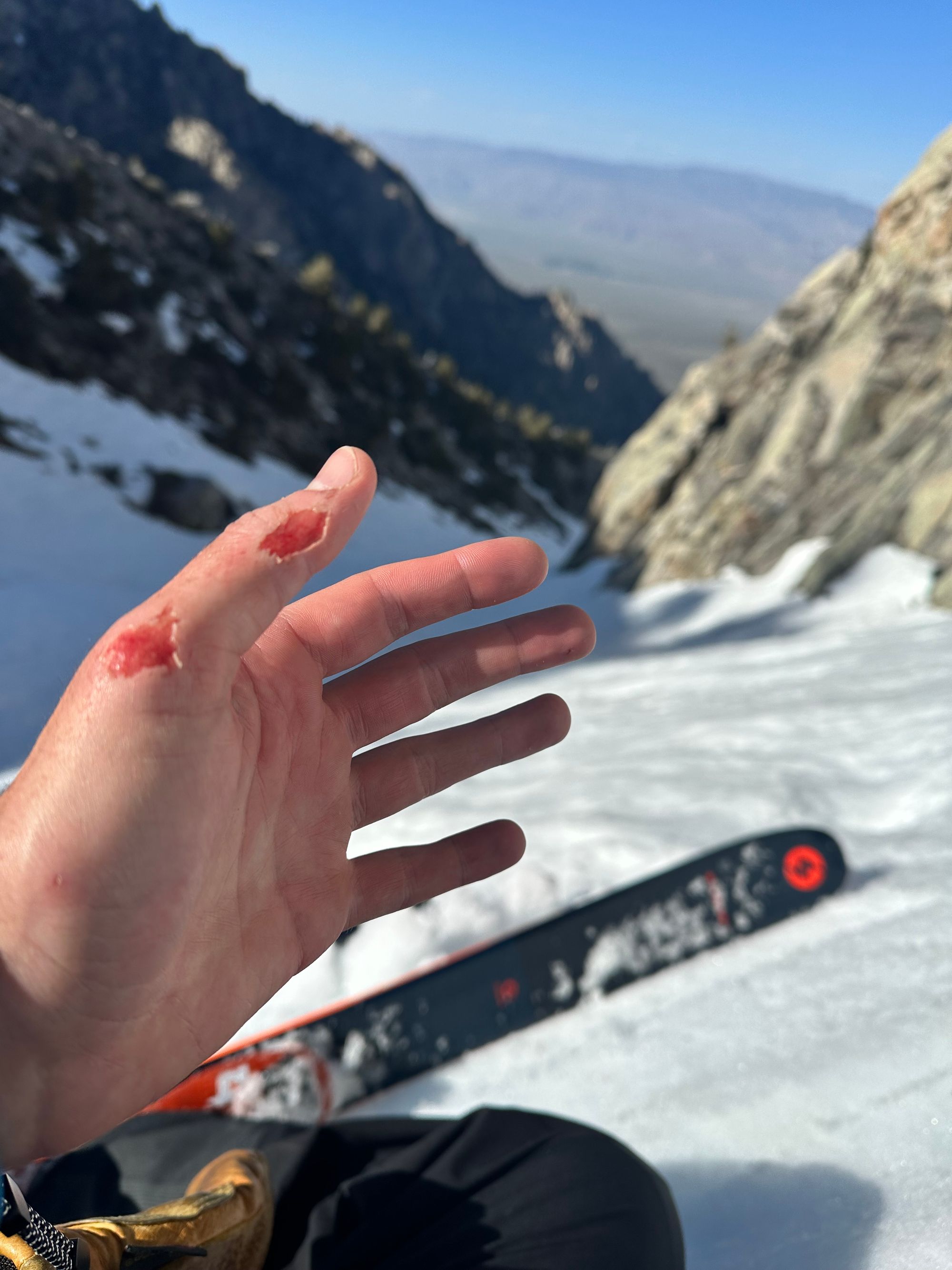 By 9:15am, I caught up with the group at 9,000', my slowest split of the day. To save time I kept boot-packing toward a ledge up the gully, while the group skinned. Everyone ditched skis to scramble over the ledge. Above, I traded boot crampons for skis and followed the skin track. The snow softened in the afternoon sun.
From there, it was a long, slow skin to ~12,500', at which point we started switch-backing, then boot-packing up a couloir, leading to the ridgeline. I fell further and further behind, not reaching the 13,000' ridge until nearly 2pm. I felt weak on the boot-pack, worse even than the final Skillet push in 2022, pausing every few steps to slow my heart rate. In retrospect, I was under-fueled and dehydrated.
One group skied past in the couloir, the only other group we'd see on Williamson. The skiers chuckled when they learned we started at the trailhead. (They camped.)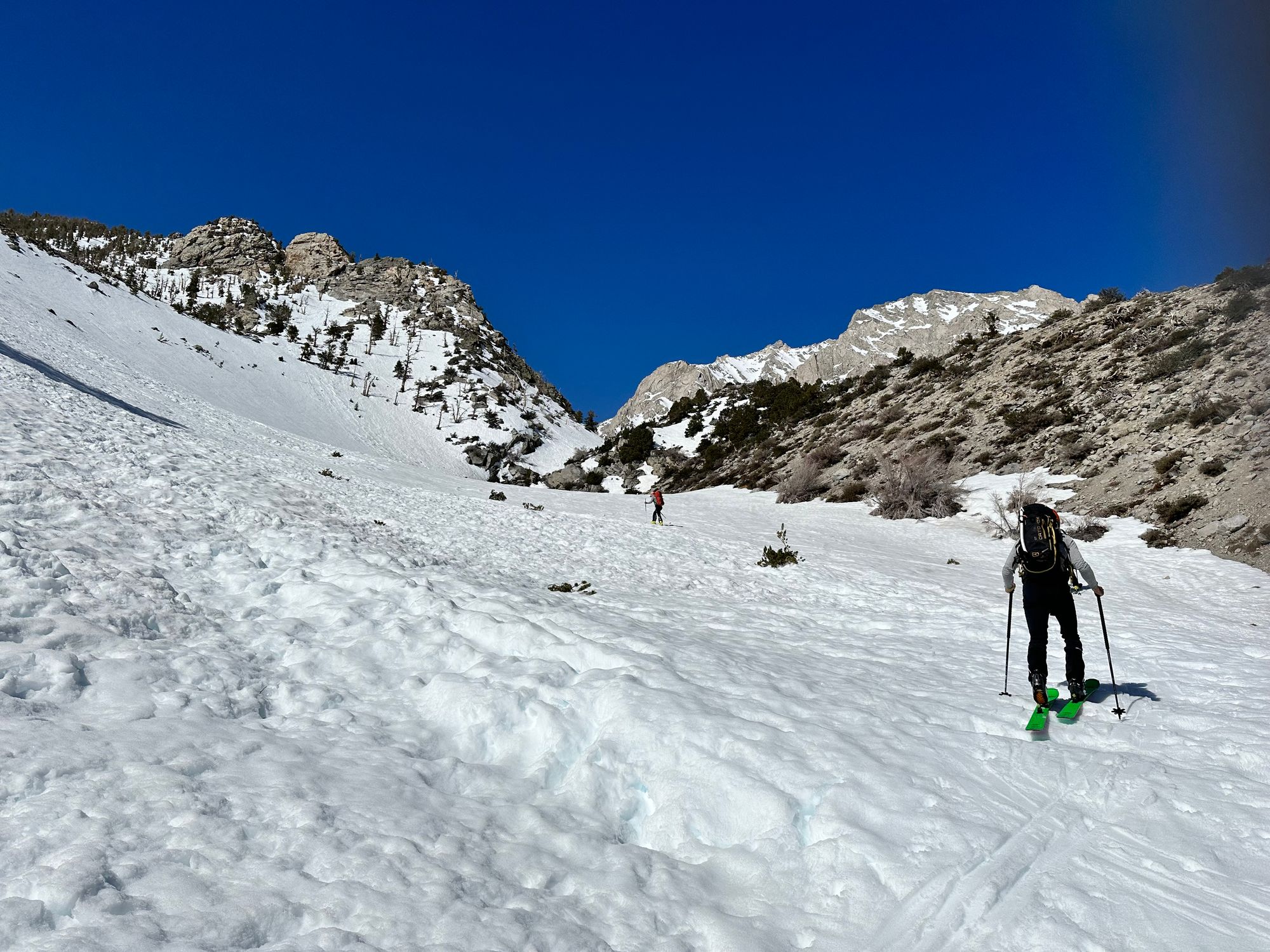 Xavier and Kyle were almost an hour and a half ahead; Sebastian almost 45 minutes. I paused at the top of the couloir for 20 minutes to eat and rehydrate. Struggling to keep up, I neglected to refuel on the approach. I also saved weight by bringing only one 1L Nalgene, planning to melt snow in a second filtered water bottle. The snow melted too slow, yielding very little water – lesson learned.
I started ascending again at 2:30pm, Sebastian in sight at the top of the switchbacks ahead. I expected to part ways with the rest of the group at this point and return via Bairs Creek Drainage, not wanting to hold them up from Giant Steps. With a technical descent and another 1,000' to ascend after Giant Steps, they couldn't wait much longer.
The refuel break worked. I steamed up the switchbacks, reaching 14,000' by 3:45pm. I longed for intact ski crampons on a few boilerplate sections. I topped out after 4pm, and after exploring / refueling, transitioned to ski mode.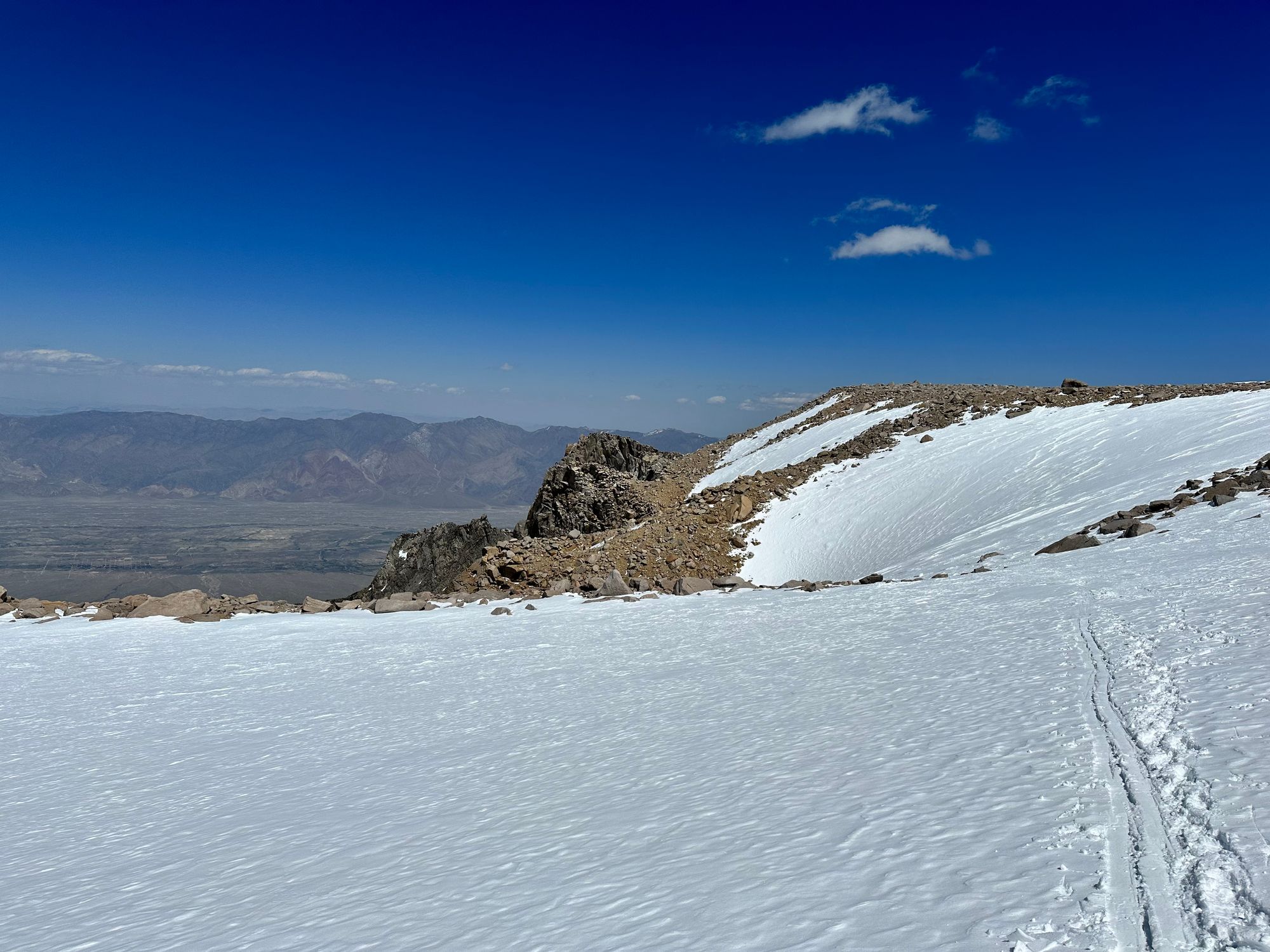 Corn Snow and a Night Bushwhack
At 4:30pm, I dropped into Williamson's southeast bowl, headed for Bairs Creek Drainage. For the first 2,000', I made conservative turns down windboard, boilerplate and refrozen corn.
It wasn't until I dropped a few hundred feet beneath the couloir that I found edge-able corn snow. Aside from one scramble and a few avy debris fields, I enjoyed fun skiing from 12,000' to 8,500', by far the best part of the day.
Meanwhile, the guys were surviving Giant Steps. A couple check-in texts came through, describing a thoroughly terrifying experience. An exposed downclimb, windboard and boilerplate, rocks and enormous cliffs beneath the first two steps. Not a line for the faint of heart.
At 5:45pm, the snowfield spilled into a narrow choke filled with willow branches. I was just below the site of my fall that morning. I transitioned to approach shoes and re-racked skis / boots onto my pack in an A-frame.
Then, I retraced our morning steps down the drainage, aiming for the creek crossing beneath that first avy debris field. After an hour of bushwhacking, and a run-in with a ptarmigan, I reached the creek and enjoyed some extremely overdue water. I paused for 15 minutes to crush a bag of Goldfish, rehydrate and enjoy the sound of the creek, then started uphill. Waterfalls above continued to drain snowmelt from hanging snowfields and shaded gullies.
Now traversing the north side of the canyon, my progress was slow. At 7:30pm, I started getting nervous as the setting sun lit up the mountains across Owens Valley to the east. I navigated fourth-class scrambles, juniper crawls and scree side steps that plagued our morning traverse.
I periodically referenced the GPX on FatMap to adjust my path up- or down-slope. For protection against thorns and cactus spines, I kept my shell and gloves. Alone, I also kept my helmet on and added a headlamp preemptively. More than once, I paused to shake scree out of my shoes and pull cactus spines out of my gloves.
I didn't clear the notch until 8pm, losing light in the desert dusk. Over the next 45 minutes, I traversed refrozen snow packs, scrambled up and down cliffs and cross-referenced FatMap, CalTopo and Google Earth trying to find the exit.
My headlamp dimmed and I swapped AAAs. The last time my headlamp ran low, I was climbing the crux of Mt. Moran's CMC Face – Drizzlepuss – at night (trip report). Lesson: headlamps always die when you need them most.
In the dark, it felt like I kept cliffing out. Lacking confidence in the route, I finally gave up, deciding to descend via a drainage to my north. I expected a painful bushwhack, but from topo maps, it seemed free of cliffs.
From 8:45-11pm, I navigated miles of desert boulders, talus, scree and shrubs. My ski tails repeatedly bounced over boulders as I downclimbed and caught on shrubs. At one point, I took my pack off and shoved it under a pine tree, then followed on my hands and knees.
I alternated between FatMap, CalTopo and Google Earth every 100', aiming for the least painful route to the access road. The bushwhack felt endless, but finally at 11pm, I stumbled onto the dirt road to the east. My adrenaline kept the pain at bay through the bushwhack, but as soon as my body perceived safety, I felt soreness in my knees, shoulders and feet.
I had a half mile and 500' of gain to the cars, south along the dirt access road. Despite the relief of no longer bushwhacking, the final hike felt like 5 miles. Luckily, my texts started reaching Xavier, who was approaching his car to the north, still parked at our campsite from the night prior.
He split from Kyle and Sebastian, who opted to ski further into their drainage, instead of transitioning to the summer trail. Consistent with Xavier's intuition, they were greeted by an impenetrable bushwhack at the bottom of their descent, forcing them to boot-pack a few hundred feet back up to the trail.
All three skied over refrozen avy debris fields and waded through streams – one almost swept Xavier off his feet. All things considered, I got the better bargain with my night bushwhack. At least they can say they skied a 50-classic, but there's usually a price to pay.
When I reached the cars, I discovered Sebastian didn't leave his keys. Xavier agreed to drive south to shuttle me to the campsite. Adrenaline continued to wear off and I started shivering. I added my puffer, heavy gloves and shell to stave off a cold response. On the upside, the stars were some of the clearest I've seen. No light pollution for miles, for good reason we learned.
Xavier reached me in 20 minutes. We cursed Williamson and type III fun on the ride back to camp. "Never again," was sputtered a few times. For better or worse, bad memories fade, as do promises of new hobbies.
Back at camp, I dropped my gear on the ground and stumbled / crawled into the tent. Xavier drove west to pick up Sebastian and Kyle, who finally reached the access road. (They reached cell service as we approached camp.)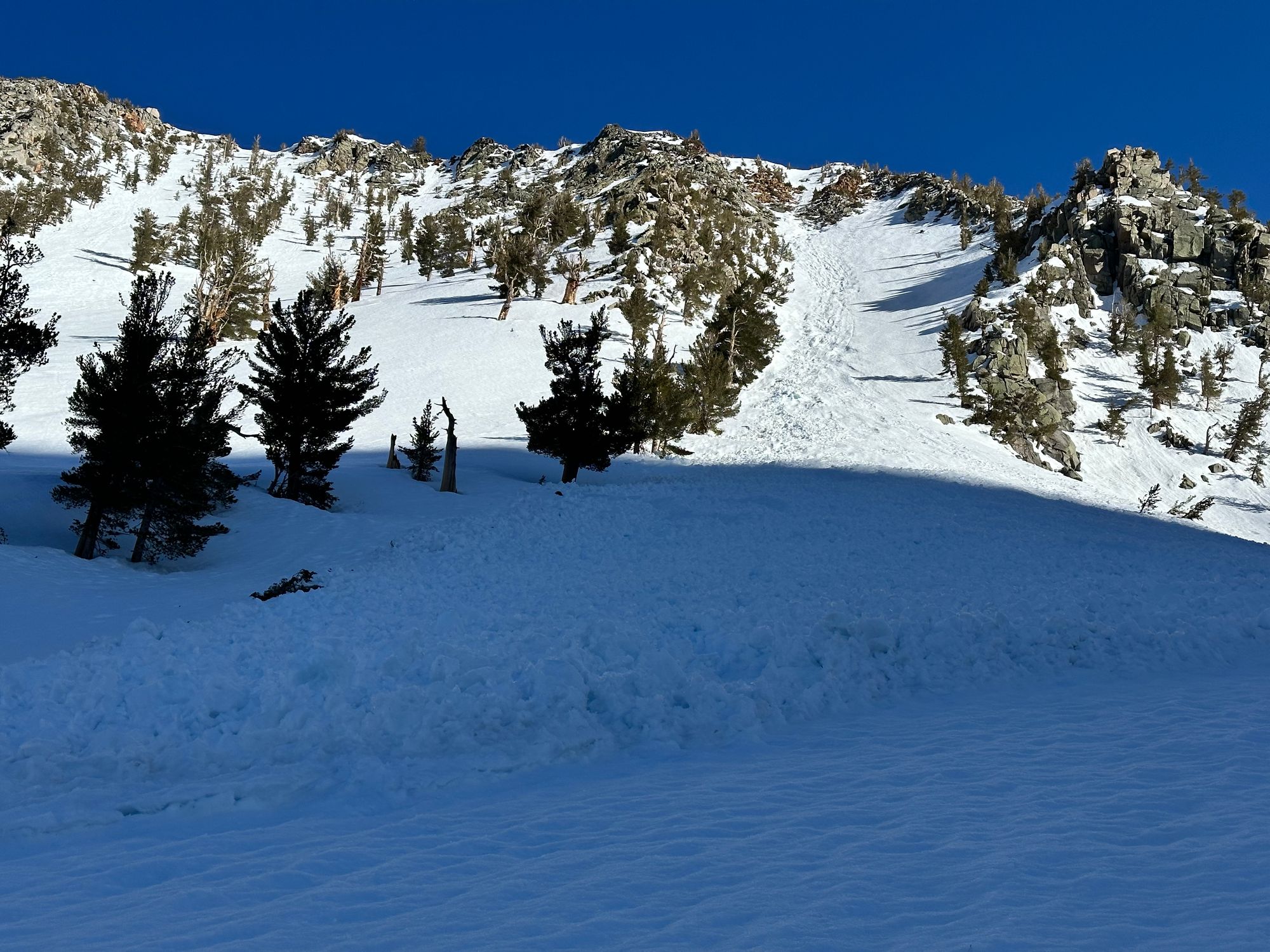 The Morning After
I tossed and turned in the early morning, as injuries set in. The back of my thighs felt like I sat on a hot plate. I forgot to apply sunscreen beneath the outside vents of new ski pants. (My old pants had inside vents.) On the road-trip back to Jackson, we'd stop at a Dick's for knee-length compression underwear.
Virtually all of my fingers and thumbs had scabs forming over fresh scrapes, making every movement a bit painful. And even with sunscreen, my face was lobster-red. A wind buff, sun hoody and ballcap prevented any further exposure.
Ironically, my legs and left knee felt fine – at least the physical therapy worked.
I stumbled out of my tent at ~9am, finding Xavier still laying in his Subaru. Sebastian and Kyle slept in their cars at the south trailhead by Bairs Creek Drainage. We nursed our 'big-day' hangovers and packed up camp. Then, we drove north to meet Sebastian for breakfast at Looney Bean in Bishop.
We later found out Kyle's rental car had a flat tire, leading him on a 20 mph detour along side roads back to Bishop.
We booked a hotel room in Mammoth on Thursday night to regroup, cleaning dust and dirt off our shoes, skis, boots, axes and other gear in the shower. We discussed skiing Bloody Couloir the next day, Friday. I opted out, hoping to save myself for Grand Teton's Ford-Stettner that weekend. Xavier and Sebastian linked up with their friend Rory for Bloody, a mellow tour compared to Williamson.
I slept in and then posted up in a coffee shop. Post-Bloody, Xavier dared Rory to book a last-minute flight on Saturday, joining us in the Tetons for Ford-Stettner on Sunday / Monday. Rory said he'd think about it. His grin and my gut told me we'd see him in a few days. Xavier and I started driving northeast through Nevada, stopping at a motel for another sorely needed eight hours of sleep.
Saturday morning, we finished the final stretch through Idaho, over Teton Pass and into Jackson Hole. We started preparing for the next adventure: Grand Teton's Ford-Stettner. We planned a tentative 11pm departure on Sunday.