Hyalite Ice: Twin Falls Climb + Pinner Couloir Ski Tour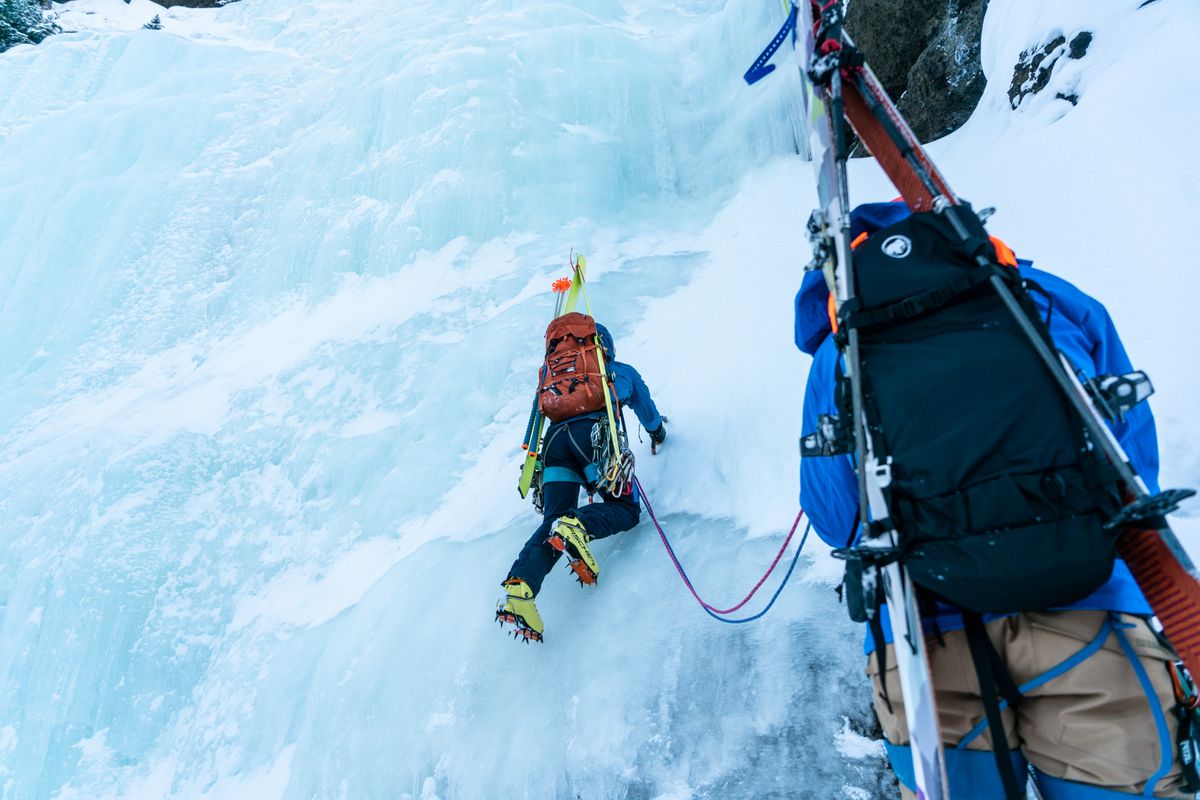 January 17-19, 2023:
Three-day ice climbing / ski touring trip to Hyalite Canyon, MT, overnighting in Bozeman.
Day 1: Ice climbing bootcamp (I'm a newbie) on three routes: Genesis 1, Mummy II and The Matrix (WI2-4).
Day 2: Twin Falls (WI3) climb to ski Pinner Couloir.
Day 3: One final ice route and return trip to Jackson.
Bonus: Taylor Mtn. ski tour off Teton Pass on Day 4.
An Unlikely Connection
My top goal for winter 2022-23 was to summit and ski Grand Teton via the Ford-Stettner Couloir. To do so, skiers need to climb / rappel a few icefalls. I'd never ice climbed and was itching for an opportunity to learn the ropes.
I connected with Xavier last spring through the Teton Backcountry Skiing and Mountaineering Facebook group. I noticed we had a few mutual friends and reached out. Turns out, we both went to the same law school separated by a couple years and grew up in Suffolk County, Long Island.
Xavier also lived the NY corporate life before moving to Bend, OR, to double down on mountain objectives. We discussed a few lines in Grand Teton on our wish-lists and stayed in touch.
In December, Xavier invited me on a January ice climbing trip to Hyalite Canyon. Ice climbing was my last hurdle to ski the Grand, so I was stoked.
I invited a friend, Connor, who's building an adventure photography business in the Tetons. That year, he joined me on the Skillet Glacier, the Picnic triathlon and CMC Face. Skiing the Grand was also high on his list.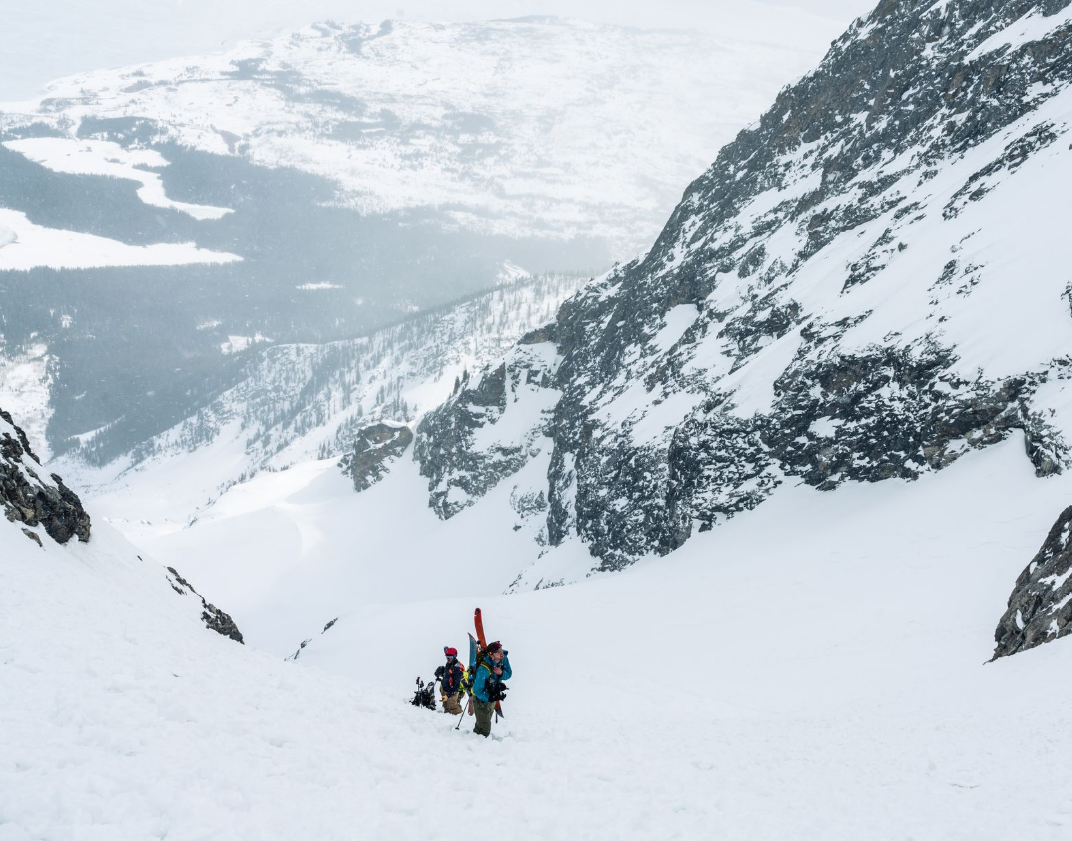 Ice Climbing Basics
As a newbie, I did some ice climbing research before the trip. Below, find some key takeaways. If you'd like to jump to the trip report:
It's hard to find good, accessible ice climbing. In Jackson, many of the icefalls involve long approaches. Hyalite Canyon in Montana has the most concentrated, natural ice climbing in North America – over 150 routes within 3 sq. miles (Mountain Project).
Unique conditions occur in Hyalite. Backcountry bowls, loaded with snow, are suspended above the valley floor. Snowmelt from freeze / thaw cycles drips over cliff bands and forms large icefalls. A plowed road leads to the heart of those routes, ending at the Hyalite Canyon trailhead 45 minutes south of Bozeman.
Ouray, CO, is often mentioned in the same breath as Hyalite. Ouray features 150 routes within 2 sq. miles, but they're largely artificial. Ice "farmers" spray overflow from the city's spring on cliffs to build icefalls.
Ice routes are graded on the Water Ice (WI) system, ranging from WI1 to WI7. Rating factors include steepness, ice quality and length, among others. Unlike rock, icefalls change each season and during the season, as can ratings. We planned to start with WI2s, then work up to WI3/4s.
Ice climbing grades
WI-1: No tools required to climb
WI-2: Good protection, tools required in some spots
WI-3: Sustained climbing with good rests and protection
WI-4: Continuous steep or vertical ice
WI-5: Long, vertical, strenuous ice
WI-6: Highly technical, long, and vertical, with no rests
WI-7: Long, technical, and on bad ice
On rock routes, climbers rely on friction from hands and feet on natural variations in a wall like ledges and jugs. On ice routes, climbers rely on crampons and ice tools inserted into the ice.
"Tools" are adaptations of ice axes – picks drop toward the shaft and handles have better grips. Mountaineering axes are designed for self-arrest and balance on glaciers and steep slopes. More context on tools vs. axes from EMS.
Ice climbing crampons have pronounced toe spikes and rigidity between toe and heel. Bindings are either compatible with hiking boots, specialized mountaineering boots or ski boots. Petzl crampons, for instance, have Flexlock and Leverlock systems that can be purchased separately and swapped. More from Petzl.
For protection, climbers insert ice screws as they climb – analogous to cams / nuts / bolts in rock climbing. The climber clips the rope into those anchors, usually via quick draws. Check out the Research section of my Upper Exum trip report for more climbing basics.
Unlike rock climbing, falls while leading on ice should be avoided. On rock, all four limbs usually release at the same time. On ice, crampons are locked in, so a slip of a tool is more likely to result in a caught leg and injury. More on ice climbing falls from Ascentionism.
Lead climbers need to be more conservative on ice than rock. As a beginner, I wouldn't lead. Xavier would set routes: lead, set screws and build a top anchor for top roping. The second climber would ascend top roped and remove screws. The third climber could ascend without worrying about screws. Then Xavier would climb again – also top roped – build a V-thread and rappel.
To create a V-thread, two holes are drilled with ice screws at a ~60-degree angle. Rope is then threaded through to form a rappel. At the bottom, you can pull the end with the knot and no gear is left behind. More on V-threads here.
Ice climbing technique is based on a triangle. Tools are placed above the climber's head, one-by-one to preserve three points of contact. Then, short steps foot-by-foot, outside the tools, move the climber's body up the ice. A triangle formed by tools and crampons keeps the center of mass between points of contact. Climbers swing tools from the wrist to preserve energy, similar to fly fishing or squash movements.
Detailed ice climbing technique
UKClimbing paraphrased:
Start point is feet apart – around shoulder width – knees slightly bent.
Hips are brought slightly forward until weight is evenly distributed across the two feet.
Ice tools are placed above the head (in a target area roughly beach ball sized and in line with the belly button); each tool staggered, i.e. off set on the vertical plane.
To move up, the climber hangs, straight armed, from the highest ice tool and brings feet together beneath the highest tool.
Then move feet up in a series of short steps until the shoulder is about level with the lowest tool.
At this point, step both feet out into a bridging position (shoulder width apart), such that 'belly button' (Centre of Mass) is in a vertical line with the highest ice tool and weight is evenly distributed on both feet.
Hips slightly forward until weight is evenly distributed across feet and knees are slightly bent.
Loosen lower tool out of placement and re-place above the climber's head (in a target area roughly beach ball sized).
Sequence repeated.
And, more context across the spectrum of ice travel from REI.
Gear
From research, key additions for this trip would be ice tools, ice screws and crampons. Xavier had extra tools I could borrow. He was also bringing an ice screw set, ropes and other miscellaneous gear like a GriGri for belaying.
Xavier would use Petzl Nomic's with large ergonomic handles. I'd use his extra Petzl Quark's with sliding hand-rests – collapsible so the spike could drive into snow for stability.
I bought Petzl Leopards for the Skillet last April. For ice climbing, I'd need more rigidity – plastic connector between toe and heel pieces – and pronounced toe spikes to kick into ice. I planned to climb with ski boots, so I also needed compatible bindings.
Ice climbers often buy dedicated mountaineering boots. Rigid ankle support is preferred for sustained climbs to reduce calf pump, so ski boots also work. After asking around, I landed on Petzl Sarkens from Teton Mountaineering.
Aside from tools and new crampons, I'd bring my standard climbing kit: summer harness, ATC, prusik, personal anchor and carabiners.
My new leather mittens would be tricky with tools, so I packed old leather Kinco gloves. As a backup, I packed driving gloves and dish gloves – a waterproof combo. Many climbers use Japanese Showa gloves designed for commercial fishermen.
After skiing Apocalypse Couloir (trip report), I ordered a new 45L airbag backpack, the Mammut Pro. My 26L Ortovox didn't have enough capacity on bigger days. I also bought a pair of Rocky Talkie radios, an Ascender MIPS helmet and Smith sunglasses with dark and clear lenses.
Other gear:
Bozeman-Bound
Connor and I planned to drive to Bozeman on Monday afternoon. I signed up for Jackson Hole's adaptive ski school part-time this winter and had a lesson that day. Lucky me, the student cancelled and I hit the road early.
Bozeman is a 4.5 hours drive from Jackson. Over Teton Pass to pick up Connor in Driggs, north to West Yellowstone and past Big Sky, then through Gallatin Canyon. With some snow, ice and snack / coffee stops, the drive took 5.5 hours.
We met Xavier at Lockhorn Cider for a couple drinks and a sausage plate. I smoked Connor at a game of Chinese checkers. Then, we headed to our Wyndham Microtel room with a quick Wal-Mart stop for snacks.
Day One
Ice climbing bootcamp
Cinnamon Raisin Bread and Waffles
Our alarms rang at 7am. We hit the free continental breakfast at Microtel. I went for coffee, the waffle maker and cinnamon raisin bread (a fav growing up). Also, boiled egg sandwiches. We made PB&Js to go, protected by two paper plates.
After our 5-star breakfast, we got dressed, loaded everything in my truck and drove south. Today was ice climbing-only, so we skipped ski gear. One exception: Connor and I planned to climb in ski boots.
The start of the USFS road into Hyalite canyon is 20 minutes south of town. From there, it's another 30-40 minutes on an icy surface. Even in my Tundra, I felt the occasional slip without snow tires.
I've spent countless hours in and around Yellowstone, but this was my first time in Hyalite. The rock features reminded me of a mini-Canadian Rockies – large cliff bands stretching as far as the eye could see.
We passed a few trailheads and the Hyalite Reservoir. Ice fishermen built a tent on the lake. The Hyalite Creek Trailhead was at the end of the plowed road.
We parked and geared up. Connor and I divvied up the ropes and Xavier packed screws. At 10am, we started hiking east toward the Genesis area, home to almost 30 routes including some WI2s.
Genesis 101
By 10:30am, we started with a short WI-2 next to Genesis 1. There were divots in the ice from heavy traffic. Xavier led, while I belayed him with a GriGri. He placed a couple ice screws, and in short order, reached the top (maybe 20-30 feet). He created an anchor on a tree trunk to top rope, then I lowered him.
Connor climbed next, getting his ice legs. He resisted the "rock" temptation to use divets for traction and take big steps. To practice for div0t-free ice, we tried to set crampons as if the variations didn't exist, taking small steps for stability. After Xavier lowered Connor, I tied in with a figure eight knot.
I struggled with the same temptation. I forced myself to swing the tools with my wrists, take small methodical steps and avoid relying on divots. In short order, I climbed to the top. I clipped my tools into a carabiner on my harness, freeing my hands to balance as Xavier lowered me.
Connor and I felt comfortable on the pitch and started belaying each other for second laps. Xavier scouted routes around the bend. We used the same top rope anchor to climb a few variations, including less-affected ice. We experimented with a bulge and some traversing.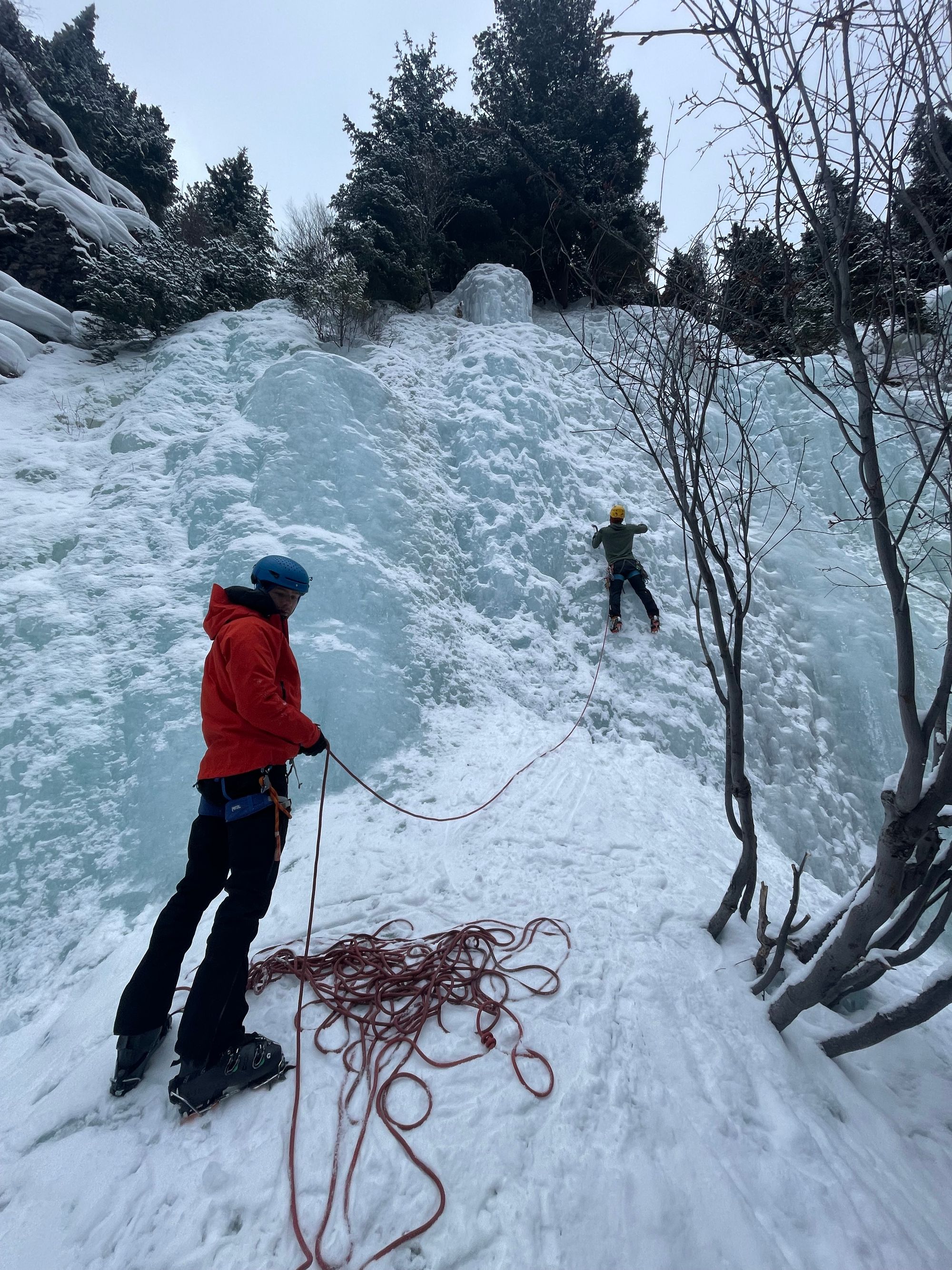 Mummy II and The Matrix
At 1pm, we packed up and hiked south to a WI3: Mummy II. Along the way, Xavier pointed out our objective the next day: Twin Falls, visible to the southwest. We planned to climb the icefall, then skin to Pinner Couloir in the bowl above.
After 10 minutes of traversing and a short uphill, we found a much larger icefall than our warm-up route. Using a 60-meter rope, we were limited to <30 meters, maybe ~85 feet to be safe. Xavier climbed with me on belay.
Running close to the rope's mid-way point, Xavier stopped ~20 feet from the top to build an anchor – he used three screws. After I lowered Xavier, Connor started climbing, clearing ice screws along the way (Xavier placed 7 or 8 along the route). Xavier belayed, so I grabbed my cinnamon raisin PB&J.
Connor's hands were freezing. He paused to shake them out a few times. Transitioning from standing to climbing with hands above the head – making the heart's job even harder – is a recipe for painful hands.
Once Xavier lowered Connor, I tied in and climbed, Connor on belay. Before long, my hands were also screaming. Unlike Connor, I didn't have to clear ice screws – an added challenge in stability and dexterity. The first 30 feet was 80-90 degrees with limited opportunities to rest. Then, generally 60-70 degrees with a few steeper stretches near the top. There were fewer divots than on the intro falls.
I reached the top and Connor lowered me. Xavier climbed again, built a V-thread and rappelled.
We packed up and hiked to one more icefall around the corner: a WI4 called The Matrix. Xavier had scouted while we climbed. My forearms and right bicep were tight, so to save myself for Twin Falls, I planned to skip the third falls.
The Matrix flowed over a cave. It started with a narrow band of ice, partially connected to the ground – the crux. Xavier climbed with me on belay.
He finished the route and I started lowering him. I noticed we were running out of rope when he still had 15 feet to descend. The rope was a bit worn, so I missed the middle mark. The belay point was out of view of the route, so I called over the Rocky Talkie to coordinate.
The rope end was knotted. I kept lowering Xavier, scrambling to the right of his descent. We barely stretched the rope enough for his feet to hit the ground. With tension on the rope, I couldn't disconnect. Connor handed me tools and I started climbing, still connected by the GriGri. So much for skipping this climb.
Xavier took a few steps down as I climbed, still tied in with a figure eight knot. I clipped my personal anchor into the first ice screw to remove tension. Xavier connected another belay device. Hands cold, I stuck with the GriGri rather than tying a new figure-eight. Far from the ideal set-up, but it would work.
I needed to clear the ice screws this time. To do so, I needed stable footing and hands free to unscrew, then clip protection to my harness. Tools needed to be firmly in the ice before I let go.
I reached the top. Xavier had reinforced an existing anchor with a sling. I clipped tools to my harness and called for a "lower" over the Rocky Talkie.
At the bottom, Connor tied into the rope. I was still connected by GriGri, so I belayed him. Connor climbed, removing the extra sling to save Xavier another ascent. By this point, our focus shifted to dinner. Pizza or burgers? Definitely beer.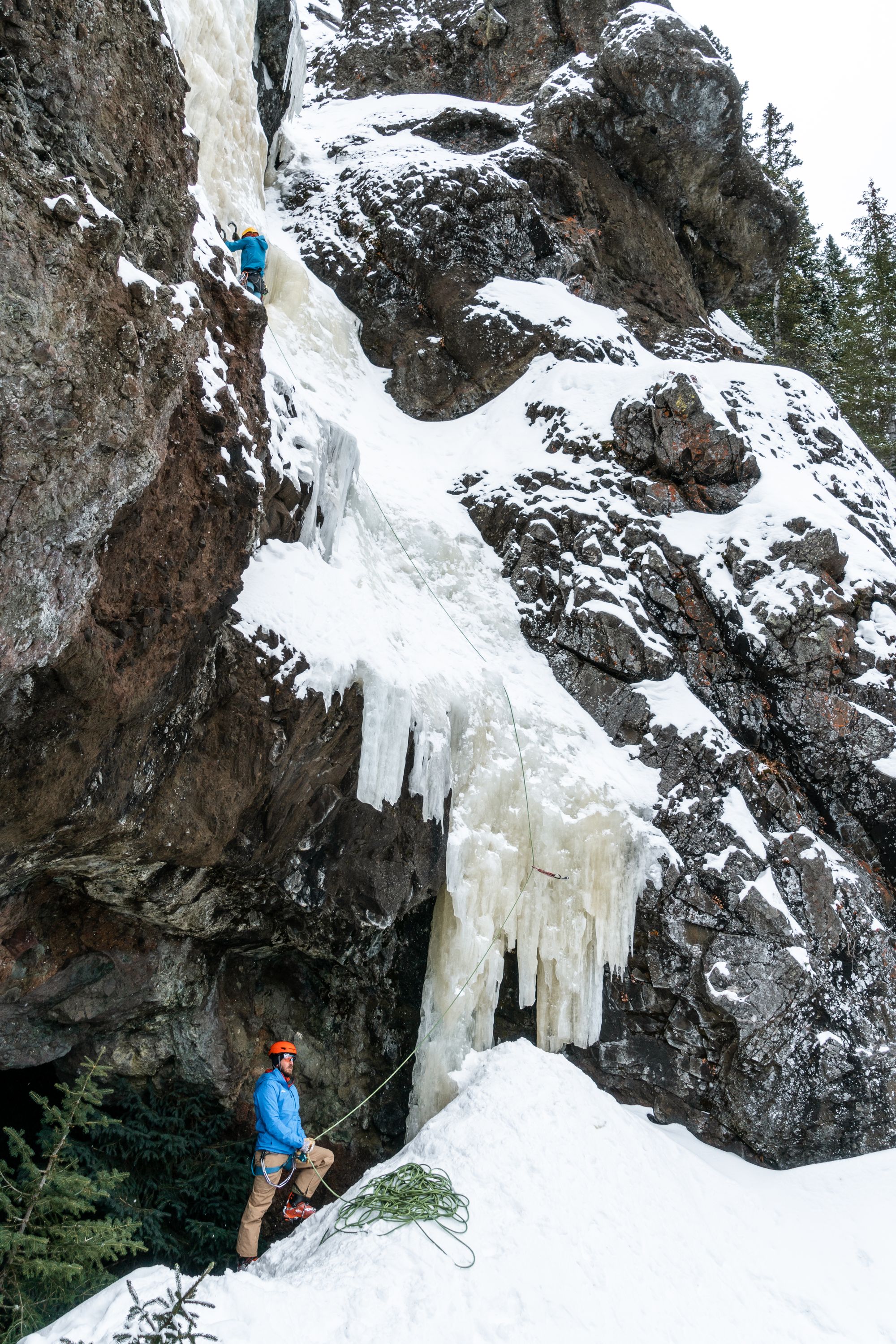 Dinner and Hot Tub
Once Connor descended, we packed up and hiked down. We reached the trailhead at 5:30pm. We loaded gear, ditched our boots and drove back to town.
The USFS road felt even slicker on the descent. Halfway back to the main road, my front-right tire caught snow, and before I could steer back to the center, we started spinning. The rear of the truck slid out to the left and we ended up spinning 180 degrees. We were in the same lane, facing the opposite direction. We got lucky. I used a pullover to three-point turn, then kept my speed down.
We finally reached clear pavement and set course for Montana Ale Works. We opted for burgers, plus a whiskey and beer each to celebrate popping our ice cherries (and surviving that 180).
We hit the Microtel hot tub, then settled into bed. We set alarms for 6am, mindful of a bigger objective planned for day two.
Day Two
Twin Falls and Pinner Couloir
Check out the YouTube trip report and FatMap route below:
Waffle PB&Js
We woke up at 6am and headed to breakfast. Aside from experimenting with waffle PB&Js, nothing new. We packed more PB&Js for the road and loaded skis into Xavier's Subaru. Its lower center of gravity might fare better than my truck on the ice. I couldn't find my Kinco gloves, so I defaulted to mittens.
It was partly cloudy with temperatures in the teens/twenties F – perfect weather for a big climb + ski objective.
We reached the Hyalite Creek trailhead at 9am. Today, we packed shovels, beacons and probes; I also screwed the canister back into my airbag pack.
We skinned southwest toward Twin Falls. The route was ~2 miles and 1,400' of vertical. It started with a flat trail to the left of Hyalite Creek, then it veered right over a bridge and up switchbacks. The switchbacks were steep and icy. Xavier's older skimo skins didn't maintain enough grip, so he switched to boot-pack. Connor and I followed suit for the final steepest switchbacks.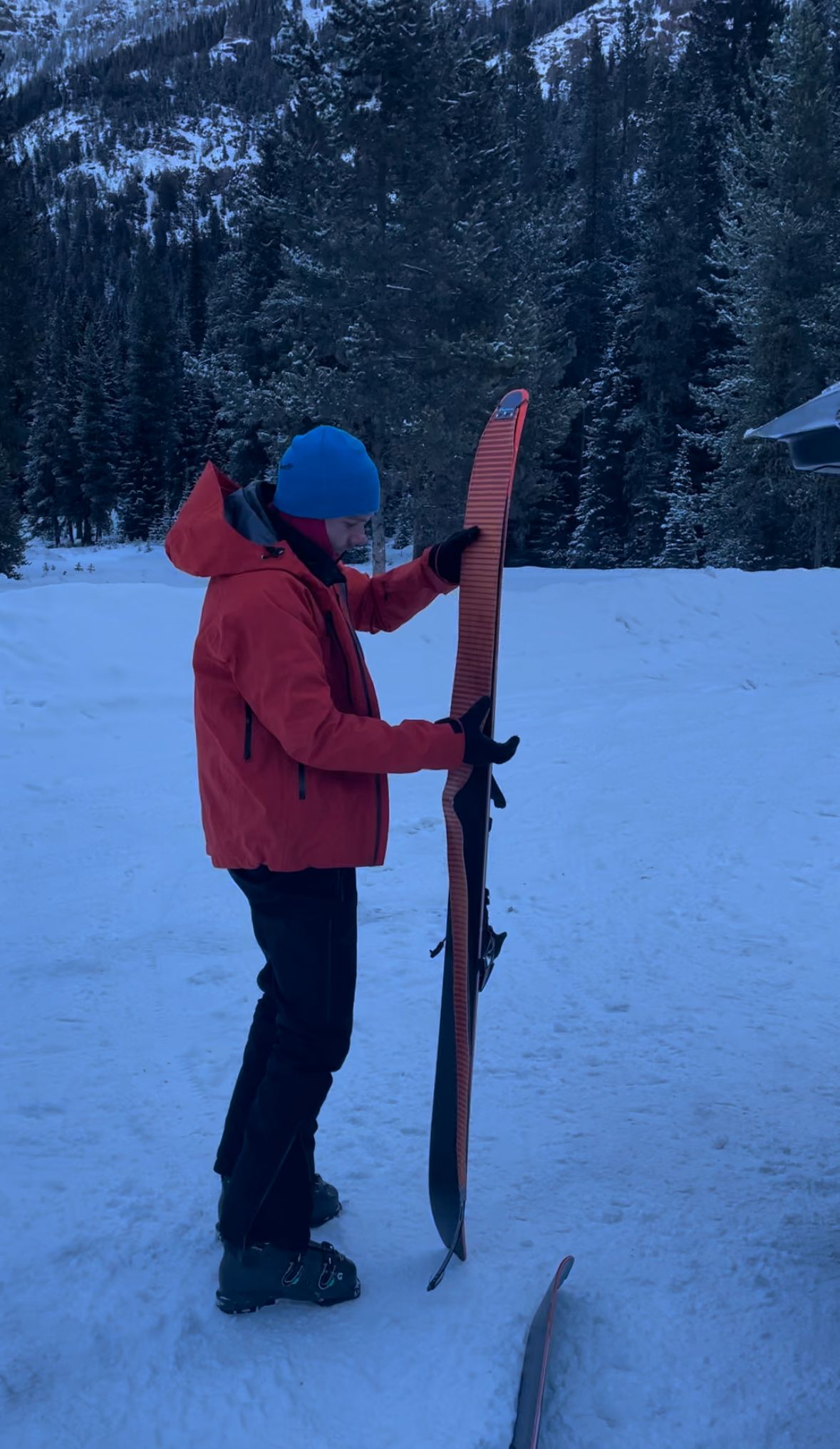 Twin Falls Ascent
At 11am, we reached Twin Falls. It was a warm and sunny approach, but Twin Falls flowed in the shade of north-facing cliffs. We added a layer for the climb.
We stumbled into harnesses, then crampons – never in the opposite order. Some ski mountaineering harnesses have buckles, allowing climbers to slip in without removing skis / crampons. We strapped poles to our packs alongside skis.
Xavier tied into two ropes and climbed, while I belayed with my ATC. Connor scrambled for some photos. To save time, Xavier planned to belay Connor and I on two ropes as we simul-climbed.
Xavier cleared the top and reinforced the existing anchor. He set up his belay device, pulled one of the ropes and re-lowered it for Connor. Connor would climb the fall line. I'd follow Xavier's route and clear the screws.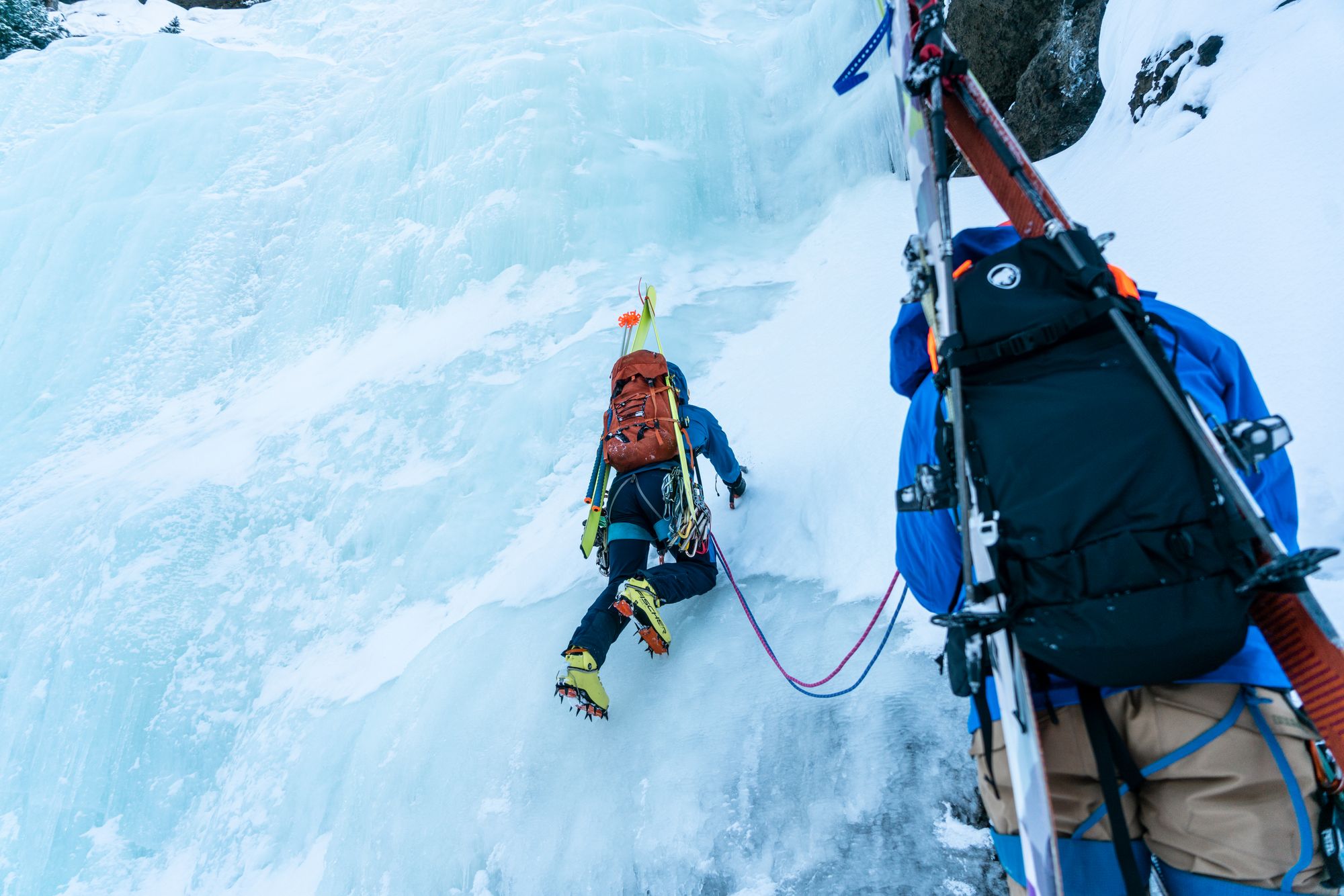 Connor and I tied in. Over the Rocky Talkies, I called for Xavier to started belaying. Like the day before, our hands froze in short order. Connor's route had more sustained vertical, so I pulled ahead – even while clearing screws. Xavier removed slack from each rope separately.
After 15-20 minutes, I topped out, all the screws clipped to my harness. Connor was a few minutes behind me. We organized the climbing gear, planning to hang it from a nearby tree. (Harnesses, crampons, tools, ropes, screws, etc.)
Pinner Couloir
By 1pm, we skinned to our "gear tree," ditched the goods and continued southwest. Pinner Couloir was at the far end of the bowl. We skinned through snow-covered trees above the falls, eventually opening up to alpine meadows surrounded by cliff bands. We crossed a couple small, frozen lakes.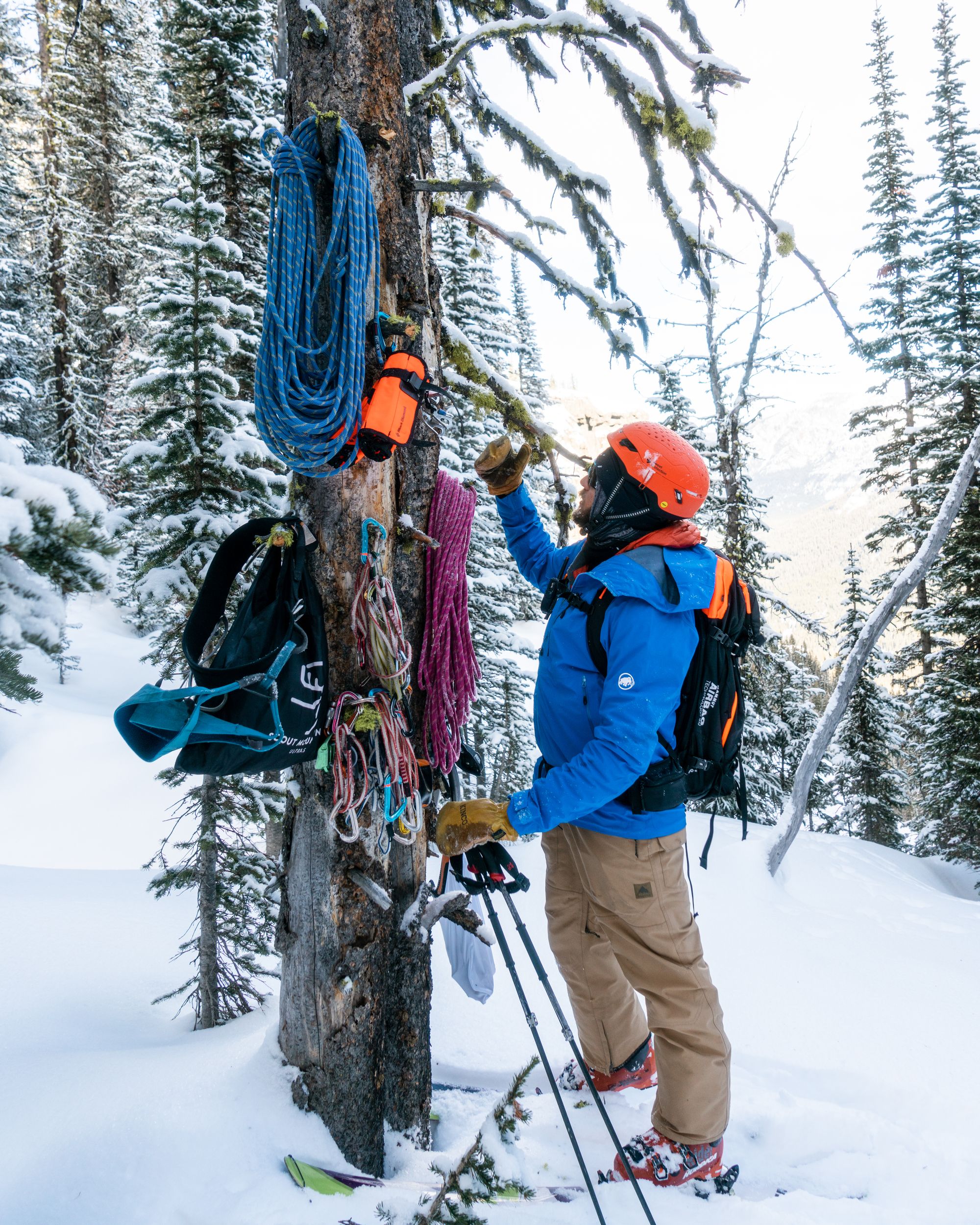 I observed some sluffing on south-facing slopes to our right, but otherwise no slides. We found a few weathered tracks from other skiers.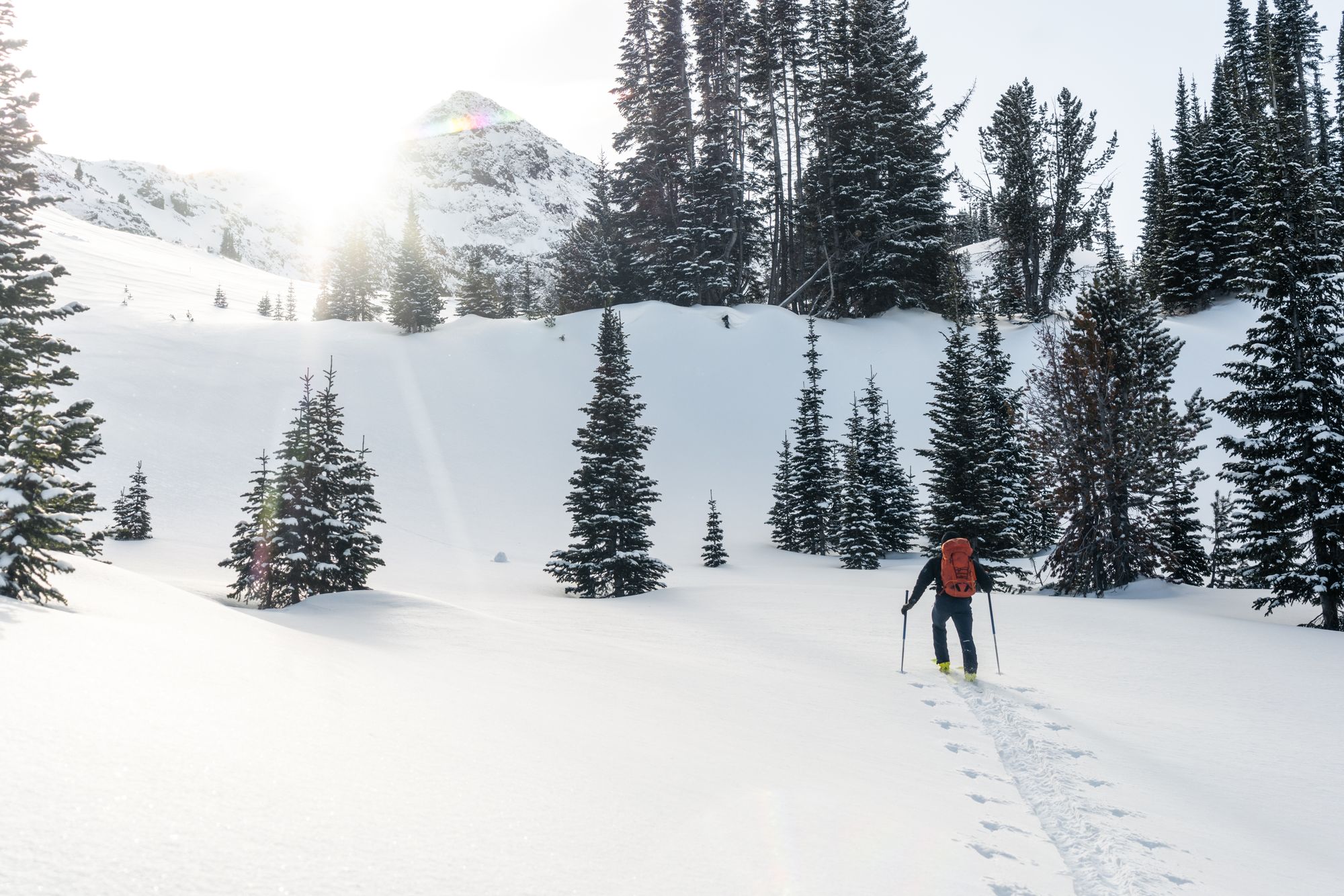 By 2:15pm, we approached the base of Pinner Couloir. The bowl appeared much larger than it was, probably due to a lack of trees for context.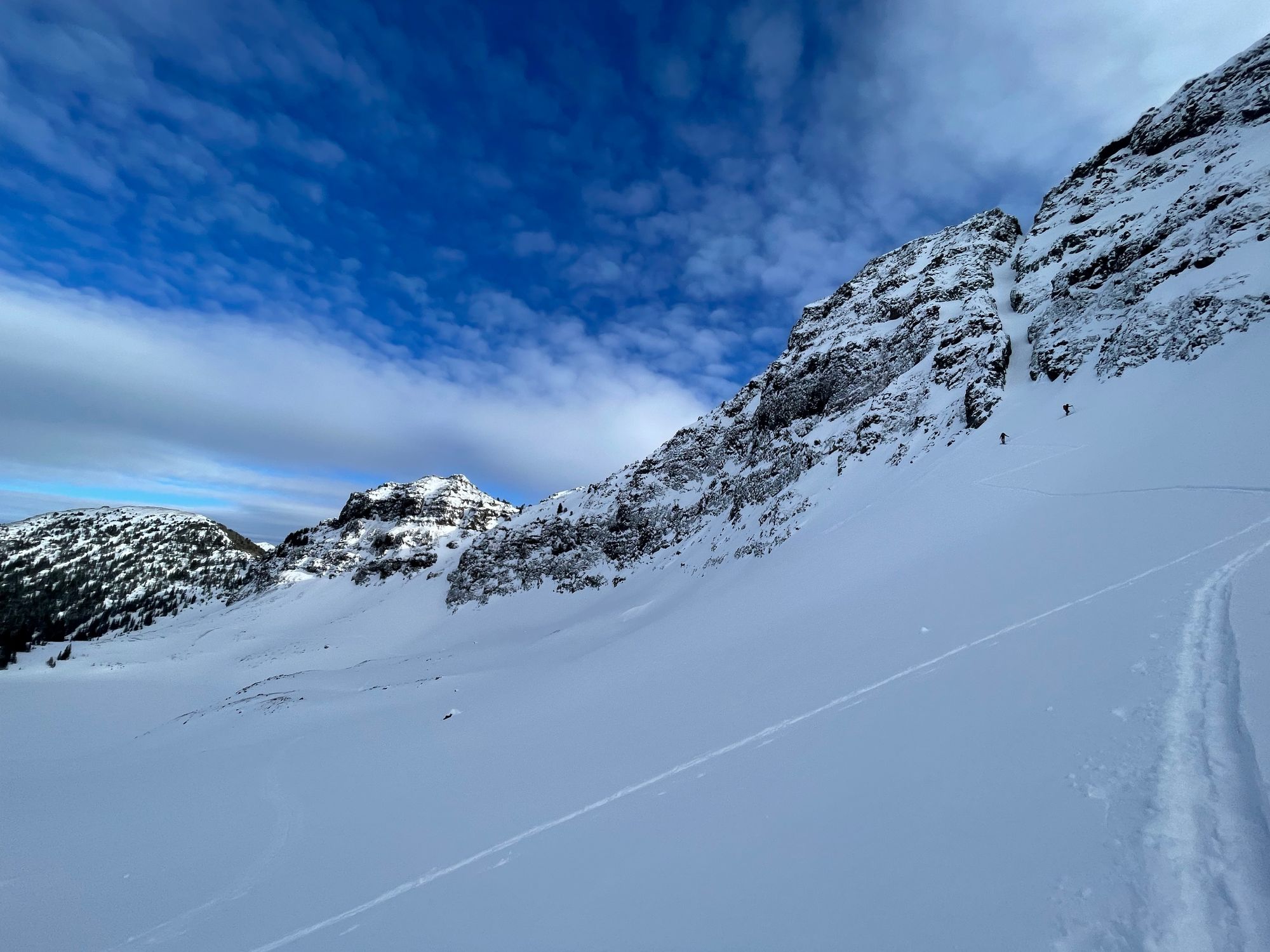 We dug a bit beneath the base and found a relatively small wind slab. It should be less of an issue in the sheltered couloir.
I ate my PB&J while Xavier and Connor started boot-packing. At 2:40pm I followed, making to the top by 3pm. The snow was firm enough to avoid post-holing – my last experience on an alpine boot-pack a la Skillet.
At the top, we ditched our packs / skis and scrambled another ~hundred feet to a nearby summit. We enjoyed sweeping views of the Gallatin's to the south before scrambling back to the notch.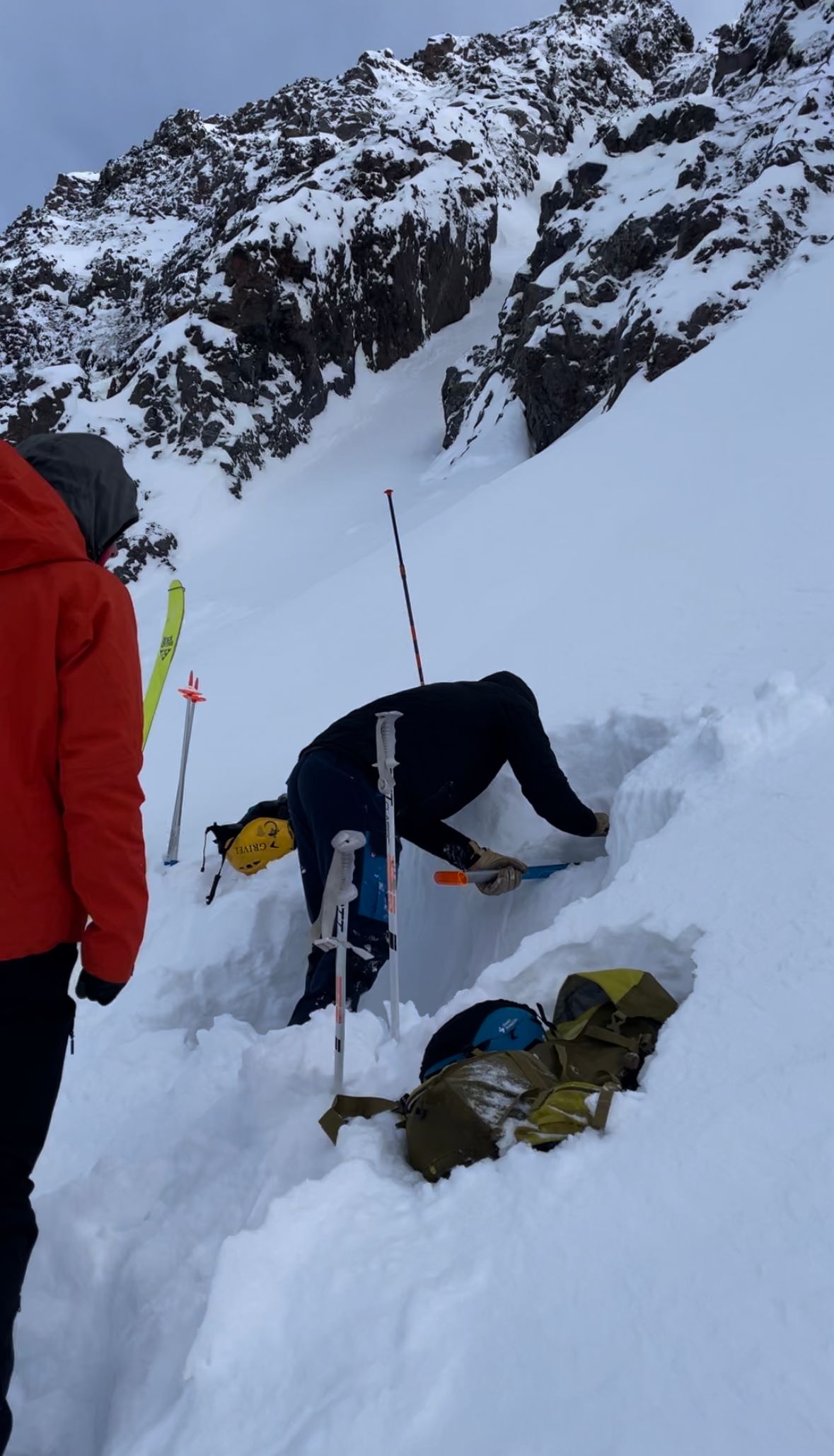 Xavier dropped first, followed by Connor, then me. Pinner was a steep, narrow couloir, just a couple feet wider than the Apocalypse choke at points. We descended via hop turns and side slipping. The snow was settled and consistent, sluffing only slightly as we skied.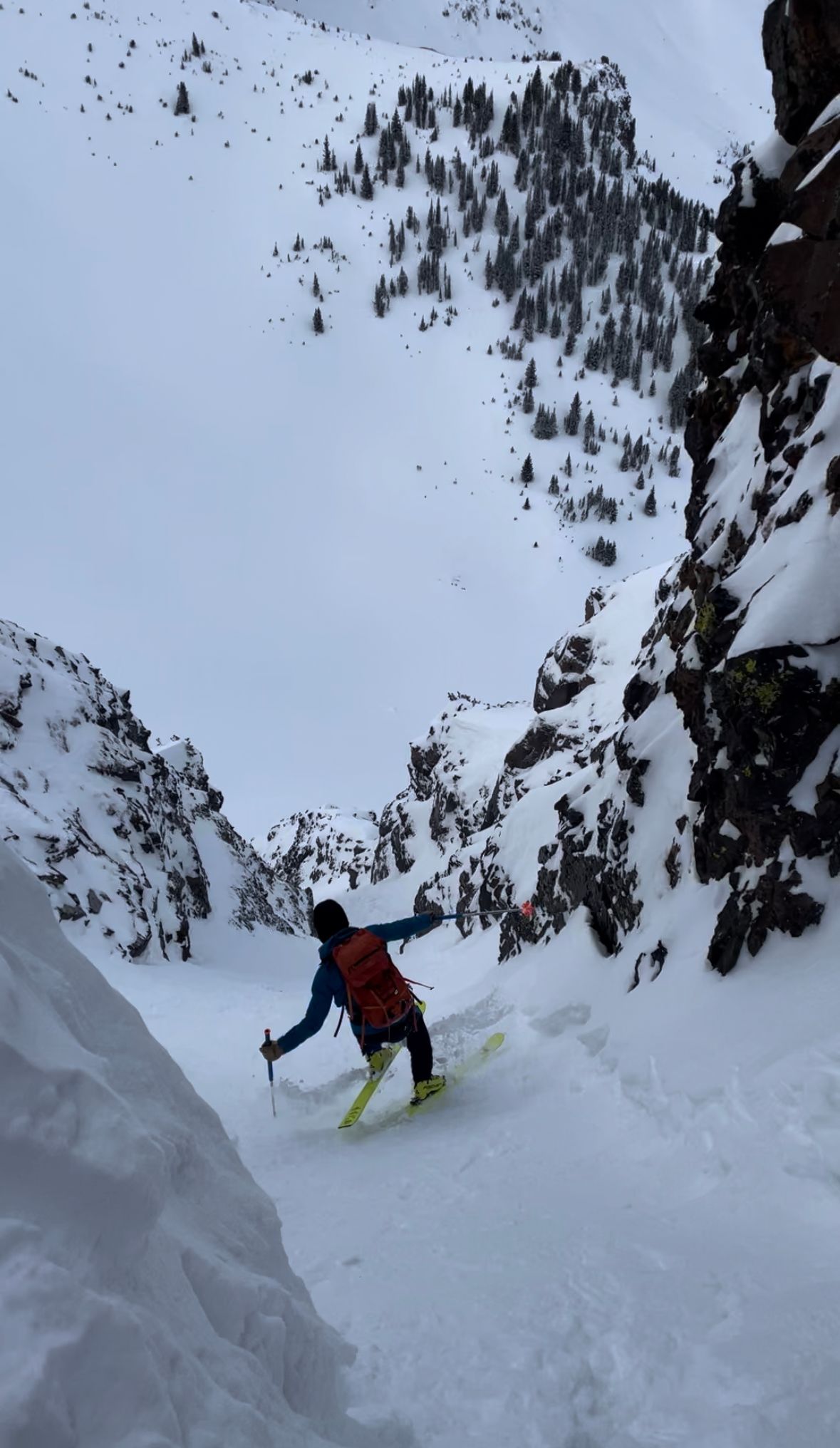 By 3:45pm, we regrouped away from the runout for the ski back to Twin Falls. We enjoyed powder turns all the way back to the larger alpine lake. Losing momentum, Connor and I shifted to Nordic: free heels, no skins.
After crossing the lake, we locked our heels and skied the trees back to the icefall. We regrouped at the "gear tree," grabbing ropes, screws, etc., for the final 50 feet to Twin Falls.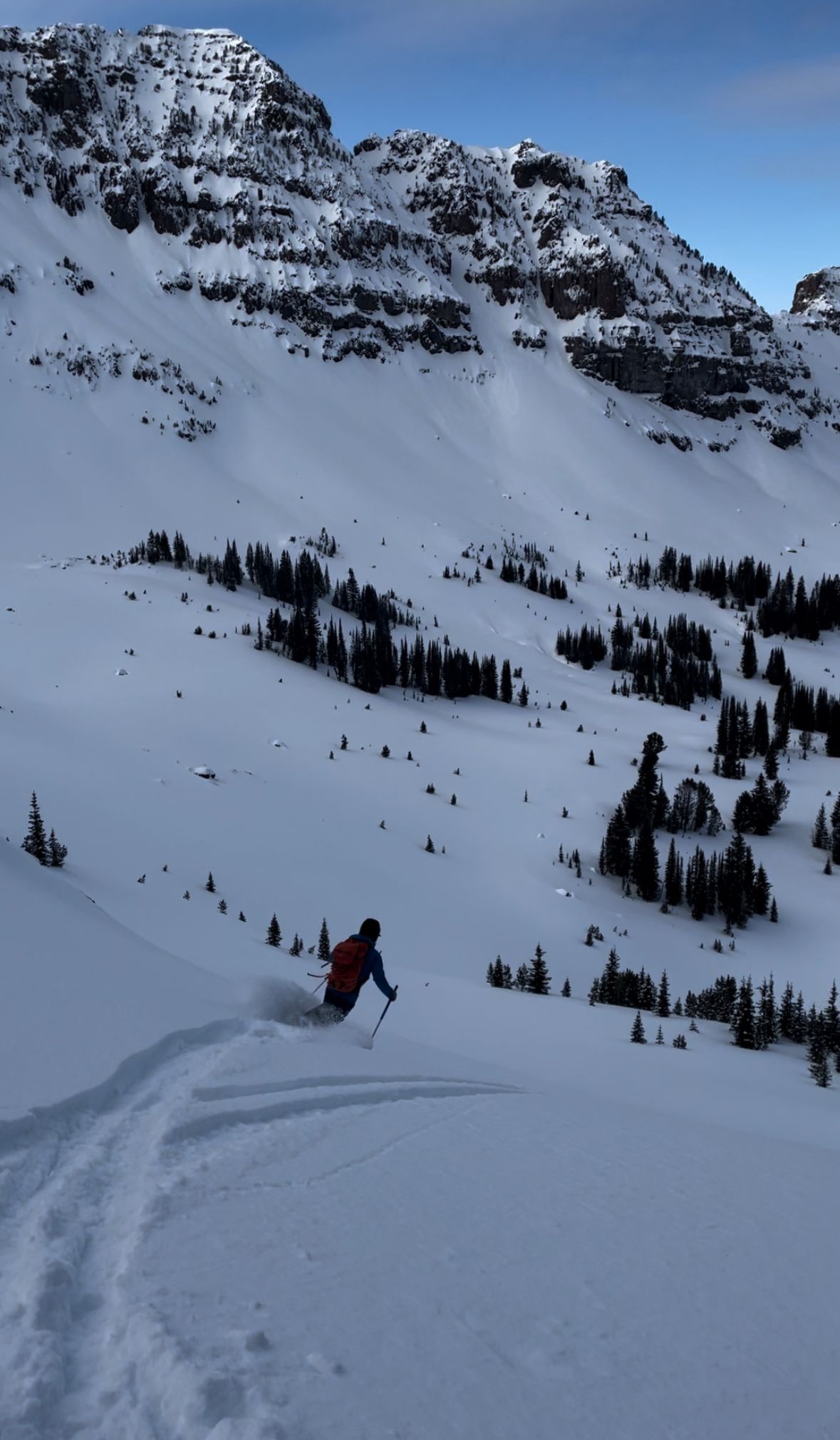 Rappel and Bushwhack
By 4:30pm, we tied the ropes for a rappel and tossed them over the falls. Xavier rappelled, then Connor. They skipped crampons – watching each slip in the same spots, I strapped on mine. The setting sun lit up southwest-facing cliffs across the canyon.
After getting an "all clear" from below, I fed the ropes through my ATC and started rappelling. The falls were at least 175 feet. Sometimes Twin Falls is 200+ feet. There were a few sustained vertical sections. Connor's ascent route, which followed this fall line, was definitely harder than mine.
At 4:50pm, we reorganized at the bottom of the falls for the final ski descent. We split up the ropes / screws and stashed our climbing kits.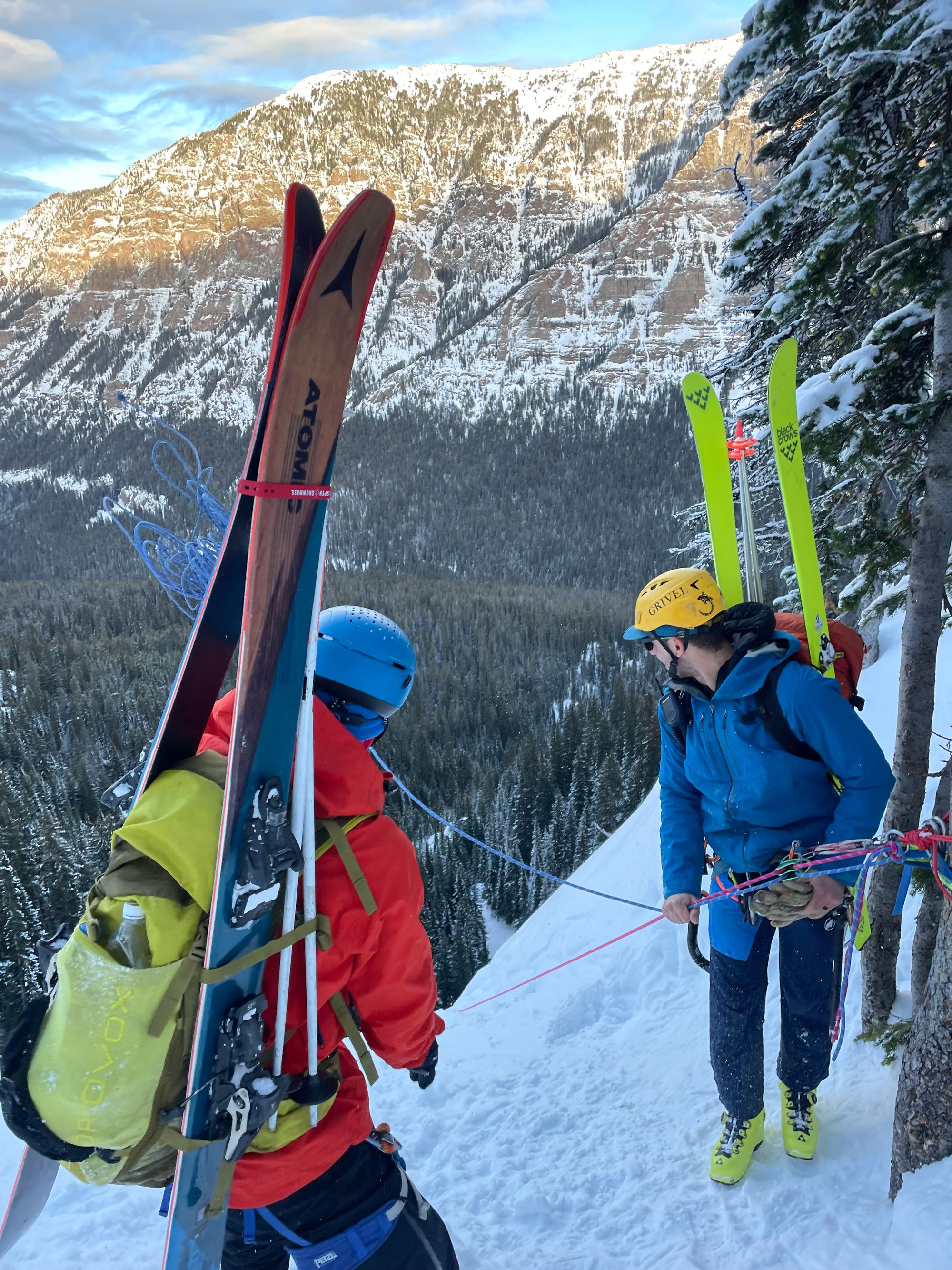 Skis on by 5pm, we traversed to skier's left (north) toward the switchbacks. The sun had almost fully set.
Connor dropped off pillows next to the switchbacks. I found more open snow patches to skier's right and descended. I should've stuck with the switchbacks. I solo bushwhacked for about 20 minutes. Connor and Xavier took a higher route. After hopping ~20 logs, I found the lower switchbacks and caught up.
By 5:45pm, we crossed the creek and skied the final trail home. Losing light, we turned on headlamps for the roller-coaster skate track. We passed a fat-tire biker and his dog on an evening ride.
We reached the trailhead a bit after 6pm.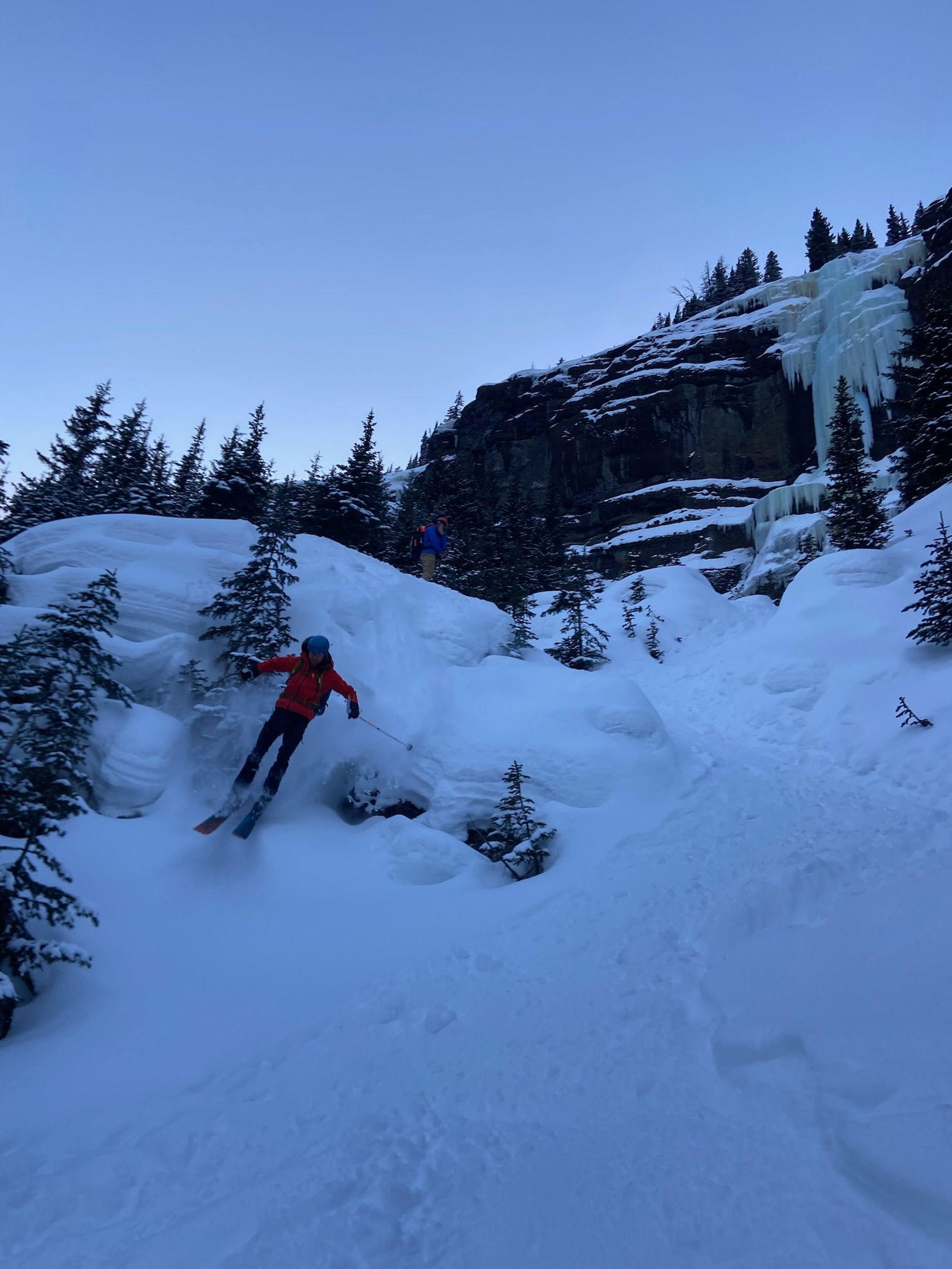 More Burgers
We were all wiped. Our objectives weren't huge, but two days of sustained climbing and skiing in cold temperatures took its toll.
The drive home was uneventful. We headed to the Backcountry Burger Bar for burgers and beers, skipping the whiskeys. Then, another round in the Microtel hot tub and early to bed.
On day three, we'd have to drive to Jackson after our final warm-down climb, so we set alarms for 6am. Xavier would join us for a ski tour in the Tetons before driving to Colorado to link up with his wife.
Day Three
Warm down and back to Jackson
Blood and Ice
We stumbled downstairs for one more round of PB&J waffles. The batter ran low, leaving me with a sad, half waffle. We opened the room window as we packed to air out the smell of wet gear. We checked out, then drove to Hyalite.
At 8:45am, we reached a trailhead just south of Palisades Reservoir – closer than Hyalite Creek. We planned to climb an icefall further north than those of days one / two. A group in the parking lot told us our planned approach was a few miles. Lacking skis, we opted for a two-mile hike to Palisades Falls instead.
We followed a groomed road, then switchbacks, arriving at 9:30am. Approaching the falls, we noticed blood on a few ice blocks and a nearby log around the fallout. A climber (or belayer below) must've been hit by falling ice.
As Xavier set the route, he found brittle ice relative to the prior two days. One block released on his chest as he placed tools – luckily no injury. Connor and I stood far to the right out of the fall zone.
We hit the rope's half-way point about two-thirds up the icefall. It was ~150 feet, a bit shorter than Twin Falls. We lowered Xavier, then Connor climbed and cleared the screws. I was wiped, and after seeing the bloody ice, decided to skip this climb. We were also running late given a 4.5 hour drive to Jackson.
Xavier ascended one more time to clear the anchor and build a V-thread. He rappelled, and by noon, we left for the trailhead.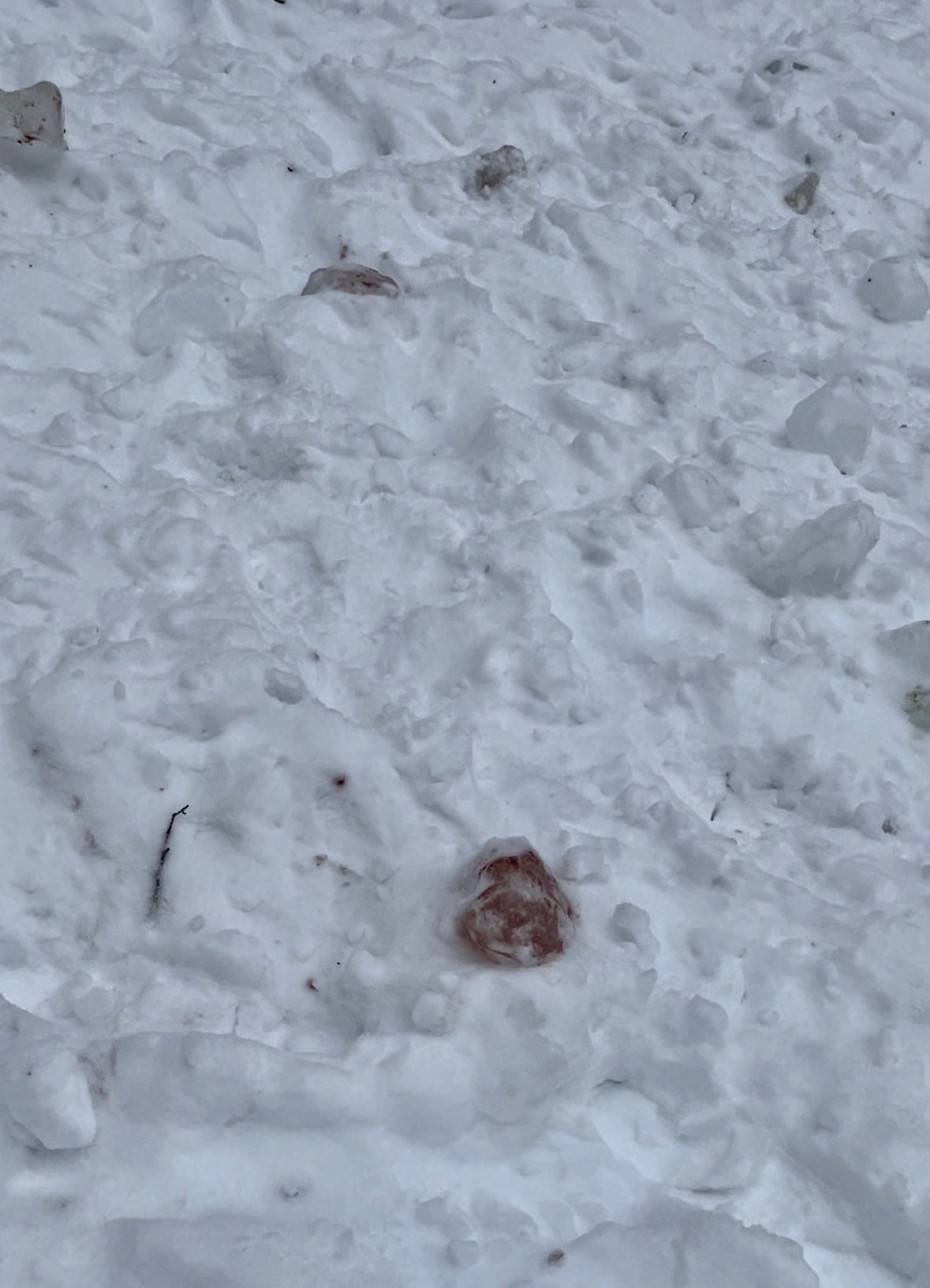 We drove to Microtel to grab my truck. Connor would drive back with Xavier, who'd crash in Driggs. I stopped at Costco for gas, then headed south.
I made it to West Yellowstone by sunset. Down the road, Teton Valley was dark and foggy. I narrowly dodged a mule deer just outside Tetonia – two near misses after that 180. I made it over the Pass to Jackson, wiped from the icy days.
Over text, we made plans to meet at Coal Creek to ski Taylor Mtn. at 9am.
Bonus Day
Back to the Tetons
Taylor Lap
I woke up with a sore throat, hoping I was just worn down. Conner had to work, so it'd be me, Xavier and a friend of a friend, Sarah – visiting from Colorado. I headed for Cowboy Coffee's drive-through just before 9am. Behind schedule, but I needed the burrito and coffee.
I rolled into Coal Creek around 9:30am. We started skinning by 10am, ascending the east ridge. It was sunny. We ditched layers as soon as we cleared the shadow cast by Mt. Glory.
Energy low, we paced for a slow, chatty skin. We didn't summit until noon. It was a beautiful morning, so the summit was crowded. We could see all the way to Grand Teton in the north.
We dropped onto the east face. Avalanche risk was low to moderate and we didn't observe any signs of instability. It snowed a few inches overnight and we enjoyed powder turns all the way down.
After the staple Coal Creek skate track, we reached the trailhead. It was 1pm and Xavier hit the road to minimize night driving.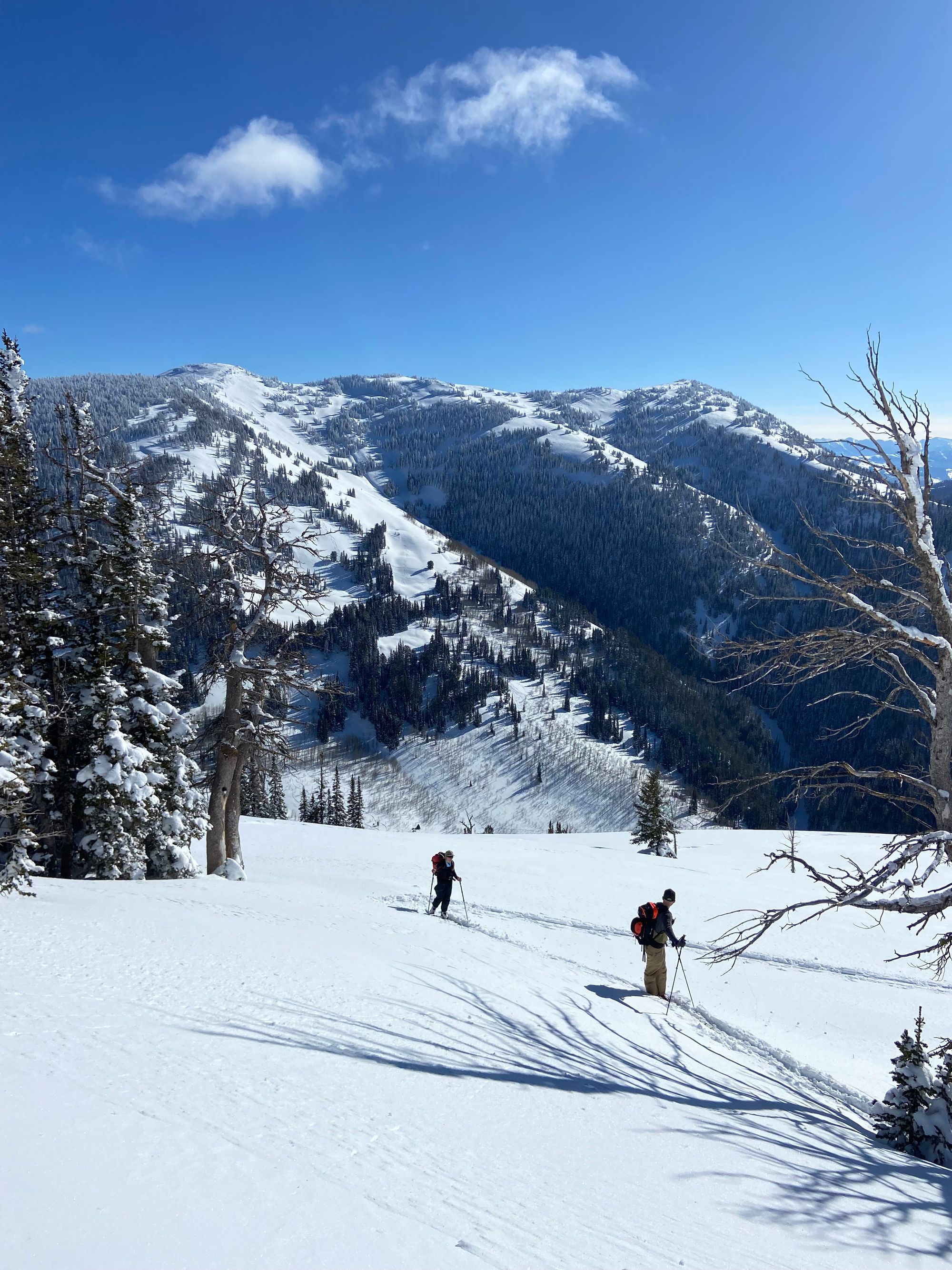 We parted ways, hoping we'd get a chance to check off the Grand later in the season. (It's on Xavier's list too.) Most groups aim for high alpine objectives in the spring, once the snowpack stabilizes. With ice climbing fundamentals under my belt, the last hurdle to the Grand faded away.